We can all agree that OnlyFans is great. The site is user-friendly, cleanly designed, and offers a feast for the eyes. There is still one aspect of the famous platform that can be frustrating, though.
That is how to find people on OnlyFans.
Searching for a specific person can be a hassle, but put your worries to rest because we will show you the best and easiest ways to find the OnlyFans account you desire.
Option #1 – Change the URL
It is a mystery that in 2022 the search function on OnlyFans is kind of terrible.
When you search for a specific profile, you will get a bunch of random results and will need to scroll through to unearth what you are looking for. This is typically due to a mixture of data algorithms and promoted accounts.
You may get lucky, but more often than not you will be scratching your head and double-checking your spelling.
One small trick to use is manipulating the web address. If you have the profile name handy, just go to Onlyfans.com and add the page name at the end.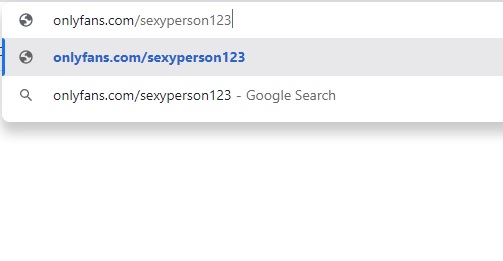 This will normally work, but the need to do it is irritating as a matter of principle.
Figuring out how to find people on OnlyFans through the actual site shouldn't be this difficult.
If you aren't searching for a specific model and more of a type, check out our picks for the best OnlyFans accounts to get started.
Option #2 – Just Google It, Bro
While it may be one of the most annoying responses to receive when you want to know something, in this case, it may be the best option.
Using a person's real name, if they are not famous, may not return the results you were looking for. It would be best to use their social media handles since they are more unique.
Similar to Google is the Yandex search engine. What makes this search engine unique is not only the different results that pop up but also the reverse image search. Yandex is better at recognizing faces, so you can upload an image of your model's face and search for similar images.
Another search engine that specializes in faces is Pimeyes. The results are incredibly accurate and you can go deep into the internet to find obscure posts. The downside is Pimeyes is not free and pretty expensive. You get a few free searches but need to pay for web addresses and unblurred thumbnails.
Option #3 – Check Out the Link in Bio
Chances are if someone has an OnlyFans, they want to promote it. So, if you want to know how to find people on OnlyFans, start with the person themselves.
Check out their social media on platforms like Instagram or TikTok. While most sites have restrictions on selling or promoting NSFW content, content creators have found ways around that.
Thanks to their wit and creativity, we got one of the best euphemisms for "sex worker" ever: Spicy Accountant.
If you take a look at their bio, OnlyFans models will normally leave a link there. If there is not a direct link, then there is probably a link to their portfolio page. These portfolios are made on sites like Linktr.ee and can guide you to more than just their OnlyFans.
If there is no link off their page, look around for an alternate or backup account. Sometimes, to steer clear of the TOS Police, the second profile name will just be written out.
If there is absolutely no hint that they have an OnlyFans account, then they just might not have one.
Option #4 – Look at Community Boards
While we are looking at social media, asking like-minded folks on community boards can be a good place to start.
Adult boards like the ones found on Reddit are filled with people who know exactly how to find people on OnlyFans. Some may already be subscribed to the model you are looking for, or a whole subreddit could be devoted to them.
There are also dozens of subreddits focusing on specific niches on OnlyFans. So, if you are looking for more of a type of model and not a specific person, those will help.
Board-driven websites devoted to porn can get a little dark for most people, but they are a great resource for finding someone's OnlyFans account.
Option #5 – Try Out the 3rd Party Services
OnlyFans' lousy search function left a hole for other websites to fill.
Websites like OnlyFinder let you search using a variety of prompts like usernames, real names, locations, and appearance. Search engines like these make learning how to find people on OnlyFans a piece of cake. They offer the functionality we all wish was native to OnlyFans itself.
Option #6 – Check the Archives
Maybe you can't find someone on OnlyFans, but you are sure they have one, because they have retired and deleted their page.
Internet archiving sites like Archive.org might be an option here. These websites have screenshots of pages from the past or cached versions of them. However, since screen capturing on OnlyFans is forbidden, you may not find what you are looking for.
Searching internet archives is not ideal, but it can be a useful jumping-off point.
The Search Continues
Everybody wants to know how to find people on OnlyFans since the website itself can't help there.
Try using other search engines, posting a query on a community board, or just taking a closer look at the creators' other social media. You can even shell out a few bucks for services that can narrow down your search.
Thankfully, you don't need to become an internet sleuth to track down your desired model's page. Using the tips and tricks mentioned here can make the search easier and more straightforward.
Related articles: