We have all heard about OnlyFans. Even those who tend to avoid adult content have heard the name of the infamous site, even if only as a pop cultural reference. Some see it as a liberating platform for Adult content creators while others believe the website is a focal point of exploitation. 
So, what is OnlyFans?
We will dig through the controversy and give you a better understanding of this revolutionary social platform. 
The Basics
If someone were plucked from the street and asked "What is OnlyFans?" their immediate answer would probably be "That porn site."
That answer would not be entirely wrong, but it would be a massive oversimplification.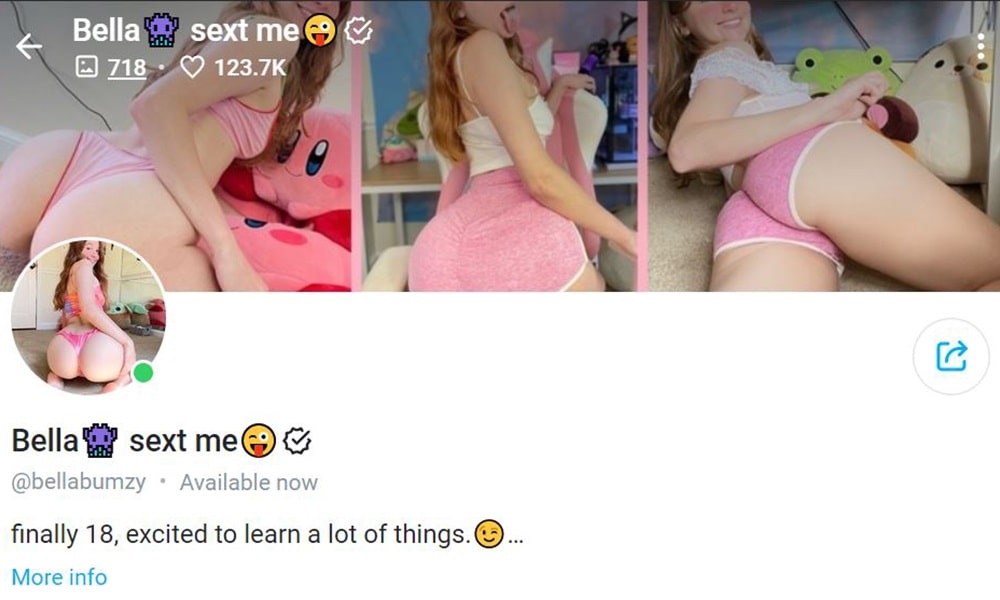 OnlyFans is a subscription-based social media platform where users pay a monthly fee for access to a specific creator's content. This content can include pictures, videos, blog posts, and access to messaging with their favorite accounts.
Not necessarily "naughty" content.
In addition to what goodies a subscription offers, creators can also have special Pay-Per-View deals for extra special content. 
If you are someone who wants to sell their art, then OnlyFans gives a streamlined platform to connect with customers and fans.
OnlyFans takes a 20% cut of your earnings, but depending on your revenue, that may not be an easy pill to swallow. 
To be clear, while the majority of content on the site is NSFW, OnlyFans is not exclusively meant for the spicy and sexy. There are many accounts focused on things like cooking, physical fitness, or a way to connect to celebrities. 
Nonetheless, most of the best onlyfans accounts are focused on NSFW activities.
Not So Humble Beginnings
As much as we all love a Cinderella story where a starving genius finally makes good, the reality is often not as inspiring. 
Born and raised in Essex, England, Tim Stokely is the youngest son of a retired investment banker. After small successes with sites like Customs4U, where customers could connect with pornographic creators, Tim had a new idea. 
Well, new-ish.
In a 2021 interview with GQ, Stokely said "Our thinking was always, 'OK, what if you could build a platform where it's exactly [the same] or very similar to existing on social media, but with the key difference being the payment button?' So all of these creators, making this amazing content for free, had a very simple way of earning from that content."
Stokely teamed up with his brother and asked their father for £10,000 to get things up and running. 
While not the inspiring story of overcoming adversity we all fantasize about, you have to respect the simplicity of the idea. 
OnlyFans launched officially in 2016. In 2018, the Stokelys received a major influx of cash from Ukranian-American businessman and MyFreeCams owner Leonid Radvinsky. After that, the site leaned hard into producing Adult content.
The site was doing well, and then the Covid-19 Pandemic hit.
That is when the answer to "What is OnlyFans?" went from "another social media site" to "a license to print money."
Things are Looking Up in Lockdown – Beyoncé & The Onlyfans Explosion
When the world stopped dead in its tracks in early 2020, thanks to a global pandemic that reverberates to this day, millions of people were in a desperate spot. 
No one could leave their homes or go to work, the economy was in flames, and the unemployment rate skyrocketed. Despite having all the tools at our fingertips, we were not ready to move quickly from the office to work from home. 
This time period was when the number of users on OnlyFans exploded. In the span of one year, more than 70 million accounts were created. 
The unbelievable growth was not solely due to the fact that everyone was stuck at home and porn is recession-proof. OnlyFans got one hell of a namedrop in Beyonce's remix of Megan Thee Stallion's song Savage. 
If someone was making a list of the most effective ways to boost brand awareness, having Beyoncé sing about it would be number one.
Stokely has stated that Savage cause a spike in new users and creators, with 200,000 users and 8,000 creators joining every day. 
There was a period when things were getting a little too crazy. Famously, multi-hyphenate celebrity Bella Thorne joined in August 2020 and charged $200 a pop for nude photos. 
This brought her over a million dollars overnight, but when customers received a collection of lingerie photos instead of nudes, the number of refunds demanded led the team at OnlyFans to set limits on how much an account could charge. 
Not to be outdone by Thorne, internet star Bhad Bhabie (the "cash me outside" girl) made over $1 million in six hours. 
By March of 2021, OnlyFans was paying creators $200 million a month. The combined revenue of all creators was more than $3 billion. 
Stokely stepped down as CEO in December 2021, with the former chief executive of Marketing and Communications Amrapali Gan taking over. 
Controversy and Course Correction… and Re-Correction
As with any massively successful 18+ endeavor, OnlyFans has had to deal with a few pearl-clutching critics. 
Not that this will surprise anyone, but of course, the rationale behind the condemnation of OnlyFans was "won't somebody please think of the children!"
After several 2020 BBC reports that OnlyFans allowed the sale of child porn, or at least did nothing to stop it, the fervor continued in the US. Over one hundred members of Congress signed a petition to investigate OnlyFans for child exploitation and sex trafficking in 2021.
Yes, child exploitation is a real problem and should be taken seriously. However, putting it on the shoulders of OnlyFans would not be a good way to go about it.
The National Center for Missing & Exploited Children reported less than 100 instances of child exploitation per year, whereas Facebook reportedly has 20 million instances per year. 
Dress it up however you like, but this was another case of Sex Workers taking control of their livelihood, and puritanical zealots can not stand it. 
Bowing to pressure from conservative groups and banking institutions that refused to process creator payments, OnlyFans announced in August 2021 that it would start banning explicit material. 
For those who remember Tumblr, this would surely have destroyed OnlyFans. It would be like the Food Network removing any portrayal of cooking or eating from its programming. 
After massive backlash from both creators and users, the suits at OnlyFans reversed their decision in a whiplash-inducing six days. The site would allow Adult content indefinitely. 
Power to the People – The OnlyFans Effect
For those who make their living by producing scintillating and sexy media, the question "What is OnlyFans?" could be answered with one word:
Control.
Take an Adult film actor as an example. Before sites like OnlyFans, they would typically get a flat rate for acting in a movie. In order to make the most cash for their labor, the actor may need to do more than they are comfortable with and spend a whole day on set. 
Then the production company would release it and make their nut on sale, with none of the profits going to the stars. That movie, or just some clips, could now be shared for free on sites like Pornhub and not a single penny would reach the actors.
Now the actor has to wait for the next gig and negotiate a better deal. 
With OnlyFans, they can make art on their time and within their boundaries while reaping (most) the profits. 
That example is, admittedly, simplifying a great deal but you get the idea. They go from day-players to small business owners and have full career autonomy. 
They can post silly pics, take a break for a few days, link to non-porn work they might be involved in, or just quit without notice. 
This model benefits consumers, as well. They can follow their favorite performers and connect with them, with many creators offering custom material for a price. 
Even though OnlyFans takes a decent chunk of the profits, this way of producing porn cuts out the middle man and lets the stars take over. 
We're Big Fans of OnlyFans
OnlyFans is the leader in a new wave of social media and content creation that allows artists and performers to get paid for doing whatever they want. These platforms also allow users to curate their porn consumption more personally and ethically.
Whether you have a thing for curvy redheads who are into '80s metal & cosplay, or you just want to see the latest from your favorite porn star… there is a subscription waiting for you.
What is OnlyFans?
It's a service where fans can connect and contribute directly to their favorite spicy or mild content creators.
It's awesome, is what it is. 
Related articles: