"Pineapple swingers" may sound like a new desert at your favorite strip mall franchise eatery, but the recently viral hashtag has many people scratching their heads.
The only folks not confused are those in the swinging community. 
The cryptic use of this tropical fruit for couples who want to bring one or more people into the bedroom is older than some might think and, like the pineapple itself, seems alien on the outside but is actually rather sweet.
Is Pineapple a Symbol for Swinging?
Yes, pineapples, especially upside-down ones, are swingers sending up a flag for those who want to join them. 
Pineapple swingers are typically found in vacation resorts and cruise ships, where a decorative pineapple doesn't look out of place.
Swingers will jazz up their cabin door with an upside-down pineapple meaning "We are here to party. Join us."
For the uninitiated, swingers are committed couples who like to have sex with other people, usually as a group. Unlike being Poly or having an open relationship, swingers tend to avoid extra-marital relationships that last longer than needed to get off. 
That is part of why cruises and vacation spots, where there is a definitive end to the festivities, are where you'll spot the most upside-down pineapples.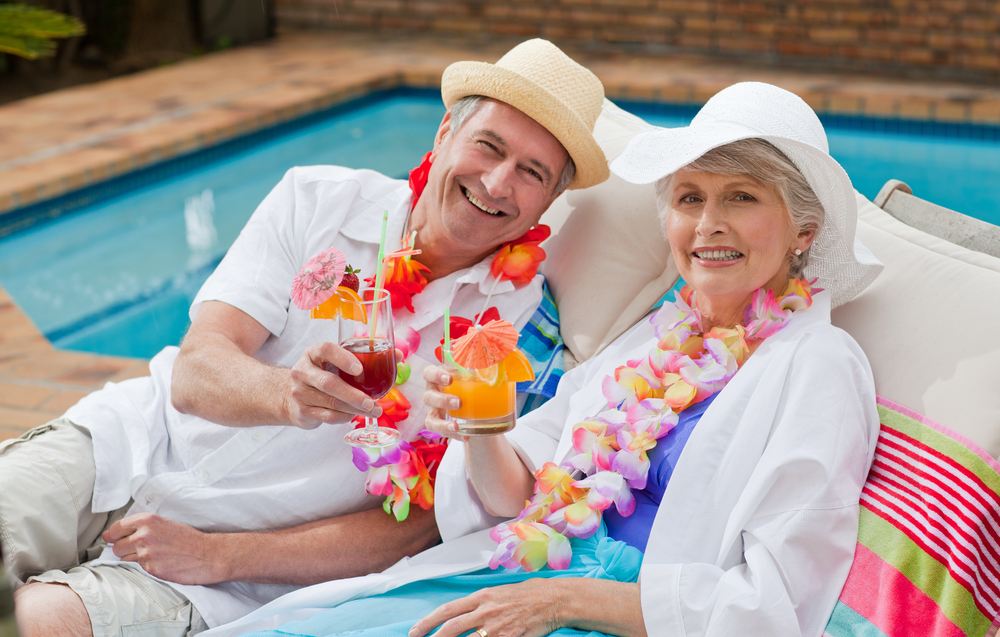 While resorts and luxury ships are common places to spot pineapple swingers, it isn't the only one. These days, people can send out signals with their pineapple-patterned clothes, doormats, or anything featuring pineapples. 
Some folks learned this the hard way leading up to the Summer of 2022, posting on Tik Tok and other platforms that they noticed couples being extra friendly to them when they wore pineapple-inspired attire. 
There are stories that actual pineapples themselves have been used in supermarkets, where swinging couples would look for like-minded folks by walking around with an upside-down pineapple in their cart.
To everyone else it just looks like a misaligned piece of fruit, completely missing the upside-down pineapple meaning. 
It is the ultimate example of "If you know, you know."
What is an Upside-Down Pineapple?
Not to sound dismissive, but an upside-down pineapple is a pineapple turned upside-down. 
It may not sound like much, but the distinction is important. If you are walking down the hall of a cruise ship and you see a bunch of cardboard pineapples hanging, it means you are officially on vacation. 
If you spot one conspicuously hung upside-down on someone's cabin door, then that is likely an invitation to have some sexy fun with some swingers. 
The origin of this practice is probably a matter of practicality. Think of other fruits you would see in a tropic setting like a coconut or mango. Those would be hard to spot if they were placed the wrong way around. 
Thanks to its green fronds poking out the top, the pineapple is much easier to spot when hung upside-down. It does not stick out too much, unless you are someone who enjoys the swinging lifestyle.
What do Pineapples have to do with Swinging?
One mystery of the pineapple swinger is why they use pineapples in the first place.
Why did they choose to give the upside-down pineapple meaning?
As mentioned above, the easiest answer is that pineapples are typically seen in places like cruises and other tropical tourist spots. Beyond blending in with the locale, pineapples have a definite top and bottom that can be easily noticed when placed upside-down. 
It is a mixture of subtlety and obviousness that tells fellow pineapple swingers where to find a good time. 
Another reason swingers gave the upside-down pineapple meaning is the symbolism inherent to pineapples. Not only do they give off the vibe of a relaxing and exotic getaway, but pineapples have been used as a symbol of welcoming and hospitality since the Renaissance.
Even my tiny hometown in Massachusetts, a very non-tropical location, uses the pineapple as a sign of welcoming. 
Putting an upside-down pineapple on your door is a way of welcoming strangers to become friends…
…with benefits.
Some may raise an eyebrow, but this practice of hanging a flag that says "we welcome others into our world and will take care of you" is sort of sweet if you ask me.
Do Flamingos Represent Swinging?
Flamingos are sort of a sign for swinging.
To be specific, plastic lawn flamingos placed on the front lawn is a signal that some swingers live here. 
This idea goes back to the land of suburban sex. As mentioned before, some would push their carts up and down the aisles at their local grocery store with an upside-down pineapple meaning they are open to other swingers. 
When you think of the repressive suburbs and the fascination with tiki aesthetics in mid-century America, it is easy to see how these symbols of care-free sexual exploration came to be.
There are other subtle hints swingers put out there for fellow enthusiasts. Some of these are wearing a black ring on the right hand or some pampas grass growing in the front yard.
For someone who is single and wants to join a couple, you will usually see some signs involving unicorns.
Fascinating stuff.
Should I Avoid Wearing Pineapples if I am Not a Swinger?
It should be said that not everyone who is rocking a pineapple-themed look is looking for a playmate. 
Swingers, in general, are aware of this and respect it.
There is no need to keep those fun, tropical outfits and accessories hidden away. If you notice your new friends by the hotel pool are being unusually friendly, and are not bothering you, just wait to see if they bring up the possibility of you joining them and politely decline.
Unless, of course, you are down to clown.
Getting into the Swing of Things – 4 Swinger Sites to Try
If the idea of swinging interests you, start by checking out our picks for the best swinger sites online.
Here is a quick look at some of the biggest ones:
Pros:
Massive User Base

Has special communities, including one for swingers

Has special features, like their Sex Academy
Cons:
You can not do much on the site without a subscription

User Interface looks dated
One of the oldest and most popular hookup sites out there, AdultFriendFinder is an excellent place to start your swinging journey. 
With thousands of active accounts all looking for hot fun, there is no shortage of options here.
The highly customizable search filters even have an option for finding couples who want a third. The Adult Friend Finder site is very LGBTQ+ friendly, which is great for those living their best life outside the binary.
Members can even broadcast a live cam show or have an open instant messaging session to meet new people.  All those features, plus others like full adult videos, make Adult Friend Finder a great choice to start your swinging lifestyle.
>>Get Swinging with Adult Friend Finder here
2. Ashley Madison (Paid – $59.00/100 Credits or Free for Women)
Pros:
Pay-as-needed structure

Great profile moderation (no bots!)

Focusing on extramarital affairs makes it prime real estate for swingers
Cons:
Basic account does not let you do much besides window shop

A fair amount of inactive accounts can leave you waiting
Ashley Madison is one of the most infamous websites out there. The site dedicated to helping people find fun outside of, or in addition to, their marriages gained national attention in 2015 when user data was stolen and made public. 
It was a dick move that brought a lot of hate, but Ashley Madison is still going strong.
With a slick design and intuitive interface, Ashley Madison is keeping things as classy as they are sexy. Since the site is aimed at folks who want a ploy or extramarital affair, Ashely Madison is a fantastic place for swingers to connect.
The pricing is unique and actually pretty brilliant. Instead of being on the hook for a monthly fee, here you just pay for however credits you need.
The idea to offer free credits to women helps Ashley Madison sidestep the pitfall most hookup sites fall into and keeps the ratio between men and women balanced. 
Ashley Madison is also LGBTQ+ friendly, so there is something for everyone.
>>Try your luck with Ashley Madison
3. Alt.com (Paid – Starting at $19.95/month)
Pros:
Kink positive & LGBTQ+ friendly

Diverse community

Members are not shy about posting NSFW media
Cons:
Free account is extremely limited

There are a lot of accounts that are untrustworthy
Alt is the even kinkier cousin of Adult Friend Finder. Filled to the brim with swingers who enjoy things like BDSM, Alt is a sex positive and queer friendly place to find your married brat or daddy.
The UI is extremely similar to Adult Friend Finder, meaning it looks like it was made back in the stone age of the early 00s.
But, since when were kinky people afraid of a challenge?
The most basic membership is $19.95, which is more affordable than most, but you can not even check out profiles or respond to messages without subscribing. Featuring live member cam shows, subgroups, and a diverse user base, you do get a lot of bang for your buck.
If you want to do some swinging that goes beyond the vanilla, the poly and swinging community on Alt is what you are looking for.
4. FetLife ($5 for Premium Membership)
Pros:
Solid amount of features for free users

Great community

Tons of variety to explore
Cons:
Lots of abandoned profiles

Site design feels ancient
FetLife is less of a hookup app and more of a social community. A very kinky social community.
With hundreds of thousands of users from all over the world, FetLife is the gold standard for the kink community. The boards offer events, groups, and popular posts for fans to comment on. People upload spicy content regularly and engage with one another all the time. 
The site is also very diverse. That means you can spice up your swinging adventures with any gender, race, or sexuality you want. 
You can DM other swingers for a connection, or just sit back and watch them do their thing on their profile page.
If you are new to the fetish scene, then there is a group made just for newbies to learn the, ahem, ropes. 
One unique feature is the text posts. Users will post longer essays that range from the hottest short stories to just venting about their day.
FetLife gives swingers a personal touch that goes beyond other hookup sites.
Pineapples, Pineapples Everywhere
So, now the mystery of the upside-down pineapple meaning is solved.
Upside-down pineapples, and pineapple paraphernalia, appear when a swinger wants to send up a beacon to other swingers for some sexy adventure. It is a genius signal that does not stand out too much, unless you are looking for it.
If you are interested in swinging and have a vacation coming up, you have to knowledge to let your freak flag fly with pride.