While I'm certainly no stranger to the world of online dating, it had been a while since I'd gone out on a date or met someone who interested me.
Instead of going back to my old online haunts (like Tinder and Ashley Madison), I decided to give Bumble a try.
After all, I'd heard great things about the site and its unique 'women make the first move' approach certainly intrigued me.
What I found was a well-designed dating platform full of attractive singles and fun features. Want to learn more?
Well, guess what, I've documented my entire experience below!
Bumble Dating Review: Pros & Cons
Read our first thoughts on Bumble in this overview, before we dig deeper in our Bumble dating review.
Bumble Pros
Very popular (over 100 million users)
Unlimited messages for free users
Only women can send the first message after matching
Handy 'Incognito' mode
Excellent guy/girl ratio
Limited catfish, bots, and fake accounts
Mandatory account verification process
Available on both web and mobile
Use Bumble to meet friends and network for business
Bumble Cons
Limited search filters with free accounts
Chats expire after 24 hours if no messages are exchanged
Men can't send the first message
Bumble Dating Review: Overall Rating – 8.7/10
Given its unique 'women message first' design, Bumble provides a safer online dating service for women who want to meet local singles without being inundated by unwanted messages from creepy dudes.
The dating site also offers tons of solid features, including an incognito mode, a fun video chat feature, and a great ice-breaking questions game. What's more, Bumble employs an automated profile verification system that cracks down on catfish, fake profiles, and bots.
All-in-all, Bumble was one of the best online dating experiences I've had, and whether you're a guy or girl, I can't recommend it enough if you want to meet someone new.
Bumble Dating Review: My Personal Experience
Bumble Overview and History
Founded in 2014 by an ex-Tinder employee, Bumble has quickly become one of the largest dating sites in operation, and today, the platform is home to over 100 million users!
This makes Bumble more popular than other well-known dating sites like Zoosk and eHarmony. It also has an excellent guy/girl ratio – another reason for its massive popularity.
How Does Bumble Work?
Bumble works a lot like Tinder; users create an account and browse through profiles by swiping right on those they like and left on those they don't.
However…
Bumble differs from Tinder (and nearly all dating sites) in one significant way—women must make the first move.
How does this work?
If two members match, it's up to the women to send the first message. Moreover, when a match occurs, the woman has a 24-hour window to say hello. If they don't, the chat expires.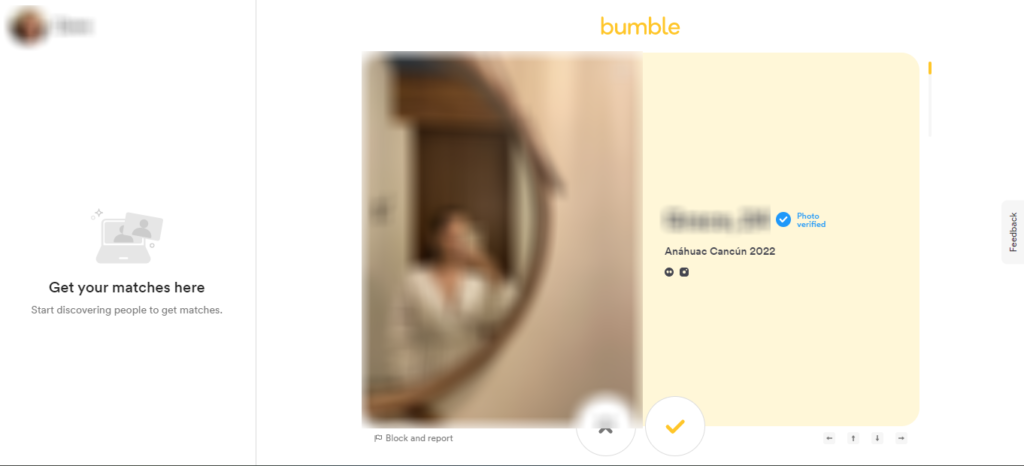 Men aren't entirely removed from the process, however, and guys can extend this 24-hour window once per day.
Who Is Bumble For?
First and foremost, Bumble caters to women who want to participate in the online dating scene without being inundated by unsolicited dong pics, unwanted messages, and creepy dudes who won't take no for an answer.
In short, the Bumble dating site is designed as a 'safe space' for women looking to connect with local singles.
Sounds good so far? Let's proceed.
As far as demographics go, Bumble is most popular among users between the ages of 18 and 29, and as mentioned above, has a near-even split between male and female users.
It was this male/female ratio that initially motivated me to check out Bumble. After all, most online dating sites have so many more males than females they're almost a complete waste of time.
So don't worry, Bumble is far from the sausage fest that other platforms are, and I was surprisingly impressed by the number of attractive users I was swiping right on.
What's the typical Bumble user looking for?
Honestly, it's a pretty mixed bag. While some users are just looking for their next friends with benefits or a one-night stand, others are more interested in something long-term and serious.
If I had to say which of the two camps is most prevalent, I'd certainly lean towards the latter.
While Bumble is no doubt a great place to find yourself a sneaky link or booty call, the majority of users appear to be after something serious (or at least open to the idea).
RELATED READS: Is Bumble Good for Hookups?
Sign-Up Process
Bumble boasts a refreshingly simple sign-up process, giving users the option of logging in using their Facebook account, Apple account, or their phone number.
Since I don't use Facebook often, I chose the phone number options. Once I supplied my digits, I was instantly sent an SMS verification code, allowing me to continue to the next step.
Next, I provided my name, birthday, and gender. If your sexuality/gender identity falls outside of the heteronormative spectrum, know that Bumble is highly inclusive and supports over 40 gender/sexuality options.
If you don't find the term that applies to you, the Bumble site will let you add a custom term (a luxury you won't get with many other dating apps).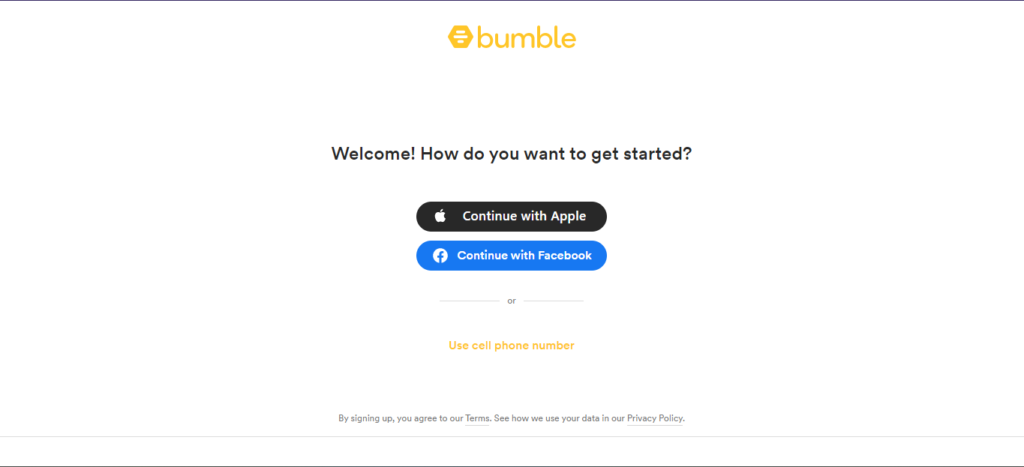 Next, Bumble asked me to upload some photos, which I could do by linking my Facebook/Instagram account or selecting files directly from my phone/computer.
While you're only required to upload a single photo, keep one thing in mind – profiles with less than 6 photos receive significantly less visibility.
Finally, to keep bots and fake profiles at bay, Bumble uses an automated verification process to ensure all users are who they say they are.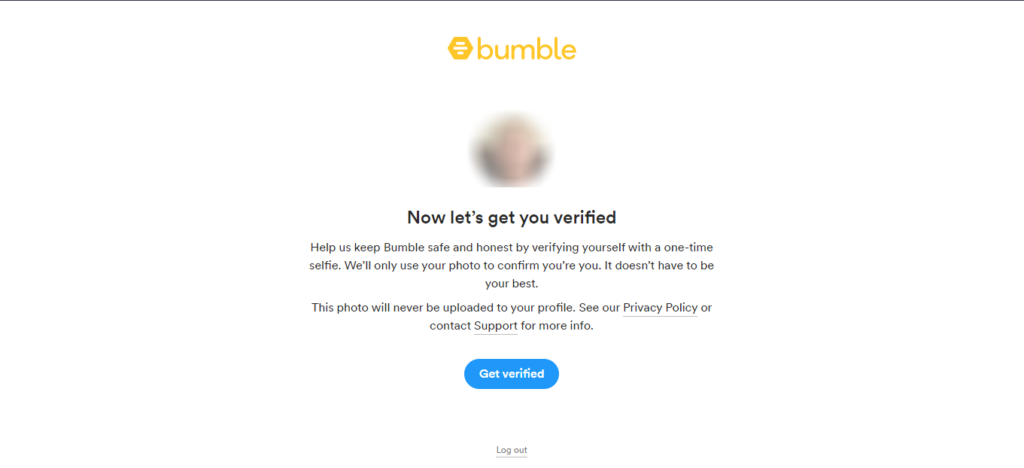 I was pleasantly surprised by this feature as my experiences with other popular dating sites have been plagued by bots, catfishes, and fake profiles.
(PS: If the photo verification process takes a few tries, don't be discouraged – it took me at least 5 attempts before my selfie was accepted by Bumble's catfish-catching technology)
Bumble Dating Features
Now that we've covered the sign-up process, let's look at some of the key features Bumble has to offer – which as we will see – are quite a lot.
Advanced Filter Options
Of the millions of members you'll run into on Bumble, not everyone is going to be your cup of tea.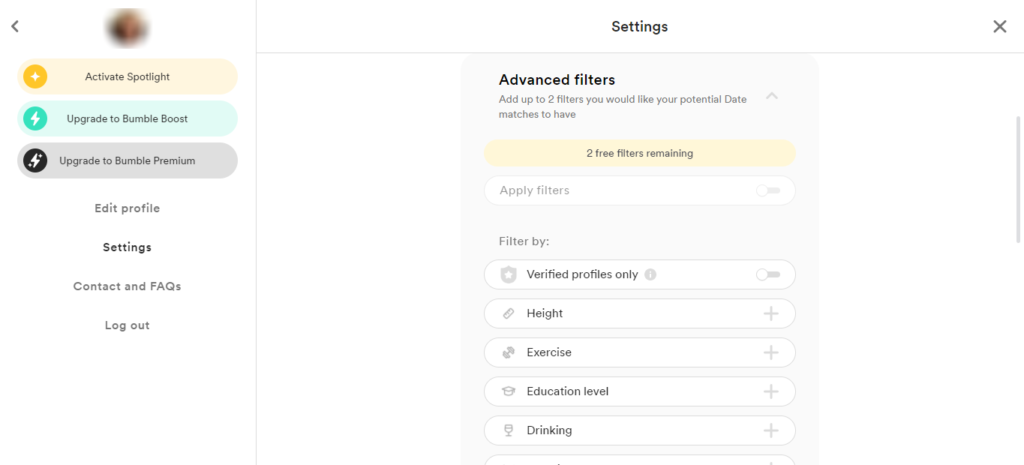 With this in mind, the Bumble dating site has supplied users with a decent number of advanced filter options to choose from, including height, drinking/smoking habits, whether they work out, and what they're looking for.
That said…
Only premium members will gain access to these options. Free users, on the other hand, are limited to age, location, gender, and language.
Premium members can also limit their matches to verified users. To me, this feature alone made a Premium membership worth it as I've been burned by fake accounts in the past.
Spot Light
Despite outfitting my profile with a good number of photos, I still didn't feel I was getting the amount of attention I deserved. In an attempt to rectify this, I purchased several Spotlights.
What are Spotlights?
When activated, a Spotlight gives you priority status for 30 minutes, meaning your profile becomes visible to potential matches before anyone else. According to Bumble, Spotlights can give you up to 10 times more matches.
Is this true? I'm certainly inclined to believe so.
After activating a few Spot Lights, I received significantly more matches and messages than before.
What did this tell me? Being within the first 10 profiles in a member's feed is valuable for real estate and greatly improves your odds of finding a match.
Super Swipes
If you see someone that stands out, you can send them a Super Swipe to let them know you're positively smitten.
Not only will a Super Swipe inform the person of your infatuation, but it'll also give you priority status, making you show up towards the top of search results.
Because they're pretty inexpensive (just $1.33 to $3.50 each) I decided to buy a few and try them out on some local cuties that caught my eye.
The response was mixed…
While some appeared to appreciate the extra attention, most didn't seem to care. Ultimately, it doesn't seem to matter how much you like someone – if they're not interested – no amount of Super Swipes will change this.
Incognito Mode
As a somewhat private person, I'm always looking for ways to hide or severely limit my public presence on the net (a position that I'll admit sounds weird coming from a frequent user of online dating sites).
Nevertheless, I found Bumble's Incognito mode gave me all the coverage I needed.
How does it work?
When turned on, it renders your profile invisible to all users except for those you've swiped right on, effectively hiding your profile from the public eye.
Of course, if another person also has Incognito turned on, it means you two will never match (unless one of you turns it off).
Luckily, it seems like most users refrain from using this feature and prefer to put their profile out there for all to see. If you like the idea of going Incognito, know that this perk is only available with a premium account.
(Note: Incognito mode is only available on the mobile version, not the Bumble site.)
Profile Badges
Because Bumble limits the 'About Me' section to 300 characters, it lets users outfit their profile with 'Badges'.
These Badges are keywords that let people know what you're into, what you're looking for, and some of your habits.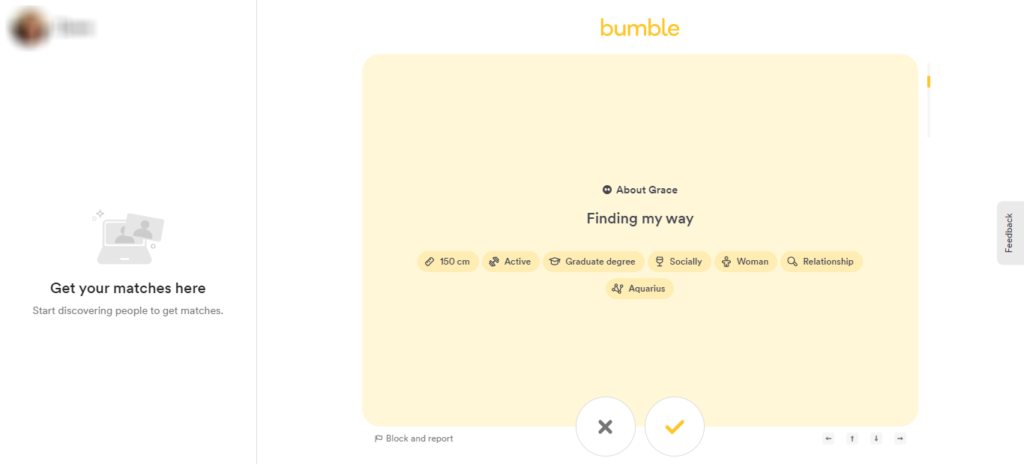 When I first set up my profile, I chose to skip this section entirely. Bad idea.
Most users look at these Badges before deciding to swipe left or right on you. Even if they like the way you look, empty profiles tend to turn people off.
Bumble BFF
While most people use Bumble to find dates and connect with local singles, the site also supports a 'BFF' version designed to help people find friends, hiking buddies, and other types of platonic relationships.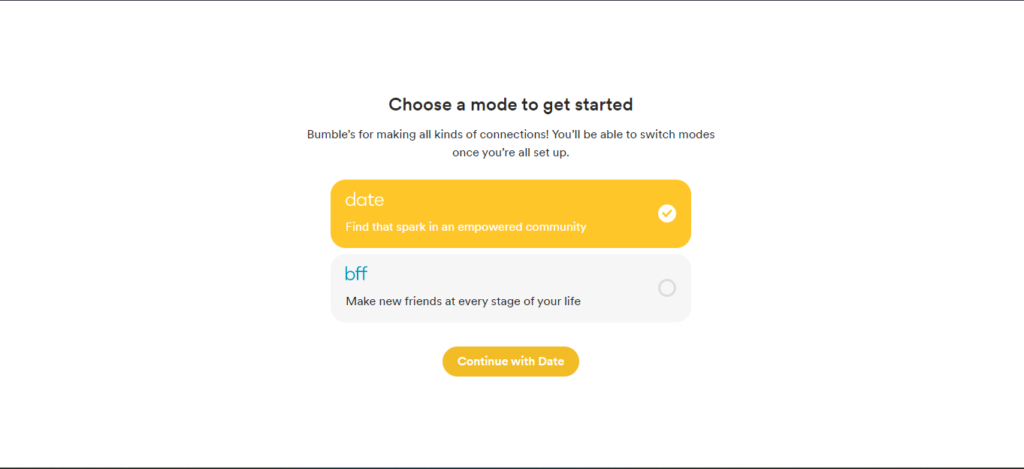 To give the BFF version a try, you'll need to pick at least 3 profile badges to let other users know what you're about.
Popular badges include 'Gap Year', 'Studying Abroad', 'Digital Nomad', and 'Sober Life'.
You can also select up to 5 interests, including options like 'Beer', 'Hiking', 'Soccer', and your favorite kind of music.
Video Chat Feature
Once you've matched and started a conversation with someone, a small phone icon will appear in the top right corner of the screen. When selected, a video chat screen will pop up, letting you get to know your match face-to-face.
While I didn't spend much time using this feature, it's a great way to verify a person is who they say they are (especially when dealing with unverified members).
Beeline
While the mystery of swiping right and seeing who's liked you can be fun and exciting, you can simplify the process using the Beeline – a complete list of users who've swiped right on you.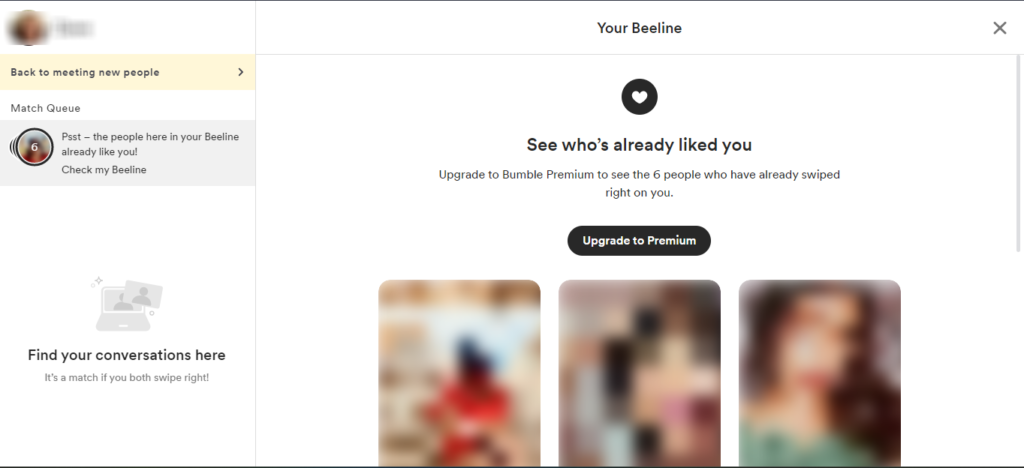 You will need a Premium subscription to access your Beeline, however, and I was able to see all the ladies who swiped right on my profile.
If you just want to get straight to the point without wasting any time, the Beeline is another great reason to purchase a Premium subscription.
Question Game
If you're unsure how to get the conversation rolling or break the ice, check out Bumble's fun Question game.
Once started, both users are asked a question and their answers are revealed at the same time. Questions can be simple and harmless, like 'what's the last book you read', or a little more risque, like 'what are your turn ons'.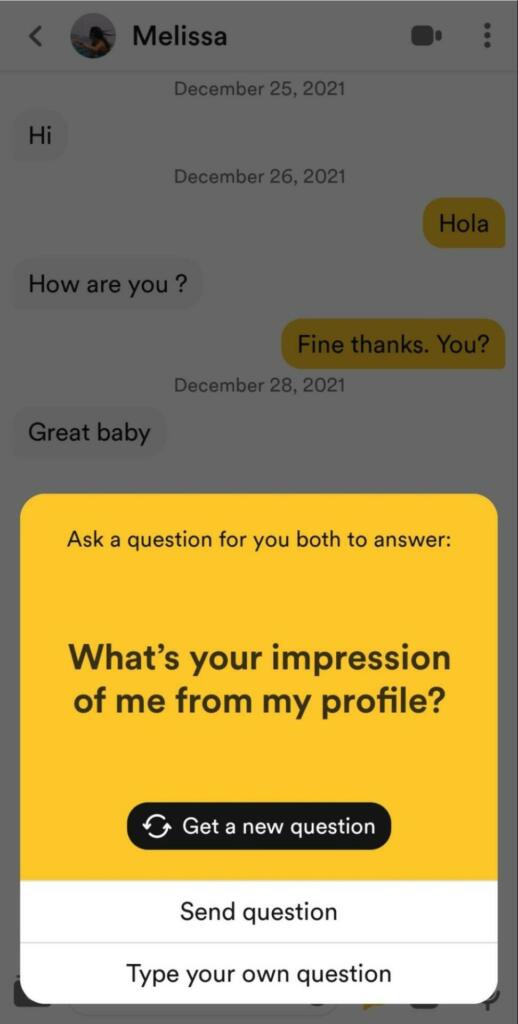 While I only participated a few times, I found it a fun way to interact with and get to know matches, and if you don't have a lot to say, it is much more interesting than 'What's up?'.
Bumble Events
The Bumble dating site also hosts live events through its Bumble IRL feature. To view upcoming events, visit the Bumble site, find the 'Bumble IRL' section, and search for your city.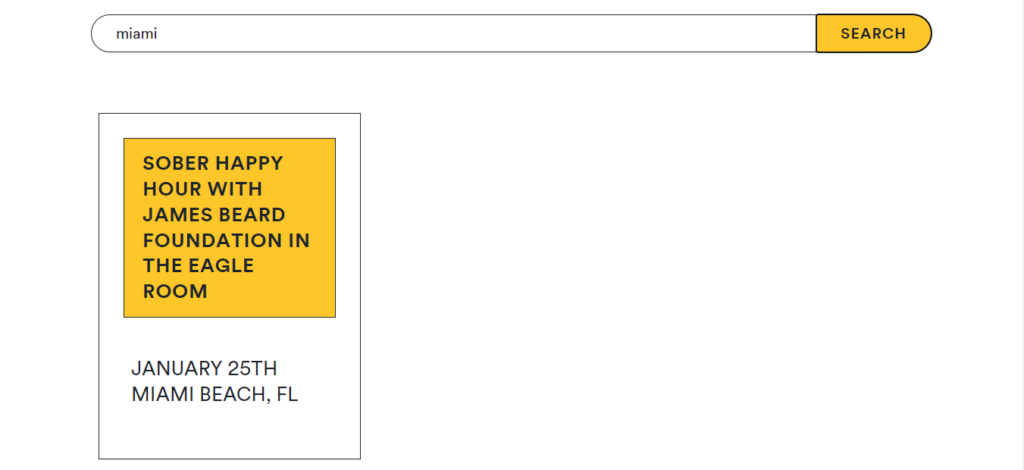 If you'd like to attend an upcoming event, simply click the desired date and RSVP. While I didn't participate in any events, I was surprised by how frequently they occur in major cities.
Connect Your Spotify Account
If meeting someone with similar musical tastes is important, the Bumble dating site supports Spotify integration.
While this won't let you filter matches based on what tracks, artists, or albums they listen to, it will let you open up and creep their Spotify playlists, giving you the inside scoop on their favorite jams and artists.
As someone who greatly enjoys music, I appreciated this feature.
The few times I paid for a Super Swipe, it was because I came across someone with the same musical tastes as me.
How Does Bumble Dating Compare?
Interested in how Bumble stacks up against the competition? For better or worse, my experience with online dating sites puts me in a uniquely qualified position to comment on the matter.
Here's what I think on how our Bumble dating review compares to some of the best dating apps.
Designed exclusively for "luxury dating" and "dating up", Seeking.com is a great alternative to Bumble if you're looking to add a little opulence into your life.
Whereas Bumble is more focused on everyday men and women, Seeking is where the rich and/or beautiful come together.
Membership is FREE for female members, and expensive for male members, with the idea being that male members splash the cash on their beautiful female counterparts.
There's a pretty in-depth verification process that ensures most accounts are legit, so you might just end up getting matched with a beautiful and/or rich date tonight. Read our Seeking review or head straight to
Unlike Bumble, Ashley Madison is designed for discreet affairs and extramarital side action. As such, the platform offers more privacy tools than Bumble (although there are significantly more bots and fake accounts to contend with).
What's more, Ashley Madison is all about no-strings-attached sex and isn't the place to find casual dates or relationships. By comparison, the Bumble dating section offers a little bit of everything, making it much more well-rounded. Read all about it in our Ashley Madison review or
>>Visit Ashley Madison for discreet dating
Home to over 100 million members, Adult Friend Finder is an X-rated, adult-oriented social networking site designed for adult dating, casual sex, swinging, and just about every kink-related activity you can imagine.
If you find Bumble a little too vanilla for your tastes, then you'll want to check out AFF. That said, unlike Bumble, free accounts won't be able to send messages (although they will gain access to the site's advanced search filters). More info in our Adult Friend Finder review.
>>Go straight to Adult Friend Finder
Easily the most popular dating site around, Tinder is virtually identical to Bumble in all ways except one – both men and women can make the first move.
What's more, Tinder has three different premium subscriptions (Plus, Gold, and Platinum), and gaining access to all features can be a bit expensive. In this regard, Bumble is certainly the better value, even if it has slightly fewer members.
That said…I found the overall quality of matches on Bumble was much higher than on Tinder.
Moreover, most Tinder users are just looking to smash, meaning if you're open to something a bit more serious, Bumble is your better bet. Not convinced? See for yourself.
Bumble Dating Pricing and Plans
A Bumble Premium plan can be purchased as a weekly, monthly, or lifetime subscription and gives users access to several features and tools, including:
Access to advanced filter options
Unlimited access to your Beeline
Ability to extend matches beyond the 24 hours
Incognito mode
One SpotLight per week
Five SuperSwipes per week
Travel mode
Prices range from $14.99 to $24.05 per month (depending on how long you sign-up for) or $11.99 per week if you just want to test the site out.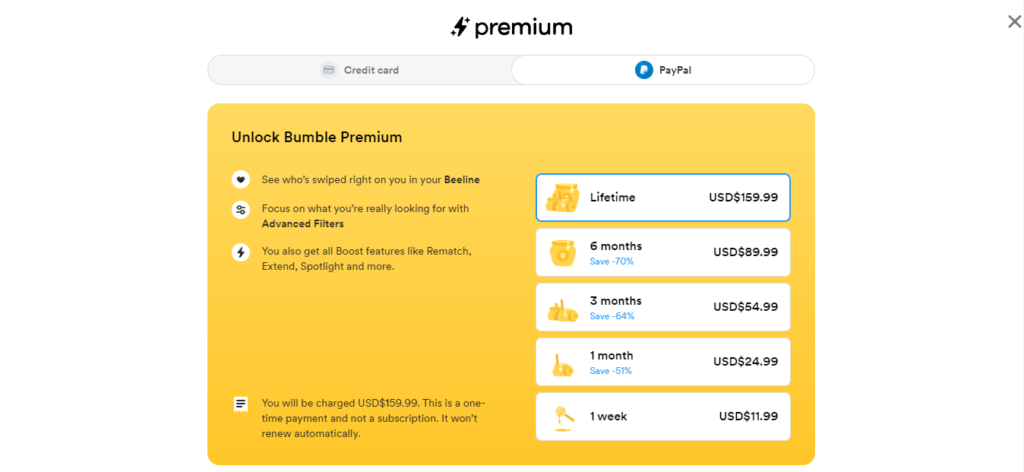 Bumble Dating Site FAQs
Is Bumble Better than Tinder?
While Tinder is more popular, I found Bumble had the better quality of matches. That said, Tinder is more geared toward casual sex than Bumble, so it depends on what you're after.
Is Bumble Dating Worth it As a Guy?
Yes, Bumble is worth it as a guy, especially if you pay extra for access to the Beeline (a list of users who've swiped right on your profile).
RELATED READING: Best Fansly girls
Can I Use Bumble Dating for Free?
Yes, even with a free account users can match with local singles, send unlimited messages, and access a handful of basic filter criteria. For the full Bumble experience, however, a Premium subscription is recommended.
What Age Group is Bumble Dating for?
Bumble is most popular among people between the ages of 18 and 35. That said, Bumble is open to users of all ages and the site is growing in popularity among older singles as well.
Is the Bumble Site Good for Dating?
First of all, it's an app, not a site. But yes, the Bumble app is good for dating. Bumble is regularly rated as one of the top dating sites in operation and the platform site is accessed by millions of users each day.
Is Bumble Dating LGBTQ+ Friendly?
Yes, Bumble is very LGBTQ+ friendly, and upon sign-up, members have the option of 40+ gender and sexuality options, including Trans, Bi-sexual, Non-binary, Queer, and more.
Should I Use My Real Name on Bumble?
While most people use their real name when signing up with the Bumble site, it's not required. Often, people use their real first name and enter their middle name as their last name.
RELATED READING: Best hookup sites
Can I Be Anonymous on Bumble?
The best way to be anonymous on the Bumble app is by using the site's Incognito feature. When turned on, your profile will become invisible to everyone except those you've swiped right on.
Bumble Dating Review: Is It Worth It?
Of all the dating apps and sites I've tried, Bumble is undeniably one of the best.
What makes it so good?
For starters, the site's verification process severely limits the number of bots, catfishes, and fake accounts you'll deal with – which as anyone familiar with online dating sites knows – is a big issue with most platforms.
What's more, by letting women make the first move, the site is seriously female-friendly and a great choice for ladies who want the full online dating experience without being harassed by creepy or desperate dudes.
However, if you're a woman who's looking to "date up" and explore a luxurious lifestyle, something like Seeking.com might be more up your alley.
RELATED READING: Best OnlyFans girls