Having the opportunity to work from home is like gold these days.
For those that have a knack for modeling and creativity, there are few better ways to earn some dough from your cozy abode than by selling nudes online. No, it doesn't have to be overly raunchy and there's no shame in it, either.
There is a reason this trend is, well, trending.
So long as you know how to go about it and don't expect to get mega rich, selling nudes online for a side gig is definitely possible and we're here to break down the basics.
What We Cover in Our Guide To Selling Nudes
Equipment tips
What to sell: Finding your style
How to sell: Best sites to sell nudes
Popular questions answered
Equipment Tips for Selling Nudes Online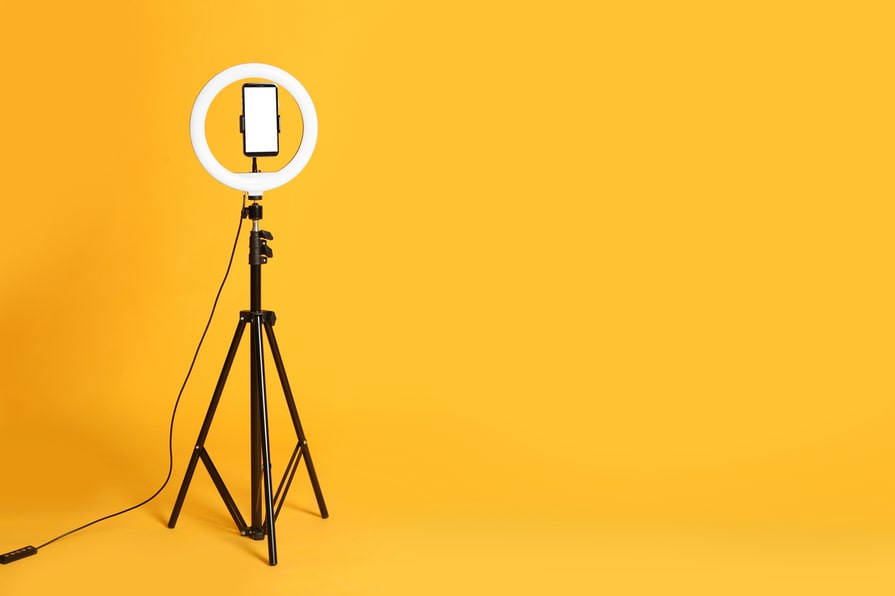 Selling nudes online doesn't require much capital, aside from the initial cash you'll need for the basic supplies required to get your business off the ground.

Thankfully, everything is readily available and in the case you need to purchase a piece or two of equipment, you can get most items at a reasonable cost.

Consider this your nudey checklist:
Camera
It's pretty much a no-brainer that you're going to need a proper camera.

The question is: What kind of camera offers high-quality XXX photos that your fans and followers will keep coming back for?
A general rule to follow is that 5MP is the baseline image resolution required to achieve good-looking pics. Your clients are out for crisp images and you don't want to come off as dated.
On the bright side, most cameras (including those on phones) nowadays feature this baseline. 
So, it's not hard to achieve.

As for the type of camera, you have a few options to choose from:
The Easiest Option – Smartphone
By far the most common tool used by influencers ever since Instagram came onto the scene, your phone's camera might be exactly what you need. You can throw a penny in any direction and hit a smartphone that has a working camera with at least 5MP image resolution. 
There are even budget options on the market.
That's not to mention the portability of these things, which allows you to pretty much take photos of yourself and sell nudes online wherever you may be.
It's no wonder that the majority of cam models and online performers today prefer to make use of this device, and there's no reason for you not to follow suit.
Best for Techies – DSLR Camera
DSLR (digital single lens reflex) cameras are professional cameras that you can use to get the highest quality images for snappin' and sellin' nudes online.

You can imagine the DSLR as the top-of-the-line tool when it comes to photography. These things offer loads of customizable settings and functions from the type of lens you use to the shutter speed with which you take your nudes.

Do bear in mind that they're not the most user-friendly cameras out there. You're going to need some technical know-how in photography to properly make use of a DSLR.

DSLRs also require a photo editing app or program to properly revise your nude pics: another aspect of using this tool that requires a degree of technical knowledge.
Nostalgic Approach – Polaroid Camera
Polaroids might very well be the old-school option here. It's the most limited type of camera of the three, which makes it the best option if you're catering to a particular niche.
By "niche" here, we mean people who like to buy physical copies of nude photos online.

That's pretty much the only way to make money off your nude polaroids, given that these things exclusively make printed copies of your photos.

Still, they're hella cool!
What Camera Do We Prefer? The Verdict
Smartphones provide the most versatile option for selling nudes online. Their portability, user-friendly quality, and price all make for a trifecta of convenience.

We highly recommend this option if you're working alone or just starting out in the biz.
DSLRs are best suited if you have the technical knowledge and capital to get one. Otherwise, these cameras are your best option if you're working with a professional photographer who can help you come up with the highest-quality nude pics to sell online.
Lastly, the polaroids. 
Honestly, they're limiting and not that cheap in the long run. But selling physical copies of your nudes may provide a better profit margin, since they cost more than digital nude pics. 
Basically, polaroids are best if you're strictly catering to a certain crowd.
Tripod
Cam tripods are a great (and affordable) way to complement your camera setup and using one to create your nudes is beneficial for two main reasons:
More creative freedom to experiment with poses and angles
Better quality images in low-light settings
Tripods come in all sorts of sizes and a wide price range from $20 up to $100 or more.
What To Sell – Finding Your Style of Nudes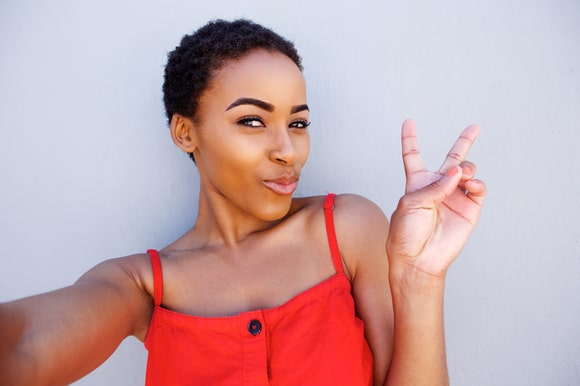 A common misconception among the uninitiated is that selling your nudes is just a matter of snapping a picture of your juicy bits and then waiting for the money to roll right in.

They couldn't be more wrong.
Nude photos are in a world all its own in the adult entertainment industry, and there are certain nuances to consider before you start selling XXX photos to the world.

Here are the most common formats of nudes:
Selfies
Selfies are the go-to type of nude photos that models and performers sell online, given that it's the easiest one to pull off comparatively.
This style is best-suited to using a phone camera. It's literally a point-and-click activity that allows you to do everything yourself, from snapping your nude photos to uploading and selling them online.
Although selfies are easy, there are two downsides:
Selfies are extremely common
They are limiting in shot selection

You have to find a way to stand out among the millions of others. Then, there's the matter of limitation. For the most part, selfies are taken using your hands, which hinders the number of poses you can do.
It's usually the case that selfies are best sold per piece, given that creating full image sets with selfies tends to get repetitive.
A tripod can solve this, but that's not exactly a "selfie" if you use one. It's more of a…
Full-Scale Photoshoot
You can accomplish a full-scale photoshoot with any of the three types of cameras mentioned. As opposed to selfies, photoshoots offer variety! From angles to shot selections, poses, and even elaborate set details.
You can do this alone with the use of a tripod and a shutter remote, but it's not going to be an easy task. Especially when you consider you'll have to review each image individually and make any changes alone. 
Suffice it to say, it'll be tedious.
As such, full-scale photoshoots are best conducted if you have a photographer or entourage with you. It's going to save you a whole lot of time and effort when all you have to worry about is how to look pretty for your photos in order to sell nudes online.
Polaroid Nudes
Polaroids, as we've said earlier, are a great alternative when you want to sell physical copies of your photos. 
They certainly come with their advantages…
For one, physical photos cost much higher than digital ones. In fact, some online models out there make it a point to sell nudes online using polaroids as a "premium" product that's highly limited.

A polaroid screams "exclusivity!"
You can also add additional details and personal touches to your polaroids to give your fans a more intimate feel to the product. It could be a written dedication, your signature, or creating limited editions.
There's also the matter of physical prints, polaroids included, being more difficult to reproduce, limiting the likelihood that someone could unlawfully distribute your pics.
Selling Nude Image Sets Vs. Individual Nudes
When it comes to selling nudes online, there are a couple of primary ways with which you can release your XXX pics and make a profit. These are:
Nude Image Sets
Image sets consist of at least 20 pictures, which you sell collectively to your fans. It's one of the most prevalent ways that online models and performers sell nudes online, as consumers tend to prefer value for money.
Although image sets are usually reserved for full-length photoshoots, it's not unheard-of for online models to sell selfies this way.

But image sets done through dedicated shoots are more likely to sell due to the variety and quality that the images contain compared to their selfie counterparts.
Individual Nudes
If you want to sell nudes online immediately, the best way to go about it is by individually selling your XXX nude photos to clients.

However, it's not so sustainable given most fans prefer more products sent in one go versus one by one. We only recommend the piecemeal approach to supplement your image sets.
This way, you have the opportunity to charge a premium for these individual releases by turning them into limited editions that cost more than your usual stuff. It's something you can't do if you only have individual nudes for sale in your store.
Maybe we learned from experience?

For inspiration: Top 15 Teens OnlyFans
How To Sell Nudes – Best Sites for Selling Nudes Online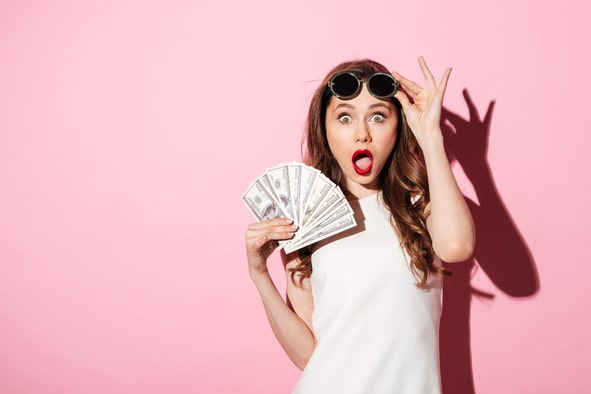 Below we list the best cam sites to work for. We're talking actual facts here, not oversold promises…
1. OnlyFans – Provides Big Profits for Selling Nudes
Best perks
Versatile content sharing site
OnlyFans takes privacy seriously
High payout at 80%

OnlyFans is perhaps the most popular platform for selling XXX content online right now, from Lesbian OnlyFans accounts to loads of other niches. This is all thanks to how well-known the company has become since it launched in 2017.
OF isn't strictly made for buying/selling NSFW stuff, either. It just so happens that independent models and performers online continue to flock to OnlyFans to make a little buck for their snapshots.
This is the ideal platform to use if you want to sell nudes on a subscription basis. People can't see anything you post on OnlyFans unless they're subscribed to your account. You set the monthly subscription cost from $4.99 upwards.
You're also allowed to sell whatever type of product you want as long as it's legal. This could include custom XXX videos, access to your social media accounts and even physical items like your underwear or bathwater.
Yes, it did make the news!
As far as your earning potential on OnlyFans, the site only takes 20% of your monthly revenue. The remaining 80% all goes to your account, the highest percentage on our list.
The hottest OnlyFans accounts earn anywhere from $200 to a few thousand dollars monthly. There's a variety of payout channels, so you can get your earnings conveniently too.
2. Chaturbate – Sell Nudes on this Popular Cam Site
Best perks
Largest sex cam site (read: huge viewership)
Build a fan club
Learn how to live model
Ever heard of the phrase, "let your money work for you?"

A more apt version of that here would be: let your nudes work for you. 
Given that Chaturbate is the largest live sex cam site, you might be surprised that it's also one of the most lucrative places for you to sell nudes. That's because sex chat sites like Chaturbate have a section dedicated for models to post uploaded content for sell.
Nude photos, of course, belong in this category, and Chaturbate models can greatly boost their earnings by selling them on this site. 
However, you have to know that you can't exclusively sell nudes on Chaturbate, since this is a camming website.  A better way to put it is that you'll primarily make money off live cam shows, and then earn a bit on the side with the nudes.
Some Chaturbate performers even provide their followers with free nudes to entice them into joining their Chaturbate fan club for special viewer privileges.
One last thing you should be aware of is that Chaturbate takes a significant chunk of your revenue at 40%. But given this is the largest cam site with literally tens of millions of visitors monthly, the substantial viewership might very well offset that low percentage.
3. ManyVids – Great Place to Sell Nudes for Alternative Interests
Best perks
Less mainstream, more unique
Flexibility in what you can sell
Modest revenue cut
ManyVids is a nicely diverse platform where you can sell nudes online. We love how flexible it is in regards to charging clients, whether through subscription fees, individual sales of your products or both.
You might think that ManyVids is nothing but an OnlyFans copycat, but there's one quality that the more popular OF doesn't have: a very specific user base. ManyVids is a haven for both models and fans of alternative porn, from BDSM genres to Furries.
This means you can easily find a loyal fanbase willing to buy your nudes on ManyVids, given the discernment of the crowd's tastes here.
ManyVids also takes a relatively modest percentage of your revenue: 10-20% from subscription fees and 40% for uploaded content (like nude photos).
4. ModelCentro – Easy To Use Modeling Site for Selling Nudes
Best perks
Flat rate payout system
Content sharing or cams – take your pick
You get 75%
This platform is equal parts content-sharing and live sex cams.

Regardless if you're working on ModelCentro as a live cam model or you're here to sell nudes, you make your ends by letting fans pay for your products and services with ModelCentro tokens.
The best part about this site, though, is the flat rate for the percentage it takes from your earnings, whether it's from your cams or the nudes you sell: 25% goes to the site and you get to keep 75% of your gross earnings.

Not bad at all if you want to jump between cam modeling and selling nudes.
5. iWantClips – Best for Selling Premium Nude Content
Best perks
Sophisticated environment
Respect for artistry
Take 100% video earnings (yes, you read that right)
iWantClips is impressive in how it balances being a fun, casual NSFW platform and a more sophisticated place for adult XXX content. This site provides users with porn without making it look, well, uncouth or trashy.
That's right, iWantClips is classy.

Also notable is that iWC has become a go-to platform for fetish models and their fans. If you want to cater to that crowd, iWC might be the right place for you.

iWantClips allows its "artists" (that's what they call their models) the option of selling video clips, photos and earning through tips. The site takes an unprecedented 0% of your gross earnings for the videos.

You get to keep it all.

But they're not as generous when it comes to the revenue you earn from selling nudes, as they take 40% for those. As for tips, 20% goes to iWC, while you get to keep 80%.
FAQs How To Sell Nudes
How Convenient Is It To Sell Nudes Online?
It can be pretty convenient to sell nudes online, but you gotta learn the ropes first.

It's perhaps one of the easiest ways to make money from the comfort of your home. You don't have to go anywhere to conduct your business, which can't be said about working as an escort or live performer.
You also have the benefit of maintaining a flexible schedule.

To sell nudes online, all you need is to snap your pictures, upload them and let your product do the rest. Sure, you also need to strategize and market yourself a bit, but you get our drift.
How Much Time Does It Take To Sell Nudes?
The time it takes to sell nudes depends on a variety of factors.

If you want to sell nudes online, you can work as little, or as much, as you want. Of course, the more developed your nude game is, the more you'll make and the quicker you'll make it.

That said, online models who sell nudes typically work a couple of hours a day on average or even less, depending on what they're doing (shooting the pictures, posting and pricing, etc.).
We recommend setting small goals for yourself, such as selling one image per week for example, as you get acquainted with the business.
Is Selling Nudes Safe At All?
We would be lying if we said selling nudes is 100% safe. Here's the deal:
First, you need to choose a professional platform (or "online store") where you can post and sell your products. Sites like OnlyFans, Chaturbate, and ManyVids are legitimate content sharing sites that support their models to keep their products from copyright infringement.
These sites will most likely also come to your aid if a fan is harassing you or worse.

Beyond that, there's little the sites can do to protect you from being "caught" aka people that you know including your boss finding out you sell nudes online. This factor is a given and something you must take into consideration when embarking on your photo journey.
But we can say that it's significantly safer than making a physical appearance as, say, a stripper or escort. Everything here is done online, with as much distance between you and your fans as possible.
That should be some peace of mind, really.
How Much Can I Earn from Selling Nudes Online?
How much you can earn from selling nudes online could range from pocket change to thousands monthly (though unlikely). It depends on the size of your fanbase, how much you charge and the variety of nude photos you offer, just to name a few factors.

To provide a rough estimate, online models can earn a gross average anywhere from a few hundred dollars to $10K a month for top earners.
Is It Legal To Sell Nude Photos Online?
Yes, it is legal to sell nude photos online, as long as you're 18 years old or above and you're only selling products to people within that age range.
It goes without saying, but breaking the law on this matter is a terrible idea all-around.
Time To Sell Those Nudes
From the equipment you need to sell nudes online to the types of XXX photos you can make money from, you can now start your little side thing from the comfort of your own home.

With the help of platforms like OnlyFans, Chaturbate, and ModelCentro, you won't have to search high and low to find the best place to sell your nudes.

Go get that money, be responsible and have fun!

Related reading: Best cam sites