While food critics often rave about the restaurant scenes in larger cities such as New York City and the like, Philadelphia is home to some of the best eateries in the country. This list is a complete taste of Philly, with 50 outstanding restaurants to try in and around town.
1. Talula's Garden – The Most Charming Restaurant in Philadelphia
If you like high-end American fare, Talula's Garden will be an unforgettable time from your first bite to the last. Set inside a farmhouse with a quaint garden, Talula's prides itself on a farm-to-table approach that will have you eating the freshest local ingredients, including some of the best chicken and waffles in Whether it's brunch or dinner, a reservation at Talula's will be one of your favorite meals ever. 
Notable Menu Items
Fresh baked Miniature Cinnamon Bun Scones

– With cream cheese icing and salted caramel sauce

Buttermilk Chicken and Waffle –

With maple sage gravy and hot honey drizzle

Fresh Baked Cheddar-Chive Biscuits and Salted Honey Black Pepper Butter
Pennsylvania Beef Short Rib –

Parmesan polenta, smoked red onion, braised escarole, and aged balsamic-red wine jus
Online Ratings (out of 5)
Google

4.6

TripAdvisor

4.5

Yelp

4.5
Overall score 4.5
2. Zahav – Best Israeli Restaurant in America
Yeah, that's a lofty claim but it's true at Zahav where the food is so damn good, you need to book reservations months in advance. The wait is well worth it simply for the best hummus on earth, one of many scintillating items on Zahav's intricate menu. 
Zahav is for that once-in-a-lifetime experience so take a date because neither of you will forget this meal or the scrumptious, chewy laffa bread you'll indulge in for starters. Yum!
Notable Menu Items (from the December 2022 menu)
Lamb Kubbeh Niyyeh –

Smoked lamb belly, bulgur, harif, and pecans

Brisket Kebab –

With Castelvetrano olives, tehina, and Schug

Salmon Crudo –

With Kohlrabi pastrami, scallion, labneh, and dill

Pomegranate Lamb Shoulder –

With chickpeas and mint
Online Ratings (out of 5)
Google

4.7

TripAdvisor

4.5

Yelp

4.5
Overall score 4.6
3. Butcher and Singer –  Best Steakhouse in Center City
 
When in Philly and you're in the mood for a good steak, look no further than Butcher and Singer and you will find the steak of your life there. Not only that, you will get to enjoy this delicious steak in an establishment designed to reclaim the nostalgia of Old Hollywood, which is done so perfectly, you'll feel like a Golden Age actor enjoying a piece of meat that came from heaven.
Notable Menu Items
Oysters Rockefeller 
Escargots
Tomahawk Ribeye
Lobster Newberg –

Maine lobster with cognac and brioche toast
Online Ratings (out of 5)
Google

4.6

TripAdvisor

4.5

Yelp

4.5
Overall score 4.5
4. South Jazz Kitchen – Best Southern Food in Philly
Do you know what works perfectly with great southern comfort food? Jazz, lots of jazz, which is exactly what you get at South Jazz Kitchen, a jazz club/restaurant hybrid that serves southern classics like shrimp and grits or gumbo. 
So, just imagine yourself eating the best buttery cornbread of your life to the harmonious tune of saxophones and trumpets in the next room over. Yeah, it's like that at South Jazz Kitchen but only the coolest cats will dig it.
Notable Menu Items
Freshly Baked Skillet of Cornbread
Shrimp & Grits –

Creamy castle valley mill grits, and garlic butter in a classic creole brown sauce

Bayou Chicken Gumbo –

Spicy turkey andouille sausage, rich brown roux, pulled chicken, filé powder, Carolina rice, and chopped green onion

Buttermilk Fried Chicken –

Hot-honey drizzle, sweet potato gratin, creamed turkey collards, and a freshly-baked buttermilk drop biscuit
5. Angelo's Pizzeria – Best All-Around Restaurant in Philly
Look, you have to give respect where it's due and for Angelo's Pizzeria, a joint that's made our Best Cheesesteak, Best Italian, and Best Hoagies list, how can it not be here as well? Mind-blowing food, amazing service, and about as Philadelphia as anything in town. Take a bow, Angelo's. You're one of Philly's finest.
Notable Menu Items
The Pietro –

Square pan pizza w/ mozzarella, ricotta, heirloom tomatoes, roasted red peppers, artichokes, and arugula topped with arugula pesto 

The Big Lou –

White pie with mozzarella, sweet sausage, red onion, pecorino romano, and fresh garlic 

The Brussell Simmons (sandwich) –

Fresh chicken cutlet, fresh mozzarella, roasted Brussels sprouts, prosciutto, shaved grana Padano with balsamic glaze

Buffalo Chicken Cheesesteak –

Fresh chopped chicken breast smothered in homemade hot sauce, gorgonzola, and your choice of cheese
Online Ratings (out of 5)
Google

4.6

TripAdvisor

4.5

Yelp

4.5
Overall score 4.5
6. La Croix Restaurant at The Rittenhouse – Best French Restaurant in Rittenhouse Square
Fine dining and French cuisine go together like peanut butter and jelly and La Croix Restaurant at The Rittenhouse fits the bill as the best of both worlds. Whether it's a date night, an anniversary, or that special time for a proposal, La Croix is a fantastic choice to accomplish elegance, 5-Star dining, and food so divine you'd think you were in someone's kitchen in France. 
Elegant and dine-in only, La Crois at the Rittenhouse is the kind of restaurant that makes culinary memories, with several menus, including breakfast, brunch, lunch, dinner, and one for the wonderfully unique Mary Cassatt Tea Room.
Notable Menu Items
A5 Wagyu

with honey nut squash, burgundy truffle, and sauce Périgueux

Bouillabaisse of octopus

with cilantro flower

Norwegian langoustine

with soft eggs and white truffle

S'mores

with popcorn and caramel chocolate mousse
Online Ratings (out of 5)
Google

4.6

TripAdvisor

4.5

Yelp

4.5
Overall score 4.5
7. Dim Sum House – Best Chinese Dumplings in Philly
Dim Sum House is the king of Chinese dumplings in Philadelphia. They make a wide array of dim sum and dumplings to choose from, each one seemingly outdoing the next.
Start with the crystal shrimp dumplings with a side of West Lake beef soup followed by the orange fried pork rib for your main course. That's just one combination you could choose from one of the largest menus in town. You can close your eyes and pick any dish and you won't be disappointed.
Notable Menu Items
West Lake Beef Soup
Typhoon Lobster
Orange Fried Pork Rib 
Dragon & Phoenix –

Chicken and shrimp (spicy)
Online Ratings (out of 5)
Google

4.4

TripAdvisor

4.0

Yelp

4.0
Overall score 4.1
8. Fiorella – Best Pasta in Philadelphia
It's hard to go wrong with handmade pasta and Fiorella has the best in town. Pasta is their forte at Fiorella, taking residency in a historic building in South Philly. You can taste the sheer care and expertise with each mind-blowing bite and while it's still just a baby born in 2020, it's already making noise as the best pasta in Philly. 
From heavenly ravioli to pillowy gnocchi, take your pick and indulge happily!
Notable Menu Items
Wild Boar Terrine

with Cherries and Chocolate

Mezzelune

with Guinea Hen and Persimmon

Ravioli

with Escargot and Castelrosso Fonduta

Canneloni

with Oxtail and Cippolini
Online Ratings (out of 5)
Google

4.8

TripAdvisor

5.0

Yelp

4.5
Overall score 4.8
9. El Vez – Best Mexican Restaurant in Center City
We'll be the first to admit we wait a bit too long for the first Mexican joint to show up on this list but it's well worth your wait for El Vez. A dreamy Mexican restaurant that boasts six different fantastic guacamoles, each with an awesome name like De La Hoya, Tito Santana, and "Bazooka" Limon. 
The menu includes all the Mexican classics along with unique twists on the cuisine like lamb tacos or shrimp enchiladas so if you've got that itch for food that's south of the border, put El Vez at the top of your list.
Notable Menu Items
Nacho Mamma –

Queso mixto, black beans, salsa ranchera, sour cream, pickled red onion, and jalapeño

"Bazooka" Limon Guacamole –

With goat cheese, chile flake, pistachio, and roasted tomato

Tacos Arabes –

Slow-roasted lamb, Morita chile, cucumber salsa, and lime yogurt

Baja Shrimp Tacos –

Shrimp in a Negra Modelo beer batter with cabbage, pico de gallo, and cremayo.
Online Ratings (out of 5)
Google

4.5

TripAdvisor

4.5

Yelp

4.0
Overall score 4.3
10. The Oyster House – Best Seafood in Center City
Different oceans, different seafood, different tastes, and if you want to taste the Atlantic Ocean, look no further than Center City's seafood staple, Oyster House. When looking for the freshest and most delicious taste of the sea, the Oyster House is the go-to spot for jewels of the Atlantic from the pan-seared sea scallops to the whole Maine lobster. 
With a menu updated daily to serve the freshest seafood from the local waters, go to Oyster House to experience the East Coast for the seafood that's made it famous.
Notable Menu Items
Ceviche Mixto

– With smashed avocado and serrano Leche de Tigre

Grilled Octopus

– With tabouli, tahina, and chili oil

Fisherman's Stew

– Includes shrimp, mussels, calamari, fish, spicy tomato broth, and saffron rouille

The "Surf" Board –

Featuring a smoked fish dip, mussels escabeche, grilled sardines, house-made sourdough, and crackers
Online Ratings (out of 5)
Google

4.6

TripAdvisor

4.5

Yelp

4.0
Overall score 4.4
11. Suraya – Best Mediterranean Restaurant in Fishtown
Have you ever had Eastern Mediterranean food? It's from a region known as the Levant consisting of Lebanon, Israel, Jordan, Palestine, and Syria plus the majority of Turkey and Suraya specializes in them all. Their mouthwatering baba ganoush and kebabs are just a tiny sample of what's in store at this Middle Eastern cafe. 
Suraya has several different menus to choose from too, all fantastic and featuring so many different flavors you'll want to keep going back until you taste them all.
Notable Menu Items
Baba Ganoush –

Charred eggplant seasoned with tehina, lemon, garlic, and urfa biber and finished with pomegranate 

Halabi Kebab –

Ground lamb kebabs brushed with muhammara and seasoned with chili peppers, cinnamon, coriander & paprika • served with a small hummus, charred onion, tomato, and pepper

Akhtabut Meshwi –

Octopus kebab with charred vegetables, fingerling potatoes, shuug, and buttermilk labneh 

Kanefeh for 2 –

Traditional Lebanese dessert of crispy kataifi and semolina surrounding melted fresh cheese curd, finished with rose blossom syrup and pistachios
Online Ratings (out of 5)
Google

4.7

TripAdvisor

4.5

Yelp

4.5
Overall score 4.6
12. Vedge – Best Vegetarian Restaurant in Philly
As the name states, Vedge is upfront about its cuisine: vegetables! That's right, this upscale restaurant specializes in veggies without one single piece of meat anywhere on the menu. 
Crispy pee wee potatoes and stuffed avocado are just a few of the exquisitely prepared vegetables Vedge items at Vedge with rotating menus to fit the seasons. Once you're on your last bite at Vedge, you'll have forgotten it was all vegetables!
Notable Menu Items
Stuffed Avocado –

With almond romesco, pickled cauliflower, crispy rice, and black salt

Hot Pot of Tokyo Turnips and Greens –

With pho broth, pad see ew noodles, gai lan, and turnip sambal

Crispy Pee Wee Potatoes –

With aji Amarillo, salsa Criolla, hearts of palm, and green olive

Lions Mane Mushroom –

With V1 steak sauce, celery root fritter, grilled celery salad, and smoked bernaise
Online Ratings (out of 5)
Google

4.8

TripAdvisor

4.5

Yelp

4.5
Overall score 4.7
13. Parc – Best French Brunch in Philly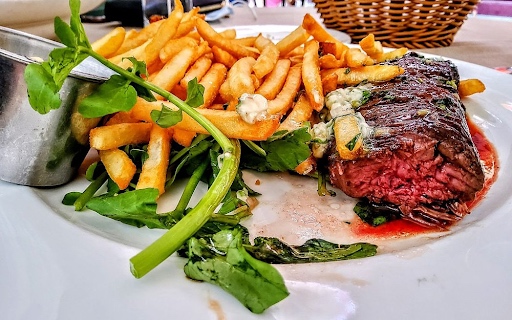 Another exceptional French restaurant, Parc is more for those that don't mind eating close to people in a bistro. It shouldn't matter, of course, because the food can't be denied at Parc from the cheese omelet (yes, it's that good) to the Moroccan lamb rack and everything in between. 
There are menus galore, from breakfast to dinner, and each dish is prepared as masterfully as it tastes in your mouth. 
Notable Menu Items
Cheese Omelet –

With gruyere, cheddar, and fine herbs

Moules Frites –

With white, shallots, and garlic

Moroccan Lamb Shank –

With

couscous, harissa, and orange blossom yogurt

Moelleux de Chocolat –

Warm chocolate cake, crunchy milk chocolate center, hazelnut crunch, and praline sorbet
Online Ratings (out of 5)
Google

4.6

TripAdvisor

4.5

Yelp

4.0
Overall score 4.4
14. The Dandelion – The Best British Pub Food in Philly
One wouldn't expect a British pub to make the list of best restaurants in Philadelphia but most pubs are The Dandelion, either. Grab a table here and enjoy a wide range of craft beers, superb chicken and duck liver parfait, and the best fish and chips in the city. Oh, and by the way, visit after lunch to enjoy the Afternoon Tea menu, one of several different menus The Dandelion has to offer. Feel British and well-fed at the best pub in town!
Notable Menu Items
English Breakfast –

Two eggs cooked to your fancy, Cumberland sausage, black pudding, tomato, mushroom, smoked bacon, fried bread, and baked beans

Chicken and Duck Liver Parfait –

With grape chutney, cornichons, and brioche toast

Rabbit Pie –

With oyster mushrooms, cipollini onions, smoked bacon, grain mustard, and white wine

Fish and Chips –

With ale battered line-caught cod, triple-cooked chips, and tartar sauce
Online Ratings (out of 5)
Google

4.6

TripAdvisor

4.5

Yelp

4.0
Overall score 4.4
15. Friday Saturday Sunday – Best Corner Eatery in Rittenhouse 
Do you want that corner-of-the-street restaurant experience? Friday Saturday Sunday has got you covered with its first-floor bar and second-floor dining area for American fare so good you may never leave. 
What makes this restaurant so fabulous is the attention to detail in all of its American classics like their New York strip steak or Crudo, exquisitely prepared to make each bite unforgettable. You don't get to choose at this upscale joint, however, as they provide the tasting menu for you.
Notable Menu Items
Crudo –

With osetra, Manzano pepper, and sabayon.

Confit Artichokes –

With cashew and buckwheat

Grilled Quail –

With pate and coco bread

Lamb Rib –

With cherry jus, pistachio, and celeriac 
Online Ratings (out of 5)
Google

4.7

TripAdvisor

4.5

Yelp

4.5
Overall score 4.6
16. Amada – Best Spanish Restaurant in Philadelphia
Who would have thunk one of the best cheesesteaks in town would come from an upscale Spanish restaurant? Amada is so good that its twist on Philly's signature dish is in the discussion for best in the city. 
Coming from the mind of TV chef Jose Garces, you'll indulge in the finest flavors, whether the killer lamb meatballs or the suckling pig that melts in your mouth. There are different menus but it's all perfectly executed so take our advice and book a table right this instant for one of the best meals of your life.
Notable Menu Items
Crudo del Mar –

Marinated red snapper and octopus with citrus, tomato, and sourdough

Albondigas –

Lamb meatballs, manchego, sherry, and foie gras cream 

Rossejat –

Squid ink vermicelli, mussels, shrimp, calamari, cockles, and smoked tomato aioli

Cochinillo –

Roasted suckling pig with grilled green onions, herb-roasted fingerlings, garbanzos con espinacas, and rosemary white beans **requires 72-hour advance notice
Online Ratings (out of 5)
Google

4.7

TripAdvisor

4.5

Yelp

4.0
Overall score 4.4
17. Abe Fisher – Best Jewish Restaurant in Philadelphia
It's not often you have the opportunity to eat at a Jewish fine-dining establishment but that's precisely what Abe Fisher is, serving top-notch dishes centered around Jewish dishes. Enjoy the best beef ribs you will ever have by ordering their signature Montreal smoked short ribs that are so popular that they ship them all over the world! 
Be quick at the start of the month as reservations for this place open promptly at 11 am every first of the month and fill up fast!
Notable Menu Items
Matzoh Ball Soup
Latke Fries
Montreal Smoked Short Ribs 
Toasted Rye Gnocci
Online Ratings (out of 5)
Google

4.7

TripAdvisor

4.5

Yelp

4.5
Overall score 4.6
18. Little Fish BYOB – Best Seafood in Queen's Village
If you're the type that likes a cozy, quiet dinner of fresh, sumptuous seafood then Little Fish is your jam. It's a wonderfully intimate experience yet it feels like you're eating on a wharf with the cute chalkboard menu. The award-winning establishment only has 24 seats but you'll be happy you made reservations for your first flavor of chef Alexander Yoon's chimichurri sauce. 
Don't miss out on this fabulous dining adventure with a changing menu based on the best available ingredients to make your meal divine.
Notable Menu Items
Scallop Toast –

Raw scallops, sesame toast, soy-chili vinaigrette, and chives

Grilled Black Cod –

With fermented pepper sauce, braised daikon & carrots, and chrysanthemum

Dry-Aged Duck Breast –

With a cherry port, maitake, charred scallion, duck jus, and pickled jalapeno

Grouper –

With nuoc cham, Tuscan kale, sunchokes, chilies, mint, and basil
Online Ratings (out of 5)
Google

4.7

TripAdvisor

4.5

Yelp

4.5
Overall score 4.6
19. Vernick Food & Drink – Best  American Bistro in Rittenhouse
Chef Gregory Vernick's Vernick Food & Drink is a cut above the rest, with the kind of care and mastery put in each dish that you only see on TV. Except you can eat here and you don't need reservations if you don't mind the bar/lounge area, a welcome addition to this fine-dining experience that takes New American cuisine to new heights. 
Take a bite of the most buttery arctic char Crudo you've ever had the pleasure of eating as an appetizer followed by the light, flaky, pork Milanese. Every dish at Vernick's is an adventure of flavor you won't want to miss.
Notable Menu Items
Arctic Char Crudo 
Swordfish a la Plancha –

With crispy baby artichokes, eggplant, lemon, and capers

Pork Milanese –

With creole mustard, grilled peach, arugula, and basil

Milk Chocolate Tart –

With whiskey caramel and vanilla meringue
Online Ratings (out of 5)
Google

4.7

TripAdvisor

4.5

Yelp

4.5
Overall score 4.6
20. Royal Izakaya – Best Japanese Restaurant in Philly
James Beard-nominated Jeff Ito's Royal Izakaya is where you go for pristine sushi that you can brag about to friends. Yeah, it's that good and so well-made you wonder if it was done by a machine, not a human. For those that don't know, an izakaya is a Japanese bar that serves drinks and snacks and Royal Izakaya is royally good at this with its dynamic atmosphere. 
Your taste buds will thank you after eating here from the crispy Mentaiko fries to Wagyu steak that's unlike any beef you've ever had. 
Notable Menu Items
Tuna Guac –

Tuna, mashed avocado, soy sauce, wasabi olive oil, and sea salt flakes

Mentaiko Fries
Sourdough Okonomiyaki –

Bacon, kewpie mayo, katsu sauce, beni shoga, and tenkasu 

Chirashi –

Itamae's selection of lean and fatty tuna, king salmon, Japanese fish, Tamago, and ikura over seasoned sushi rice 
Online Ratings (out of 5)
Google

4.7

TripAdvisor

4.5

Yelp

4.5
Overall score 4.6
21. Vetri Cucina – Best Upscale Italian Restaurant in Philadelphia
Intimate setting? Check. Out-of-this-world food? Check. Dining in a townhouse? Check! Yes, Vetri Cucina covers all three to perfection starting with Italian food created by Chef Marc Vetri, and here he provides the City of Brotherly Love with yet another phenomenal restaurant. 
You get the full fine-dining experience at Vetri Cucina with a 4-course tasting menu that changes seasonally. Take the opportunity to reserve a table here for a romantic dinner with your special one.
Notable Menu Items
Barbecue lamb neck with apple, scallion, and fried oyster
Classic split featuring spinach gnocchi with brown butter and almond tortellini with truffle
Roasted baby goat with house-milled soft polenta
Molten pistachio cake with lemon curd gelato
Online Ratings (out of 5)
Google

4.8

TripAdvisor

4.5

Yelp

4.5
Overall score 4.6
22. South Philly Barbacoa – Best Mexican Joint in South Philly
Here's another Mexican spot except this one is more like the ones you get out on the West Coast, unassuming and easy to miss. However, South Philly Barbacoa is one of the absolute best you'll ever visit with their slow-cooked meats delivering an uppercut of flavor whether it's in a taco or tamale. 
People all over the city flock to Chef Cristina Martinez's top-notch barbacoa for unforgettable Mexican food served on traditional pottery that feels like you're dining south of the border. 
Notable Menu Items
Enchiladas de Mole –

Hand-made tortillas filled with shredded chicken, topped with red mole sauce, grated cheese, and crema. Served with rice and beans

Cochinita Pibil / Marinated Pork 
Chile Rellano de Queso –

Roasted Poblano pepper filled with Oaxaca Cheese served in a light tomato sauce. Served with rice, beans, and tortillas.

Parrilada para dos –

Grilled steak, grilled chicken, and grilled shrimp. Comes with grilled cactus, chile toreado, a side of salad chambray onion, avocado, and french fries served with rice, beans, and homemade tortillas.
Online Ratings (out of 5)
Google

4.7

TripAdvisor

4.5

Yelp

4.5
Overall score 4.6
23. Ristorante Pesto – Philly Restaurant with the Traveler's Choice Award
When the word best and restaurant come together in Philly, one must include Ristorante Pesto, considered by many as the top Italian eatery in the city. You can feel the family-run atmosphere once you enter the joint but you will marvel at the look and taste of the food, masterfully prepared by owners and married couple, Chefs Giovanni and Concetta Varallo. 
Feel like family and feel like a king at Ristorante Pesto, easily one of the best Italian meals you'll ever have the pleasure of eating. We're not the only ones who feel this way as Pesto has won several TripAdvisor awards, including the 2021 Traveler's Choice Award.
Notable Menu Items
Pollo ai Carciofi –

Chicken breast sautéed with artichokes, prosciutto, and mozzarella cheese in white wine sauce

Shrimp Scampi –

Jumbo shrimp over linguine served in the following sauces: rosé, cognac cream, or oil and garlic

Stuffed Steak –

12 oz steak stuffed with crabmeat topped with fontina cheese in a mushroom demiglace sauce

Branzino –

Mediterranean sea bass lightly fried stuffed with mussels, shrimp, clams, and crab meat in a light tomato sauce and white wine wrapped in foil
Online Ratings (out of 5)
Google

4.8

TripAdvisor

5.0

Yelp

4.5
Overall score 4.8
24. Barclay Prime – Top Steakhouse in Center City
Chef Stephen Starr's Barclay Prime steakhouse creates an unforgettable meal as you eat the greatest steak of your life in a European library setting. Divine food set in a cozy lounge-style venue, the surrounding bookshelves add an aristocratic element to the dining experience you won't find anywhere else.
Adding new twists to steakhouse classics, if you're feeling adventurous (and rich, as it's not cheap), give any of the Wagyu steaks a try and you may never leave the place, they're that good. Barclay will have you making a second reservation right after you're finished with the first. 
Notable Menu Items
Petrossian Caviar –

Served with blini, egg white, egg yolk, red onion, crème fraîche and chives

Steak and Pearls –

Wagyu tartare, caviar, smoked mascarpone, and black pepper

Arctic Char –

With California spinach and champagne sauce

Olive Striploin 8 oz –

Kagawa prefecture, Japan's rarest steak, fed on toasted olive lees
Online Ratings (out of 5)
Google

4.8

TripAdvisor

4.5

Yelp

4.5
Overall score 4.6
25. Morimoto – Best Sushi in Philly
While Royal Izakaya provides diners with the best overall Japanese restaurant experience, Morimoto delivers sushi on par with any in the country. This is Iron Chef Masaharu Morimoto's sushi so do you really think you're going to get anything less than the best of the best? 
That's right, and with each piece of sushi elegantly put together with the care of a skilled artisan, you may not have reason to get sushi anywhere else after a night at Morimoto. Your palate can thank us later.
Notable Menu Items
Tuna Pizza –

Crisp tortilla, tuna sashimi, cilantro, serrano chili, olives, and anchovy aioli

Morimoto Ramen Soup –

The Iron Chef's twist on chicken noodle soup

Chicken Katsu Curry –

Panko-fried chicken breast, simmering curry, and seasonal pickles

Seafood 'Toban Yaki' –

Back bass, sweet prawns, scallops, lobster, and shellfish sake butter 
Online Ratings (out of 5)
Google

4.7

TripAdvisor

4.5

Yelp

4.5
Overall score 4.6
25 More Top-Rated Restaurants in Philly
They have arguably the best cheesesteak in a city with a thousand good ones.
Fantastic place for brunch in Old City Philadelphia.
A Greek restaurant that imports fish from the Mediterranean with a focus on whole fish.
This casual European restaurant serves one of the best burgers in the city.
This reservation-only spot offers two seatings and is perfect for a special date night.
Sushi, pan-Asian cuisine, and killer robatayaki meats in a coffee house with a basement.
Set inside a compact space, if you want mind-blowing Mediterranean food, Barbuzzo is it.
Classic steak and seafood menu with an incredible wine list to boot.
TV Chef Jose Garces' take on American fare set inside the Kimmel Cultural Campus.
Contemporary Asian fare with one of the best Happy Hours in town.
It's all love at this dining joint behind the same chefs that brought you Talula's Garden.
If you like upscale dining with great views, Scarpetta is the perfect spot for you.
Small plates, powerful drinks, and all vegan. 
One of the best homestyle Italian joints in all of Philly.
This steakhouse chain stands out from the rest with its service and impeccably cooked steaks.
Here's a fantastic twist on Southern cuisine set inside a beautiful rustic atmosphere.
Wonderful American fare that provides a seasonal three-course meal.
If you're in the mood for a happening spot with the best churros in the city, come here.
Pho the sake of a hangover (or just great soup), this is Philadelphia's best pho.
Aside from being an exquisite Italian restaurant, the gelato here is the best in the world.
Look no further than the Sky Cafe for fantastic Indonesian fare.
Splendid Italian food in a quaint corner eatery.
Are you in the mood for delicious Korean food in a futuristic setting? That's Kpod in a nutshell.
Tequilas is a unique twist on Mexican fare in a dazzling, elegant atmosphere.
If you're going to experience Brazilian churrasco, please do yourself a favor and do it here. 
There you have it, my Philly friends! The top 50 joints in town, any of which will not on satisfy your appetite, but will have you raving about it to your friends. Are there any places missing from the list that you want to add? Comment and share!
Related articles: