Pizza is the most popular food in the world and America's cities have some of the best slices. While Philly is often overlooked compared to other towns, it is arguably pizza aficionado paradise. Here is our handpicked selection of the best pizza spots in the city of brotherly love! 
1. Pizzeria Stella – Best Pizza in Society Hill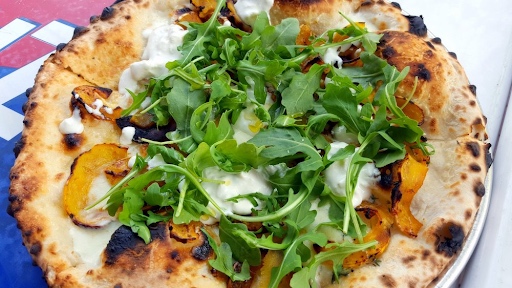 With pizza being so objective to everyone's tastes, give credit to Pizzeria Stella for creating marvelous pies for all palates. Another wondrous eatery from Stephen Starr (Parc, Morimoto), it's gourmet pizza on another level. 
Bite into a perfectly baked woodfired slice (our favorite is the Quattro Formaggi) and taste the boldness of Stella's handmade crust mixed with the most delightful cheeses. Stella is a clinic on wood-fired pizza so if you like that unbeatable brick-oven flavor on your pie, this should be your first stop.
Notable Pies
Piccante –

Capicola, crushed red pepper, aged provolone, and tomato

Quattro Formaggi –

Parmesan, mozzarella, scamorza, grana padano, and tomato

Pistachio

– Red onion, rosemary, and fontina 

Tartufo –

Black truffles, egg, and fontina
Online Ratings (out of 5)
Google

4.7

TripAdvisor

4.5

Yelp

4.0
Overall score: 4.4
2. Angelo's Pizzeria – Best Slice in South Philly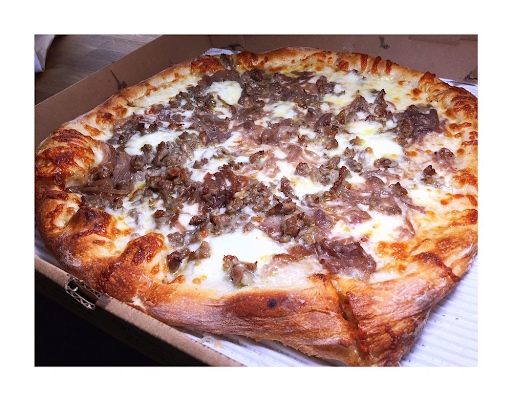 Hey, look! It's Angelo's Pizzeria showing up on one of our lists again. Hey, don't knock our romance for this place as it's the place to go for cheesesteaks, hoagies, and yes, pizza. Just as delicious as their insanely good sandwiches, Angelo's pizza is your welcome mat to the finest neighborhood slice you'll ever have. 
Whether it's a red pie or a white one, Angelo's delivers them on a level like very few others. In fact, it's so good, they run a cash-only, dine-out-only joint and the lines are still long. Hail, Angelos! 
Notable Pies
The Trenton –

Whole milk mozzarella, EVOO, oregano, pecorino romano, and dolloped with fresh ground tomatoes 

The Big Lou –

White pie w/ mozzarella, sweet sausage, red onion, pecorino romano, and fresh garlic 

The Pietro –

Square pan pizza with mozzarella, ricotta, heirloom tomatoes, roasted red peppers, artichokes, and arugula, topped with arugula pesto 

The Sixth Man –

Half pepperoni, half sweet sausage
Online Ratings (out of 5)
Google

4.7

TripAdvisor

4.5

Yelp

4.0
Overall score: 4.4
3. Hook & Master – Most Unique Pizza Toppings in Philly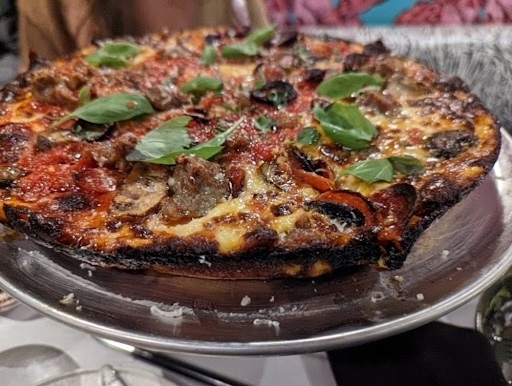 While it sounds more like a seafood spot than a pizza joint, Hook & Master is in the debate for the best pizza in Philadelphia. You won't find their ingredients on pizzas at other places (charred octopus, anyone?), which makes Hook & Master stand out, but the pizza itself, whether it's the Chicago pan pie or the cracker-thin tavern style, is on another level. 
There is magic in the pizza here, maybe because the place comes from TV master chef Jose Garces. Hook & Master makes one damn good slice of pizza.
Notable Pies
Rustika –

A red pizza with rotisserie chicken, lardons, and roasted long hots on top

Wild Mushroom & Broccolini –

Red pizza with taleggio, cremini mushrooms, broccolini, and dippy egg

Pulpo Fiction –

A white pizza with charred octopus, garlic confit cream, and potato crisp

The Yucatan –

A white pizza with Mexican chorizo, poblano rajas, roasted corn, and poblano ranch drizzle
Online Ratings (out of 5)
Google

4.7

TripAdvisor

4.0

Yelp

4.0
Overall score:  4.3
4. Circles and Squares – Best Focaccia-Style Pizza in Philly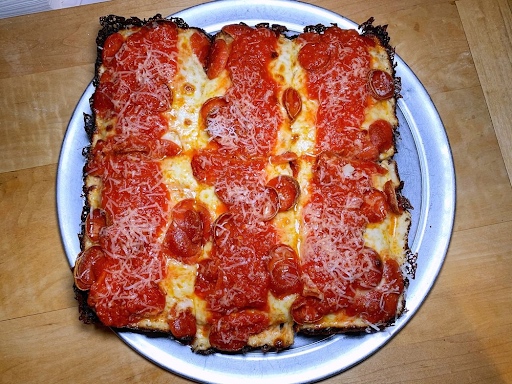 Okay, so they left the triangles out of the name but Circles and Squares do cut their pies into triangular slices so there's that. What matters about this pizza joint, and that great name, is the quality of the pie you're getting. Whether you're feeling the hand-tossed thin-crust pie or opt for their heartier and dense focaccia-style pan pizza, the ingredients and flavor are top-notch. 
Let's be upfront about Circle and Squares, they only have five pizza flavors: cheese, upside down, white, Buffalo, and tomato. All are incredible, especially the Buffalo Chicken, which hits all the right notes on your palette. You can also add toppings to your pizza so customize it however you'd like, just make sure you visit. You'll be sorry if you don't.
Notable Pies (including menu)
Upside Down –

Mozzarella, provolone, sauce on top, and dried oregano

White –

Garlic, EVOO, ricotta, mozzarella, chili flakes, Gran Moravia, and dried oregano

Buffalo Chicken –

Chopped chicken breast, Buffalo Sauce, and house ranch

Tomato –

NO CHEESE – Tomato Sauce, Oregano, and EVOO (vegan and dairy free)
Online Ratings (out of 5)
Google

4.7

TripAdvisor

N/A

Yelp

5.0
Overall score: 4.85 *only based on two scores
5. Pizza Jawn – Best Pizza in Manayunk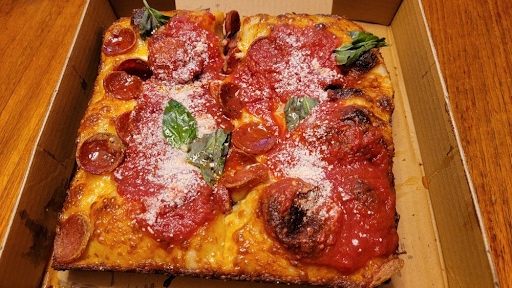 In Philly, it's not really a "joint," because it's pronounced, "jawn" and Pizza Jawn is one of the best pizza jawns in the entire city. It regularly sells out of pies because everyone wants one whether it's The Grandma, The Round, or The Detroit. 
The three crust options at Pizza Jawn are simple. The Round is the classic round-style pie while the Detroit is a heartier, square crust, followed by the Grandma, also square but with a sesame seed bottom. Are you hungry yet? 
Notable Pies
Margherita –

Homemade pizza sauce, fior di latte (fresh mozzarella), pecorino romano cheese, extra virgin olive oil, (EVOO), and fresh basil

White –

House cheese blend, ricotta, and basil (no sauce

Vegan –

Homemade pizza sauce with a vegan cheese blend

Hot Jawn –

No sauce pie with ricotta, pepperoni, jalapenos, and fresh shaved garlic with Mike's hot honey
Online Ratings (out of 5)
Google

4.3

TripAdvisor

4.1

Yelp

4.1
Overall score: 4.5
6. Rione – Philadelphia's Best Roman Pizza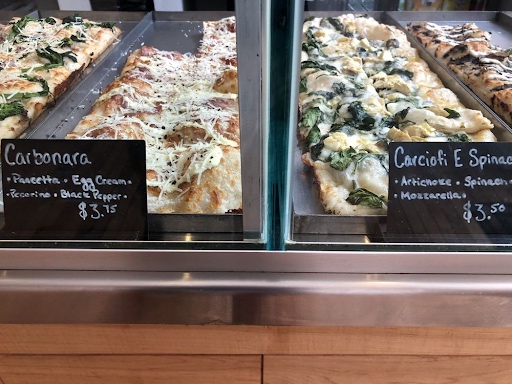 Pizza al taglio is a style of pizza that is baked in a rectangular tray and served in square slides or by the tray. Like tacos in America, pizza al taglio is street food in Italy and was invented in Rome. This type of pizza is known as Roman pizza in the US. 
Now that you've had a small tutorial on pizza al taglio, hop down to Rione, a Center City pizza joint that specializes in Roman-style pies. Rione gives you several choices from the Polpette with meatball toppings to the Patate E Rosmarino featuring potatoes. If you're not a meat eater, Rione has several vegetarian choices. Roman or otherwise, this is one of the best pies in Philadelphia.
Notable Pies
Polpette –

Topped with meatballs, tomato, mozzarella, and parmigiano reggiano

Patate E Rosmarino

– Topped with potatoes, rosemary, and mozzarella

Trufolato –

Topped with mushrooms, porcini truffle cream, and mozzarella

Cotto e Funghi

– Topped with ham, mushrooms, parmigiano reggiano, mozzarella, and cream
Online Ratings (out of 5)
Google

4.7

TripAdvisor

4.5

Yelp

4.5
Overall score: 4.6
7. Pizzata Pizzeria – Best Pizza Crust in Philly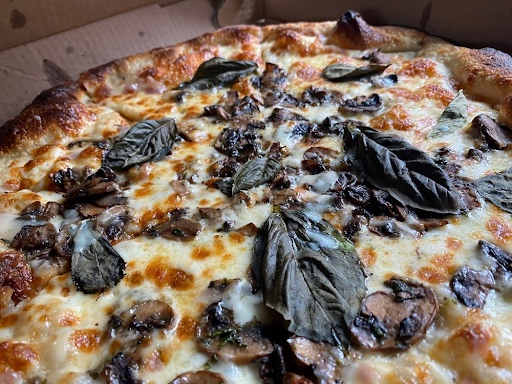 The crust is one of the most important elements of a pizza. This is a fact. For crust aficionados, Pizzata Pizzeria scores the highest marks as the sheer care they put into the crust is far more than most. Pizzata's dough goes through a longer fermentation process than your normal pizza joint allowing for a more flavorful crust that's easier to digest. 
The bold taste in every slice starts with the crust but the cheese and toppings hit the spot too. With 19 different pies to choose from, including 10 reds and nine whites, there is something for everyone whether it's the meat-lovers Salsiccia or the vegetarian Vegetali. 
Salsiccia –

Topped with red sauce, mozzarella, pepperoni, sausage, ricotta, and hot honey

Stuffed Margherita –

A ricotta-filled crust with fresh mozzarella 

Vegetali –

Topped with mozzarella, spinach, mushrooms, artichokes, and roasted peppers

Napoletana –

Topped smoked mozzarella, sausage, broccoli rabe, shaved garlic, ricotta, and chili flakes
Online Ratings (out of 5)
Google

4.7

TripAdvisor

4.5

Yelp

4.5
Overall score: 4.6
8. Alice Pizza and Restaurant (Locust Street) – Best White Pizza in Philly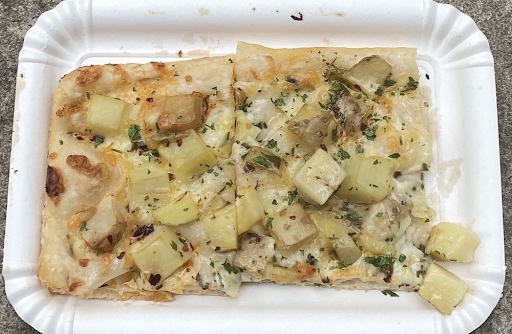 Brought to you by those amazing folks that gave Philly Gran Caffe Laquilla, Alice Pizza provides the same quality in their pies that you'll find in that heavenly Caffe Laquilla food. It specializes in Roman-style pizzas like Rione, with 20 different pies given a unique Alice twist. You'll be delighted also to know that, like Caffe Laquilla, Alice offers the best gelato in the city.
What separates Alice from a lot of other joints is the freshness in each bite. The best pies have the perfect balance between the dough, the cheese, and the toppings. This is the category Alice excels in as you can taste each ingredient in all its glory with each bite. If you love a good white pie, the Philly Special, dedicated to the hometown Eagles, is easily one of the best white pizzas in Philadelphia.
Philly Special –

White pizza with pesto, ricotta, sundried tomatoes, 4-cheese sauce, arugula, and parmesan

Patate Picante – 
Roasted Pork –

Red pizza with slow-roasted pork, BBQ sauce, caramelized onions, and sundried tomatoes

Quattro Stagioni –

Red pizza with prosciutto, tomato pulp, grilled Roman artichokes, olives, mushrooms, and mozzarella
Online Ratings (out of 5)
Google

4.6

TripAdvisor

4.5

Yelp

4.5
Overall score: 4.5
9. Square Pie – Best Sicilian Pizza in Philadelphia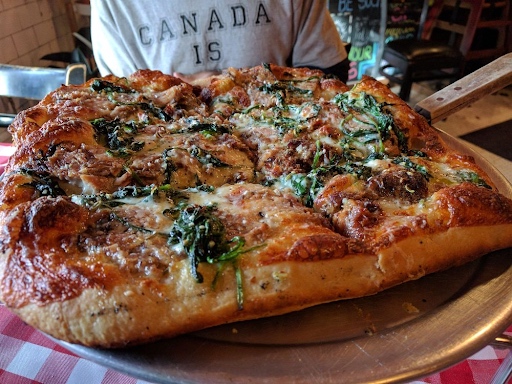 Not to be confused with Circles and Squares, this is simply Square Pie, which is an obvious fit for their square Sicilian-style pies. For those that love a doughy slice, this could be the doughiest on the list. For those who adore bread, it's hard to find a better slice in Philadelphia than Square Pie. 
More of a traditional countertop pizza joint than a sit-down spot, Square Pie also has the benefit of being BYOB. Come here for exquisite traditional pies as they only have nine different pizzas, but two of their unique offerings, the Pancetta and Porchetta, are both absolute musts for pork fans. Just trust us.
Pancetta –

Cured pork belly, rosemary potatoes, leeks, and cream

Porchetta –

roast pork, garlic, sauteed spinach, provolone, and cheese

Sopprossetta –

Italian salami, cippolini onions, banana peppers, and sharp provolone

Spinach –

Calabro ricotta, Gran Padano, and herb oil
Online Ratings (out of 5)
Google

4.7

TripAdvisor

4.5

Yelp

4.0
Overall score: 4.4
10. 20th Street Pizza – Best Vegan Pizza in Philadelphia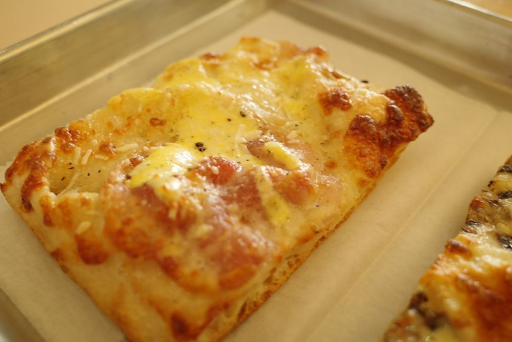 Imagine eating some of the best pizza you'll ever have in your life and then after it's all said and done, you find out it's vegan. Vegan! That's 20th Street Pizza for you, a mind-blowing experience in vegan pizza unlike any other. 
Yeah, 20th Street Pizza is that good, vegan or not. A limited choice of only nine pies but a wide variety of flavors such as the Haymaker, topped with the best vegan sausage you'll ever have, and the Roasted Potato, which is way better than it has any business being. We still can't believe this joint is vegan.
Haymaker –

Cashew mozzarella, garlic sauce, vegan sausage, red onion, organic tomato sauce, and oregano

Green –

Cashew mozzarella, Castelvatrano olives, onions, and roasted spinach

Balboa –

Pumpkin seed pesto, lemon cashew ricotta, vegan sausage, roasted tomatoes, arugula, olive oil, and chili flakes

Roasted Potato –

German Butterball potatoes, roasted shallots, rosemary, and sea salt
Online Ratings (out of 5)
Google

4.7

TripAdvisor

5.0

Yelp

4.5
Overall score: 4.7
11. Nomad Pizza – Best Brick Oven Pizza in Philadelphia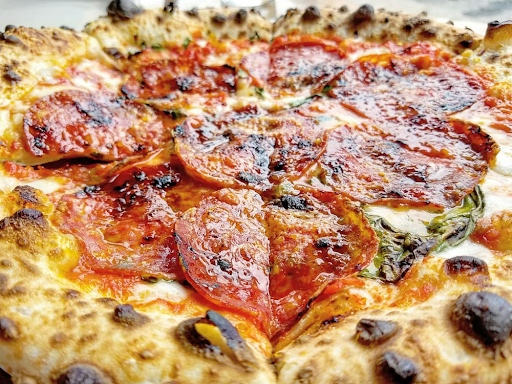 Nomad Pizza is no joke regarding pizza, specifically that of the brick-oven variety. Taste the robust country flavor of the old-fashioned way of baking a pizza in each bite you'll be savoring until you get home. You can see the little brownish bake bubbles on every pie that comes out of Nomad's brick oven, giving it that final piece of authenticity.
There are 19 pies to browse over at Nomad with their Trenton Tomato Pie now staking claim to our favorite tomato pie in Philly. In the best way possible, a pizza from Nomad feels like you're eating a woodfire pie on a farm on a nice spring day. Nomad will turn you into a repeat customer on your first trip.
Corn Pizza –

Local fresh corn roasted with Serrano peppers, parsley, and butter, Mozzarella di Bufala, Stracciatella, garlic, EVOO, cilantro, and lime

Pumpkin Pizza –

Pumpkin, bacon, mozzarella, white sauce, fontina, red onion, and honey

Trenton Tomato Pie –

Shredded mozzarella, Italian tomatoes, garlic, oregano, basil, Parmigiano, and red pepper flakes

Guanciale Pizza –

Mozzarella, guanciale, spinach, fig jam, and garlic
Online Ratings (out of 5)
Google

4.5

TripAdvisor

4.5

Yelp

4.5
Overall score: 4.5
12. Lorenzo and Sons Pizza – Best Jumbo Slices in Philadelphia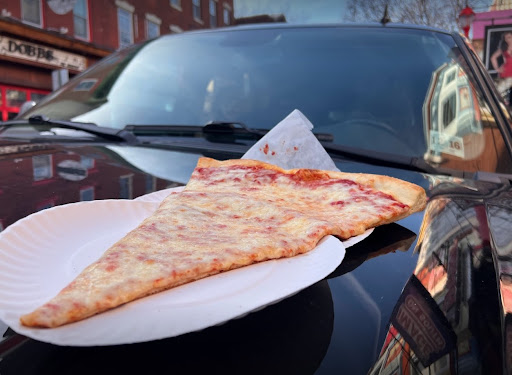 Sometimes it's just necessary to get a slice of pie as big as your head. That's what Lorenzo and Sons do better than anyone in Philadelphia: make giant cheese pizza slices. On that note, what separates them from other giant slices is the taste, a flavor that can only be made in South Philly. 
Lorenzo and Sons aren't gourmet and aren't artisan nor is it square or pan pizza. They only make the traditional flavors and the big slice is only cheese but that's beside the point. Do yourself a big favor and have one of "The Largest Slices in Philadelphia" soon if you haven't already. It's totally worth the $3.50 per slice simply for the sheer spectacle of it.
Cheese by the Slice –

Largest slice of cheese pizza in Philadelphia

Onion Pie –

If you like an onion pizza, this is your dream

Whole Cheese Pie –

One of the best straight-up traditional cheese pies in Philly

Pepperoni Pie –

Same as the above, but for pepperoni
Online Ratings (out of 5)
Google

4.5

TripAdvisor

4.5

Yelp

4.0
Overall score: 4.3
18 More Delicious Pizza Spots in Philly 
Continue reading for 18 more places to get a hell of a good pie in Philadelphia.
Local favorite and one of the best thin-crust pies in Philly.
Great attention to detail and in addition to great pizza, Wood Street has fantastic sandwiches too.
This is another rare place that can say it has one of the best tomato pies in town.
Remember those French bread microwave pizzas? &Pizza makes a pie similar to that only 100 times better.
This Detroit-style pizza is so good you'll think you're eating in Motown.
This just might be the best pizza in Fishtown. 
Upscale pizza but worth every cent.
Don't mix this one up with Angelo's Pizzeria as The Angelo Pizza has its own kick-ass pie that's worth a visit.
If you're one of those folks that love cheese under the sauce, Santucci's is one of the best in the business at making them.
Great variety and you won't have much more fun eating a pie than you will at this quirky joint.
This is another pizza spot with its place in the "Best Pizza in South Philly" debate.
Joe's Pizza has a crust that can go up against any other pie in Philadelphia.
Slice delivers a far more gourmet kind of pizza slice and is another great spot for vegan pizza.
Vince's has the best thin crust in Fishtown, hands down.
Do you want pizza with a Mexican twist? Rosario's has you covered.
No, this isn't the New York Police Department. It's a damn fine pizza establishment with some of the crispiest crust in Philadelphia.
Making pies since 1980, Pete's now has three locations in Center City, South Philly, and Fairmont.
A good, old-fashioned, cash-only pizza joint that makes one of the best BBQ chicken pizzas in town.
With hundreds more pizza places in town, of course we can't get to them all, but this is a great start. Send this list to a friend who could use a slice and Enjoy your adventure of Philadelphia's best pizzas!
Related articles: