15 Best Luxury Hotels in Philadelphia: Fancy Boutiques To Historic Stays in Philly!
Between spacious suites housed in historic buildings, posh digs attached to top-rated Italian restaurants, and even environmentally-conscious boutiques, the City of Brother Love has some of the best luxury stay options in the country. Keep on reading for our list of must-stay luxury hotels in Philadelphia! 
1. Four Seasons: Best Luxury Hotel in Center City 
Location: 1 N 19th St, Philadelphia, PA 19103 (Comcast Center) 
Amenities: Spa & fitness center, infinity-edge pool, skyline suites, restaurants & cocktail lounge, and more! 
When you think of posh hotels, Four Seasons is always a name that comes to mind. The Philadelphia location is situated in the Comcast Center and overlooks the beloved city skyline. Between having one of the most highly-rated spas in town, four stellar restaurants including the sophisticated Jean-Georges, and even a glistening infinity-edge pool, there are simply too many luxury amenities to name! 
This fancy stay stands out from other Philadelphia luxury hotels, as it is located in the heart of Center City. Conveniently nestled near numerous popular destinations, it is ideal for first-time visitors and regulars alike. Whether you want to hit the town and explore or indulge in a crystal oil massage, the Four Seasons will make your trip to Philadelphia one to remember.  
While the Four Seasons is without a doubt one of the finest hotels in the city, it may even be one of the best luxury hotels in Pennsylvania as a whole! One review even states that it's "the gold standard for 5-star luxury." 
2. The Rittenhouse: Best Luxury Hotel Bar in Philly 
Location: 210 W Rittenhouse Square, Philadelphia, PA 19103
Amenities: Library-themed bar, luxury spa, salon, fitness center & pool, restaurants, and tea room! 
This 5-star Rittenhouse oasis promises delicious meals, spacious rooms, sophisticated tea for two, and refreshing drinks from one of the best bars in town all in one spot! Guests at the Rittenhouse can expect to relax in elegance and comfort for the entirety of their stay, with spacious suites complete with breathtaking views. 
In addition to their state-of-the-art health club, indoor pool, steam room, and sauna, guests can also take advantage of the hotel's premium luxury Jaguar driver service, business center, and complimentary overnight shoe shines. You can even bring your furry companion along, as the hotel is pet-friendly! 
3. The Study: Best Luxury Hotel in University City 
Location: 20 S 33rd St, Philadelphia, PA 19104
Amenities: Suites with full kitchens & dining areas, curated art gallery, Living Room lounge & cafe, CO-OP restaurant & bar, meeting rooms, and fitness center! 
Conveniently located on Drexel University's campus, the Study combines elegance with rich culture, inspired as a whole by the architecture of Philadelphia. Reflecting its clever name, this fancy stay has a 'Living Room' and cafe off the main lobby, furnished with fully-stocked bookshelves and cozy couches.
While the hotel is praised for their modern rooms and exceptional natural sunlight, the star of the show is their curated art gallery. In partnership with the Visual Studies Program of Drexel's Westphal College of Media Arts and Design, the Study showcases a series of solo exhibitions by faculty members on a rotating basis. 
After strolling through their gallery adorned with fine art, helping yourself to coffee and a thought-provoking book in the Living Room, and grabbing an exquisite bite to eat in their restaurant and bar, you may never want to leave! 
4. The Ritz-Carlton: Best Luxury Suites in Philadelphia 
Location: 10 Ave Of The Arts, Philadelphia, PA 19102
Amenities: Spacious suites with 1,000+ sq. ft., all-day fine dining at Aqimero, spa & salon, fitness center, meeting and wedding venues, shoeshine stand, Ritz Kids program, and more! 
Ritz-Carlton is another name synonymous with luxury getaways and their downtown Philadelphia location is no exception. Between savoring magnificent Latin-inspired dishes at their Aqimero restaurant, unwinding with a massage or facial at their Richel D'Ambra Spa & Salon, and sleeping in some of the most spectacular suites in the city, a stay at the Ritz-Carlton is an unmatched luxury experience. 
This stay stands out above the rest, with over 26,000 sq. ft. of meeting space in a former bank vault, an exclusive Club Lounge located on the 30th floor, and even pet-friendly rooms with downtown views. 
Their most spacious suites are complete with living rooms, dining areas, and even a washer and dryer in select rooms! No matter which room type is chosen, guests can rest assured that they will experience 5-star bliss at the Ritz. 
5. The Dwight D: Best Luxury Hotel for Staycations 
Location: 256 S 16th St, Philadelphia, PA 19102
Amenities: Fine dining, event spaces, car service within Center City, and more!  
This historic brownstone boutique hotel is located only two blocks from Philadelphia's lively Rittenhouse Square and is within walking distance of the Philadelphia Convention Center, the historic district, and the visual arts district. While the 1850s building itself has a storied past, the interior has been carefully renovated with an emphasis on contemporary design. 
In addition to picturesque surroundings, the lavish boutique offers a variety of special all-inclusive offers for guests. Our personal favorite is their 'PHL Staycation' package, which offers visitors Grand Suite accommodations for one night, Prosecco and charcuterie trays upon arrival, a complimentary minibar, breakfast, and late checkout! This option is ideal for any locals looking for a brief, yet revitalizing escape. 
6. Loews Philadelphia: Best Luxury Hotel Spa Experience in Philadelphia 
Location: 1200 Market St, Philadelphia, PA 19107
Amenities: On-site FedEx, Joseph Anthony Retreat Spa & Salon, fitness center, same-day dry cleaning & laundry, fine dining, lounge & bar, POD market, and more! 
As one of the first modern skyscrapers in the nation, Loews Philadelphia combines fascinating architectural landmarks with stunning, newly renovated guestrooms. This elegant historic treasure is located minutes from Reading Terminal Market, Independence Hall, and must-see tourist destinations, such as the Liberty Bell. 
Not only is it the perfect starting point for exploring the City of Brotherly Love, but it also has countless lush amenities for guests to enjoy during their stay. Visitors can sink into a Turkish Bath in the hotel's Joseph Anthony Retreat Spa and Salon, feast at local favorite Bank & Bourbon, and even partake in a round of golf at Scotland Run! 
7. The Rooms at Fitler Club: Best Luxury Hotel for Socializing in Philly 
Location: 24 S 24th St, Philadelphia, PA 19103
Amenities: Access to the private club, fitness center, 75-foot pool, spa treatments, fine dining, bar & lounge, offices & workspaces, bowling alley, movie theater, and more! 
The Filter Club is Philadelpia's coolest urban social club, offering members prime dining, an astounding 25,000 sq ft gym, sleek communal workspaces, and fun social opportunities all under one roof. While the exclusive club is only accepting a limited number of new members, fear not! Visitors can stay in the 14-room hotel on sight and experience membership first-hand. 
This space is by far one of the coolest luxury hotels in Philadelphia! Guests who book a getaway at the Rooms will have access to each and every membership amenity, including a golf simulator, bowling alley, movie screening room, fitness classes, and even member-only events. 
From resting in ultramodern suites to enjoying gourmet meals in the dazzling Dining Room, guests of the Fitler Club will wonder if they stepped right into a magazine. 
8. AKA Rittenhouse Square: Best Luxury Hotel for Long-Term Stays in Philadelphia 
Location: 135 S 18th St, Philadelphia, PA 19103
Amenities: Suites & studios with state-of-the-art kitchens, fitness center, dining at the a.kitchen+bar, laundry facilities, business center, in-suite sommelier service, and more! 
If you're searching for a home away from home, AKA Rittenhouse is the place for you! With 15 locations in New York, London, Philadelphia, and beyond, AKA is known for offering the world's "most livable" hotels. Their refined studio, one-bedroom, and two-bedroom suites are a sophisticated, comfortable alternative to hotels and monthly apartment rentals. 
AKA's stays were created to cater to a variety of long-term visitors, whether they are entrepreneurs with ongoing meetings in the city or locals in need of temporary accommodations. The hotel's amenities are designed to fill your day-to-day needs, as well as provide services that you would find in a posh resort. 
Located directly across from Rittenhouse Square, the hotel provides on-property amenities including a high-end fitness center, business center, laundry facilities, and the a.kitchen+bar. Guests can also take their experience to the next level with AKA's 'Suite Sommelier,' where they can have personalized wine recommendations delivered to their suite! 
9. Le Méridien Philadelphia: Luxury Hotel with Friendliest Staff 
Location: 1421 Arch St, Philadelphia, PA 19102
Amenities: Amuse French brasserie, fitness center, ballroom, meeting rooms & event rooms, free coffee & tea, and more!  
Created within a remarkable 'century-old, 10-story Gregorian' structure, Le Méridien pairs striking historical architecture and design with bold decor. Situated in Philadelphia's business district, the hotel houses a chic brasserie surrounded by grand archways and classic woodwork, a 24-hour fitness center, meeting spaces, and a grand ballroom with views of City Hall. 
With 9 total room variations, visitors can find the perfect room no matter their budget or travel needs! Additionally, guests interested in sustainability can even find the carbon and water footprint of their rooms on the Le Méridien's site, as the hotel is 'GreenLeaders Certified.' Aside from their environmental efforts, the stay is also praised for having some of the friendliest, most helpful staff in town! 
10. The Notary: Best Historic Luxury Hotel in Philly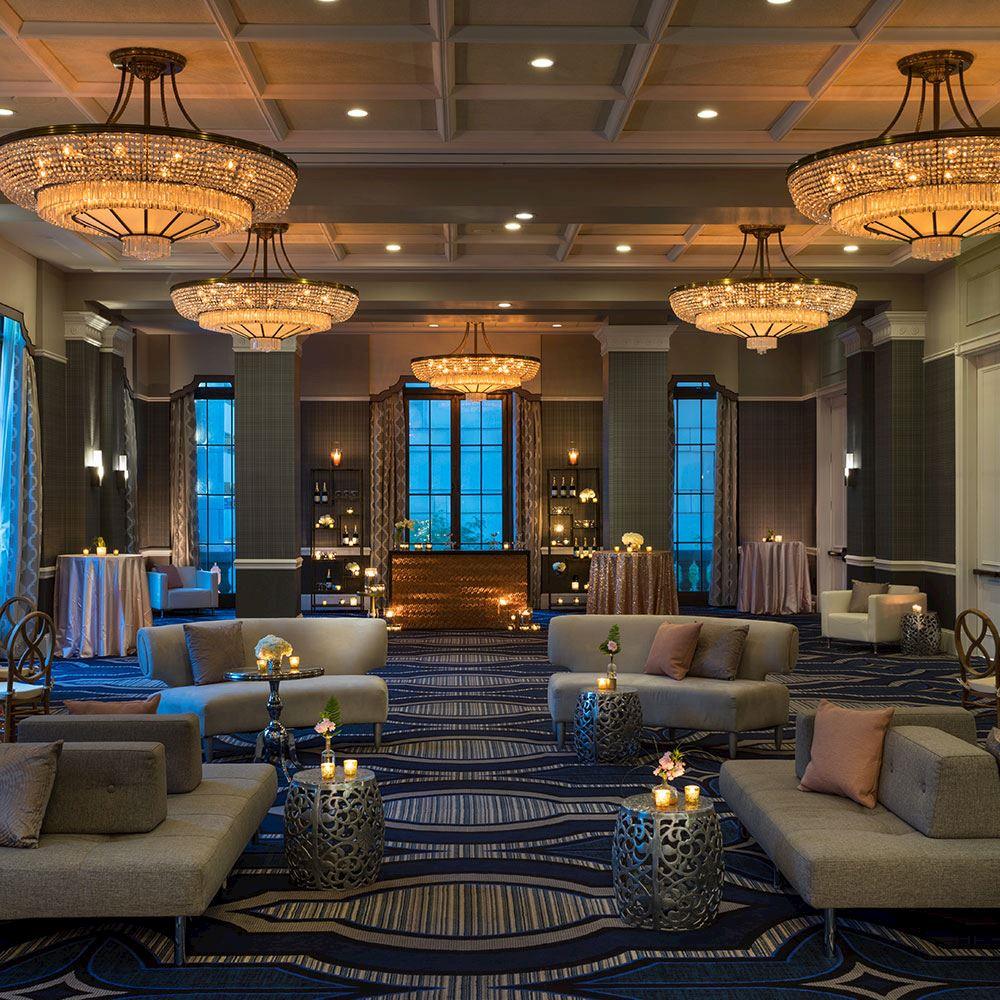 Location: 21 N Juniper St, Philadelphia, PA 19107
Amenities: Pressed coffee bar, fitness center, restaurant & bar, newly renovated meeting & event spaces, and more! 
Housed in the former City Hall Annex, the Notary prides itself on combining history and modern design. The 1926 renowned building is included in the Philadelphia Register of Historic Places and offers guests a glimpse into the past while providing one of the most luxurious stays in the city. Original marble floors and brass moldings are paired with flawless contemporary design elements to pay homage to the past and celebrate the city's future. 
In addition to cozy yet mod guest rooms, the Notary captures the essence of the town with unique dining options. Visitors can stop by the stay's coffee bar and enjoy La Colombe, delectable local pastries, and treats baked in-house. For more filling fare, guests can stop inside Sabroso + Sorbo, an all-day Spanish-inspired restaurant and bar! 
11. The Logan Philadelphia: Best Luxury Hotel for Romantic Getaways  
Location: One Logan Square, Philadelphia, PA 19103
Amenities: On-site dining at four venues, health club, indoor pool, business center, meeting & event space, spa, art collection with free tour app, "Rocky" themed robes, Logan coloring book & crayons, pet-friendly accommodations, and more!
Searching for the picture-perfect hotel to host a romantic getaway? Look no further! The Logan's 'All You Need is Love' package gives partners the chance to combine a fancy stay with memorable local experiences. In addition to securing their Pennsbury Suite, the offer includes a couple's spa Serenity Suite with an 80-minute massage, foot treatment, and full body scrub.
Couples will also receive special perks from the onsite ritzy steakhouse, Urban Farmer, including a private mixology class for two, a cocktail flight of three samples delivered right to your room, and brunch or breakfast. 
While the Logan is one of the best luxury hotels in Philadelphia for their couple's experiences, they truly have exciting accommodations for everyone! They pride themselves on offering a stay that reflects Philly's vibrant culture with a gorgeous local art installation, a rooftop lounge with views of the Benjamin Franklin Parkway and Museum of Art, and even "Rocky" themed bathrobes to cozy up in at the end of the night. 
This luxurious haven even offers amenities designed specifically for the furry members of your family. As a warm and welcoming pet-friendly hotel, guests can request a pet bowl, bed, dog treats, dog-shaped waste bag dispenser, and even a guide to spots your companion may enjoy downtown. Our favorite part of their program is that a portion of every pet enhancement fee ($75) is donated to a local animal shelter.
12. The Bellevue: Best Luxury Hotel for Private Events  
Location: 200 S Broad St, Philadelphia, PA 19102
Amenities: On-site restaurant, fitness center, meeting facilities & event space, pet-friendly, and even shops on hotel premises! 
Stationed on the Avenue of the Arts, the historic Bellevue is a living landmark of the early 1900s in Philadelphia and part of Hyatt's Unbound Collection. Guests of this opulent stay can expect spacious suites, top-notch dining at the location's XIX Restaurant, and even on-site shopping at Tiffany & Co., Williams Sonoma, and Nicole Miller. 
In addition to providing elite services to overnight guests, the Bellevue has been trusted by locals and visitors alike to host large-scale events, from weddings to national conventions, for over a century! The hotel has 10 different spaces to choose from, with the largest measuring a jaw-dropping 11,616 square feet.
Whether you opt for the location's magnificent two-tier Grand Ballroom, its 19th-floor restaurant spaces with views of the city skyline, or its remarkable seven-story Conservatory modeled after an alfresco garden village, the Bellevue has options for celebrations and events of any size! 
13. The Warwick: Best Luxury Hotel for Dining in Philadelphia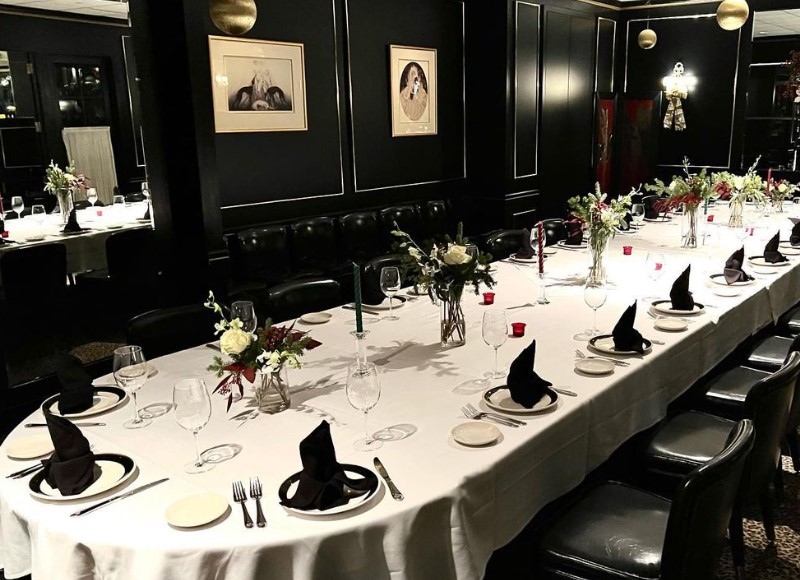 Location: 220 S 17th St, Philadelphia, PA 19103
Amenities: Contemporary social spaces, fitness center, on-site hair salon, two highly-rated dining options, dog-friendly rooms, business center, and more! 
Given that the landmark Warwick has hosted famous guests such as Frank Sinatra, Ava Gardner, and Sammy David Jr. since 1928, it is no question the boutique stay belongs on the list of top Philadelphia luxury hotels. The last remaining landmark of the three original "Grand Dame hotels" in the city, this Rittenhouse fixture is filled with rich Philadelphia history. 
With such an impressive legacy, it is a given that the Warwick provides guests with only the finest upscale amenities. On top of sizeable rooms and stylish decor, the hotel has renowned on-site dining experiences. The stay made history by creating the "Shrimp Lamaze," an innovative twist on the shrimp salad, and continues to build their culinary legacy.
Guests can find light breakfast fare at Bluestone Lane or feast on world-class steak and seafood at the hotel's Rittenhouse Grill, inspired by 1940s supper clubs in Manhattan. The steakhouse has even been voted as one of the top five romantic restaurants in the country by Food and Wine Magazine! 
From recharging with a peaceful night's sleep to indulging in a one-in-a-lifetime meal, guests of the Bellevue are sure to feel satisfied with their stay in every way. With a proven history of providing only the best of the best, there is no question that the Bellevue is one of the best luxury hotels in Pennsylvania 
14. Wm. Mulherin's Sons: Most Unique Luxury Hotel in Philly 
Location: 1355 N Front St, Philadelphia, PA 19122
Amenities: Four meticulously designed rooms, onsite 100-year-old whiskey distillery-turned Italian restaurant & bar, and more! 
This Fishtown-based destination is an Italian restaurant, bar, and boutique hotel all in one! Once an abandoned 1800s whiskey factory, the building housing Wm. Mulherin's Sons has been transformed into a rustic yet sophisticated eatery and a dreamy overnight stay with magazine-cover-worthy rooms. Compared to other Philadelphia luxury hotels, the overall aesthetic of the space is truly unmatched. 
With only four rooms at this location, guests can rest assured that each and every detail of their space has been curated thoughtfully, with the utmost care for timeless design and functionality. If you are in search of a luxury experience with a twist, their rooms flawlessly pair standard post accommodations such as comfy king-sized beds with custom-made furniture, vintage rugs, hand-selected art, and even living plants! 
15. Sofitel Philadelphia: Best Eco-Friendly Luxury Hotel in Philly  
Location: 120 S 17th St, Philadelphia, PA 19103
Amenities: Two on-site eateries, a lounge serving small bites and cocktails, meeting & event rooms, a grand ballroom, fitness center, & more! 
Positioned between Philadelphia's French Quarter and scenic Rittenhouse Square, the Sofitel draws inspiration from both American design and the meaningful French concept of 'art de vivre,' translated literally to the "art of living." This combination of local culture with European elegance provides guests with a truly one-of-a-kind luxury hotel experience. 
Aside from escaping reality in showstopping suites and rooms, guests can transport to a different getaway entirely with the Sofitel's on-site cuisine options! An ode to 1930 brasseries in the south of France, Chez Colette offers guests authentic, innovative cuisine paired with an intimate atmosphere. 
While their overnight accommodations alone make them one of the top Philadelphia luxury hotels, Sofitel has also devoted time and energy to making an outstanding sustainability commitment. In recognition of their efforts to implement environmentally friendly initiatives in all areas of hotel operation, the stay has been awarded 4 Green Keys from the Green Key Ec0-Rating Program. 
Though there are numerous examples of their green initiatives, highlights include using local organic food when possible and participating in recycling programs such as composting. The hotel is even home to 480,000 honey bees and more than 3,000 lbs of soil for the growth of organic vegetables and herbs on their rooftop Liberté lounge! 
From charming boutique locations to grandiose historic buildings, these are the luxury hotels Philadelphia locals and visitors trust to provide memorable stays time and time again. We hope that you enjoyed learning more about these high-end stays and feel excited to plan your next trip to the City of Brotherly Love!