On a grey, overcast Labor Day Monday in Germantown, the wry, sly BanksyLand exhibition at Rittenhouse Filmworks is filling up quickly for yet another hourly round of tour talking, stencil sighting, graffiti gawking and visitors playing witness to that which they've only heard tell – the work of someone they believe to be a working-class Brit whose claims to fame are usually hidden from view as soon as the artist tags them.
As the BanksyLand live show (subtitled Unauthorized and Unmasked, The World's Largest Touring Bansky exhibition) won't hit any where near a traditionally huge art markets such as New York City or Washington, DC, viewers from as far off as Manhattan, Reading and New Jersey are driving in to the area in droves – and in packs, if my eyes aren't deceiving me.
Black and white, male and female and non-binary, mostly (seemingly) under 40, with a smattering of older, dignified audience members dressed in pricey casual wear, many in post-hipster band-related t-shirts: the crowd to see what it is Banksy is, or isn't, is high and wide. "I'm surprised to see such a wide ranging demographic," said Rittenhouse Filmworks' Matthew Hamilton.
One blonde woman who identifies herself as a New Yorker – sunglasses on her head, VIP ticketed BanksyLand print under her arm – laughs quietly about the democratization of this day's opportunities to take photos of Banksy's work. Asking me if I'm certain that we're allowed to take photos, she jokes and says, "Thanks, Banksy," as if I'm the man or woman behind the stencils, the Molotov cocktail sculptures, the Pulp Fiction piss takes, and the TNT-detonating apes.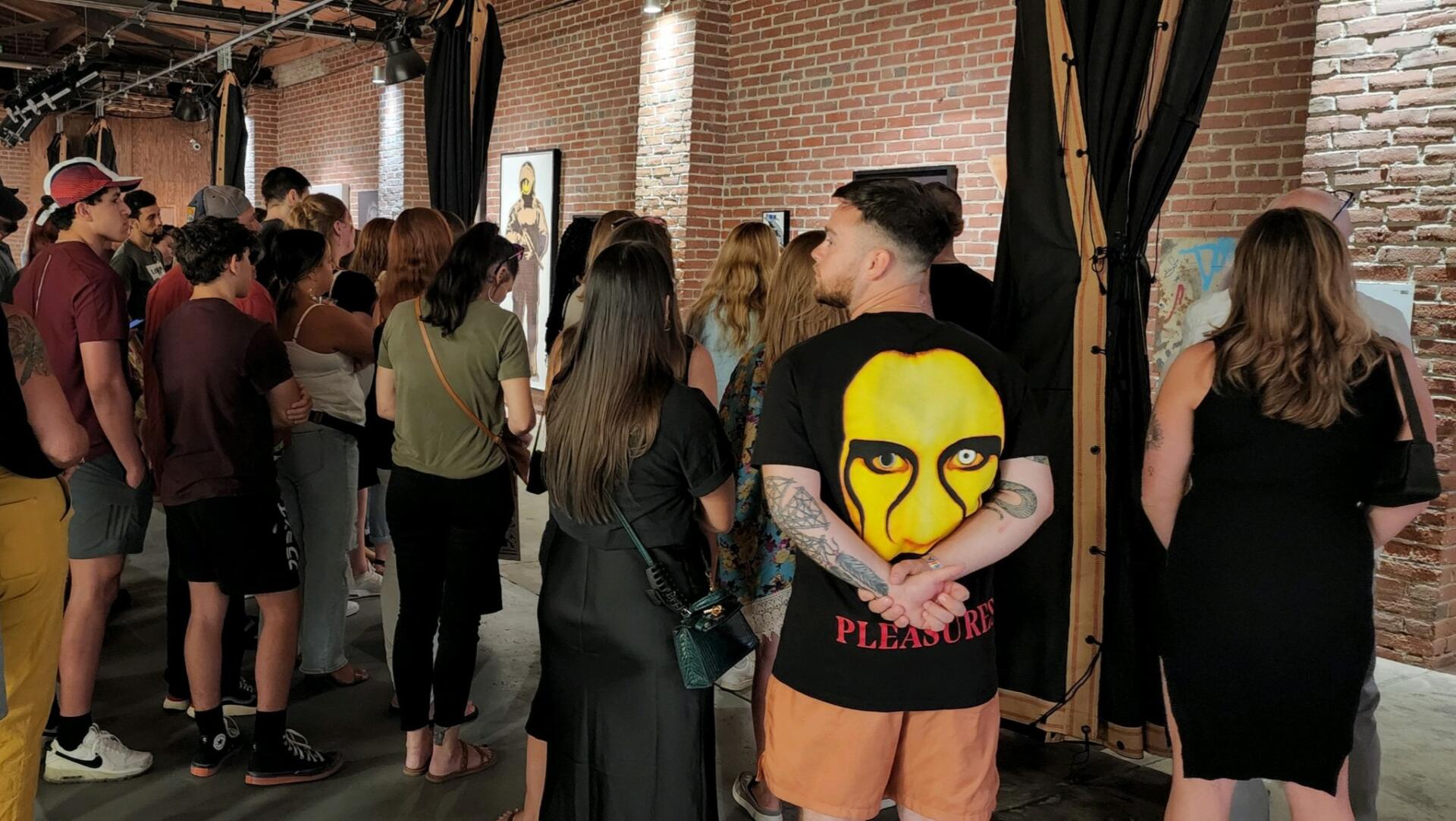 Which brings up an interesting question: who does this crowd think that Bansky might actually be in real life?
Who is Banksy, then?
While tour guide Britt Reyes secretly hoped that Banksy might be a woman, an anonymous Germantown local with longish hair believed that the artist behind the showcase might actually be an American as opposed to a Brit as Banksy's worldview finds its humor and poignancy beyond the Princess Di pound notes and monkey critique of its House of Parliament.
Art critic Carlo McCormick once mused that it was "a curious obsession, this need for people to identify Banksy… maybe as an expression of their need to identify with him," before throwing out names such as Massive Attack founding musician Robert Del Naja, Liverpool's Paul Horner, Brooklyn's Richard Pfeiffer, France's Thierry Guetta, aka Mr. Brainwash who starred in Banksy's documentary Exit Though the Gift Shop, Bristol street artist Robin Gunningham and/or a team of seven artists led by a blonde woman captured in the HBO documentary Banksy Does New York.
"Banksy is a real person, perhaps not nearly as interesting as his myth but certainly not a myth," stated McCormick.
"Actually, we thought that Banksy might have been here late last night after we closed for the evening," said Rittenhouse Filmworks' Matthew Hamilton in reaction to what looked like a silver mylar rat painted onto one of the oversized studio space's dumpsters on Sunday night. "That rat wasn't here when I left here." (I can back Hamilton's assertion that the silver rat wasn't in place when I left BanksyLand on Saturday night).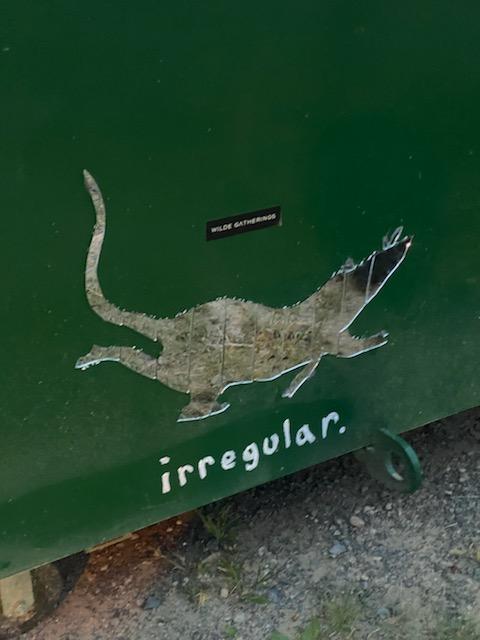 Turns out that the surprise silver streaking rodent – according to my friend Dylan, a wise and knowing oracle when it comes to street art – came from Philadelphia-based artist and installation-ist Irregular Sean, a local artist whose primary medium is mirror-centric materials to go with his use of stenciling and spray paint.
Also known as Sean Hassett, Irregular Sean (whose work and t-shirts can be found here https://www.irregular.gallery/) toys with the traditions of street art by utilizing mirrors and other reflective art-if-acts within the bodies of his works, as well as creating totems of the form with references to Basquiat, future-forward tribal art, Van Gogh and Picasso. In 2022, alone, Sean heightened his presence in Philly by delivering one installation at 11th and Sansom Streets with spray painted stencil and mirror, and in murals created for the Wawa Welcome America and Mural Arts Philadelphia showcases for the summer executed through the Streets Dept website.
"We're going to keep the silver rat where it is, and hope no one steals it like they would a Banksy," says Hamilton.