Exhibiting the work of Banksy is no simple matter.
Certainly, the pseudonymous Brit-based artist isn't doing it for himself altogether that often. Rather, his or her or their mien when it comes to showing off his work is one where they stencil, graffiti or leave art wherever they like, art thieves claim it for their own, sell to the highest bidders, and those works work their way through auction halls or go into travelling circus exhibition settings of which Banksy and his Pest Control crew do not approve – such as The Art of Banksy which gets the big red X from the artist and his/her/their peeps.
Even while Banksy is creating truly democratized art meant to comment on the evils of privatization with an eat-the-rich deviousness, his work is often hidden from the public. Until now.
So what does it mean, despite being an "unauthorized" exhibition to win Banksy & Co.'s approval for the currently touring BanksyLand? An 80+ piece exhibit featuring work lent from collectors with Banksy adding his seal of approval via email? And how do we know for sure that the art of Banksy revealed in touring exhibitions such as BanksyLand aren't coming from the artist?
Introducing the Banksyland Tour
Currently housed in Germantown's 219 West Rittenhouse Street's Rittenhouse Filmworks warehouse's 4,500 square foot space, the retrospective installation with its wads of faux-cash and "the elephant in the room" sculpture, starts its brick wall's tall tales with the evolution of Banksy – the stencil tagger in the 1990s making rat street signs, police officer in full riot gear with 70's smiley face, and London police officer men snogging.
By the time we spin round to room's end, it is captured on a white gallery's dry wall filled with Kate Moss-Marilyns and Michelangelo-esque hand-to-God triptychs of Molotov cocktail-tossing activists.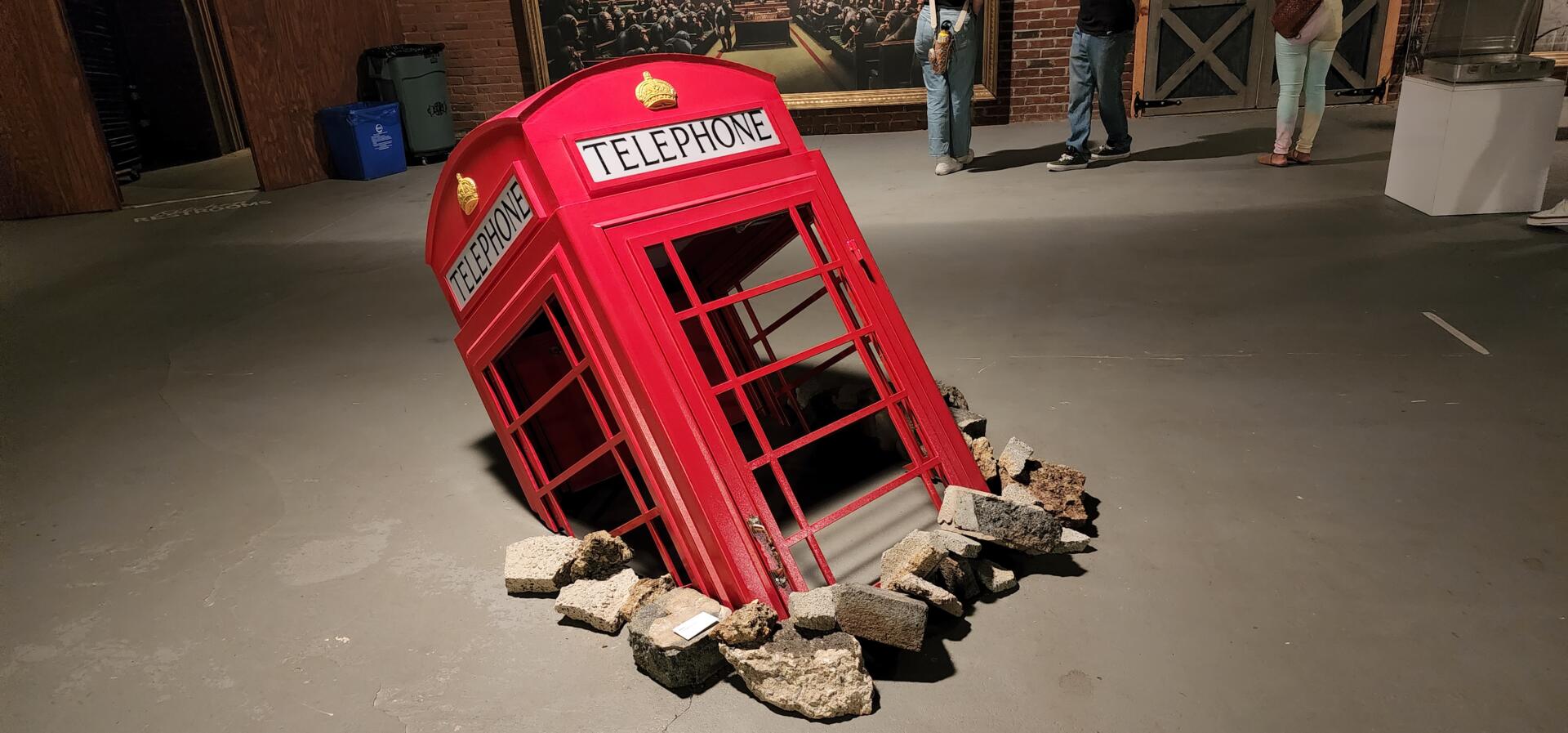 Fine art portrait photographer and Rittenhouse Filmworks GM Matthew Hamilton says that the One Thousand Ways team from Portland, Oregon reached out to him the same way any film or musical client would – only quieter and stealthier for such a massive endeavor of such great renown.
"Within a week of their calling, it all came together – and that first call only came several weeks ago," says Hamilton. "There wasn't a mysterious figure showing up on our doorstep with Banksys under their arm."
Different for Rittenhouse Filmworks than their usual soundstage productions – probably why BanksyLand wanted the Germantown space in the first place – Hamilton's team was still in the process of moving their junk while One Thousand Ways was hanging its Banksy show, as I spoke to Hamilton on day one of the exhibition. "That's not our usual way, but we had to make a clean, blank slate for them to work with, to make it their own."
The myth of Banksy aside, Hamilton took a deep dive into the work as it was being hung and installed with its elephants, British call boxes and sculptural Davids (with gun belts and strapped bombs) in room's center and its walls lined with Darwinian monkeys as well as its originals and reproductions of the artist's finest, activist fare.
"Knowing a rough history doesn't prepare you for seeing these pieces and hearing the stories of how and why they came to be, and some of their crossovers – it's incredible," says Matthew Hamilton. "The biggest story being that no one knows who exactly Banksy is. Even we at the studio keep asking their curatorial staff who Banksy is, to no avail."
The teller of those stories, the keeper of the flame and someone with just a little too much knowledge of, and empathy towards Banksy is Britt Reyes, One Thousand Ways' spokesperson and tour master. Broken into hour-long ticketed treks, it is Reyes who guides the viewer through Banksy's moves from street urchin to an arbiter of critical mass and a chaos-driven, but sharp castigator of organized religion, political rhetoric, racism, sexism, and all manner of corporate and governmental elitism.
"In my opinion, the work of Banksy is so vital to society, so much deep meaning with so much room for us to interpret, to be convicted and to be inspired by the work – at times, quiet literal too," says Reyes.
"His call-outs too, to the elitists of the world, to the wealthy, that's crucial to his existence as it plays into him being well versed in political, social and historical issues. And he uses his position, fame and work to bring attention to the injustices of this world – a perfect example being how, in 2020, Banksy partners with the owner of a hotel, The Walled Off Hotel, directly across the street from the Gaza Strip. When the Israelis put their literal line in the sand, this hotel – a place for Israelis and Palestinians, a neutral place – was about to get kicked out. Banksy brought this issue to light. He's a peaceful protester, calling out governments while using dark humor to create light along the way, all this while desiring to remain anonymous. I used to think he was a simple graffiti artist. Not now."
Reyes has been on every date of the BanksyLand tour, starting in Portland and moving onto Seattle, with dates in Columbus, Ohio and Nashville, Tennessee following Philadelphia and she never tires of discussing the moods and minutia of everything Banksy.
What she knows is everything, even if she says she doesn't know who Banksy is.
Art For Public Consumption
"More importantly than who he is what he is," says Reyes, respectful of his privacy and anonymity while remaining in email and phone communication with the artist and his Pest Control team. "Our goal is to make this art accessible to the public. He makes his art for the world, and, unfortunately right now, it has become highly commodified and privatized."
Discussing work that Banksy puts up or paints on that gets jackhammered within moments of its street and wall exhibition, Reyes and BanksyLand is about sharing, about evoking and inspiring change and movement – artful activism that is alive and thriving even when behind the closed doors of private collectors.
The art of Banksy past – he or she or they – conjures images of a working class Briton as a singular person, a "he" pronoun. That says, Banksy portrays such empathy in the work for social issues, that Reyes says she doesn't see much of that coming from middle aged white men. "Whether advocating for refugees in France or Palestinians, I often wonder if Banksy isn't female at heart in a male dominated space," she says.
As to the initial dialogue between Banksy and One Thousand Ways for what is being called an "unauthorized" visit with his work, there were ethical questions as to showing off pieces without contribution or authorization from the artist himself. When the founders of One Thousand Ways made contact with Banksy and Pest Control after getting the go-ahead from collectors (to say nothing of prime work of Banksy's from those same lenders), Banksy declined any monetary renumeration or contributions, yet One Thousand Ways is making contributions from admissions and merch sales to various art programs in the communities where BanksyLand is exhibited.
Embracing the Banksy Ethos
Still, showing work in an "unauthorized" fashion is as outlaw as Banksy's creations themselves, an idea not lost on Reyes.
"Banksy is a man of little words," she says. "Our level of communication with his team is about keeping them informed and apprised as to what is happening. As to what he thinks, Banksy doesn't give a shit what we do – producing events isn't his medium. There are some 16 to 19 other exhibitions around the world that he calls "fake" and has marked them online as such by calling out their addresses. For us, BanksyLand, he's given us the Banksy blessing."
Would a publicist and guide dare speak up in such a manner as to what Banksy might think? With all of Reyes' deep emotion, fellowship of advocacy and feeling-filled knowledge of the work and its activist, social and communal heart – even the fact that she's alluded to the potential of female empathy towards the worldwide humanity causes the artist chooses to highlight, a world of terror, racism and disaster – why couldn't I be speaking to Banksy herself?
"I get people stopping to take selfies with me or take photos of me on the DL," says Reyes. "And I am flattered, but I'm not Banksy. And when people ask me if I've ever met Banksy, my response is, "Have you?"
Only Banksy would say that.