From the moment that gentle giant Dave Bautista's head fills its lushly verdant screen to its grey post-cataclysm finale, director and screenwriter M. Night Shyamalan's Knock at the Cabin darkly plays on grand themes of spirituality, sacrifice, family ties and what it truly means to bring down life's final curtain – all without one thing long essential to the filmmaker's work: the big twist.
Normally, a smart audience doesn't want a magician to repeat his most highly regarded trick repeatedly so to not guess how the strings are held. Greatest hits are fine, but a career dedicated to the hooks alone can get sticky. That said, Shyamalan usually knows how to stick the trick and knife the twist, boldly, uniquely and with fear and vision on his side.  From the exquisite (1999's The Sixth Sense) to the hurtful (2021's Old), Shyamalan's Hitchcockian thrill rides hinge on keeping his audience in a state of hyper-panic with one last kink to send everyone home beleaguered and thrilled. You might not want him to trick you with double endings or weird spins in his films' denouement, but that is what we've come to expect from M. Night.
Not so with Knock at the Cabin, his co-screen-write with Steve Desmond and Michael Sherman of The Cabin at the End of the World from author Paul G. Tremblay. What you see is what you get and what you get is what you saw after one hour and 40 minutes, with zero frightening folderol, bonus horror or menace-heavy moral. And with that – and for that reason alone – Knock at the Cabin is underwhelming; good, but not dynamic or great.
The premise of Knock at the Cabin is as such:  a quartet of normal, nurturing folk who never met prior to this, teacher Dave Bautista, nurse Nikki Amuka-Bird, chef/mother Abby Quinn and gas company employee/one-time jail bird Rupert Grint, are shown visions of an avoidable world's end and a solution to the planet's potential death spin. What wind up being a Four Horsemen of the Apocalypse team are given a married couple and a daughter – two gay fathers played by Jonathan Groff and Ben Aldridge with an adorable adopted child, Kristen Cui – to call on in order to make the ultimate sacrifice. And if the gay couple refuse to willingly sacrifice one of their own, another piece of the world will crumble and millions will die: by plague, by natural disaster, by unnatural disaster.
Oh, and every time that the couple turns down Bautista's quiet request, one of the Four Horsemen die a grisly death at the hands of their partners in crime and their handful of handmade weapons of mass gardening destruction. Then again, maybe their mission is to come in hate (crime) and not redemption. Which is why the gay couple – Alridge's hard-streak husband in particular – don't go for the repeated request, no matter how many millions will potentially die. Alrdridge and Groff's characters were gay bashed in the recent past, very possibly by Grint's rough-edged character, so the family unit believes they were chosen as a form of targeted LGBTQ+ hatred – an interesting sidebar for Shyamalan's sense of humanity and 21st Century relationships.
Besides, who would believe four strangers knocking at your door, telling you that one member of your family has to be killed by another member of your family so to save the world?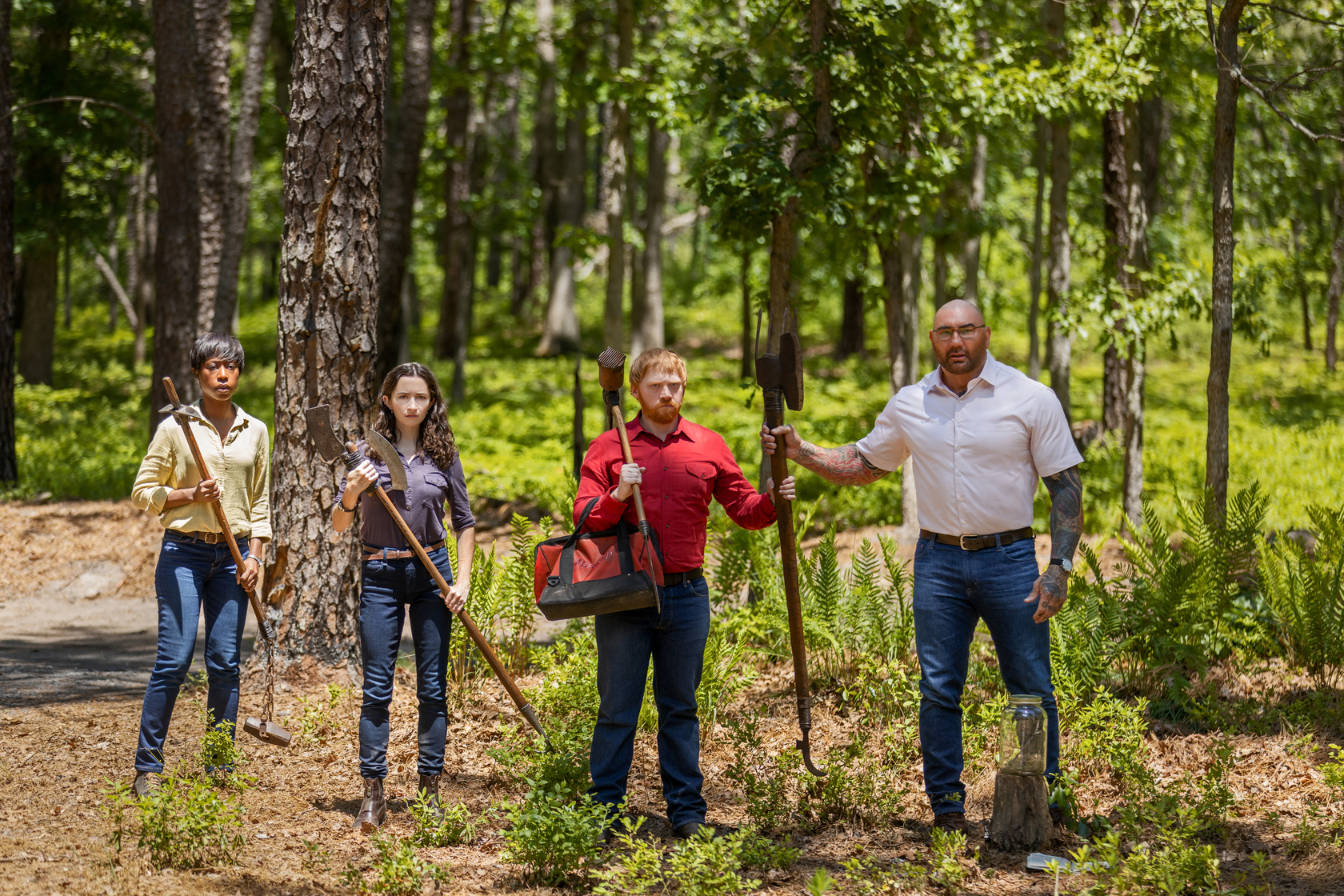 That all of this weightiness and woe comes at the viewer without much relief, or even Shyamalan's occasional dark humored quirk (good with black comedy, the only glimmer of cheer comes from the director's own cameo selling QVC-like chicken stuff) means that Knock at the Cabin is nothing but heavy, scene-after-scene, and without a heightened sense of elegantly-comported language to lift its script beyond its death knell pace. For example, I was surprised that only one hour and 40 minutes had gone by when the lights went up in the theater. Not relieved. Just a small shock – the only shock that I got that evening.
Luckily, for Knock at the Cabin, each actor is quietly thrilling in their performance, especially Groff as a man willing to accept the possibilities that they hold the future of the planet in their hands (it is his character who positions their Four Horsemen role as representative of the full spectrum of humanity — healing, guidance, malice and nurture), and Bautista whose tempered menace, near-religious fortitude and soft-spoken eloquence is a revelation. Grint is great as well, but, surprisingly for fans of his work in Night Shyamalan's Servant series currently drawing to a close, not in Knock at the Cabin nearly long enough.
That the film ends when it does, without just one more Shyamalan-ian twist or fake-me-out close – and so many different finale options ran through my head after the 1:30 mark – is the great failing of Knock at the Cabin. Not apocalyptic, mind you. And that was the problem.