It is four years since Banksy took to shredding one of his most famous works, 2002's deceptively simple Girl with Balloon, and still, the international gallery world and its aristocracy are in shock regarding one of the most ingenious moments of performance art and auction history.
"Banksy is no stranger to making headlines and this latest chapter in his story has captured imaginations across the world – we can only begin to guess what might come next," said Alex Branczik, Chairman of modern and contemporary art at Sotheby's Asia, to Britain's The Guardian newspaper.
Certainly, there have been art stunts in the past. The work of ultimate installation-ist Cristo. The display of a urinal as a work of art that was Marcel Duchamp's calling card. Art pranksters Eva and Franco Mattes' reinvention of The Vatican website, passed off as their own work has titillated the sense. Practically everything that sculptor Jeff Koons has ever produced seems as if it is a prank. Destroying works of art is a surefire manner in which to gain attention while making an earnest point, politically, socially and aesthetically.
That Banksy, of course, took it to another level and had his nearly annihilated work auctioned off at nearly $25 million is historic and histrionic.
The Shredding Of "Girl With Balloon"
An adaptation of Banksy's 2002 mural Girl with Balloon, a rare painting of his as opposed to a print, went to exhibition in 2006. Close to his heart, Banksy then began thinking of a self-destruct mechanism in which to destroy his painting in case his precious work was ever put up for auction.
When finally brought to auction in 2018, at his highest price yet – of £1,042,000, the equivalent to US$1,366,672 – within moments of seconds of the gavel's drop, the Girl with Balloon canvas began slipping from the grasp of the of the bottom of its frame and shredding itself into thin strips – all while a siren blared and auction attendees' shrieks. The shredder stopped when the canvas was about half-way through the self-destruction process; a stop that was unplanned as Banksy's intention was to shred his Girl with Balloon, thoroughly, and once in for all.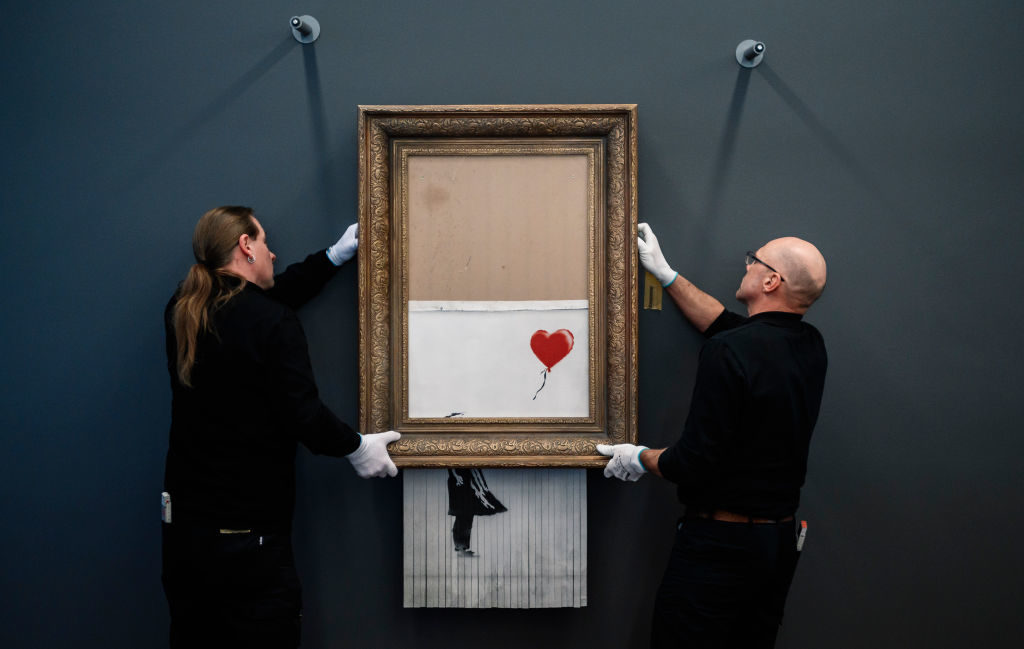 Claiming an unawareness as to Banksy's radical intentions, Sotheby's claimed that they had zero they had zero knowledge of the mechanism or the artist's ire. Banksy's representatives, Pest Control, eventually deactivated the shredder, but the mechanics remained in the frame, and the work seemed to be lost forever.
An Unexpected Boost in Value
That is, until "the first artwork in history to have been created live during an auction," came up again for auction. In October 2021, the re-named, ruined work, Love is in the Bin, sold at auction for £18.5 million – nearly $24 million dollars, yet another record for the artist. Unthinkable, but true, Banksy's worth had multiplied many times in a form of rebirth.
"Internationally, this event sent a shock wave into a room filled with elite buyers," says One Thousand Ways' representative and BanksyLand tour guide Britt Reyes.
"People can't afford to even sit in Sotheby's, let alone buy something, and this was the prime auctions of that season. So imagine how fantastical it was to see this piece sell for $1.4 million – and as soon as the gavel hit the podium, it begins to self-destruct, from the bottom, up, without any one in the room or behind the scenes knowing this was going to happen. Only Banksy knew. When it got stuck in the shredder and someone pulled it out, it then was re-created as this entirely new work of art which shortly after its rather salty purchase then sells again for $24 million.  Think about the psychological profile of the elitists who could afford such work at that price – then this artist spends years developing an actual device, a contraption that will destroy his own work because he didn't want them to have it. Then, they all turn around and buy it for millions upon millions of dollars more."
Reyes goes on to punctuate her rant by saying "it's rich. It's dumb. It's fascinating" before imaging the psychological profile of the artist and his minion.
"Banksy is an artist whose fans take to the streets and make abandoned buildings their milieu and then there is the wealthy who have their own environment – few artists have that range of appreciators and admirers'. That's prolific… his response is too, that ability to layer those images over each other to call out inspire and offer hope, all simultaneously to different groups of people, relaying and conveying different messages to each. That is extremely profound."
The extent of the girl with balloon metaphor is extended to Banksy's umbrella-clasping girls – meant to protect us while drowning in reference to Hurricane Katrina. And the mixed media event at BanksyLand, the Louise Michel.
The Louise Michel
Named for the beloved anarchist, Banksy's work is part of a French Naval vessel rescuing refugees from North Africa, lost souls crossing the Mediterranean to find safety in Europe. Banksy bought a decommissioned French Navy boat and with a fire extinguisher, sprayed the exterior with pink paint and adorned it with a version of the iconic "Girl with Balloon." This iteration outfits the child with a life vest and swaps the red heart with a pink-hued flotation device. But its legend cuts deeper.
"This chokes me up still," says Reyes.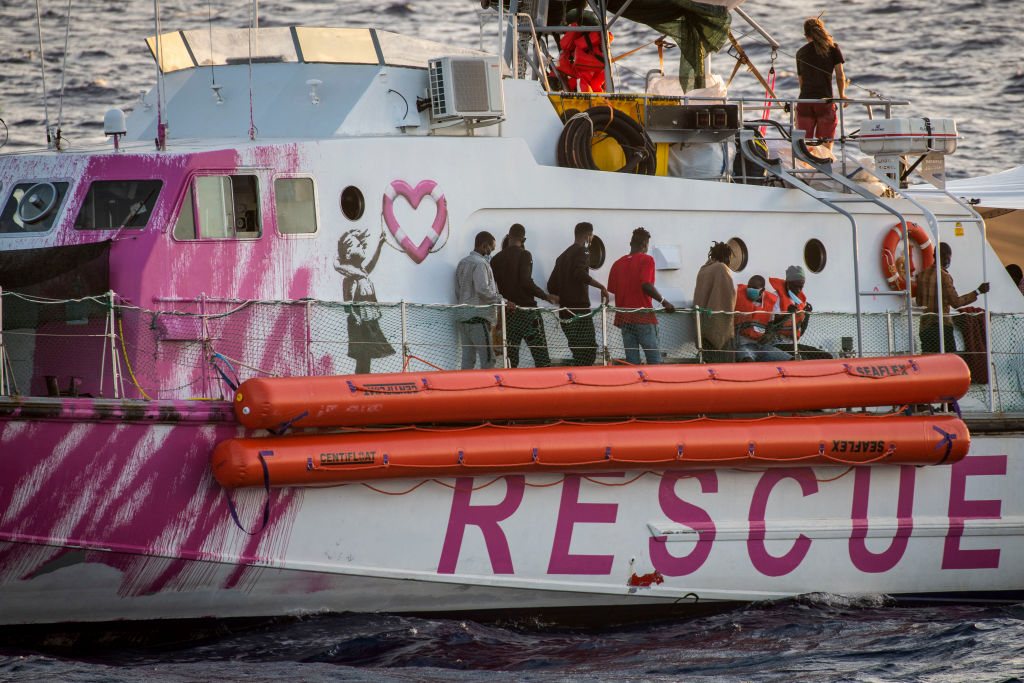 When Banksy purchases the boat and ties it with his iconic young girl reaching for a balloon, now she is reaching for a heart ..shaped from a safety buoy out of reach, representing the children who have lost their lives in the Mediterranean sea while seeking asylum from war torn countries.  He did this in response to learning that several children perished in these waters escaping war torn countries with neighboring countries who would not allow them entrance.
Banksy uses this, in partnership with Sea Watch – to save women and children and offer them safe shore. And though anti-capitalist, Banksy creates useable industrial doormats and sells them for the highest profit possible so to help fund – 100 percent of proceeds – to help build camps and contributes to programs for refuges in which to settle in new homes. The orange material that spells out 'welcome' on the matts is the material from life jackets washed up on shore…. bodyless… devoid of the bodies which once wore them. Suddenly, the Girl with Balloon, in this new setting, is tragically the most sadly poignant piece in BanksyLand.