Whether viewed through the lens of December 2020's Philadelphia Award (its sole Hispanic recipient), his national profile (serving in immigrant advisory capacities to the George W. Bush and Barack Obama White Houses)…
…or his creation of an Hispanic ecosystem of university and high school classes, and an initiative mixing economic and workforce development, neighborhood revitalization and immigration services (his multi-faceted Esperanza), the Rev. Luis Cortés Jr. is the first and last name in Hispanic continuum in this city. 
Coming into his 35th year of founding Esperanza, as well as 40 years of co-founding the Hispanic Clergy of Philadelphia, Cortés has watched as Philly grew past its initial Puerto Rican-packed citizenry to include more Mexican, Dominican, Peruvian, Guatemalan and Portugese people. He's watched "El Barrio" turn into Olde Kensington ("with an 'e' on Old, yet"), and the Italian Market become, in his words, "Little Mexico." Cortés has watched boroughs such as Upper Darby and upstate locations such as Allentown and Lancaster welcome Hispanic people.
"The Philly area's starting to look like New York," Cortés said proudly of his home city.
He's seen governors and mayors come and watched governors and mayors go. He's had COVID, bad, and gotten over it. And, as we spoke, welcomed yet another grandson, Lorenzo ("Grandchild number 6…13 pounds, 7 ounces") to the Cortés family fold.
The Gospel of Reverend Cortés – a funny, but fact-based tome from an easily talkative and immensely quotable gentleman – is what he wants to share with us. Like the Good Book, his psalms are necessary to read from, as his people still reel and heal from the financial effects of the pandemic.
"We're lucky that we have USA Foods helping 300 of our families a week with fresh meats, fresh vegetables and milk," he says.
Philadelphia Weekly caught up with Cortés to discuss his views on immigration, how the Hispanic community is being short-changed when it comes to getting the COVID vaccine and is being gentrified out of their own neighborhoods.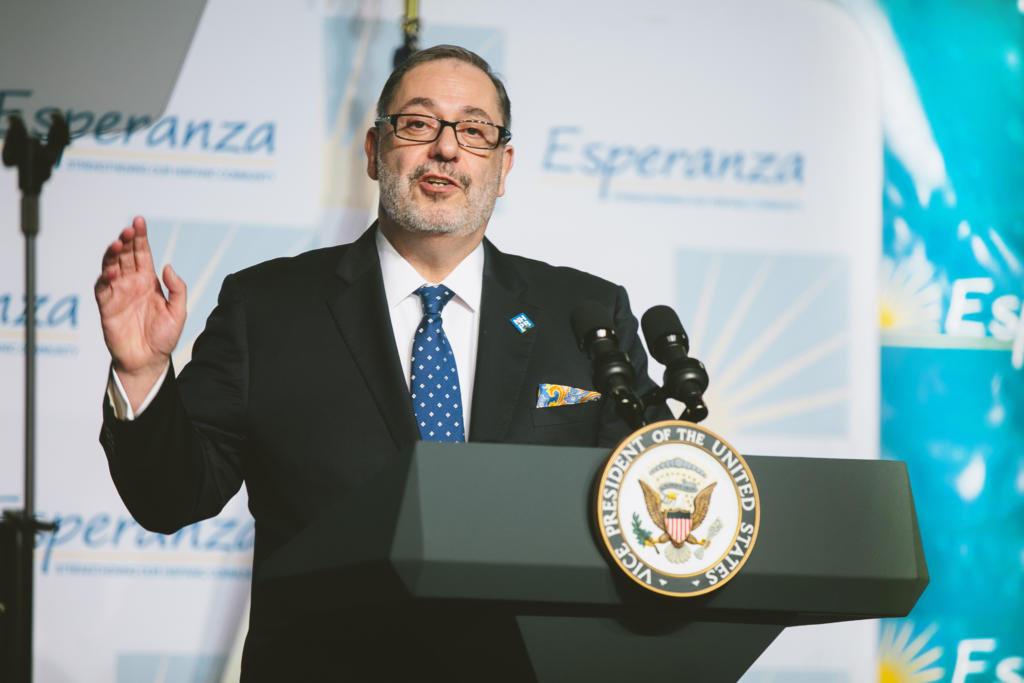 PW: We have heard a lot about how Philly's Black community has been slighted by those in control of COVID vaccinations. What has that been like for Philly's Hispanic community?
Cortés: I had the COVID, man. Went through the gates of hell – not hospitalized though. I just got my second Moderna shot last week. I've been telling the Hispanic community to get their shots. Don't believe the internet – it's gonna mess with your DNA.
Look, a lot of that mistrust has been earned by the U.S. government. Everybody sees what happens to African-American communities. It happens to Hispanic communities as well. Our neighborhood is dirty. There's more metals and dust in the air from it having been an industrial area. Plus, Hispanics are No. 1 in having asthma. But we need to get the shot.
The vaccine? The city made major mistakes at first – making deals with people they don't know – but they're trying to rectify it for our community. Dr. Stanford and the Black Doctors? They have been to Esperanza and did testing here, over 2,000 people. We contacted them. They came. Volunteers from the local hospital came out to help them for testing. This week, the city informed us that we might be a FEMA site for vaccinations. If that's true, and that's a FEMA decision, we'll be open 24/7. When Temple first started doing testing, our people asked some freaky questions – are they going to check ID? Do we have to pay? People who were citizens were asking that, if we do it at Esperanza, people know and trust us, that we have a 300-plus person parking lot, that we're not going to do anything bad. If FEMA doesn't choose us, the city said they will make us a once-a-week site, so we can start chipping away at the vaccine situation for Hispanic people in North Philly.
PW: What does it mean to the Hispanic people to continue the tradition of being a spiritual, religious guidepost with your Hispanic clergy organization?
Cortés: I founded this in 1981, and it does two things: Talks about the spiritual development of the Hispanic community and acts as a civil rights organization. They're separate. We can't get government contracts otherwise. The clergy's role is to be prophetic, and we designed this based on the Black clergy's actions and ideals in Philly. I worked with great organizations here, mostly Baptist, my ministry, and got the greatest help from the Rev. Dr. Leon Sullivan. He got me involved with the development of the United Bank of Philadelphia, Philly's premier Black bank. While I'm there, I meet Bill Moore, the head of Philly's Black clergy, and all the top Black clergy leaders in the area. It was a great opportunity…One where I received the charge to build "Nuevo Esperanza," because the clergy could always do the civil rights work and the faith work, but who does the glue work of making sure we have the services and outreach necessary to the Hispanic community? As long as we didn't try to build a church or hold Sunday services, Esperanza could exist.
PW: Immigration: What is your take on legal and undocumented work forces in Philadelphia?
Cortés: There's not that much of an undocumented work force other than in industries such as food service, restaurant industries and smaller scale construction – not large scale with government money involved. The jobs we're taking wouldn't pay that much more if we were on the books. Those jobs have always been low pay and off-the-books. That will not change. And many of those jobs would go unfilled if not for us. Mind you, the contractors and construction heads still get the same profit, they're just not letting it trickle down to the workers.
PW: So, where do you stand on open borders and the whole green card process?
Cortés: I want to be clear, I am not for an open border. We can't afford an open border. Every immigrant has an economic cost. Every immigrant brings something to the table for the economics of the future, whether they're low or high skilled. But a nation cannot take on all the world's poor. It just can't. This isn't a Philadelphia issue; it's a global one, and the rules and our responsibility needs to be discussed globally.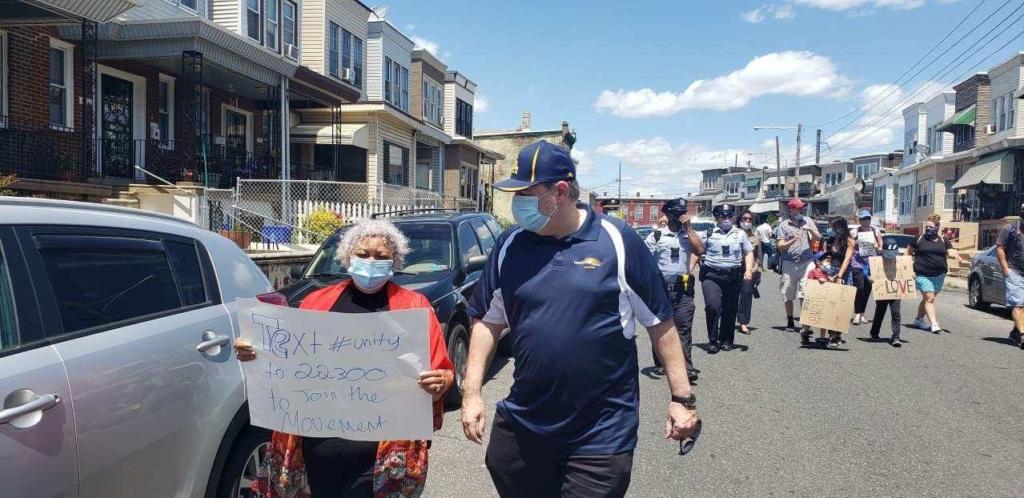 You should know, though, that we have an immigration legal services office at Esperanza, the only immigration service in the community, and not downtown. We're in the hood, working with people, getting and maintaining their paperwork, striving to become citizens of the United States.
PW: So how have you and Esperanza moved the needle in Philadelphia for the Hispanic community in your three-plus decades, so far?
Cortés: We know through the victories of individuals, and then the community as a whole. Look at Fifth Street. We can see that impact. We can look at the Esperanza campus that exists in W. Hunting Park Ave., 400,000 square feet of what was once debris, now filled with quality teachers and school kids learning. There are over 200 businesses that we helped leverage with over $400,000 of help. We bought a newspaper to highlight the good of what happens in the community. Physically, where once was an old factory, that's gone, and new life – a five-story, 38-unit complex, Roberto Clemente Homes – is there. Soon, downstairs, there will be a Citizens Bank, the first new bank in that neighborhood in decades, as well as a daycare center. That factory used to cast an horrific shadow over the neighborhood. Now there is light.
This all might be a drop in the bucket. But it's a good drop. We've touched thousands of lives. And we're just getting started, garnering support and good will. There will always be landmines and pitfalls. We push forward.
PW: You're serving the expansion of Hispanic Philadelphia, from its early Puerto Rican population through the present day. That takes trust on all of their parts.
Cortés: I do believe I have the trust of the entire spectrum of Hispanic peoples, but it is a trust that was earned, never a given. We've earned it through our service, as Esperanza's staff is large and diverse in terms of skin color, race and gender. We represent the whole of our communities. Give back? It's a term that is overused. But there are second-generation North Philly Hispanics who are giving back courtesy of having stayed in their home neighborhoods to help out. We don't say that of Italians who have stayed in South Philly, though.
PW: That's funny you mention South Philly, because I wanted to mention the wealth of Mexican entrepreneurs in the Italian Market. They pretty much revitalized and brightened up this area over the last 30 years.
Cortés: The Mexican Market? It's fine there, but it's a lost cause. The white progressives, economically, will wipe all of you out of there. Not you, because you're on that team. The Mexicans in South Philly are already moving out of South Philly. The only ones who will remain are the Mexicans directly in the market. The old school Italians will have to go, too, because the children don't want to live in mom's house anymore – but we do have a progressive professional group who want that house. Mexicans are already one-third gone from South Philly. The growth pattern has stopped because of the economics. Consider how many poor Hispanics can afford a $400,000 row house. It's about owning the land.
PW: The issue of ownership among Hispanics and all notions of gentrification is something you've been talking about for at least a decade.
Cortés: The North Philadelphia Hispanic community is inside the African-American community, and the southern end of that neighborhood is being gentrified. It's all being gentrified now, becoming more-so a young, somewhat affluent white community. They're gentrifying a poor Brown, a poor Black and a poor white community. Fishtown. Put it this way: One of the distinctions of this type of gentrification in this city is when they want a dog park, there's a problem [laughs]. That's why we get into clashes with the gentrifiers. Dog park? We've been trying to get a kids park for 12 years, and the city says it doesn't have the money for it. The Human Resources Commission found incidents in the Gayborhood or Midtown Village – which used to be our neighborhood – where there were racial discriminatory practices between the new progressives who moved in and didn't like people from the old neighborhood speaking Spanish. That's a clash of race. More importantly, though, it is a clash of classes. Just like the poor whites in Fishtown wondering who the hell, and what the hell, these affluent whites are doing in "their" neighborhood. It's a shift in what has been desired. It's similar to the Hispanics in that neighborhood, drinking Caffe Con Leche for $1.50. We pay that until white people move in – then we'll have to pay $2.50 or $3 for the same latte. It's just steamed milk until a constituency from a different class structure comes in.
PW: Gentrification is not just about who is coming to the neighborhood. It is about what survives in that neighborhood. And who decides, right?
Cortés: Well said. In our community, we have an economy created for our community: The Hispanic car repair shop with three prices – new parts that they put in, used parts they acquire and they put in, used parts that I acquire and they put in; the florist whom I tell I have eight bucks to spend for my wife's birthday, and get a nice bouquet – the price isn't set; the neighborhood restaurant where me and my family of four can eat for $30, cash, including rice, beans, meat and dessert. When we get gentrified, our ability to live, with less money, is destroyed…
We're getting pushed out because it is economically advantageous for progressives to move us out: They make more money, can do more with it, and get downtown faster. They say they're bringing good things and making the neighborhood a mixed income community. But they're not. We get moved out. Period. We used to have "El Barrio" in the neighborhood that is now the art museum, until we got moved out. Same with Brewerytown. The refocus of Northern Liberties. Now, Olde Kensington. I don't care what anyone in the city says – it is intentional. They created tax breaks, jobs and economic opportunities, yes. But not for the poor. That's the problem. The answer then is to get out.
On top of that, you have people coming in from all over the region who are white and opioid addicted. The city has taken the position of giving them homes and shelter ahead of the Hispanic people who have been waiting for help for decades. Because they're putting them into the Hispanic area, the Hispanics are leaving. What is then happening is that economic speculators, who happen to be white, are now buying up the undervalued properties in that neighborhood – so that 10, eight, six years from now – the city will clean out the opioid-addicted people, and then will make up another new name for an old area of ours. With that, you can get paranoid doing the work we do.
PW: Paranoid because there is little change in regard to how we gentrify and how we treat our school-age children?
Cortés: Esperanza is a place-based response to poverty. I'm part of this committee funded by Bill Gates, with the Urban Institute, and they're quoting these intellectual studies that go if you take a poor family, with children before third grade, and move them into a better neighborhood, you can change the odds of those children remaining in poverty. And to that I said, "Well, duh." If you take a child out of an inner city school district that spends $9,000 on a kid, and put him in Paoli where they spend $23,000 and you do that for 10 years, he'll be better off? You have invested $100,000 more on that child. Of course his odds of staying in poverty are less. Plus, the socialization factor is up. That's why we have school districts here based on property values. Because the minute I move 10 poor Black or Brown kids into Paoli in a rental situation, Paoli is going to raise taxes on rental situations so that the Brown and Black cannot afford to stay. Because Paoli is going to say, "Why are we spending on those 10 kids, over a quarter of a million dollars a year when they're parents don't pay our taxes?' That's the story of wealth in America: To make sure you can transfer wealth through the educational process, from one child to another and reduce competition.
Here, Mayor Kenney is trying to get the Philadelphia Housing Authority and Councilwoman Quiñones Sánchez to help us work out a deal where we can get some of our land in our old neighborhood of Olde Kensington and Fishtown so that we can build affordable housing there. We'll see if it happens…
Progressives will have their dog parks, their bike lanes, all their things – and the money for all those things will be found, in a city budget, that can't find money for kids.

– Rev. Luis Cortés Jr.
PW: You mentioned Mayor Kenney. Do you feel that he is working with you, for you, against you?
Cortés: Progressives will have their dog parks, their bike lanes, all their things – and the money for all those things will be found, in a city budget, that can't find money for kids. Mayor Kenney. Sugar tax. We're fixing the parks. What parks? Who benefits from them, and who makes the decisions about them? Will they be white parks, and new folk who tend to organize quicker, or will they belong to the old neighbors? That's the conversation that needs to happen. We need to help the flower shop who gives flowers for $8 and the restaurant that could feed a family for $30. We need to find or make the coexistence of class. I like that phrase.
PW: From the time you got here until the present, how would you describe the trajectory of your working relationships with Philly's mayors?
Cortés: I got here during Bill Green, and worked first with Wilson Goode who, sadly, eventually, got defined by one issue: MOVE. But he built up downtown, and he started 676. Ed Rendell was great at taking the credit for it [laughs]. I love Ed. He is one of my campaign co-chairs in raising capital funds for Esperanza's campus. Ed Rendell was a champion of co-existence, the king of "Let's make a deal." Wilson Goode was a champion of the underclass.
John Street, too, was about protecting poor people at any cost. He tore down blighted buildings and got rid of abandoned cars for the benefit of the poor. Mike Nutter was all about policy. I like him, but policy was his thing.
Kenney? Results? He has three more years to help us do what we must with the land we need. We haven't gotten one lot out of the city so far. We're running out of time with the whole money for affordable housing. Kenney ran on a poverty platform. We still haven't been able to implement that platform – that's problematic. But he will always get my support and admiration because he stood up for us, stood up for the immigrants and maintained its status as a sanctuary city.
PW: It's all about opportunity, yes?
Cortés: I was Esperanza's only employee with one part-time assistant, and a $60,000 budget for a $200,000 a year community development corporation looking to build a $2 million project such as a campus – a lot of work. Now, we're a $55 million a year operation, that happened because Mayor Goode gave us an opportunity. He knew that minority groups never got those opportunities. Hispanic community – here's your shot? Mess up. It's over for you. We didn't mess up and we grew. That is the legacy of these mayors. They did give us opportunities. How they implement things – that's the future of the city. By the way, Harrisburg fails us as well. Right now, there are at least 40 towns in Pennsylvania with the same needs and the same kind of help Philly does. And we're not getting it. It's a failure of leadership, but we'll get there, Maybe we'll organize. Maybe.
PW: What would you describe as your strengths, beyond never saying "no?"
Cortés: Always big picture, not visionary, but planning. Seeing the needs of a community, figuring out what is needed specifically, how all of its pieces work together, then getting it all funded when there are no funds to be had…Then getting money out of governments, corporations, the private and public sector. My brother makes sure the small pictures dots are connected. You got a $60,000 grant from the city of Philadelphia to do mortgage counseling – are we doing it on a level that is the best in the city? That's what my brother, Danny, also a pastor, wants to know from his big brother, who he didn't want to work for in the first place. Hearing the word, 'no?' We were told Esperanza could never have or be a college. Now, our college exists with 120 students after COVID; over twice that before the pandemic – we're hoping many come back. We run a pre-K to 12th grade. We have a newspaper. We have theaters.
PW: The theater is a big deal for you, isn't it?
Cortés: It is. The Pennsylvania Ballet and the Philadelphia Orchestra – they come to North Philly. They perform in my neighborhood, work with the kids there, with leaders in my neighborhood watching. The kids they dance with are now inspired by, and dance with them downtown: That is the microcosm of the coexistence of class, the coexistence of ethnicity. My kids now also go and see and pay to see them dance in downtown Philly. That's a microcosm. That's how you grow a city.
Related