Bridget Powell has been fighting for more than three years for custody of her 3-and-a-half-year-old niece, Nas'neen.
Nas'neen's parents have battled substance use disorders, which is why the Department of Human Services took their daughter away. But instead of being placed with one of the relatives willing to house and love her, two aunts and a grandmother who all have the necessary clearances, Nas'neen somehow wound up at a friend of her mother's.
Powell, 48, is a school nurse with the Philadelphia School District and was even temporarily named a foster parent of the child of a friend.
"DHS allowed me to be a foster parent to a family friend, but they won't place my own niece with her own aunt or with her three siblings," Powell said. "How can I be good enough for a family friend but not my own niece?" 
Nas'neen's parents have stated they want their child to be with a blood relative. Not only have social workers and child advocate attorneys involved in the case not allowed that thus far, but they have also made it very difficult for Nas'neen to see her three siblings, Powell said. One brother came to a city council hearing and testified that he had only seen his sister seven hours in three years.
"No one is holding them [DHS] accountable," Powell said. "Her [Nas'neen's] parents have never seen documentation of why their child was separated from her siblings and not placed with family. My family was not explored for my niece placement despite court-ordered. Transparency is needed in family court."
Powell keeps meticulous records of emails, texts, and records from her interactions with DHS and family court, which she shared with this reporter. From this sea of paperwork, a picture of missed opportunities, failed meetings and bureaucratic red-tape immediately emerges. To date, Mayor Jim Kenney and DHS Commissioner Cynthia Figueroa refuse to meet with her and review evidence. 
"Low-income families are really at a disadvantage with DHS, and private lawyers rarely want to take DHS cases," Powell said. "My niece is not adopted yet. Our family prays that the adoption court will allow her to be placed with her siblings and adopted by blood relatives."
That is why Powell staged protests and a sit-in in between the DHS and Family Court buildings over the summer, to air her grievances and to rally others who were struggling with the system. About 10 families were involved in the sit-in and took turns occupying the space. 
On one particularly sweltering morning, several people stopped and read the signs that said, among other things, "Investigate all dependency court judges," and "Our children's lives matter." Many spoke to Powell about their problems.
One of them was La-Sha Caddell, 27, who has experienced the system as a foster child and as a family member fighting for her sister to get her child back.
"I got taken when I was 11 because my [mom's] housing situation wasn't right," said Caddell, who has four siblings. She is the oldest. "They split us all up. We was all separated."
Caddell and one of her siblings were in a group home, and DHS placed her other siblings elsewhere. Then, Caddell and one of her sisters wound up in a foster home, where two other foster kids had already been placed. The foster children shared two rooms, the foster mother had a room, and the foster mother's daughter had the fourth room in the apartment, Caddell said.
"They had me and my sister sleeping in a bed together," Caddell said. "That's not right. You all take us out of one living situation and put us in another living situation that's damn near the same."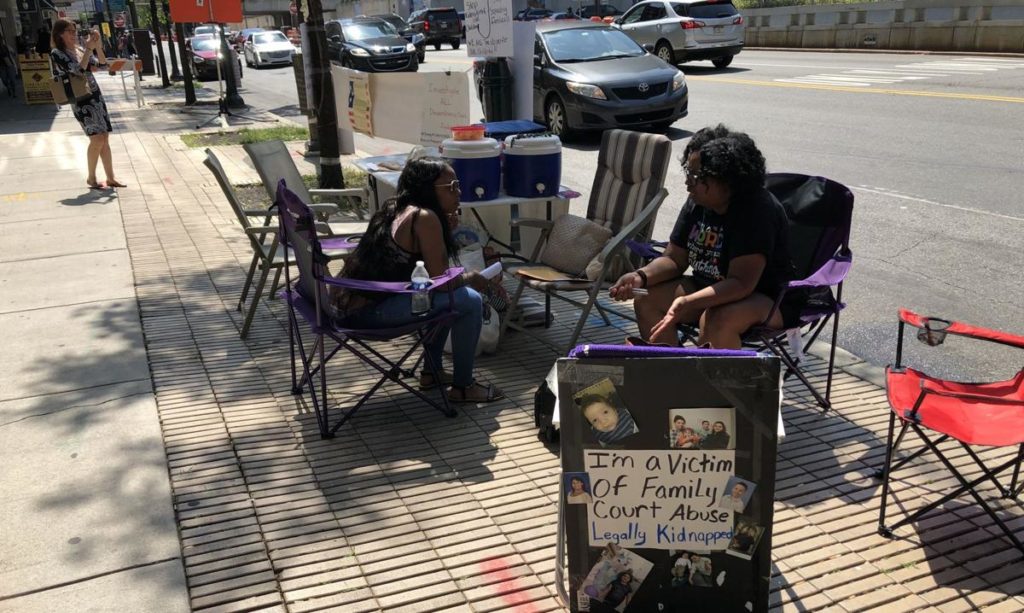 Caddell ran away from foster care more than 10 times, until a judge finally emancipated her at an emergency hearing when she was about to turn 16 because she told him she was going to keep absconding, she said. Caddell went to live with her mother, who had a four-bedroom house at that point.
Now Caddell is trying to help her sister, whose baby was taken by DHS straight from the hospital because Caddell's sister had marijuana in her system when she delivered. Her niece is now 2. They haven't seen her since DHS took over the case, despite Caddell's advocacy.
"Her daughter is damn near about to get adopted," Caddell said, before leaving for another hearing.
"It's the ripple effect," Powell said about how these removals and separation from family ties travel on from generation to generation. "They [DHS] claim reunification is their goal, but it's not."
Powell feels so strongly that the system is broken that she has devoted herself not only to resolve her own family's case, but also to this public advocacy.
"We need to let people know, 'You're not alone,'" she said. "DHS needs to be reformed. Family court needs transparency and accountability."
A breakdown of the break-ups
Philadelphia's Department of Human Services removes children from their families at the highest rate in the country, triple New York City's rate and quadruple Chicago's, according to federal data. The number of children in DHS' care jumped to more than 6,000 from 4,200 after a change in state law created more reports of child abuse and neglect. The Kenney administration was able to lower that number to about 5,200 cases by early October.
This rate is derived from federal Adoption and Foster Care Analysis and Reporting System data, which derives from a point in time count of all children in care.
"The number of children in DHS care reflects the safety, risks, and environments of children in Philadelphia. We are doing everything we can to keep families together," wrote Philadelphia DHS Commissioner Cynthia F. Figueroa in an email to PW. (She was out of the office due to a death in the family.)
"As a result of this effort, we are seeing the number of children placed the department go down. Our most recent data shows that there are 12 percent fewer children in care now than at the same point last year."
DHS spokeswoman Heather Keafer pointed out that there is no standardization state-by-state with the point-in-time count. "We're all reporting in the same categories to the federal government, but how you define that category can be different," she said.
Removing a child from a home is never "taken lightly," Figueroa said. "Social workers must receive approval from their supervisor, the city solicitor must agree, and a judge must approve the order of protective custody. It is not a decision one person makes alone.And in many cases, voluntary prevention services are offered."
Nonetheless, Philadelphia's child removal rate is so high that it raises the question of whether it is higher than it should be. It is so high, in fact, that DHS, itself, has asked the University of Pennsylvania Child Center to conduct a study of its programs – a study that will take approximately 18 months.
Part of the reason the removal rate is so high, Keafer said, is because after the Penn State Jerry Sandusky child sex abuse scandal, the state legislature revised the Child Protective Services Law, adding more than 20 new items to be taken into account, including expanding who was considered a mandated reporter and what needed to be reported. For instance, before the revised law, if a teacher suspected abuse, she would report it to her supervisor. Now that teacher is mandated to contact DHS directly, Keafer said.
"We started getting a lot more calls [to the hotline]," Keafer said. "The system was inundated."
There was a backlog of adoptions, and adoption court added another day and hired more attorneys, Keafer said.
 "We are a department that responds to children who are brought to our attention by citizens and mandated reporters," Figueroa said.
The data bears out the spike in cases coming into the system. The number of calls into the DHS hotline increased from about 34,000 in fiscal year 2010 to nearly 60,000 in fiscal year 2018, a 75 percent jump. The number of investigations steadily rose from about 10,000 in fiscal year 2010 to about 20,600 in fiscal year 2017, dropping about 14 percent between 2017 and 2018 to about 17,800. 
But while the total number of cases are higher, the number of youth in kinship care has also increased steadily since fiscal year 2013 from about 2,000 to about 4,400, Keafer pointed out. Despite some improvements, however, to many people in the Philadelphia, including City Councilman-at-large David Oh, the numbers are concerning.
He initiated a hearing in February regarding the protection of children from abuse and the prevention of unjustifiable family separations by DHS, which nearly 60 families frustrated by the system attended and spoke out, against much opposition from council and against the warnings of Figueroa, Oh said.
"I went to talk to her," Oh said. "As soon as we began to talk about this, she became very defensive … She said, 'Let me give you some political advice. If you pursue this hearing, it will be a huge political mistake.' And I took it as not a pleasant piece of advice. I took it exactly as it was meant to be, which was a warning and a threat."
But Oh was ultimately able to get council to pass a resolution last month, creating a panel to look into DHS' child removals in abuse and neglect cases.
Based on experience
Oh has had his own run-in with DHS, when teaching his 8-year-old son jiu-jitsu, which he does every Sunday and which Oh has practiced for the past 16 years. On a recent Sunday, his son fractured his collarbone. When Oh and his wife took the boy to Children's Hospital of Philadelphia, a social worker informed them that she had reported them to DHS.
Apparently, in the few minutes she was with the boy, she decided that he did not like jiu-jitsu and that she had a gut feeling that the incident rose to the level of abuse, Oh said. He and his wife were able to show a doctor images and video on their cell phones documenting his long practice of working safely with their four children in the martial arts and Oh's experience in teaching the jiu-jitsu. The doctor agreed that this wasn't abuse and said he would add a statement countering the DHS complaint, but Oh and his wife didn't know what that would lead to and left the hospital no paperwork from DHS or clear picture of what would happen next, Oh said.
A social worker later visited their home and understood through talking to Oh and his wife and viewing the room where Oh and his children practiced martial arts, that this was not a situation of abuse and closed the case. But the experience shook Oh, who went to talk to the senior vice president of CHOP and the person in charge of training the social workers.
"They basically told me that the social worker was 100 percent right, that she did what is required by law, and that what they do is they train all of their staff that if you have a feeling in your gut that something's not right, report it. When in doubt report," Oh, an attorney, said. "I said, 'That is clearly not right, because there's no standard in the law called 'gut feelings.' In fact, that's kind of really the opposite of law and due process. If you have a tingly feeling in your spine, you can file some report. I said, 'That's clearly not correct.'"
The conversation ended amicably but left Oh even more passionate about pursuing what he saw as major flaws in the DHS system. Plus, his own case had attracted press, and after the hearing he held, families were showing up at his office and telling them his stories, most notably a horrific case involving child sexual abuse and neglect and a grandmother's desperate attempts to get custody of her grandchildren – the case of Yolanda Bryant that haunts Oh to this day.
'How much more do you need?'
Listening to Yolanda Bryant's tale is like traveling through Dante's nine circles of hell, all documented through cell phone records, court documents, and a medical report.
In June 2018, Bryant's daughter and her boyfriend left the daughter's two children, a girl, 5, and a boy, 10, with a great-aunt at an adult mental health facility. Bryant had not seen her daughter in about two years because the daughter had been using drugs and was transient. Bryant, who was already caring for one young grandchild, had no idea that her daughter had left the other two with an aunt, who allegedly kept them in her closet, feeding them once a day, making them use a bucket as a toilet, and failing to send them to school.
Low-income families are really at a disadvantage with DHS, and private lawyers rarely want to take DHS cases.

Bridget Powell, currently in an ongoing battle for the latter part of three years for her niece.
Bryant didn't learn of these horrors until the older boy got ahold of the aunt's cell phone and called her. In October 2018, Bryant rescued her grandchildren, taking them to St. Christopher's hospital because they were so thin and because the younger grandchild was having trouble with bowel control. At the hospital, according to the medical report, the granddaughter stated that her mother's boyfriend had been repeatedly sexually assaulting her, and the grandson corroborated the abuse.
But instead of allowing the two children to return home with their grandmother, DHS, which had been called, overrode the hospital social worker's recommendation and took the children into custody.
A DHS supervisor warned Bryant not to come to court, according to Bryant, a court document, and a protective order. But Bryant went anyway, where she saw the supervisor speaking to her daughter's boyfriend, the alleged assailant, and where the supervisor attempted to place the grandchildren back in the custody of the boyfriend.
"The kids are crying out for help, and then you take them from grandparents who were helping them and put them with people that is bad again, there is a real problem with our system, a real problem, and it needs to be addressed," Bryant said.
When Bryant and a nurse called the Special Victims' Unit to ask about the investigation into her grandchildren's allegation of sexual abuse, the SVU said it could not investigate because DHS had determined that the children's allegations were unfounded and that Bryant was lying and mentally ill, according to court documents.
In the meantime, the DHS supervisor filed a petition to have Bryant's 2-year-old granddaughter, who had lived with her and been well cared for since birth, removed from her custody – which ultimately ended in a traumatic usurpation without a court order.
According to Bryant and court documents, her efforts to regain custody of her youngest grandchild have been thwarted at every pass. And in February, Bryant found out that her other two grandchildren had been placed in the custody of a woman with an alleged past history of abusing her own children and who is apparently another girlfriend of the man who allegedly raped Bryant's 5-year-old granddaughter. 
Then DHS sent Bryant a letter stating that she allegedly sexually assaulted her 5-year-old granddaughter, even though Bryant only had her for four days and the allegation was reported on a date months after Bryant had already lost custody of the girl.
"I love my grandkids with my heart and soul," Bryant said. "They mean everything to me, and, look, they took away everything. They [DHS] make you feel helpless when you know that you're not, so to get through it, I continue to fight. Justice will happen for them [her grandchildren]."
But the fight is taking its toll. Bryant can no longer run her catering and event business because she is working so hard on the case. She also recently had to go to the hospital because her blood pressure was elevated.
"I feel like I let them down," Bryant said about her grandchildren. "When we went and picked them up, they felt like I was a superhero. And I let them down. It's sad man, it's so sad. I'm at a loss of words. This city still allowing this to go on… How much more evidence do you need?"
Parts II & III of 'The Kids are Crying' will run on Nov. 15 and 16 on philadelphiaweekly.com. Part II of this three-part series will appear in the Nov. 21 print issue of PW.
This article is part of Broke in Philly, a collaborative reporting project among 23 news organizations, focused on Philadelphia's push towards economic justice. Read more of our reporting at brokeinphilly.org.
Related