This week's cover story is the culmination of six months of tireless reporting, scouring documents and meeting with upset families just looking for answers.
What you'll read in this issue is the first part in a three-part series where we look at the faces of parents, families, kin all looking to bring displaced relatives home who were removed at the hands of Philadelphia's Department of Human Services. 
As you may or may not know, for a variety of reasons that DHS will attest to or frankly will supply a ready-made excuse for, Philadelphia has the highest number of active cases and child removals in the country. It's a vicious cycle that starts with DHS and winds its way at a snail's pace through the family court system, which is another story unto itself.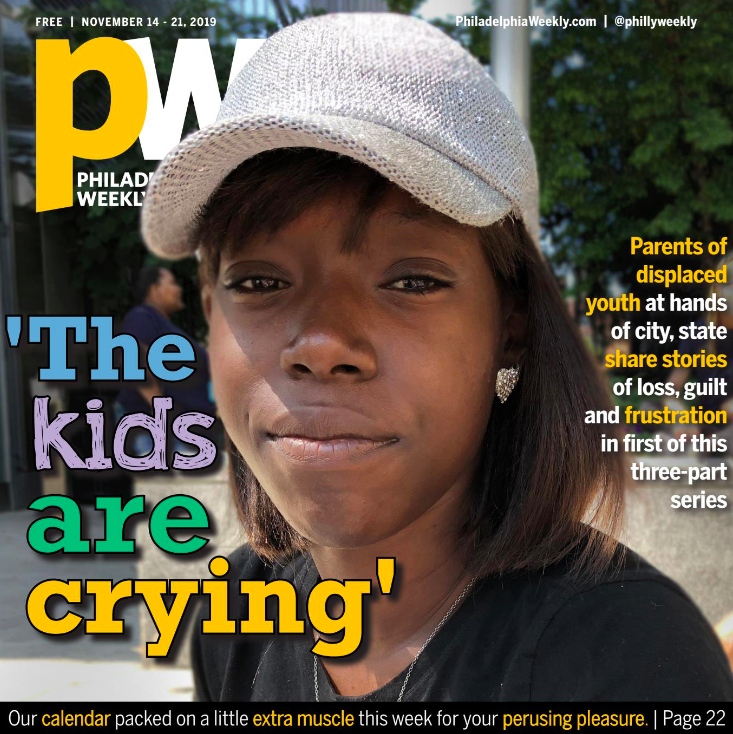 What perhaps struck me the most over the course of this awesome reporting and subsequent storytelling from Courtenay Harris was conversations I had with a representative of DHS over the summer in which we asked them to have DHS Commissioner Cynthia Figueroa address three questions via email: 
DHS's explanation of why Philadelphia has the highest rate of displacement (regardless of reason) in the United States.
The average number of cases at a given time [that] is a load of a DHS caseworker, and 
if whether DHS looked into what other similar cities both large and small have done or are doing to curb the rate of displacement. 
The initial response I received summed up why there are so many frustrated families when dealing with the office. I'm not sure they even know where to begin to answer, so assuming they're being attacked is the easy way out. 
Thank you, Kerith for the response. I am trying to find time to interview this week.

I was trying to understand the context for this Broke in Philly report, and to ascertain if the narrative was already written, what child welfare experts you had talked to that informed how you came to that angle.

Could you please define "displacement?" It is not a term I am familiar with.
The fact that someone who works either with, for or alongside the Department of Human Services and needs clarification on the word "displacement" is perhaps all you need to know about just how confusing, cagey and frankly terrifying getting caught in DHS' web appears to be. 
We're talking about the literal translation of moving one person, place or thing to another here, there's no deep science behind the term.
At its core, I understand the importance of this department. Philadelphia herself is no prize, and there's a responsibility to her children to keep them safe. That security blanket isn't always in the hands of parents or immediate family. 
But some of the stories you'll read throughout this series go way beyond that.  
There's reformation that just doesn't seem to be good enough depending on the day or the judge, there are people who are good enough to foster other children but not their own displaced family members, and of course, there are the "our hands are tied" vibe I felt throughout as bureaucracy trumps consideration and ignorance trumps empathy. 
Within the walls of City Hall, there are advocates for these families. Councilman David Oh has been an outspoken critic of DHS, and Councilwoman Helen Gym has vowed to create a task force that will keep closer eyes on where youth are ending up. 
Over the course of this three-part series, you'll get to read both sides. The stories that led to removals, and the fight since to get these children back. You'll learn DHS protocols and challenges and just how much they can, can't and just won't do. You'll hear from officials who feel a lot of this can be corrected and the reticence in doing so. 
As I said, I'm really proud of all the effort that went into this reporting. 
At the end of the day, and in the aftermath of reading our report, whether you take your time and catch up over the next few weeks in print or read the entire three-part series available at philadelphiaweekly.com, I really hope you get a feel for the amount of red tape that allows for the rampant frustration at the hands of families that just want a chance to raise their own. 
Personally, I think it's a sad reality to know that we're talking about people who have been waiting years for a resolution from DHS and the court system. People who have proven themselves to be worthy of either reunification or to act as guardian and every turn bears a maddening roadblock. 
Then I juxtapose that with the growing number of cases added every day to stressed-out DHS caseworkers and how that number continued to rise even as I write this column. 
There's an 18-month Penn study on behalf of DHS looking at its current practices and what, if anything can be modified. But I think just taking a look around at the other cities twice the size of ours that don't come close to our rate of displacement and modeling their successes might be a damn good place to start. 
Send your thoughts on our "The Kids are Crying" series to voices@philadelphiaweekly.com 
Related