"There is a huge lack of representation of fat bodies in leading lady or "ingenue" roles in theatre. I didn't – and still don't – understand why I was being told I couldn't have a love story, when I am living in a love story myself," says Lexi Schreiber, a lifelong performing artist who often works for the Kimmel Center, Wolf Performing Arts Center and Wilmington Children's Chorus. "My husband and I have been together for almost 10 years…and most of the fat people in my life are all in happy, healthy relationships."
Schreiber, who lives in the Kensington area of Philly with her husband and two pups, Buddy and Patti (named after actress Patti LuPone, of course), is not one to just complain about a problem. She's changing things. 
In an effort to expand ideas about the bodies audiences see on stage- and in media in general- Schreiber is launching a second run of her one-woman show Fitting In: Tales of the Fat Ingenue later this month at the Painted Mug Cafe in South Philly. The work is a collaboration with musical director Allison Rossi and director/co-writer Katherine Perry. Perry's own show, Sex Talk, will immediately follow Fitting In during this run. 
Fitting In is the culmination of a lockdown well spent by Schreiber, who was inspired by all the educational videos she saw on TikTok. "I was craving something to create, afraid of the unknown future of the industry, and wanted to take control of an aspect of my theatre career I felt I didn't have control of, even before covid: performing," she says.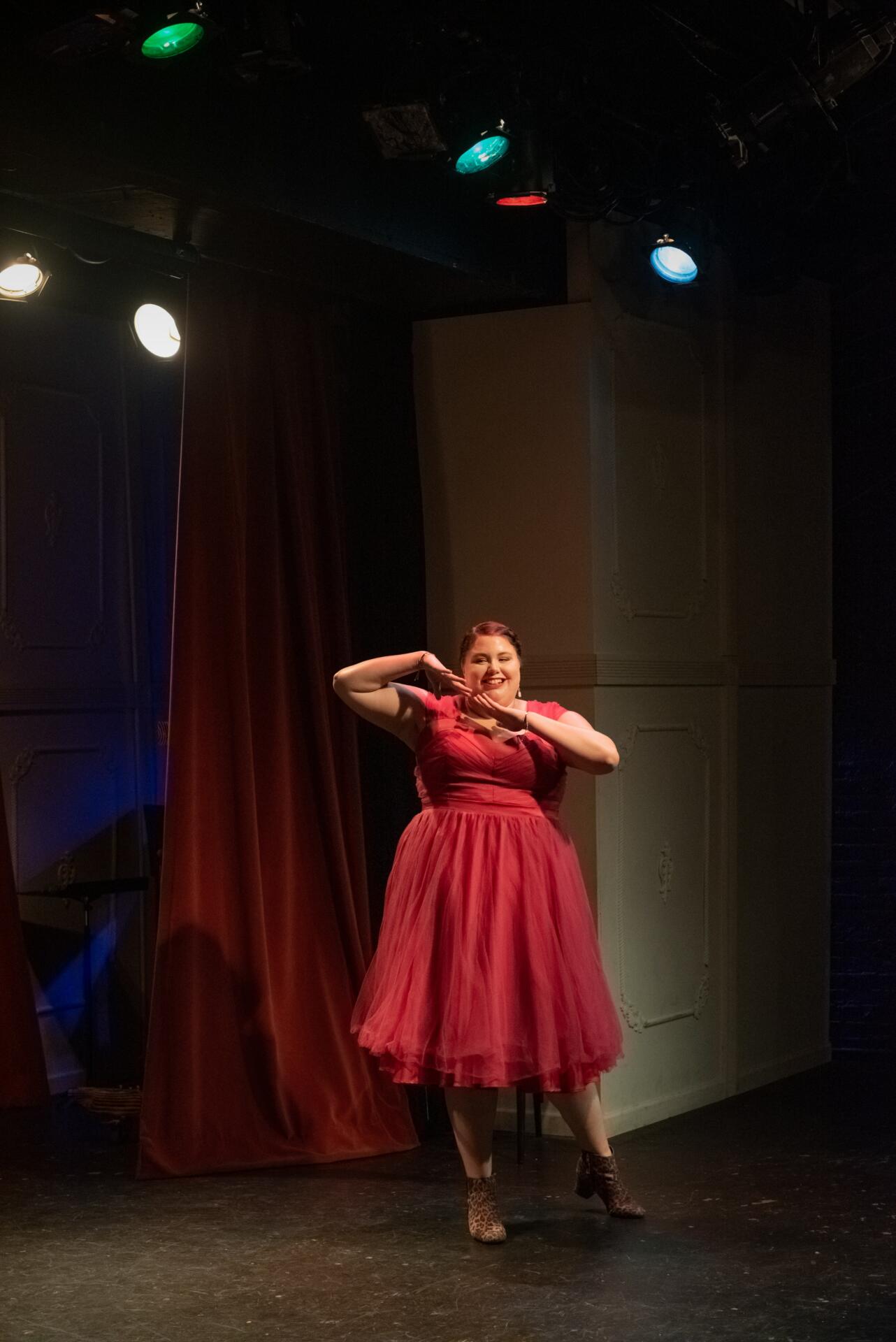 This prompted her to craft the brand of Fat Ingenue and launch her popular video series: "Musical Theatre Roles I Can't Play Because I'm Fat" in which she nails the solos of legendary Broadway characters. She also comments on fashion trends, remarks on casting decisions in the news, and shares footage of her in-person performances.  The content has resonated with people as it entertains them, garnering tens of thousands of followers. This April, one of her videos hit 1.6 million views. 
"I was inspired by the representation in fashion I had seen grow over time since following bloggers like Nicolette Mason, and Gabi Fresh. I wanted to join the conversation of body representation, but to my experience in musical theatre," she says. 
Schreiber has been lighting up stages since starting ballet at the age of 2 and has been a working theater artist since she graduated from University of the Arts vocal performance program in 2014. "Performing is what I was born to do. Being on stage in front of an audience is my happiest place, feeling, experience, all of it," she says.  
And yet, despite all that passion and skill, musical theater has notoriously been bad at representing the diversity of the talent pool, especially when it comes to fat performers. Even as big money productions are lightly trending towards "color blind" casting and creating roles explicitly for people of color, there remains rampant fatphobia, including contract clauses requiring actors to lose weight. 
Since there are far more people angling for performance jobs than there are available roles, the choices that productions make not only affect the livelihood of the individual artists, but also communicate a lot about which bodies are considered worthy. This, in turn, impacts who feels welcome in theater– both as a performer or as an audience member. It's in the best interest of the industry to be inclusive… or at least look that way.
According to a recent dissertation by theater professor Ryan Donovan on the subject, "Broadway's appearance of inclusivity is ultimately just a performance designed to capitalize on difference in order to return profits to investors; this tension is most keenly enacted by and upon non-normative bodies." He says that the casting process carries an incredible amount of power and that "every act of casting is then simultaneously a creative act of interpretation and also an administrative allocation of resources."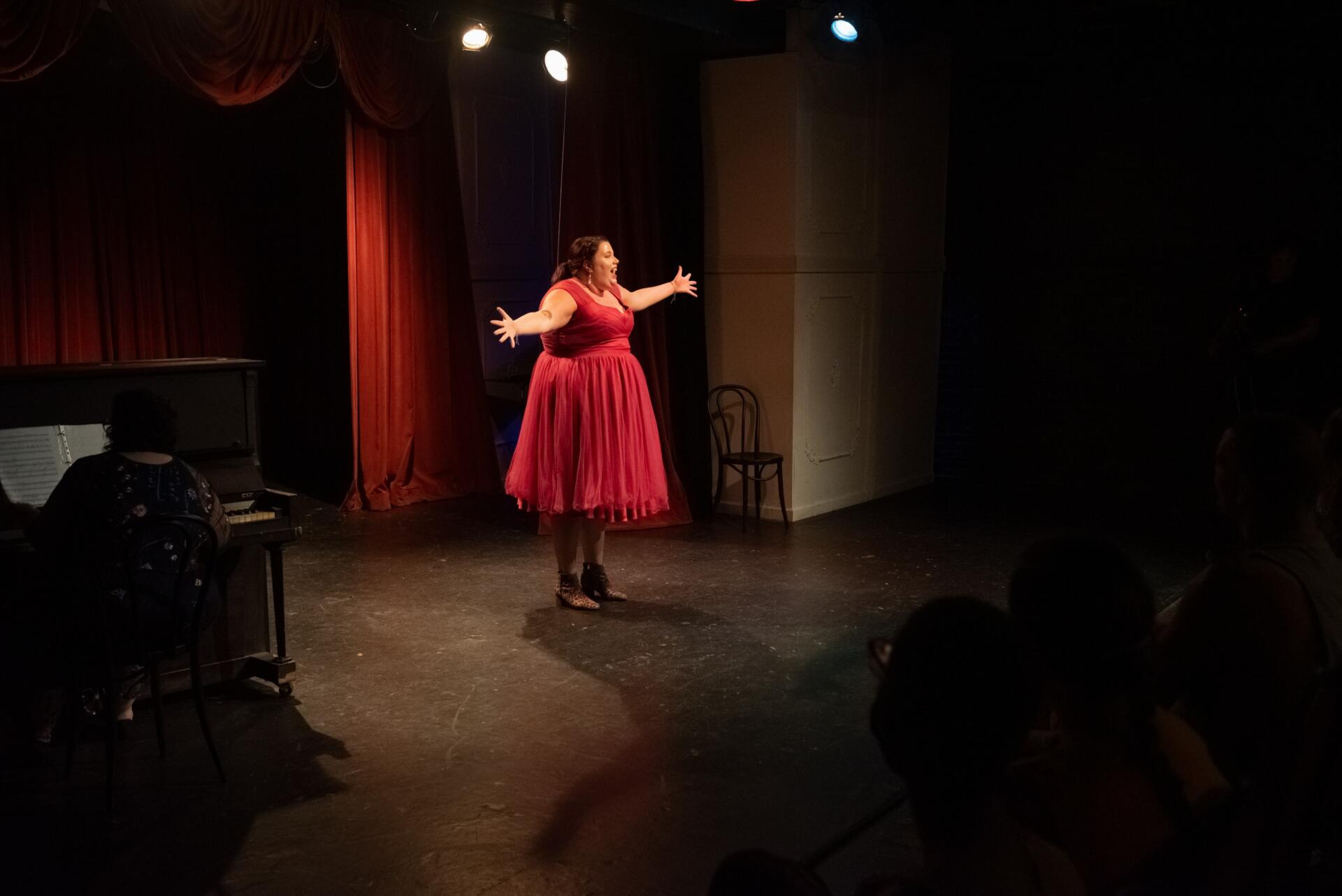 "The purpose of my social media presence, and this show is to expand people's mind into thinking about the bodies on stage, or on screen, in the media they consume," says Schreiber, adding, "It's not enough for only theatre people to recognize the inequity, but for all theatre goers to ask the companies they are supporting to represent the world around them, which is diverse!"

Fitting In is creating the change she wants to see in the world, and Schreiber believes there are many people who share that vision. "This show is for anyone who knows what it feels like to not be 'enough,'" she says, adding, "It's also for anyone who loves musical theatre, feminist theory, humor, and heart."
Asked what audiences can expect if they come to this show, Schreiber says, "to laugh, potentially cry, and the fourth wall being completely shattered." She alludes to people being pulled on stage, engaging in dramaturgy, and "being thrown fruit snacks."

"They can expect me to forget a line or two, and crack a joke at my own expense," she says. "They'll be inspired by extreme confidence and soft vulnerability at the same time. We're going to live and breathe in the experience of the story together. I hope to empower my audience to recognize the lack of representation on stage, and in a dream world, they do something about it themselves."
Fitting In: Tale of The Fat Ingenue can be seen at Painted Mug September 23, 24, & 25th.  Tickets are available at https://www.simpletix.com/e/fitting-in-tales-of-the-fat-ingenue-ticket-114577