One of my favorite, most thoughtful interviews of any comedian came from Kevin Nealon – the sketch improviser, actor, writer and stand-up comic famed for his tenure on NBC's Saturday Night Live for 9 years (1986-1995) cable series acting gigs such as the still-seminal "Weeds," and network television fare such as Man with a Plan. While Kevin Nealon seems to love and value his time on the road as a darkly observant, quick witted stand-up comic whose cruel, oddball non-sequiturs and running under-his-breath commentary is the stuff of legend, there's so much more to Nealon – who, in April, has gigs at Fort Wayne, IN's Clyde Theatre (April 6), Carmel, IN's Center For The Performing Arts (April 7), McHenry, IL's The Vixen (April 8), Brea, CA's Improv (April 20) and Oxnard, CA's Levity Live (April 21).
First off, something not known before this is the fact that Nealon is a damned fine caricature artist whose first coffee table volume, I Exaggerate: My Brushes with Fame, came out at the end of 2022.
"I've spent my whole life doodling and drawing and I never really focused on it to the point where I would really commit to it and color it in and all that stuff," Kevin Nealon told Salon last November. "I've been doing drawings on napkins and airplane barf bags, hopefully empty barf bags, of the passengers next to me, usually when they're sleeping. I never show those people the pictures, but I do put their seat number on there and the flight number. I would also draw pictures of my friends or comics on stage. Everybody wants the picture. No matter how bad it is, they would want the picture.
Along with celebrating old friends and SNL co-workers such as Dana Carvey and the late Chris Farley within the pages of I Exaggerate, Nealon – used to drawing on script margins and cocktail napkins – portrays Ruth Bader Ginsburg, Humphrey Bogart, Anthony Bourdain, Timothée Chalamet, Dave Chappelle, David Letterman, Billie Eilish, Kurt Cobain and Johnny Carson in pencil and ink.
Funnily enough, when I spoke to Nealon several years ago, it was Johnny Carson – late night talk show television's spiritual godfather – who was at the top of the SNL comic's mind.
Considering his continued acting gigs in films and television series with his "SNL" buddies such as Adam Sandler, David Spade, and Andy Samberg, Nealon, quite touchingly, talked about his stand-up comedian start on The Tonight Show starring Johnny Carson, in 1984.
"It's not when I hit 'SNL,' but rather being on Carson's stage, then 'getting' the couch and sitting next to him, that I realized that I had made it," saied Nealon, from Los Angeles, of the honor of being waved over to the treasured "Tonight Show" couch from Carson himself, a long-desired accolade for any stand-up comedian. "To this day, there was absolutely nothing like it."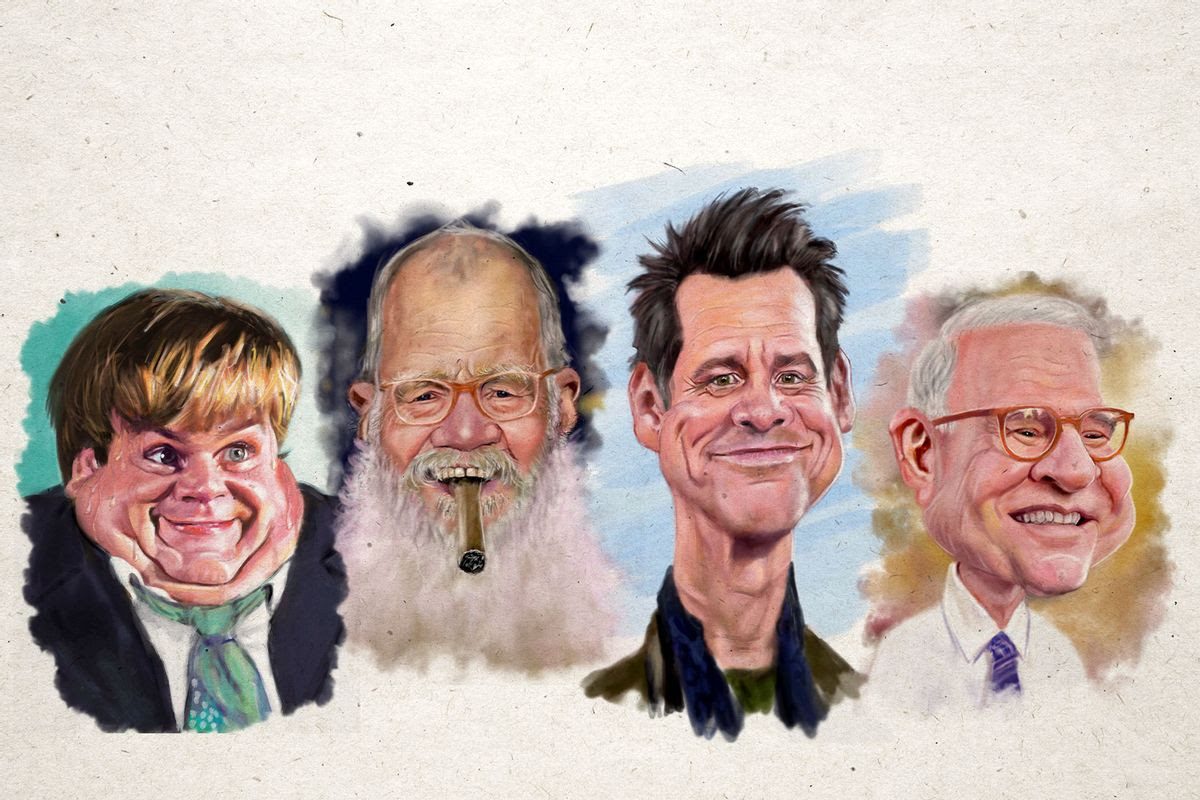 That debut Carson gig stands out in his mind as the second thing in his professional life that was worth making him nervous. "The job that made me the most nervous? Throwing out the first pitch at a Chicago Cubs game. I hadn't thrown a hard ball since childhood, so that morning I had to find a park in Chicago where some guys would catch a ball from me – maybe find a father playing catch with his son."
Since he is always changing forms and finding new vehicles in which to interest him, Nealon, "happily, never has had a chance to be bored…I don't even have to push my agent to find me things, because I am so fortunate to find great work, whether on camera, or live. That keeps life interesting." Currently, the thing that does push Nealon to pester his agents, is to find investors for his even newest venture: a semi-autobiographical script, penned with his writing partner and wife, Susan Yeagley, called "The Pleaser."
Nealon was also over-the-moon about writing with the woman he's been married to since 2005, with whom he had his first child in his early 50s.
"That's what we wrote about," he said, with a laugh. "My wife was a jewel right under my nose when it came to writing and acting, and we work well together on both counts. We have chemistry. We have symmetry.  And together, we're spinning the story of a couple trying to get pregnant, and the wife invites her gay mother – a fertility expert – and her partner to live with them at their home within a beach community to help them get pregnant." And laughs ensue.
Nealon is used to the freedom of writing, not just with his wife, but when he was part of the "SNL" writing room. "That was really a boot camp. I never wrote characters or action before that, as I was just a stand-up when I got there. Oddly enough, 'SNL' was something I went after. Once I was there, It was more like a school, and you learned fast. And as competitive as it was, what with people working fast and trying to get their sketches on, it was truly an opportunity to promote yourself if you had something good."
What's good for Nealon now, as a stand-up comic, is a brand of comedy that is darkly absurdist and weirdly wild; not "Waiting for Godot" existentialist, or "Bald Soprano" avant-garde, but certainly askew. "I love keeping things unpredictable, to keep audiences on its toes, and listening hard."