Delaware Valley-based band The Collingwood has released a second haunting music video, "Jouissance," in support of their upcoming album "You Lust or You Rust." Directed by guitarist/singer/filmmaker Chris Malinowski, "Jouissance" was filmed in the White Clay Creek region of Newark, Del., on a private estate. Rife with witch-play and preternatural imagery, "Jouissance" is nestled against a background of bucolic splendor and rural uncanniness. "Jouissance" features the vocals of guest singer Jules Corridori, who joins guitarist James Pennington, drummer James Boruch, and Malinowski in The Collingwood lineup. "Jouissance" can be viewed on The Collingwood's Vimeo and YouTube channels. The video was photographed by Philadelphia cinematographer Ian Mosley-Duffy and edited by Colby Bartine of Brooklyn. Learn more about The Collingwood at: @thecollingwood | Linktree.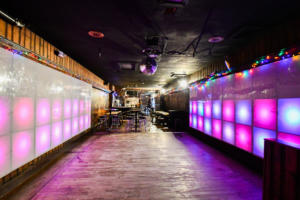 Dolphin Tavern reopens
The giant disco ball is spinning once again! One of South Philly's best dance club destinations is back open and brings with it a new kitchen to focus on more than just the nightlife. After being closed due to the pandemic, Dolphin Tavern returns with theme dance parties, disco-vibe dance floor, painted murals, quirky wall art and music entertainment. Additionally, locals can now flock to this corner bar before the lights go down for happy hour drinks and quintessential bar bites, including a $1 taco menu. Check out Dolphin Tavern at 1539 S. Broad Street, or visit online at dolphinphilly.com.
316
The current number of homicide victims year-to-date under Mayor Jim Kenney and District Attorney Larry Krasner's leadership. This represents a 30 percent increase over the same time last year and is higher than the annual number of homicides that took place in 2009, 2010, 2013, 2014, 2015, 2016 and 2017.