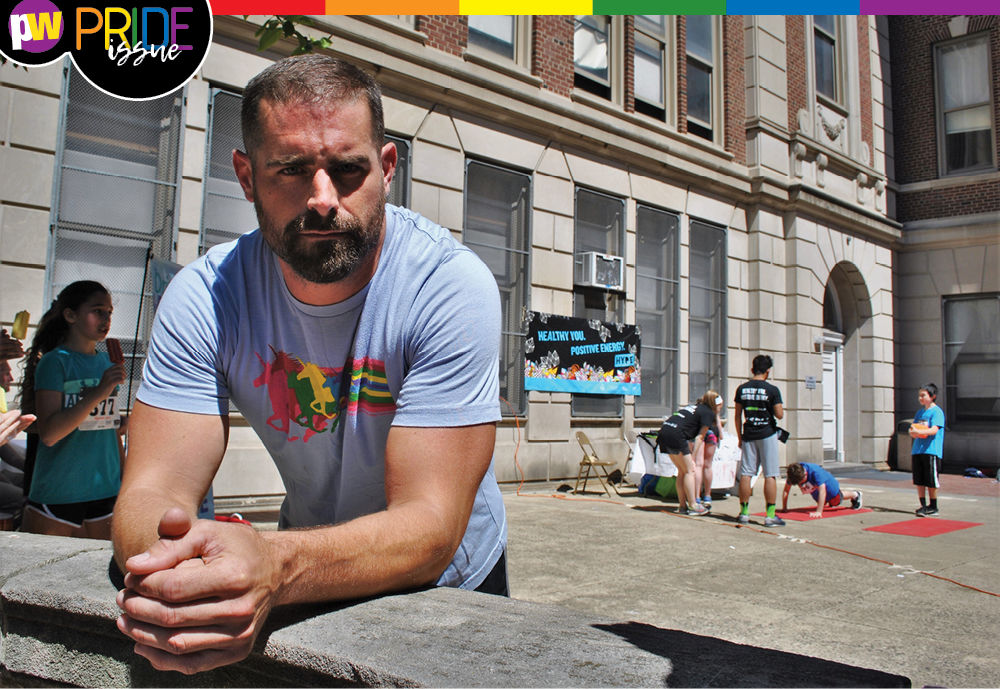 Ideally, students running laps around the block on a humid Friday morning would be nothing more than exercise. On this early June day in Philadelphia, however, Masterman School is raising money for its extracurricular activities through a charity run. While other pols make their appearances in suits, state Rep. Brian Sims is sprinting in a sponsored T-shirt. He finishes 10 miles of laps and segues right into talking a mile a minute.
The scenario is a perfect backdrop for delving into the Philadelphia school district's bleak fiscal future. At the moment, though, Sims has his own money problems — or rather, the suspicion of money problems stoked last month by news of a state ethics investigation into his travel reimbursements and speaking fees — and he doesn't shy from the topic when asked.
Sims says it was a hit job. The way he tells it, an unspecified political enemy filed a complaint with the State Ethics Commission and then leaked the confidential letter from the commission regarding the investigation to the Philadelphia Gay News.
Lest we forget, Sims has ruffled a few feathers during his five years in office. After ousting a 14-term incumbent to take office, he has also endorsed non-party backed candidates and once accused a former veteran House colleague of constantly "being lost in the bathroom" and "arguing with plants." Then, last year, Sims faced three Democratic challengers and was re-elected over former House aide Ben Waxman by just 5 percent of the vote.
But Sims isn't naming any names.
"This is the cost of politics in a city like Philadelphia," he says. "I can still be really angry about it. It feels very Machiavellian. This was done to hit me where I'm strongest – and I think I'm strongest in my ethics."
Addressing his supporters, Sims says there is absolutely nothing to worry about. "The only criminal part about all of this is the actual leaking of the contents of an ethics investigation," he said. Asked about the heightened national conversation surrounding leakers vs. the information they provide to a public that would otherwise be unaware of its existence, Sims clarified that this instance has a local context: "The person who leaked this filed (the complaint) so that they could then leak it."
But in a city where elected officials are regularly besieged by corruption-related charges of all levels, the three-term legislator knows the danger posed by even a small ethical cloud — especially given his expected political trajectory.
Sims boasts an enormous national reputation compared to his Harrisburg colleagues. He entered the public eye in 2000 when he came out at Bloomsburg University as the first openly gay football captain in NCAA history. He further built upon his bona fides through years of LGBT civil rights advocacy and, in 2012, he became the first openly gay state legislator ("open" being the operative word, he adds with a smile) in Pennsylvania history. He has 217,288 followers on Facebook. He boasts political donors from all 50 states. The cumulative effect of this appeal isn't always positive: "It draws enemies," Sims says reluctantly.
But it also draws him money on the side.
The ethics complaint and subsequent investigation follow a City&State PA report from last year exploring Sims' dubious travel expenses and honoraria, which included globe-trotting charity excursions and speaking gigs spanning from Michigan to Tel Aviv to Mt. Kilimanjaro. Since that story, Sims has revised his financial disclosure statements to include thousands of dollars in previously unreported travel reimbursements from corporate giants such as Microsoft, all the while maintaining he has received express approval for all of his outside work.
Sims earns $86,479 a year as a legislator — far less than he would make in a law firm setting. It's not uncommon for state representatives to hold outside employment, and Sims has maintained his speaking fees, which total more than $42,000 since 2012, are not considered honoraria due to the fact he was a professional lecturer on LGBT advocacy prior to taking office, even if he prominently displays his official "State Rep." title at a non-legislative function.
"I did more paid lectures in the year before I became a legislator than I have in the five years since I have been a legislator" combined, he added.
The State Ethics Commission did not return a request for comment. But its investigation – one of more than 100 conducted each year – isn't the only question looming over Sims' political future.
In 2015, he jumped into the crowded Democratic race to unseat then-indicted former Congressman Chaka Fattah. The national ticket seemed like an obvious career choice for the ambitious lawmaker. But the problem, as critics averred, was that he was simultaneously running for Congress and for reelection in the state House.
–
"This is the cost of politics in a city like Philadelphia. I can still be really angry about it. It feels very Machiavellian. This was done to hit me where I'm strongest – and I think I'm strongest in my ethics."
– Pa. state Rep. Brian Sims
–
Sims eventually dropped out of the congressional race and endorsed a veteran colleague, former state Rep. Dwight Evans, who handily unseated Fattah. And Sims, despite a nervous campaign blunder, defeated his three Democratic challengers to retain his seat in Harrisburg.
But the story leaves a lingering question: Does this uber-popular Democrat really want to stay in his current position?
"I was running for Congress and trying to run for my House seat at the same time," Sims said. "To a lot of people — rightfully — you look at that and think that doesn't jibe."
While he acknowledges growing frustrations with the General Assembly, he says he still enjoys the state legislative work and isn't planning another bid right now. Should he change his mind, he will likely have plenty of financial support for his next campaign, whether it be for reelection or a higher office.
Asked about individual donors, the name of Mel Heifetz — millionaire real estate investor, Sims' longtime philanthropic supporter, occasional breakfast partner and "grandfather of the Philadelphia gay community" – comes up immediately.  Heifetz is the only person to have donated more than six figures to Sims' various campaigns over the years.
Other donors don't come so easily to Sims' mind.
"I don't know who Victor Keen is," he initially said of his second-largest cumulative individual contributor after Heifetz, before remembering that Keen is an attorney who co-founded a dance space called the Performance Garage in the northernmost tip of Sims' Center City district. Keen made a last-minute donation of $15,000 to Sims' campaign during the heated 2016 primary election after he had withdrawn from the congressional race.
Later that year, after Sims was re-elected, the Performance Garage received a $1 million state grant, which it had applied for far in advance of the election. Sims said his office had been advocating the Performance Garage's application for a Redevelopment Assistance Capital Program for years, and that his district receives more of these RACP grants than any other in Philadelphia.
Of the more than $750,000 received by his campaign over the years, most of the donations are small checks from his supporters all over the country. The public should be concerned about elected officials' financial interests, Sims says, including gifts, vacations and other in-kind contributions pols receive from would-be influencers.
He knows the gravity of the federal indictment of Philadelphia District Attorney Seth Williams surrounding gifts he allegedly received in return for judicial favor. He knows another one of Sims' top 25 individual donors, Michael Weiss, a businessman who owns the iconic gay bar Woody's in Sims' district, plays a central role in that investigation.
But when it comes to his platform, Sims says he isn't for sale, and while he's happy to answer questions, he's not going to lend his megaphone to what he calls "insidious" politics.
"I refuse to let somebody's bad act toward me collect my attention," he says. "I think (the ethics investigation) is going to be resolved sooner rather than later. To people that are paying attention to this, I share their frustration. But I'll be damned if this is going to co-opt my time and attention right now."
TWITTER: @MAXMMARIN