I'll admit that when Dr. Mehmet Oz announced his run for US Senate in Pennsylvania, I thought he'd be a threat. With today's political landscape and the cult of personality that catapulted Trump into office, I assumed that the Republican machine would coach him on being a firebrand who ignored all of his previous public humiliations and become unapologetic with a small government message – one that resonates with Republican and Independent voters (and don't get me started on Libertarians).
What is actually unfolding is a spectacle not often seen coming from a Democratic political campaign. John Fetterman, Oz's opponent and current Lt. Governor of Pennsylvania, has outdone even some of the most shrewd of campaigns.  Fetterman's team has truly taken every possible opening and run with it.
Oz has numerous openings for criticism, but chief among them is the fact that he is a longtime New Jersey resident who has only recently declared residence in PA, registering at his Mother-in-Law's PA residence.
Fetterman's team really didn't need to do much to mock Oz, but they probably didn't bank on him using Oz's actual campaign commercials against him. Unedited.
The first troll came in the form of a paid Cameo video from famed Jersey Shore alum Snooki. 
"I heard that you moved from New Jersey to Pennsylvania to look for a new job," Nicole "Snooki" Polizzi said in the video posted from Fetterman's social accounts. "I want to say best of luck to you. I know you're away from home, and you're in a new place, but Jersey will not forget you."
Oz often takes aim at Biden in his ads. In his most recent attempt at a viral moment, Dr. Oz is found in the vegetable aisle at a place he calls "Wegner's," which seems to be a mashup of NJ-based Wegman's and PA-based Redner's. He is attempting to pull vegetables together for a crudite (veggie) platter for his wife, pulling a very strange combination of items (broccoli, asparagus, salsa and tequila, which you cannot purchase in a PA supermarket, nor is it synonymous with a veggie tray) and complaining about inflation prices. 
"My wife wants some vegetables for a crudité, right?" Oz says while shopping the aisle complaining about the price of the produce he's collected.
"Guys, that's $20 for a crudité and that doesn't include the tequila. I mean, that's outrageous. And we got Joe Biden to thank for this," he says.
Fetterman's campaign seized upon this with alacrity.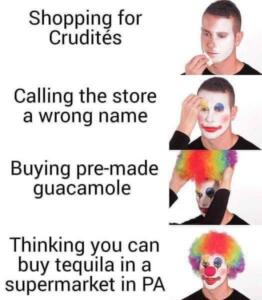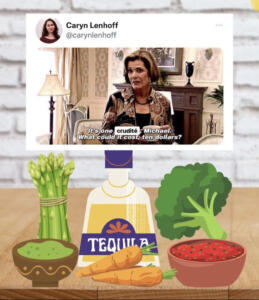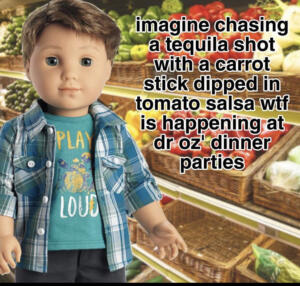 Continuing upon the momentum, Fetterman's campaign has honed in on Oz's wealth, painting him as out of touch with everyday Pennsylvanians. 
The momentum has paid off for Fetterman. His campaign reports raising over $500,000 from the crudite video alone, and leads Oz by six points.