While I initially enjoyed the sweltering heat and overwhelming organicism of having the legendarily colorful and internationally beloved Philadelphia Flower Show – started in 1829 by the Pennsylvania Horticultural Society – outdoors, and among natural greenery during its Covid Years at South Philadelphia's FDR Park, I can't say that I totally dug the flies, the ticks and the dried out plants. And like so many generational PFS traditionalists who sought the warmth and glow of a show in the wintry months, yes, I too could see the literal and figurative forest from the trees. Philadelphia Flower Show people desire some heat and color in February and March – it's a nice way of connecting with the Spring months right around the corner.
So for the return of the annual, indoor Philadelphia Flower Show (March 4 to 12) to its longtime home of the Pennsylvania Convention Center, the Pennsylvania Horticultural Society went big and bold with its 2023 theme, "The Garden Electric" – an event touching on dynamic designers of floral arrangements and the harnessing of light and energy. If you could imagine that crackling Nikola Tesla scene in The Prestige with millions of flowers: BOOM… lushly electric gardens and sizzling landscape designs.
Here are some of the best things I witnessed at "The Garden Electric" Philadelphia Flower Show's 2023 iteration.
One:  The Bloom Bar
Every millennial girl and boy loves a fresh floral crown – turns everyone into a hippie princess. The Bloom Bar was already busy on Day One, wrapping flowers and fitting kids, on-site.
Two: The Chengdu weaving exhibit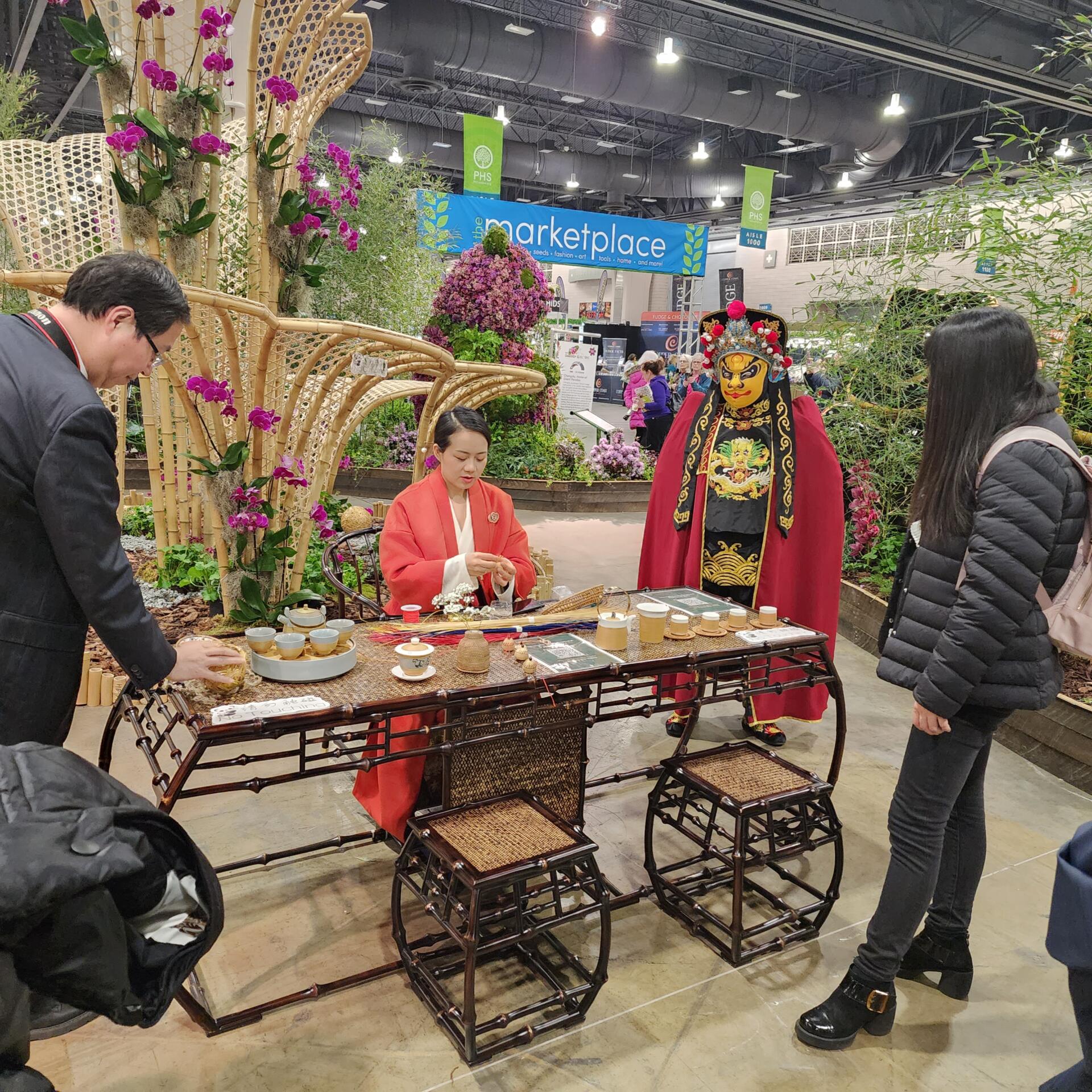 Chengdu, the capital city of China's Sichuan province, joins the Philadelphia Flower Show for the first time, and with that, a series of daily weaving demonstrations by Chinese bamboo artists such as Long Mei Yang. Along with her weaving session, look for the display's bamboo-bent centerpiece sculpture to pay homage to the ginkgo (the city tree of Chengdu) and the hibiscus (the city's flower).
Three: The 'Electric theme' starts here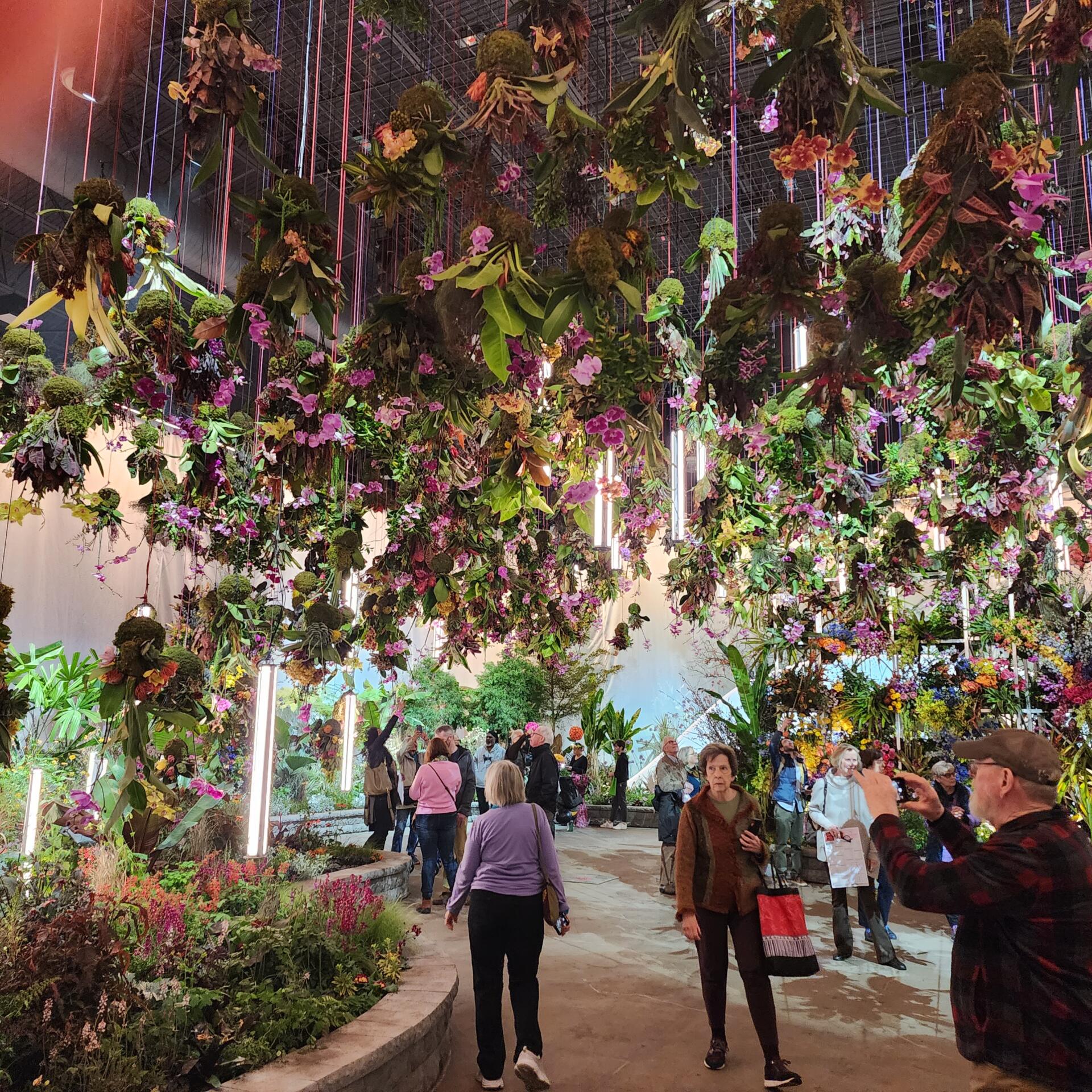 I got a chance to see this proactive space as it was being erected, and must say that the immersive Florastruck Entrance Garden of hanging neon lights of shifting color and its bounty of flush, open flowers and immense greenery is disco floriculture at its finest.
Four: Speaking of disco, ILLExotics' exhibition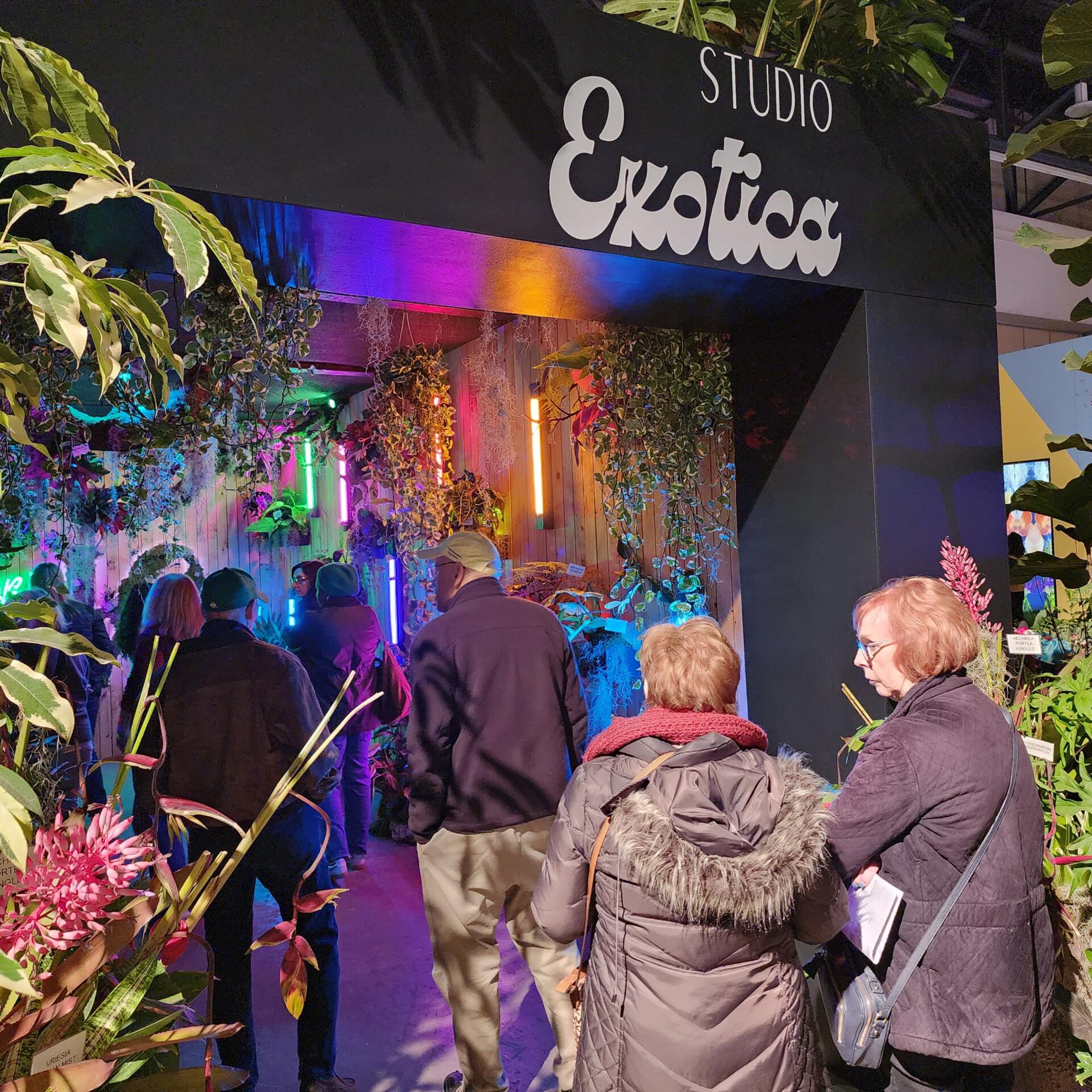 South Philly's East Passyunk boutique loves its rare plants, and have turned its tropical flowers, foliage and fauna into a dark, swelling "Studio Exotica" a low-ceilinged Studio-54 inspired space featuring a flower DJ (you have to see) and bartenders, and an environment where the orchid walls and pounding music envelop you.
Five:  The Black Girl Florists Network
Philadelphia's Valerie Cristostomo, Alexis Christine, Leneille Moon and Rashawn Scarbo have gathered together for lush rows, chutes, barrels and stands of pale pink roses and pops of vibrant fuchsia.
Six: The sweet 'Eye Candy' exhibit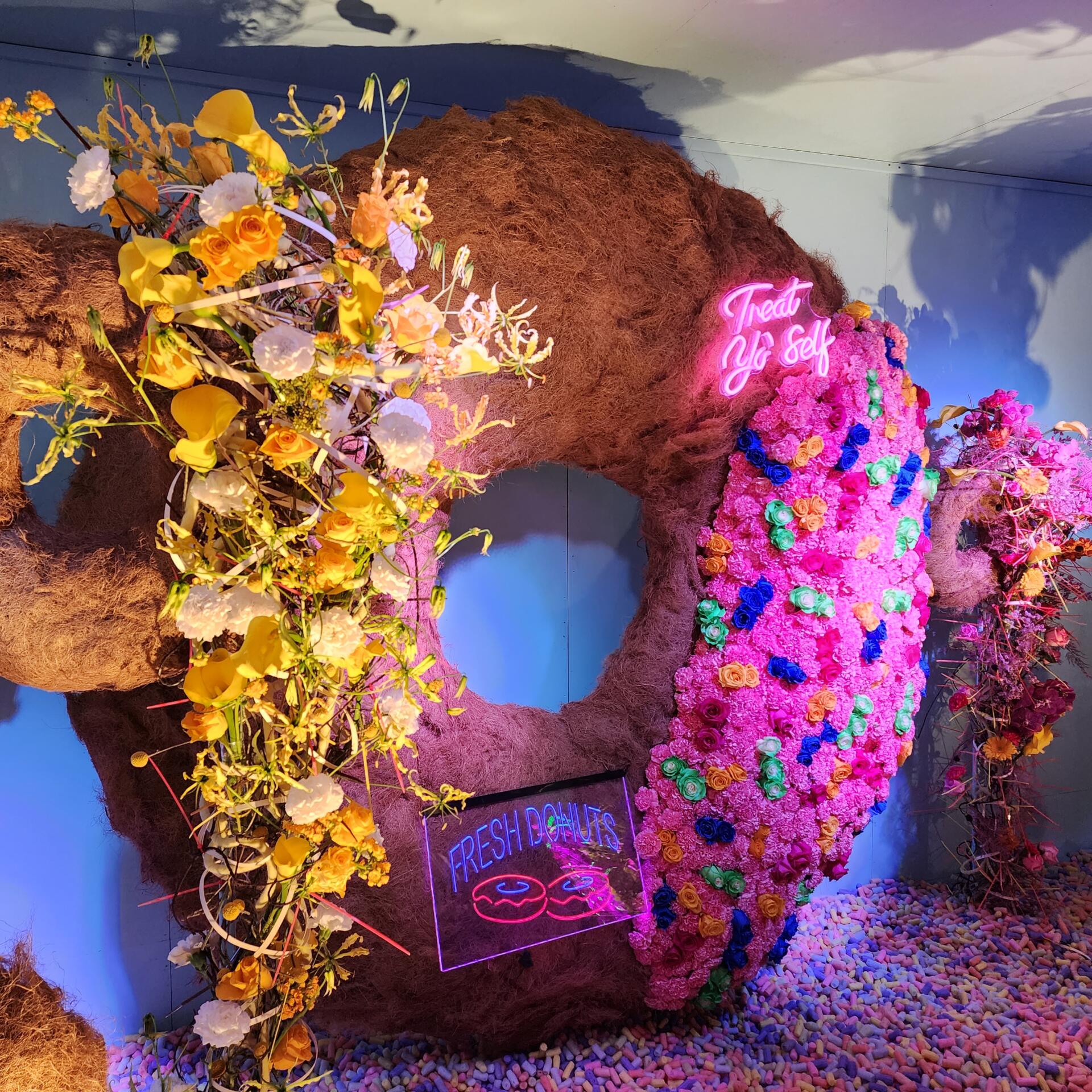 The Philly-based Schaffer Designs created this long, winding row of confectioneries where everything is made from flowers, including giant wrapped candies, a mega-sized doughnut frosted with bright pink petals and a designer bakery where its flush flowers act as icing on the cake.
Seven: The giant brain
When you first walk up to Jennifer Designs' bold and bright white, glowing massive 'brain,' the first thing you notice is that it's white and has a large, spreading tree growing from its top. It is only when you get up close to "The Cerebral Garden" that you witness its fired-up purple electrical synapses and its entrée into its playground of the mind with lit-up lobes and neon neural pathways. Good stuff.
Eight: The Apollo has landed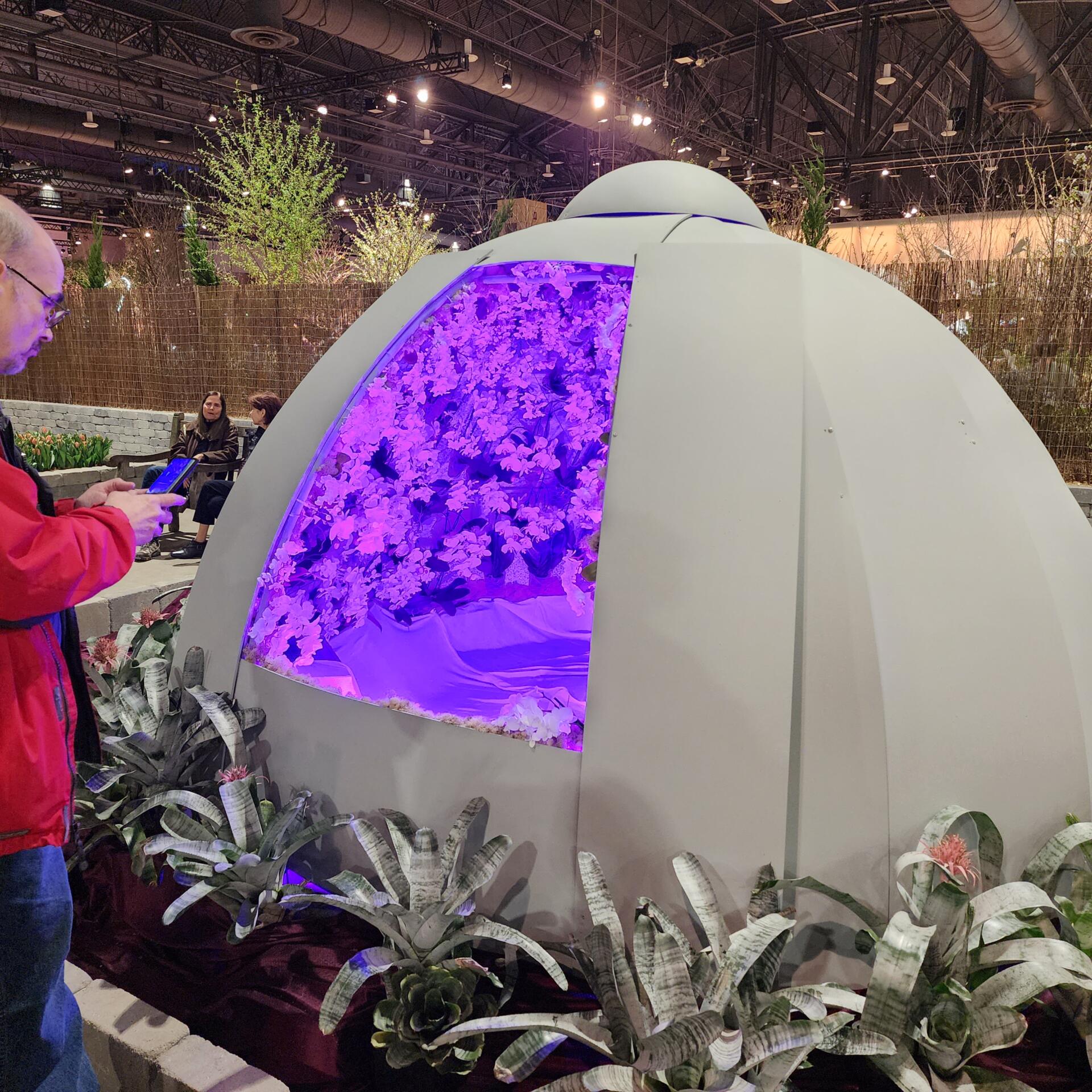 Waldor Orchids of Linwood, NJ offers PFS/PHS members and visitors a chance to "Look Up at the Heavens" with satellite dishes, Apollo moon capsules and silvery lit-from-within yerts filled with boldly colored flowers and greenery.
Nine: Newfields' "Art & Nature Illuminated"
From Newfields of Indianapolis comes a large scale floral display that starts with an epic-sized mural of a blue crane and all of flora and fauna found in Indiana on its outside, and a large, dark, indoor  kaleidoscope-scape of music and like dance of petals as well.  enter a darkened room, where calming music plays and HD screens with videos of flowers of all seasons dancing in time to its swaying soundtrack.
Ten: The Tunnel of Flowers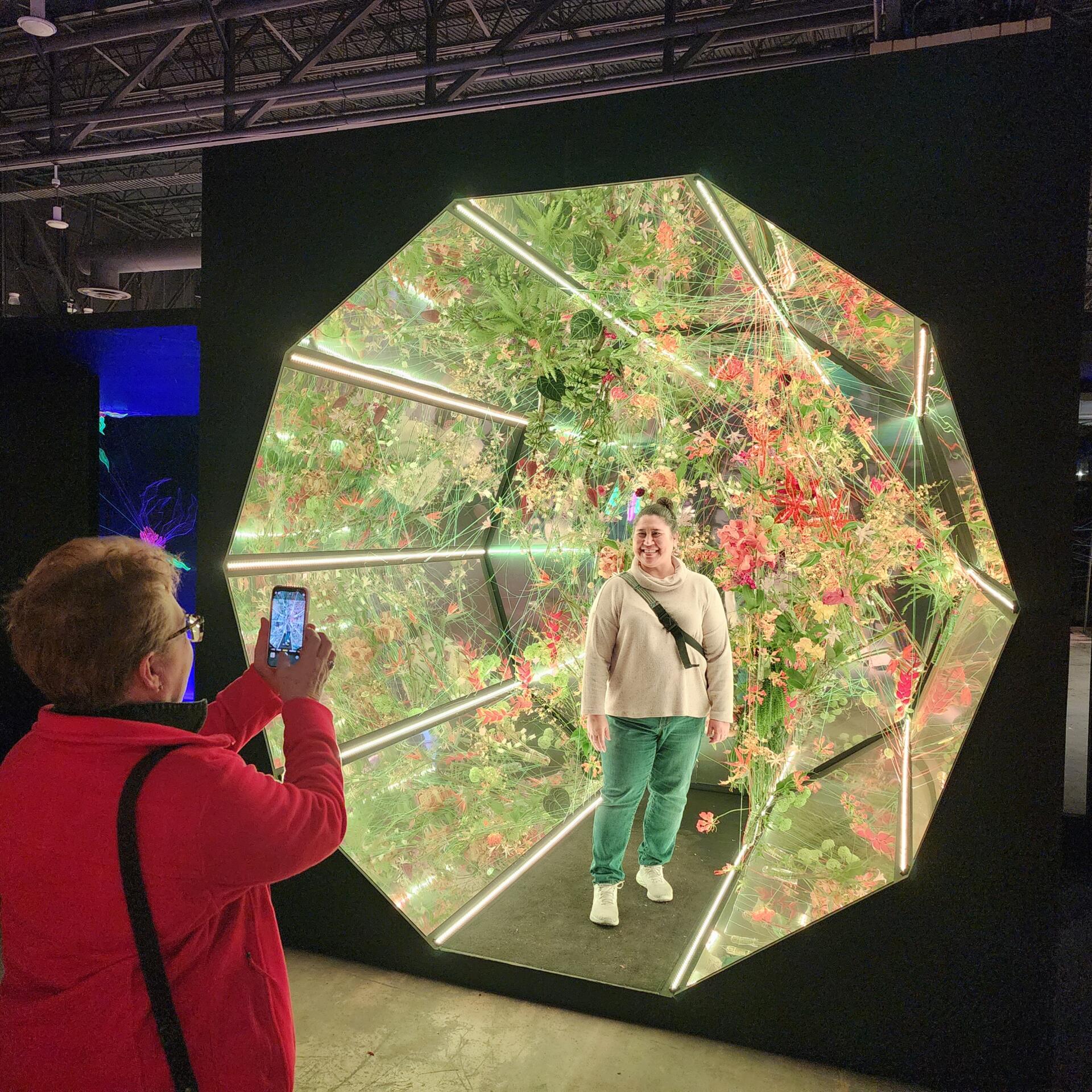 One of the PFS' most magical – and selfie-d/Tik Tok-ed exhibitions – is its Florid Electron, lime green-lit-up tunnel designed and created by Singapore's Harijanto Setiawan. Yes, its electric vibes truly fit the overall theme to the 2023 PHS showcase.
Eleven: A Chandelier that isn't a Sia song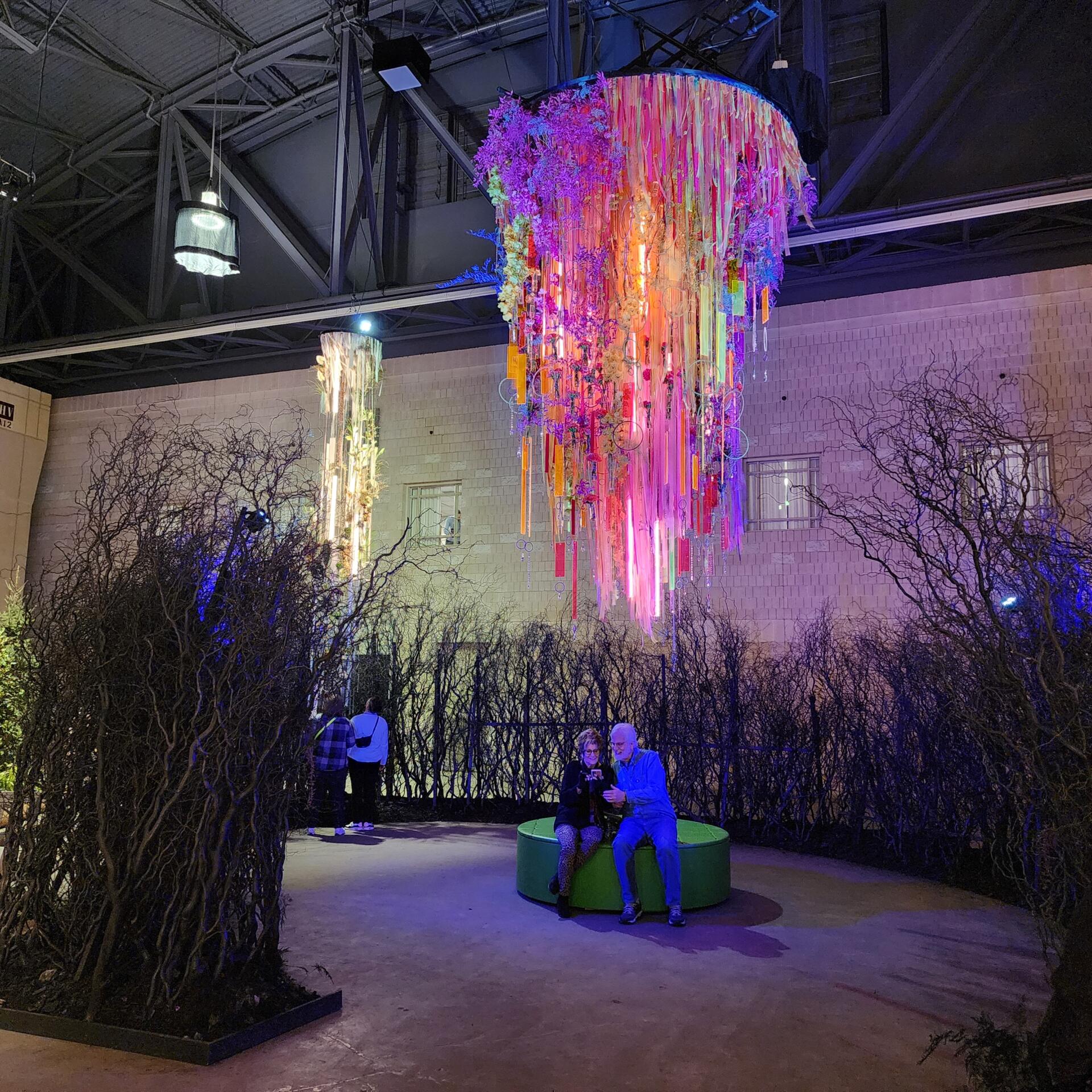 Haddonfield, New Jersey's Arrange, Floral and Event Design created gorgeous, large-scale hanging chandelier of electric streaming light surrounded by lush greenery – and with a pillowy seating space below for a groovy hang space.
Twelve: Everyone loves the PFS' Live Music Schedule
Though it might seem like a distraction amidst bucolic settings, the electric vibe of this year's PFS actually welcomes the loud and live sounds of XTINA, Ryan Giilfillian, The Chronicles and Fareed S.H. – so far – along with Zeek Burse and the big brass sound of Snacktime to follow.