After having won the hearts and drained the pockets of its homeland Italian record buyers, and streamers, across Europe to the tune of an estimated 40 million copies sold, worldwide, and 4 billion streams, Rome's sexiest and most seductive rock band, Måneskin, are plotting their attack on the U.S. market. Now.
If the initial concerts of their debut American tour – witnessed across two nights at The Fillmore Philadelphia before selling out NYC's Hammerstein Ballroom and Washington DC's The Anthem for the first weekend of December – are any indication, the dressed-up (and often stripped shirtless) quartet of vocalist Damiano David, bassist Victoria De Angelis, guitarist Thomas Raggi, and drummer Ethan Torchio already have a frenzied fan base. Teaming crowds, heavy with Italian-Americans and Latin-Americans, were the norm at these shows – "the most international crowds we've ever witnessed" said one Live Nation official.
The internationalist crowd is no surprise. Starting off as buskers and street performers in Rome in 2016, they wound up playing to media giants, finishing second in the eleventh season of the Italian talent show X Factor in 2017, before winning international renown when Måneskin won a thrilling victory at the Eurovision Song Contest of 2021, for Italy, with the pulsating rocker "Zitti e buoni".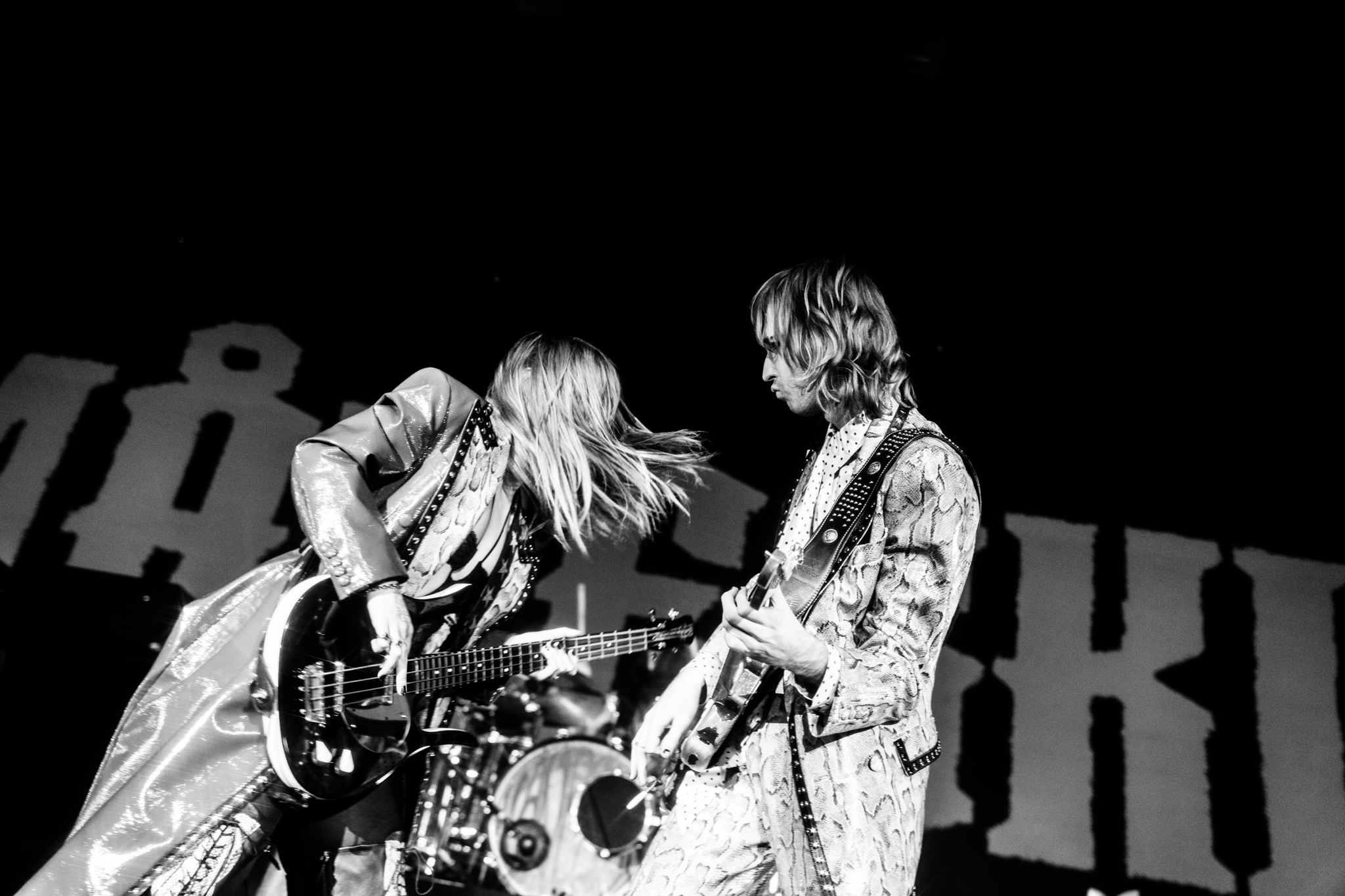 Dressed in long robes of purple Prince-like glory (De Angelis) and golden splendor (David) before quickly stripping them off, Måneskin manically ripped through the swaggering "Zitti e buoni" with gusto in concert, an urgency that made the ensemble seem like children at play just learning their instruments.
Innocence as such would not last. Not in their career and not during the shows I witnessed.
As Damiano David once stated that their band is "a translation of the music of the past into modernity," one would be hard pressed to ignore Måneskin's old-school sartorial display, its applique-heavy, flared bell bottoms, flouncing tops (when they wear them, as De Angelis have been known to strip down to just electrical tape over her nipples before stage diving into the audience and crowd surfing as she did at the Fillmore), and laced-up boots.  With that, their look – and even their sound – has great Glam Rock touches of Jane's Addiction, Led Zeppelin, David Bowie's Ziggy Stardust Spiders ensemble and Aerosmith in its styling. The quartet have, in the past, credited fellow Italian rock bands such as Marlene Kuntz, Verdena and Afterhours with aiding and abetting their sonic and sartorial design.
Hot on the heels of having just received their first Grammy nomination in the Best New Artist category at the 2023 Grammy Awards, Måneskin were primed to lustfully conquer American audiences as witnessed at the Fillmore.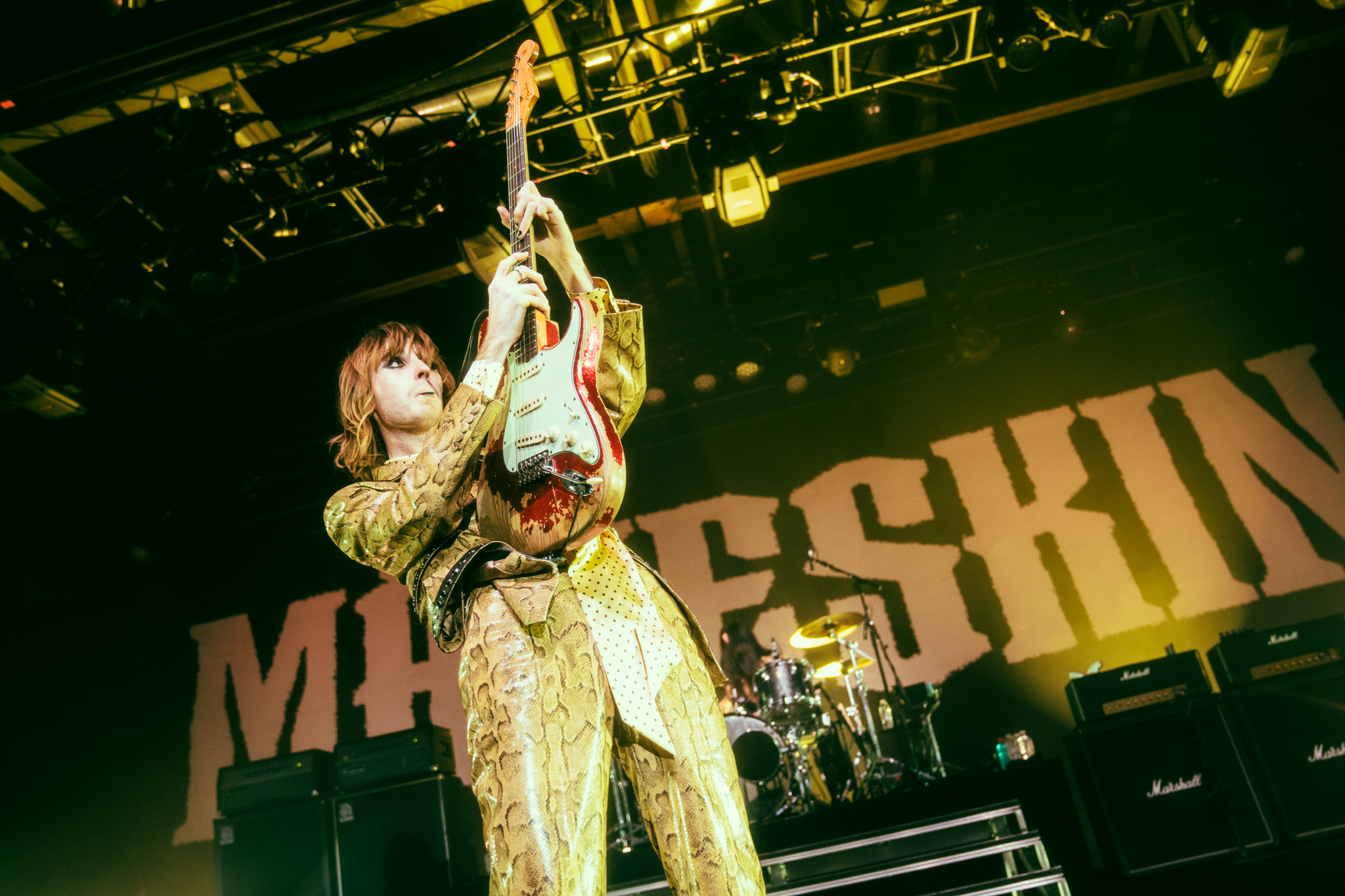 Starting with the churning combine of psychedelic alt-rock swagger and a neo-R&B swing, the quartet launched in "KOOL KIDS" and its laughably self-aware lyrics.
"Cool kids they do not like rock
They only listen to trap and pop
And everybody knows the rock'n'roll is dead
But I don't give a fuck about being a cool kid"
Carrying on with the ruckus of tangled guitar heroism (Raggi is a six-slinger hero if ever there was in the grand tradition of Jimmy Page and the late Mick Ronson), Måneskin merrily marauded their way into the racy, racing "Supermodel" and the slower, more sinewy "Coraline," before pouncing, cat-like, into its first, true global Billboard topper "Beggin'" – their cover of The Four Seasons hit with Frankie Valli.
Taking into consideration the disco-era swing of Valli's original take on "Beggin'," Måneskin maintained that sweat-inducing dance groove, while pumping it full of rock-out adrenaline. If disco was the sound of cocaine, sex and excess, Måneskin's crisp version of "Beggin'" seconds that emotion and crushes its commotion.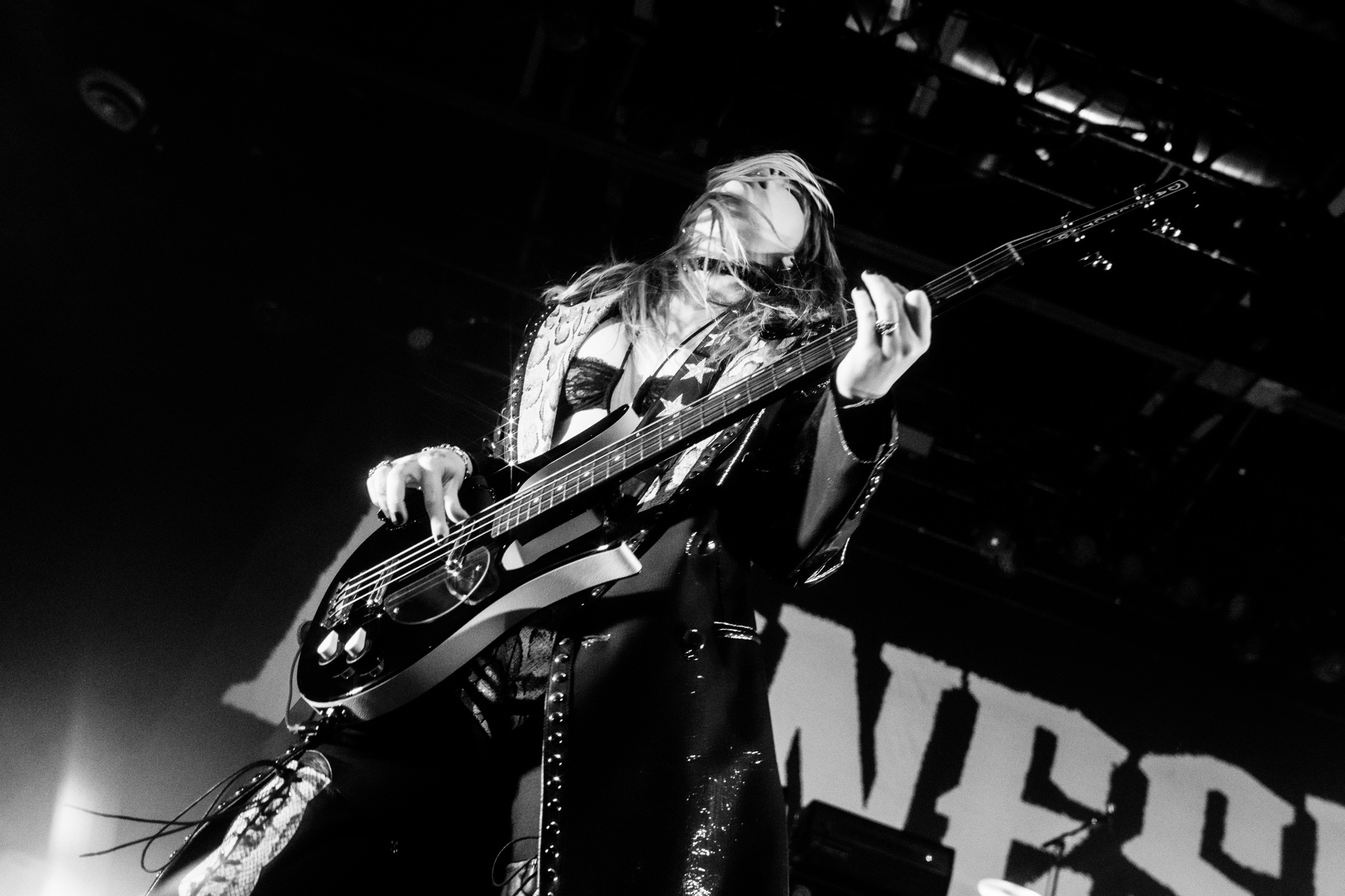 Ripping through a Euro greatest hits of sorts while each band member – save for its heart pounding and palpitating drummer – takes its turn leaping into the crowd, Måneskin played hard and loose through "Close to the Top," "I WANNA BE YOUR SLAVE," a throbbing "VENT'ANNI," "For Your Love" and "Gasoline" before getting to its soon-to-be-released new "Touch Me."
Here, David – who had spent the whole of the evening in whisper-to-a-scream screechy glory (think Jane's Addiction's Perry Farrell) – wound up expressing himself in a dry, deadpan monotone, a wounded woeful caterwaul. That is until the chorus of "Touch Me." It is there, in an even dryer, deathly deadpan, that he began sing-talking a phrase that was familiar, but took a moment to figure out.
"People try to put us down
Just because we get around
Things they do look awful cold"
Without its traditional stutter, David had turned The Who's "My Generation" into a death rattle.
"I hope I die before I get old.
This is my generation
This is my generation, baby"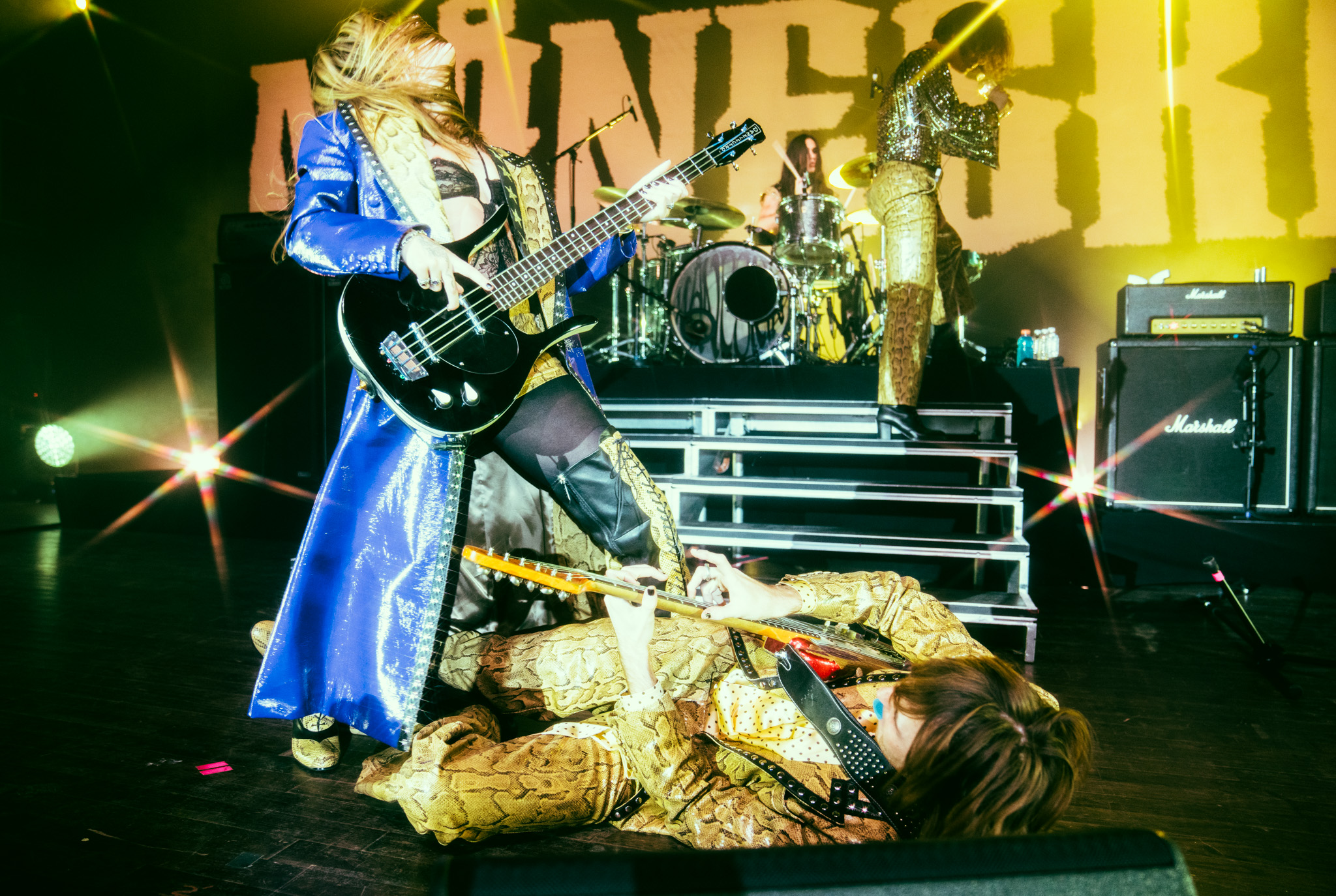 Really breathtaking stuff, that. If Måneskin hadn't already connected with rock and roll's past glories with its mode of dress and guitar scrawling and crowd diving, this was the piece de resistance. BOOM.
After romping through what David called their response song for having been asked about being an Italian rock band repeatedly ("MAMMAMIA"), from there, Måneskin reversed its crowd surfing trend of the night by inviting a throng of audience members onto the stage for a set ending, loud-ass "LIVIDI SUI GOMITI."
A bacchanalia of sorts, complete with frenzied fans grabbing at its band members and emulating their every move, Måneskin had fashioned their new friends into even more of a community that was already in attendance at the Fillmore. This was the very definition of one nation under a groove. And at these first American shows, Måneskin proved that they were prepared to conquer and set for world domination.
Måneskin is now the mightiest, sexiest, and best rock and roll band in the last 20 years. Deal with it and prepare to bow down.