To go with Philadelphia's forever-held reputation for carb-loading local foods and harsh-mellowing opinionated sports fans, is the loving fact that this city's history of homegrown music is second-to-none. From opera, classical and jazz to R&B, blues, rock and hip hop, the dazzling accomplishments and innovative work created by its musicians, producers, vocalists and composers is equitable to, if not greater than, those of New York City, Los Angeles, San Francisco, Chicago, Memphis, Detroit, Cleveland and beyond (Nashville, however wins for country, we must pay respect there).
So, if Hollywood has its Walk of Fame, and Cleveland its Rock and Roll Hall of Fame, and they are valued and oft-visited locales for local onlookers and tourist traders alike, the City of Brotherly Love has its Philadelphia Music Alliance's Walk of Fame and its own gawkers hungry to know about the treasured names etched into its golden-bronzed plaques along Broad Street's Avenue of the Arts.
Today, on Thursday, April 20 – per the Philly Music Alliance's double duty – there is new Walk of Fame inductee plaque unveilings before high noon at the University of the Arts on S. Broad Street. Then, in the evening at N. Broad Street's Vie, a gala featuring live tributes from The Spinners (for the love of the late composer and arranger Thom Bell) and from Adam Weiner of Low Cut Connie celebrating the lives of the recently deceased Philly rock and roll elite of Jerry Blavat, Charlie Gracie, and Bobby Rydell.
The Philadelphia Music Alliance's 2023 Walk of Fame Inductees include Morning Zoo creator and broadcaster John DiBella, radio maven Patty Jackson, classical conductor James DePreist, The Bacon Brothers (when Kevin isn't acting or creating six degrees of separation) Broadway darling and Tony Award winning vocalist and actor Leslie Odom, Jr., and soul harmonists The Tymes. While a Founders Award will be given to one-time Philly Mayor and Pennsylvania Governor Ed Rendell, and a Lifetime Achievement Award will be bestowed to Kenny Gamble, Leon Huff, and the late Thom Bell, the men behind "The Sound of Philadelphia," the Philadelphia Music Alliance will additionally honor Philly's legendary concert company creator, booking magnate and show producer Larry Magid for having created the PMA.
But who else holds the honors given over to the 100+ additional bronze commemorative plaques given to Philadelphia area musicians and music professionals who have made a significant contribution to the world of song? Since 1987 yet?
Here is an incomplete list – hardly a 'best of' – of some of the most recognizable Philly music names along the Walk of Fame, and artists who (to the general public) you may not have realized had deep Philadelphia connections.
In fact, I'm just going to mention the entire PMAWoF first plaque-winning Class of 1987 as they set the bedrock for what Broad Street would like ever since that commencement: John Coltrane, Pearl Bailey, Dick Clark, Mario Lanza, Marian Anderson, Dizzy Gillespie, Leopold Stokowski, Dee Dee Sharp, Chubby Checker, Bessie Smith, Bobby Rydell, Bill Haley, Clifford Brown and Charlie Gracie. That's opera, classical, blues, jazz, rock and roll, and R&B all in one mouthful.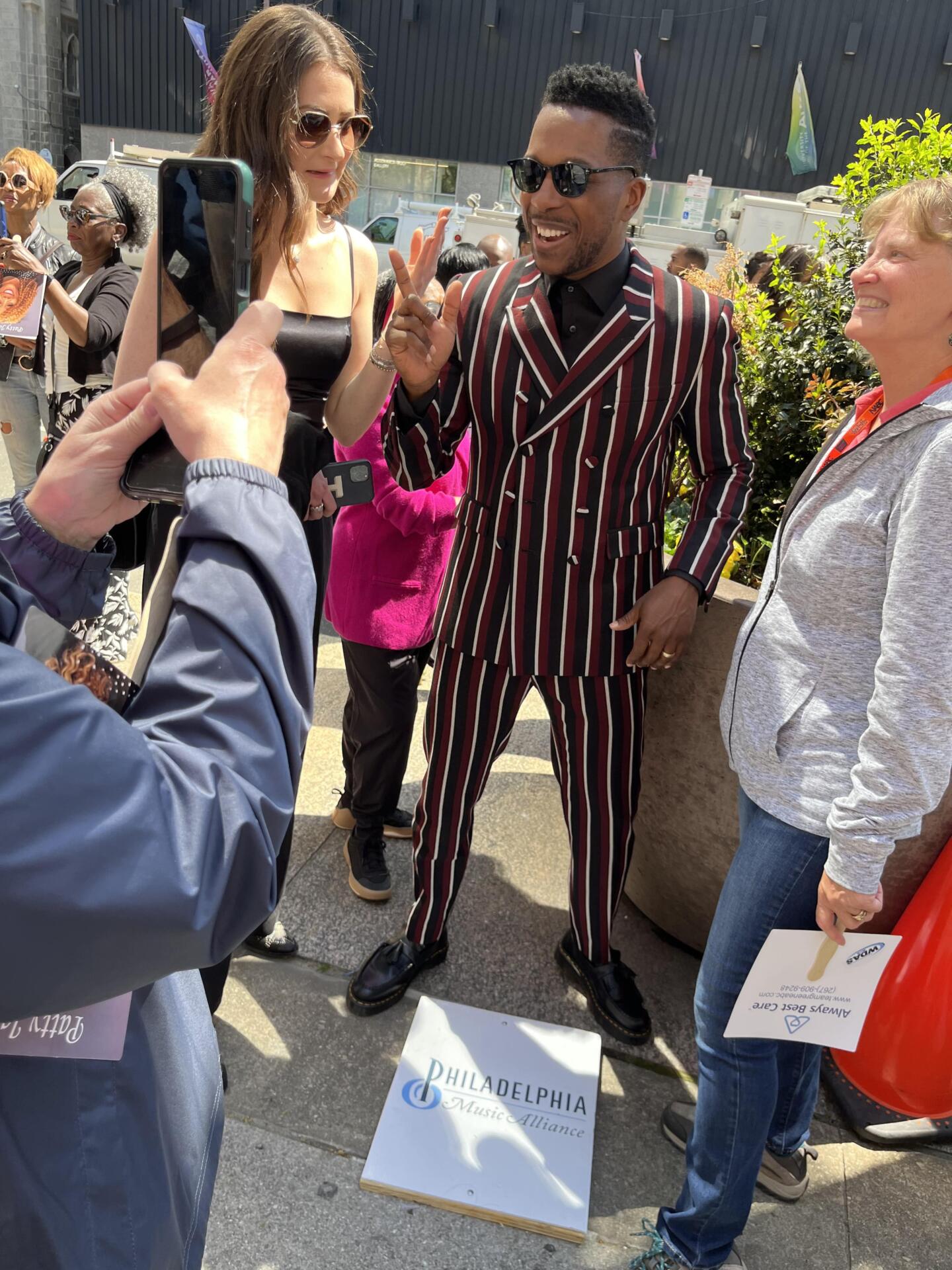 2015: Let's hit you with some heavy hair metal, (remember I said that Nashville had all of the country artists – psyyyyyyyyyyyyyche) country-bluegrass and Broadway showtunes – Cinderella, the original "Annie" Andrea McArdle and Asleep at the Wheel's Ray Benson got PMAWoF plaques along Broad Street that year – at the very same time that The Roots, Philly's contribution to live hip hop and late night talk show fame got their joint plaque (there are a lot of people in Questlove and Black Thought's band). 2013, however, is not the first time that Philly hip hop and rap gets its due when it comes to PMAWoF plaques. That would be….
2000: Overbrook's DJ Jazzy Jeff and Fresh Prince Will Smith, the soft, soulful positive rap and turntable duo who made platinum hits such as "Parents Just Don't Understand" and the seasonal anthem, "Summertime." We don't like Smith now, but we did once upon a time. Now, if we can only get their Overbrook neighbor and gangster rap avatar Schooly D onto the PMAWoF, that would be a major achievement.
1997: Talking about talk shows, syndicated afternoon talk show king, singer and the man who hosted John Lennon and Yoko Ono as co-hosts for a week of shows, Mike Douglas got a PMAWoF plaque.
2013: At a time when we are celebrating disco with an upcoming Donna Summer documentary, the Casablanca label's Neil Bogart's biopic, Spinning Gold and all things Nile Rodgers, it is crucial to note that Philly's role in creating disco was unparalleled. So give it up for arranger, composer and vibraphonist Vince Montana Jr., his Salsoul Orchestra and Philadelphia International Records' MSFB Orchestra, all of whom made disco swing and sing.
1989: The Philadelphia suburb of Upper Darby gets its shout out when wizard/star/Nazz guitarist and blue eyed soul man Todd Rundgren was awarded with the PMAWoF bronze. The Philly Music Alliance should soon consider poet/punk priestess Patti Smith if Rundgren got his plaque.
1996: Speaking of punk, spikey Joan Jett – The Runaways' bassist and the woman behind "I Love Rock and Roll" showed up on Broad Street to get her bronze due.
1993: While this year's ceremony was richly dynamic in its tribute to so many of Philadelphia's broadcast and radio greats such as "The Geator" Jerry Blavat, R&B giants Georgie Woods and Doug "Jocko" Henderson, Sr., Sinatra's best friend Sid Mark, Hy Lit, Joe Niagara and the team of Joe Grady and Ed Hurst, oddly enough, the PMAWoF chose to split up the legendarily and forever teamed up Daryl Hall and John Oates – Temple U grads both – and give them individual plaques. Curious, right.
1990 and 2017: While Patti Labelle got her solo soul artist flowers at the top of the 90s decade, the rock and R&B trio which bore her name – LaBelle with Ms. Patti, Nona Hendryx, and, thankfully, Sarah Dash before she passed – got their day in the sun and party in the evening during the 21st Century.