For those of you unfamiliar with the word "Coachella," but woke up with it in your feed in the last few days with the alarming screech of a bomb detonated near the White House, allow me to explain and to put out the flames.
See, the Coachella Valley Music and Arts Festival (doesn't that sound bucolic) started out as a cool vibey, low key party within the large desert-ish confines of the Empire Polo Club in Indio, California, and was initially meant as an indie response to acts such as Pearl Jam boycotting large-scale venues controlled by Ticketmaster. Yet, between in 1999 start and 2023, Coachella is now organized by Goldenvoice, a subsidiary of AEG Presents, is two weekends (with the same lineup each weekend) rather than two days, and has become a pricey hangout for celebrity VIPs buying out bungalows and spending twenty-five dollars for waffle fries rather than the intimate desert jam that it started out as.
The hunger for all-things Coachella comes, well, of course there's money. The 2017 C-Fest was attended by 250,000 people and grossed $114.6 million. There is, however, the cachet of seeing (and being seen at) and playing Coachella, an eclat that can make new music stars – or in the case of a Frank Ocean (we'll get to that), louse their art and image up for an unforeseeable time in the future.
So, what has been the best and worst of Coachella 2023, so far, with its largest headlining performances repeated next weekend? (No, I'm not in Indio. Yes, you can see all of Coachella through an on-line feed, save for a few fleeting performances and even those are all over YouTube).
Start with the worst and get it all over with: Frank Ocean
For the uninitiated (because he nearly never releases new music anymore) Frank Ocean is an avatar of the nu-school, amorphously-framed spacey soul and hip hop sound made popular (and better) by SZA, The Weeknd, Solange and Shamir. The one-time singing member of the Odd Future collective (with Tyler, The Creator, no less) burst out as a solo artist with albums such as Channel Orange (2012) and Blonde (2016), but since that time has concentrated his art and sales efforts toward fashion entrepreneurial efforts such as "Homer", "an independent American luxury company founded by Frank Ocean" which sells jewelry of his design. Though having cancelled previously booked Coachella performances, Ocean remained the hottest of properties – and quickly became a welcome headliner of 2023' C-Fest iteration, his first live performances since 2017.  So, what did Frank Ocean do for his legion of hungry fans? Along with stripping his stage of an intended ice skating motif that took weeks to stage just two hours before show time – making him an hour late – he mumbled, bungled and half-heartedly sang his way through songs that most of his audience didn't know (which is saying something as Oceanics know every breath Frank makes), until they realized they were deconstructed versions of "Novacane," "Come on World, You Can't Go!," and "White Ferrari." Though he hinted at a new album, Ocean wouldn't allow his set to be streamed live on YouTube (but you can find it) and end early, blaming local curfews – which is stupid as everyone at Coachella played past curfew. Afterwards, rumor went out that he hurt his ankle before stage time and felt grumpy. Fuck that.  Frank fans came from all across the globe to hear their hero sing live for the time in 8 years. Bogus. I'd boycott next weekend's Ocean performance if I actually bothered to get tickets.
Good, Not Great: Rae Sremmurd
Tupelo, Mississippi brothers Slim Jxmmi and Swae Lee created the promise of intriguing pop hop with their debut album, SremmLife and gently jiving tracks such as "Black Beatles." Such as auspicious debut sounds as if it was wasted on showing up late and occasionally messing up the drama of their Coachella set.  Luckily, they can redeem themselves this coming weekend, and their new album, Sremm 4 Life is pretty great.
Really good: Christine and the Queens
Chris of Christine and the Queens has always been grandly theatrical, but mashing the Red Hot Chili Peppers' "Under the Bridge" into their own "Tilted," and stalking around Coachella in a trench coat and wide wings to go with its new electro-pop Angels in America-inspired album Paranoia, Angels – cagey stuff.
Really really really good: BLACKPINK
2023 wasn't BLACKPINK's first shot at Coachella (that was 2019), but it was the more confident and splashiest of Jennie Kim, Lisa, Rose and Jisoo's highly choreographed and rapid fire hit making productions.
The Big Welcome Surprise: Blink 182
The reunited lineup of Blink 182 played its first show in almost a decade, and announced its Coachella set just a day before the festival's start. And despite, drummer Travis Barker's wonky finger problems, he Mark Hoppus and Tom DeLonge – playing together for the first time since DeLonge left B 182 in 2014 – kicked post-teen adolescent punk-pop rocking ass with songs such as "Family Reunion" and "What's My Age Again." NICE.
The Best: Björk
How does an artist translate the icy, textural intimacy of an album such as Fossora to a large, outdoor audience in the desert – probably tripping balls, probably hopped up on $35 cups of craft brew? If you are Björk, a knowing veteran of past Coachellas, you get out the spider gear and masks along with the Bowie-sculptural dress motif and soar with a large scale orchestra behind you. Unlike Frank Ocean who sang to himself, Björk essayed her entire career while playing chill-thawing symphonic versions of her newest material before walking offstage in a plastic bubble even
Flaming Lips' Wayne Coyne would envy. THIS IS HOW YOU DO COACHELLA.
The Other Best:  Bad Bunny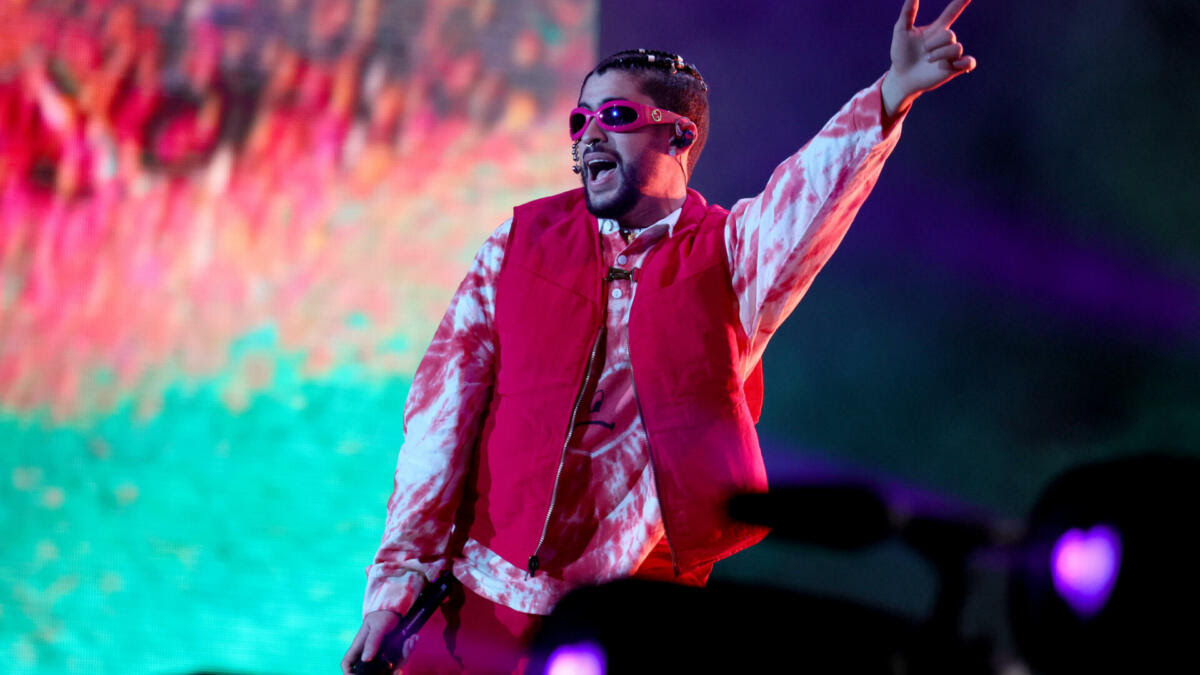 Despite the messed-up sound production of his duet with Post Malone, the first time Latin closer for Coachella turned the hot dessert night hotter still with an all partying, all Latin language set that found the Bunny asking, repeatedly, "Le seguimos?"  Remember folks, it is a party. Treat Coachella thusly, and you won't get burnt.