The NBC, American network version of Stephen Merchant and Ricky Gervais' The Office – which ran from 2005 to 2013 – will always be beloved in the Philadelphia area due to the location of its fictional paper sales HQ of Dunder Mifflin: Scranton, PA.  Beyond any imaginary local connection, those addicted to The Office gravitate to the awkwardly stylized mix of weirdly earnest, quick cutting and bittersweet dialogue of the mockumentary-like sitcom, most of which sat squarely on the shoulders of its principal screen writer and show runner, B.J. Novak.
Starting this weekend, Novak releases his directing, writing and lead-role cinematic debut, Vengeance, a film opening in theaters only, starting Friday, July 29.
Known on-screen as The Office's Ryan Howard and Inglourious Basterds' Utivich, Vengeance finds Novak portraying Ben Manalowitz, a self-obsessed, self-centered, post-millennial, Manhattan journalist with The New Yorker and bourgeoning podcaster who must travel from the Big Apple to West Texas to attend the funeral of a woman he was merely hooking up with. Such distance – from the woman, from the idea of connectivity beyond casual sex, perhaps even from his own lack of emotional depth – gives him an idea: to further that swiped-right empty existence by podcasting his own vision of the American dream, one that, ever-so-preciously, attempts to portray who we really are, a society born of disconnection, of forced myth-making, of the end of identity, of lost souls given over to faceless social mediation and music and art by committee and list.
Onward moves Novak's black (or at the very least, gray) comic vision, one that might contradict itself at times during Vengeance, but is always wildly intelligent, powerfully and uniquely humorous, and – in the end – chillingly dramatic and cold blooded, even if you knew its violent finale as soon as a loaded gun entered the film frames before its close.
Prodded by the brother (Boyd Holbrook) of the dead girl who met her demise at the hands of a drug overdose murder (or did she?) and buoyed by his podcast producer ally, Eloise (Issa Rae), Novak's smugly smart Ben decides to go for the "the holy grail of podcast" subjects, the dead white woman, as the cloud of mystery around the death thickens and his ego swells. I say 'ego', because Ben initially believes (a sadly typical reaction for East Coast-ers when it comes to the movies) of Texas as a dumb, backwater dive, and he as their superior.
As Novak's Manalowitz finds out that nothing could be farther from the truth, he slowly begins to realize their complex intelligence, their world-weary wisdom and their deeply set emotions while further investigating the twists and turns of what may have felled his occasional paramour.  That the dead woman's Texan family (who believe Ben to have been her boyfriend in a deep long relationship) takes Ben into their bosom, show him genuine kinship and affection and introduce him to their favorite burger joints thaws Ben's chill. The little wooden boy begins to become real.
Helping Novak's Ben to realize "the truth" – or at least, his truth – about West Texas and the larger world around them, is Ashton Kutcher's Quentin Sellers. A wise, Nudie suit-wearing West Texas studio owner and record producer (and drug pusher, it turns out) has more than a few home truths up his sleeve. He knew the dead girl and recorded her unknown talents as a songwriter and singer. He knows that modern life, like Spotify's algorithms, is a series of ruin-ations and ruminations. "You're just hearing your voice played back at you. How are you supposed to fall in love?," he says, dryly. If you don't re-consider what you think about Kutcher after this role, shame on you.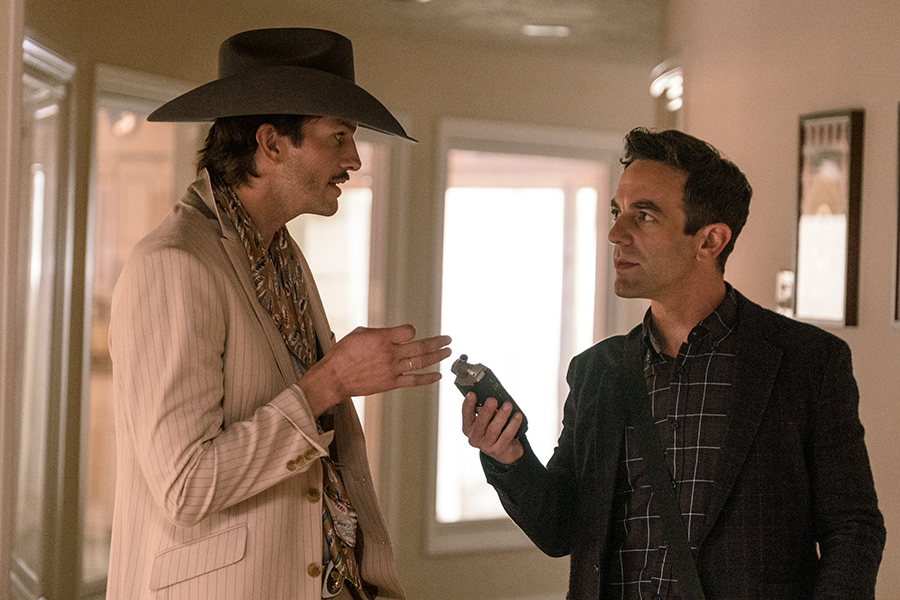 That's probably the whole point of Vengeance – reconsider everything of which you are ever-so-certain. It might not be the truth. Or it might be.
To go with Novak's notion of emotional desolation, open conclusions and glass half-full options, he and his film's cinematographer, Lyn Moncrief, create an spacious ambient West Texas – all flatlands and glad hands – in which to heighten Vengeance's vagaries while brightening its eternally blue skies. To that, composer FINNEAS – the Oscar-winning James Bond theme cowriting musician best known for teaming with his sister, Billie Eilish – adds yet another layer of bleak, dusty atmosphere with but a glimmer of sunshine.
Yes, the dark comic mystery of Vengeance is a little full of itself, has tangents it forgets to conclude, and features a majority of "white person's problems," both wildly funny and miserably sad (which must be a large part of why Novak wrote this – to explode this stupidity). Yet, Vengeance is, like mostly everything Novak pens, caustically and smartly funny, painfully observant (and observationally painful), and rich in the quirks, kicks and kinks that make the area he's writing about sparkle with its eccentricities. Like the Scranton, Pennsylvania of The Office, you can sense Novak falling in love with everything that makes West Texas swell and vibrate.