From Steak 48, Urban Farmer, Barclay Prime, the Prime Rib at the Live! Casino and the Del Friscos of the present, to the old school of Morton's, Hesch's, and even the legendary The Palm at the Bellevue, the Philadelphia steakhouse was and is something of a totem. Sure, the three-martini lunch and white privilege is dead, but the iconic vibe of sliding into a tall suede booth or blood-toned leather chairs around a linen-clad table with nothing but the bite of charred pink flesh to lift you higher (and two martinis, tops) lives on. In Philadelphia, particularly, the steakhouse rules, and in healthy, diverse fashion. On any night in this fair city, young and old, Black, Brown and White, blue collar and business class, and women, men and non-binary audiences clutter around the sturdy steakhouse table in what used to be the glittering prize of the nouveau riche. Now, however, it's like Oprah, but with pricey meat: you get a filet, you get a porterhouse, you get a rib eye.
Between March and April, two locations opened in the Philadelphia area with very different vibes, decor and color palates, and even styles of serving – Joey Chops and The Rittenhouse Grill.
The former is a sprawling new beige and earthen tone property built into a roomy mall space – parking lot and all – along the skirts of Malvern's Lancaster Avenue. The latter is a tony, Onyx-colored, Art Deco-tinged, spaciously wide room with a piano bar tucked behind Rittenhouse Square in the center of the city that was forever known by another name (The Prime Rib) until it wasn't.
"We value our new independence as a local, Philly-based steakhouse," said the longtime owner of the 1701 Locust Street address that is currently the Rittenhouse Grill. With its dark, old-school supper club feel and classic cocktails, it is, in Weldon's words, like "Mad Men meets the Rat Pack." Or in my words, like Noel Coward taking his olives up and his petit filet blood rare.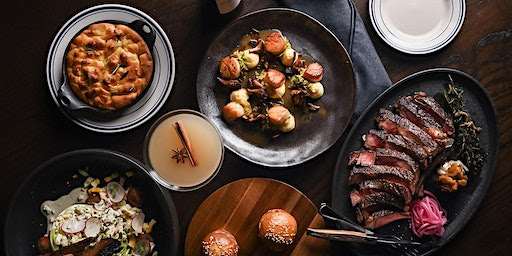 "We're leaning into our Rittenhouse Square roots and updated Art Deco style décor, and are rebranding and refreshing this for the next 25 years," said Weldon – a constant presence at his Rittenhouse Grille, always in a lean-line suit and tie. "I think our longtime Philly clientele appreciates that they can still celebrate occasions here as they've done for 25 years. And for the newcomers we offer a unique atmosphere of Manhattan supper club vibe – something they probably never had the opportunity to experience."
What does remain of ye old Locust Street spot whose name should not be mentioned again is Rittenhouse Grill's nightly live piano music (Philly used to have a klatch of piano bars that WEREN'T dueling pianos, thank you very much), towering martinis,  cuttingly crisp wedge salads, epically large shrimp chilled to perfection with a gently spiced cocktail sauce, and a meat menu (USDA Prime Angus beef, an epic porterhouse, prime rack of lamb, specialty Iberico pork chops, even Kobe beef Franks in a Blanket at the bar) concluded with the juicy multi-ounce Roast Prime Rib. That last item, the RG's signature meal as designed by Weldon and longtime Executive Chef Eddy Castillo remains proudly the same as it ever was, as oozingly juicy for it. Truly, in Philly, there is soft pretzels, water ice and Garth and Eddy's Signature Cut Roast Prime Rib to tell out-of-towners about. So too does its fresh seafood menu of tuna tartare, jumbo lump crab cakes, hot and cold seafood towers and Brazilian lobster tails aid in making the Rit Grill menu special. Plus, Rittenhouse Grill serves potato skins. No one does this anymore – amazing.
Cozied onto the first floor of the Warwick Rittenhouse Square Hotel (with zero affiliation), the spruced- up look of the old Locust Street space has been freshened with leopard spotted rugs and new lighting design to go with its sensuous vintage décor of rare Louis Icart paintings and etchings.
A night at Garth Weldon's Rittenhouse Grill is bold and new through its rebrand. The song may remain the same, but its radically remixed.
………..
Joey Chops' Executive Chef and Co-Owner Joseph Monnich told me after his steak salon's opening night that, "When my business partner Justin (Weathers) and I conceptualized Joey Chops, we knew we needed to keep it in the parameters of our brand," he said, speaking on Stove and Co. concepts that include DePaul's Table: Modern Italian Steakhouse, Al Pastor, Stove and Tap, Revival Pizza Pub and GBU (Good Bad and Ugly).
"We generally open modern takes on casual concepts, but a steak house needs to have the elegance and professionalism to support a higher check average. We decided to add a mixture of cool elements like modern chairs and rich draperies to pair with raw organic finishes like reclaimed woods and corrugated steel ceiling panels. The food needed to have a personality of its own by using ingredients and cooking techniques of my past experiences. You'll see crudos, shellfish, and creative salads. Modern European renditions like Green Garlic Escargot, Salmon Wellington and Scallops Cavatelli round out the lighter side of the big boisterous cuts of meats on the menu. In all there will be something for everyone."
It is the woodfired "big and boisterous cuts of meat" on the Joey Chops' menu that made the meal.
The 7,500 square foot Joey Chops with its 135 indoor and outdoor seats, with a 40 foot main bar and a 25 foot outdoor bar is large scaled like its prime cuts. Instead of crisp vodka martinis and old world bourbons, Joey Chops has Poached Pear Martinis and Spirited Oceans (with Thai basil, sugar cane and lime). Instead of statuesque raw bars, there is Crab + Shrimp Cakes and Porcini Dusted Scallops.
Mostly though, at Joey Chops there are hand cut steaks and skillet sides, high end dry aged cuts AND approachable butcher cuts for the more price conscious among its audience – think a juicy filet mignon "Queens Cut," a gently singed New York Strip or a gorgeous Delmonico.
Bite into a flame streaked, wood scented Queen Cut in a bright light environment such as Joey Chops, and you won't be the same.
And what's great about dining out on steak at Rittenhouse Grill and Joey Chops is not at all about competition. Joey Chops concentrates on woodfire. Rittenhouse Grill on roasting. One is modernly twisted and the other offers switcheroos on familiar classics.
Take a weekend, and steak-out at Rittenhouse Grill and Joey Chops. You'll thank me.