Real life, or the reality of reality television, has a way of playing tricks with audiences whether they're viewers of the genre or not. One new, mainstream tease, for instance, involves a mix of the Bravo network's varied cities Real Housewives – Teresa Giudice, Kyle Richards and Kenya Moore – donning burnt cork and shoulder pads not normally used for Norma Kamali womenswear in an advertisement for DIRECTV Football. While the Housewives tackle real life ballers quarterback Dak Prescott and wide receiver CeeDee Lamb, Prescott actually manages a meta moment, the feet of flipping a dining room table ala Giudice's big "prostitute whore" scene from her first season.
"What kind of person flips a table," asks Giudice.
And so, it continues. We're all part of the joke, if not the joke itself.
This month, several high concept-driven theater/performance art companies such as Applied Mechanics and JUNK, are using the form in which to cable-jump reality television's competitive heartbeat and use a metaphorical Real Housewives vibe in which to tell a broader story in showcases such as Real PlaNet Life and Luster, respectively.
Initially inspired by busy, show-bizzy likes of Bob Fosse's Dancin' and Pilobolus on Broadway in the 1970s, JUNK's choreographer and dancer Brian Sanders eventually turned his attention to concept-driven movement art whose every production grew in scope, space (he likes finding unique performance spaces and building shows from each property's skeleton) and athleticism.
By the time we get to JUNK's Luster, a meditation on over-exposure and the depths of derision and desperation people will do for fortune and fleeting fame, Sanders has given his dancer-performers a quest: pretend you're on a competition-based fictional web series, TRAGIC, and fight for your right to parry, lunge and riposte – not so metaphorically.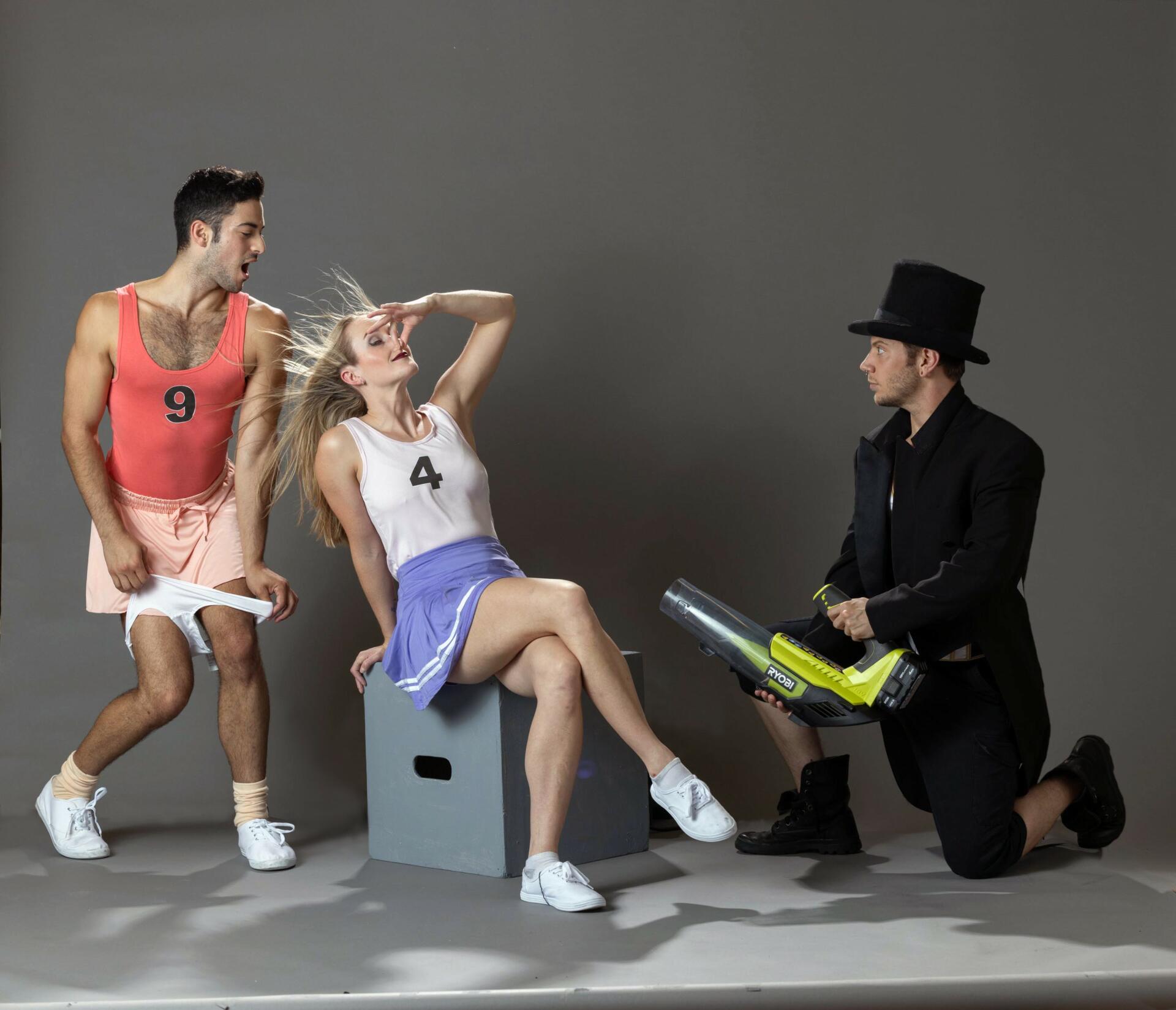 "The reality show world is intriguing to me because, when exploded, when done right, they can be horrible and mind-blowing at the same time," says Sanders about his desire to explore and exploit the mock medium in what he calls Luster's meeting of RuPaul's Drag Race and The Amazing Race, held in one room, downtown Philadelphia's Concourse Dance Bar. "It is so amazing and so wrong, all at the same time," says Sanders of the reality television genre and his willingness to parody and play along. "Part of my art, when it comes to Luster, is trying to digest that dichotomy. That is happening too in the Instagram/TikTok world, where there is all of this hard work being put into 30 seconds of a personal 'wow' factor. It is impressive as its own thing, but if you take it out of context, and explode it, this sort of reality is its own raw art form."
For a somewhat less physical and eerily intellectualized take on housewives, real, unreal and even perhaps otherworldly, the Applied Mechanics collective makes its own rules just as Sanders JUNK do theirs.
Starting with the Applied Mechanics manifesto ("We value cooperation. We value each person's unique contribution to the work that we do together. As a collective we are feminist, anti-racist, anti-capitalist, anti-colonial, anti-normative, and pro-Black. For us these values mean the dismantling of all hierarchies and inequitable power relations. We make stories that aim to expand the possibility of liberation for all beings – beginning with ourselves. Our work together and the art that we make should uphold these values"), its' REAL PLAnET LIFE reality show steaming film looks at alien life in a production made by and for aliens: Real Housewives meets E.T. meets the Muppets.
You can buy tickets for the film here and its physical version exists at Philadlephia's Vox Populi gallery through October 2.
Applied Mechanics' collective members Severin Blake (who performs in Real PlaNet Life) and Rebecca Wright (who directs Real PlaNet Life as part of the company's Other Orbits multi-modal performance series talked about their process of slicing and dicing reality.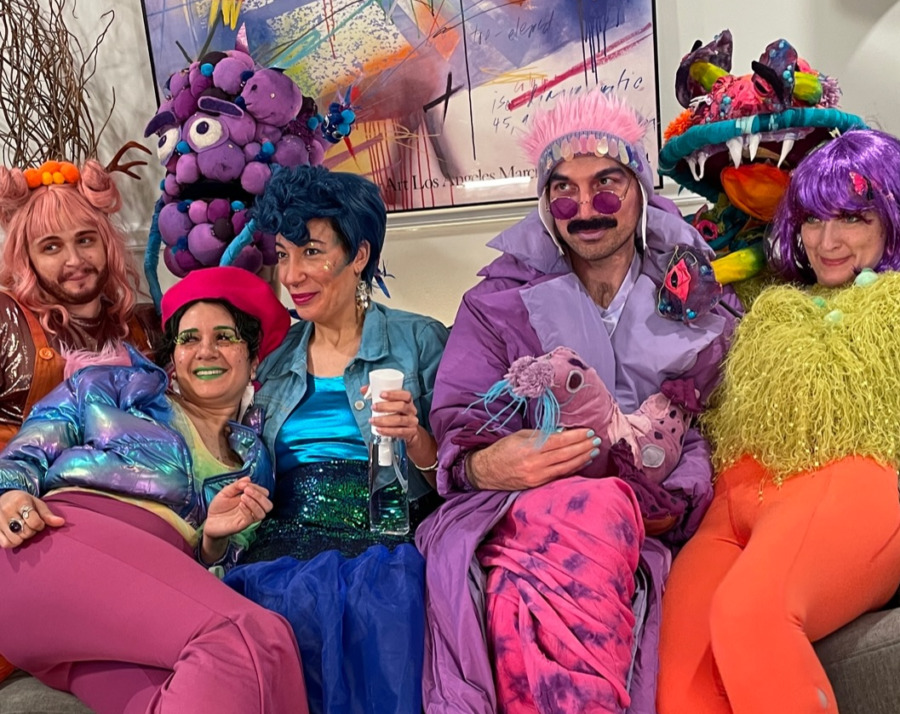 "We took ourselves on a sci-fi journey this time," says Blake of the reality that the Applied Mechanics were willing to explode this time out beyond the ideals of caretaking. "We want to give our artists agency. Everyone in the collective writes its own characters, our own tracks, our own stories."
That Applied Mechanics then gives those characters its own collective vision of a dream is how we come – perhaps – to the familial aspects of the Real Housewives' ideal – a concept tied together by specific region, socio-economics, fierce determination and a willingness to propel all that into something dynamic, yet absurd. However, the out-of-control egos that drive the tempestuous Real Housewives – wherever they live – is the same set of egos that a collective such as Applied Mechanics tamp down, and unify for its vision and output. "We are connected with each other and each other's stories – not everyone is good at listening, having agency as a group, or working collaboratively," says Wright.
Caretaking is part of what started the new Real PlaNet Life concept, questions of how we as a people take care of each other over time's expanse, in time of great upheaval and change. "We're showing the beautiful joy behind getting that all of that right and the flaws of how we can get that all wrong too," says Blake.
How those serious, poignant and truly giving human themes feed into the Real Housewives/Big Brother motif, a ludicrous ensemble piece filled with selfish rage and high-priced shoes, is what supercharges Real PlaNet Life with weird energy and existential ardor.
Severin Blake laughs, trying to avoid spoilers, by announcing that her character is getting a visit from many family members that she hasn't seen in a long time – "Will it be a party or be a whole hot mess?," she asks. "There are moments when we need a confessional, a side-eye to show what the fools around me are up to?"
Wright continues of the brightly colored, bubblegum pop of Real PlaNet Life "Have you ever noticed that when living together or being close with one group, if you're not laughing, you're crying? You know how on reality television you get shows like The Real World where the concept is to put all these 'weirdos' in one house to see what happens? Well, Applied Mechanics wanted to know if we could do that with aliens…. We're giving ourselves permission to play with the sometimes tragic, but often hilarious circumstances of cohabitating, and navigating that."