Cujo might be a fictional St. Bernard-come-villain thanks to Stephen King's imagination and the terrifying nature of rabies, but for one unfortunate stray cat in Brewerytown, the fatal virus was all too real.
The Philadelphia Department of Public Health tells Philadelphia Weekly that authorities found a cat infected with rabies in April in the 19121 zip code, specifically on the 1600 block of North 29th Street. The area includes the rapidly gentrifying Brewerytown neighborhood as well as the Philadelphia Museum of Art and features trails wildly popular with residents and tourists alike. The area is in close proximity to both the Philadelphia Zoo and the Please Touch Museum right across the Girard Avenue Bridge spanning the Schuylkill River and includes over 30,000 local residents.
PW first learned of the alert through a flier found in the area emblazoned with, "RABIES ALERT," across the top. "If you or your pet were bitten, scratched, or licked by a cat in this area from late March to early April, please contact the PDPH Division of Disease Control at 215-685-6741," the flier reads.
"100 percent fatal"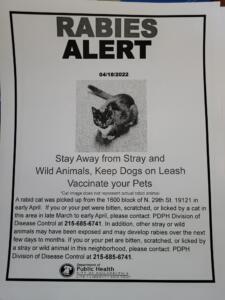 "Rabies in humans and pets is 100 percent fatal if not treated quickly and completely," explains Health Department spokesperson Jim Garrow to PW. "There are generally only a few human cases of rabies in the entire country every year, so it's rare, but always fatal."
The gruesome nature of a rabies death in both humans and animals alike has propelled the virus from epidemiological obscurity and into society's collective consciousness, reaching an apex with the early 1980s Stephen King tale, first a novel in 1981 and then a film in 1983. While exceedingly rare today, the few cases that do occur feature "cerebral dysfunction, anxiety, confusion, and agitation," explains the Centers for Disease Control and Prevention (CDC). "As the disease progresses, the person may experience delirium, abnormal behavior, hallucinations, hydrophobia (fear of water), and insomnia." The CDC adds that if symptoms are apparent, it  is too late for any treatment. "Less than 20 cases of human survival form clinical rabies have been documented."
Transmitted via bite, the virus is found across mammals, including dogs, humans, and, as in the case of the Brewerytown incident, cats.
Do not approach, call animal control, vaccinate your pets
"The best way to protect your pets is to make sure they're vaccinated against rabies," Garrow adds. "If you see an animal that is acting aggressive and strange, contact ACCT at 267-385-3800. Do not try to engage or capture the animal yourself." Health authorities add that all animal bites must be reported by doctors and medical personnel to the City, and if people are bitten or suspect a bite but aren't sure, they should immediately seek medical attention.
In Philadelphia, all cats and dogs over three months of age must be vaccinated against the virus. Of course, in the case of Philadelphia's 400,00 stray or community cats, this is only possible thanks to the efforts of dozens of volunteers participating in the City's "TNR" program or trap-neuter-return program. The idea behind TNR is simple: If you neuter cats, they can't produce more stray cats; the procedure also curbs nuisance behaviors, like the foul spraying males do, the yowls females do in heat, and the territorial fighting, and biting, everybody does.
Cats that are trapped by volunteers and taken to ACCT for neutering also receive rabies vaccinations.
"We certainly don't have any problems with TNR efforts," Garrow adds, saying that experienced cat trappers should already know about prevention and the reality on the ground. "This is a notice to the immediate community to take action if they or their pet have been exposed to a rabid animal."
In other words, if you're a seasoned trapper, keep vigilant. If you're not, it's best to leave wild or stray animals alone entirely.
To report animal bites, call the Health Department at 215-685-6748; to contact ACCT to report a rabid animal or wild animal sighting, call 267-385-3800. More information about rabies may be found by visiting the Health Department's website or calling 215-685-6742.