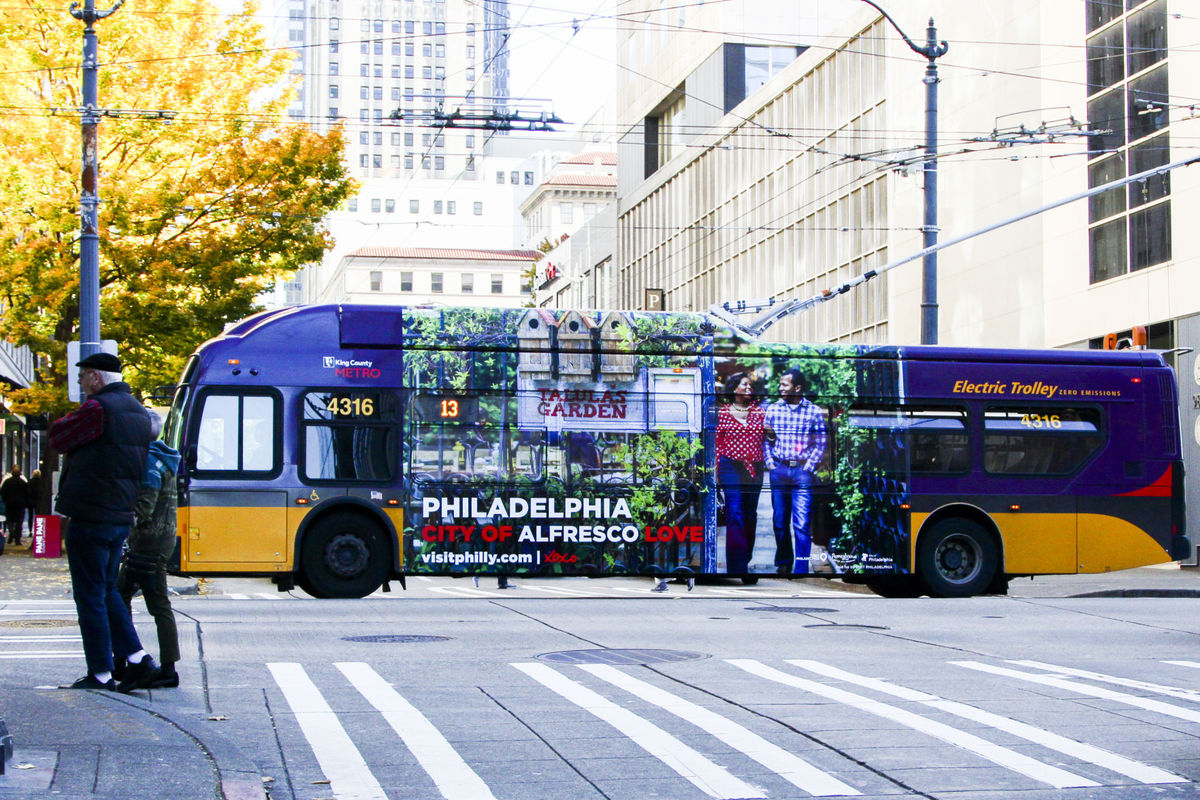 In its bid to win the next Amazon headquarters, Philadelphia made a sparkling sales pitch replete with videos, interactive maps, testimonies from business leaders, and a lengthy written proposal.
The bid, marketed as "Philly Delivers," is unlike any the city has made to win a corporation's loyalty — and it didn't come for free.
Total price tag? $245,000.
So far, Philly agencies have spent nearly a quarter million dollars on its various incentivizing efforts.
Philadelphia Industrial Development Corporation contracted with six local businesses to put together the bid's slick digital and written components, according to Jessica Calter, the PIDC's vice president of marketing communications. In all, it spent $160,000, funded by a mix of public and private dollars.
Visit Philly also reportedly spent $85,000 on bus wraps and a social media campaign in Seattle, the site of Amazon's corporate headquarters. Running through the end of November, the ad blitz doesn't mention the HQ or Amazon specifically, but the goal is clear: keep Philadelphia's virtues in Amazon's sightline.
Visit Philly is funded by the city's hotel tax and various foundation grants. And for PIDC's part, Calter said that the money came from Economic Stimulus Program — "a revolving fund initially capitalized with City funds" — as well as grants from the Knight Foundation and the Chamber of Commerce for Greater Philadelphia.
"We focused dollars on the marketing assets that will be used beyond this effort," Calter said. "We are confident this was money well spent on a project that speaks of Philadelphia's worth not just to Amazon but to all businesses looking to relocate or grow here."
The reception of Philly's bid has been mostly positive. Win or lose, advocates say the effort brought Philly's business community together and showed that city can make a convincing pitch on the national stage. But critics have derided Amazon's whole experiment, arguing that it essentially extorted local governments, even those with little competitive standing, into promising public resources and grovelling at the feet of a corporate giant. Is a city's dignity worth the chance as an estimated 50,000 jobs and massive economic stimulus that would come with a new Amazon HQ?
It depends on who you ask.
Philadelphia's was one of 238 bids the retail juggernaut received. Even going by Amazon's own prerequisites, however, most of the municipalities that submitted bids are a longshot.
Nonetheless, the bids came eagerly from every corner of the country, and initial news reports suggest that the nation collectively spent millions on the Hunger Games-esque wooing battle.
Albany, New York, spent $100,000 on their pitch, according to news reports. But these dollar amounts pale next to some of the old-fashioned financial incentives offered up to the tech giant. Over in Newark, New Jersey, Amazon was promised $7 billion in a host of city and state tax breaks if it decides to open up shop there.
Among the more desperate pleas for Jeff Bezos' attention, Stonecrest, Georgia, proposed to de-annex 345 acres of land to create a new city called "Amazon," and instill the billionaire CEO as its mayor. In a more bizarre solicitation, Tucson, Arizona, expressed its interest in the form of a 21-foot saguaro cactus sent to the company's Seattle headquarters.
(Amazon turned the cactus down.)
TWITTER: @MAXMMARIN