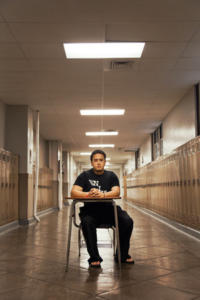 Four people in 18-year-old Edgar Pagan's life had been shot to death on the streets of Philadelphia by the time he graduated high school last week. While reflecting on his time at Girard College—a 1-12 boarding school for kids with high grades who come from families with low bank accounts—Pagan realized he wanted to write his thoughts on his life and these deaths and the wheel of fortune, the roulette wheel really, that separated them. He just wasn't sure where to share those thoughts.
A while ago, NewsWorks and PlanPhilly journalist Amy Quinn visited the school. Pagan, assigned to be her student guide, mentioned his interest in writing the story. Knowing I report on urban violence, Quinn told me about Pagan. A few weeks later, I was chatting with photographer Zoe Strauss when she mentioned that she'd just scored an invitation to the White House's LGBT Pride Month Reception.
Strauss said that if she was going to get to meet President Obama, she wanted to bring other voices from Philadelphia along with her, and asked me if I knew anyone who would like to write a letter to Obama. Remembering Pagan, I said yes.
A few phone calls, emails and a trip running across campus later, Pagan was found in the chapel getting ready to walk down the aisle for graduation. Afterward, he wrote down all the thoughts that had been swimming through his head as he prepares to head to Rutgers in the fall. Last Friday, Strauss personally delivered that letter to the president.
This is what it said:
6/13/2012
Dear President Obama,
Philadelphia was once known for its brotherly love and Independence Mall. Now, it is more known for its violent people and poor elementary education. The people of Philadelphia have been plagued by high crime and the murder rate and the failing schools stretching citywide.
I was one of the lucky ones.
I attended Webster Elementary School until fourth grade, when my mother realized how unfulfilling and unsuccessful the Philadelphia public school system was, and still is. I was moved to Ascension of Our Lord School, where I received the education the youth of this city needs, although it was still a very poor school. Once I graduated with honors, I attended Girard College. I graduated with a 3.5 GPA on June 7, 2012. I cannot stress how much Girard College has influenced and turned my life completely around. It has shaped me into a better young man than I would have ever been. I realized this during my freshman year.
On Oct. 11, 2008, I was at home on Jasper Street in Kensington standing near my room waiting to use the bathroom, when my mother told me that my cousin Polla has been shot. Then my grandmother called me and told me that the shots were fatal, and that he drew his last breath near A Street on the north side of Philadelphia. As it turns out, he was shot for placing a beer bottle on the neighbor's steps, not knowing the fatal consequences he would have to face later on. He was about 34. His birthday was only a few days away. The suspect was just a kid like me, about 18-21 years old. His mother lived in the house where the bottle was placed.
Now, people who read this might say that I am just another person complaining about the school system. But no one can deny that if that kid received a quality education and found a passion for learning, like so many whose parents pull them out of the public school system, he would not have been in and out of a jail cell since he was 15 and the life of my cousin Polla would have been spared.
But even the loss of my own blood could not match the loss I faced, and more importantly, the loss the whole Hispanic community of North Philadelphia faced, during my senior year at Girard College.
I remember Jan. 11, 2012, as if it was yesterday. I was in my dorm room on my laptop when I began to see Facebook status updates saying, "R.I.P. Javy, Donti, and Fatty." There were too many status updates to count. The names sounded familiar, so I looked up the news story and that's when I saw their faces: They were three good friends and three young boys. Sixteen-year-old Javier Orlandi and 14-year-old Joshua Soto, the one I was closest to, were pronounced dead at the scene. Dante Lugo, 14, fought for his life in St. Christopher's Hospital. Facebook pages to support their family were set up, such as "Pray For Donti." Everyone in the neighborhood gathered outside the hospital in support, but he eventually drew his last breath in that hospital bed and was taken off life support.
Memorial services were set up throughout all of North Philadelphia. One in particular caught everyone's attention. A memorial was set up near the crime scene in Juniata Park. People came to pray, to remember, to weep, to place candles and teddy bears, even to shoot music videos in honor and to remember the boys. I attempted to attend the memorial service that Friday but, like everyone else, I was crying and mourning way too much to go anywhere. I drove by and broke down into tears.
I cannot fully blame the boys or the alleged murderer, Axel Barreto. The boys were looking for a fight with Barreto's stepsons over an argument that began on Facebook—and yes, I do understand that if a group of boys wanted to fight your sons, any father or mother would seek to protect his or her own. But what I do not approve of is that now people are too quick to pick up a gun and begin opening fire to resolve their problems. They were only kids. There is no way to justify that murder, whatsoever, at least in my opinion.
Think of the education both sides had. If the boys were well-educated and raised in a neighborhood other than the Badlands, they may have not been so quick to resort to violence during an altercation. They would have had better problem-solving skills. If Barreto received a better education, he might have known that violence is not the way. The Philadelphia School District does not know what effect it has when they have to make cuts on budgets or teachers. These are the long-term effects. Violence, murder, stupidity.
Mayor Nutter, in response to the boys' deaths, had a speech saying he will make a crackdown on the curfew for minors and on gun violence. I have seen neither. If he is reading this, I urge him to crack down harder and soon, before another entire community loses their young.
President Obama, I ask you to please, nationwide, at the very least, start putting an emphasis on the urban public school system in America to better themselves, to promote schools such as Girard College, and to provide more help to schools such as Girard so that kids, such as the ones stated above, can avoid being on the streets. Also, I ask you to urge the mayor to truly crack down on the curfew and the parents of kids so that tragedies such as this one can be avoided. Please and thank you, sir.