The 81-year-old godfather of blaxploitation cinema brings his indomitable cool — and his fusion band, Laxative — to Johnny Brenda's this weekend.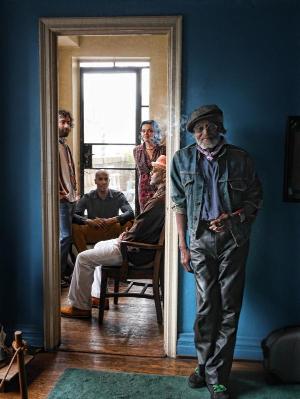 Melvin Van Peebles has always been ambitious. Whether he's learning the art of the deal from behind the counter of his daddy's tailor shop on Chicago's rowdy South Side, studying art when he was 11, fleeing America in the '60s to write novels in Paris, independently producing, writing and directing the groundbreaking 1971 film Sweet Sweetback's Baadasssss Song, the ageless maverick refuses to settle down. Even when sitting in a chair talking inside his New York City apartment, he is constantly in motion, always hustling.
With the weather unseasonably warm on this mid-January morning, Van Peebles is dressed in black leather pants, blue t-shirt and a denim jacket. In his lifetime, he's slept on a few park benches, but that was eons ago, back when young artists weren't afraid to suffer. Although he now lives comfortably in a doormanned building and smiles more easily than in his more intense years, at 81, the cigar chomping elder statesman of the Black Power generation is still on the grind.
Rising before the morning sun, on most days, he runs four miles uptown or downtown, depending on his Leo mood. After returning home, he either writes, paints or works on music. "When I have an idea, I have the luxury of being able to step back and figure out the format," he explains. "Some are stories, others are songs."
While primarily known as a filmmaker, the scraggly bearded man has applied his hustle to various post-Sweetback gigs, including television commentator, acting in Hollywood features, working on Wall Street as the first black trader and composing music. "I just view myself as someone trying to stay out of working at the post office," he says. Now, at an age when many men are stretched out either on the couch or inside a coffin, Van Peebles continues to create works of wonder.
Four years ago, he formed the madcap funk band Laxative, which consists of bassist Jared Michael Nickerson, saxophonist Paula Henderson, drummer Chris Eddleton, tenor saxophonist Michael Kammers and pianist Bruce Mack. This Saturday, Feb. 8, he and Laxative—dubbed so, Van Peebles says, because they "make shit happen"—will make their Philadelphia debut, bringing their wild souls to Johnny Brenda's in a thoroughly classy way to kick off Black History Month. "I've done some lectures there," he says, smiling sneakily, "so I might have some women lined up in Philly."
In addition to his acting, screenwriting and directing prowess, Van Peebles has penned books, Broadway plays (Ain't Supposed to Die a Natural Death and Don't Play Us Cheap) and recorded a slew of albums, beginning with 1969's A&M Records classic Br'er Soul, which celebrates its 45th anniversary this year. With lyricism that painted vivid pictures of the ghetto, its songs included "The Dozens," "Catch That on the Corner" and "Lilly Done The Zampoughi Every Time I Pulled Her Coattail." Van Peebles didn't actually sing on Br'er Soul; he vocalized in a more spoken-word style over a jazzy soundtrack. That LP influenced proto-rapper Gil Scott-Heron, as well as more than a few hip-hop kids. Van Peebles' songs have been sampled by Main Source ("The Man Tries Running His Usual Game but Sweetback's Jones Is So Strong He…"/"Live at the Barbeque"), Schoolboy Q. ("Break That Party & Opening"/"Raymond 1969") and Eric B. & Rakim ("Come on Feet Do Your Thing"/"Kick Along"). In 2005, West coast label Stones Throw announced a collaboration album between Van Peebles and Madlib, but the project was never completed.
Ultimately, music has always been the tie that binds Van Peebles' passions together. The musicals he's written underscore his love of both sonic and stage craft, plus he's composed scores for nine of his 13 short and feature-length films. Today, directors like John Carpenter (Halloween) and Robert Rodriguez (Sin City) score their own movies without a hitch, but back in 1970, when Van Peebles proposed the scenario to the studio producing his American debut, they were not prepared.
"When I first told Columbia Pictures I was going to do the music to Watermelon Man, they almost had a heart attack," he says gleefully, recalling the tumult surrounding his riveting 1970 comedic drama starring late comedian Godfrey Cambridge as a white bigot who transforms into a Black man in his sleep. "But, I was in the union, and it was in my contract that I could hire who I wanted, so I hired myself." (He found himself shocked when, in 2011, his song "Love, That's America," from Watermelon Man, was adopted by the Occupy Wall Street movement.)
A year after Watermelon Man's mainstream success, Van Peebles veered from the Hollywood narrative once again, turning down a three-picture deal from the suits at Columbia and venturing into the wilds of independent film. His next obsession, the provocative Sweet Sweetback's Baadasssss Song—both the movie and the soundtrack—became cultural landmarks upon their respective releases in 1971. Made for an estimated $500,000, Sweetback starred Melvin as a superstud turned revolutionary who's as serious between the sheets as he is on the streets. After killing two white policemen who were beating a young Black rebel named Mu-Mu, the sexually charged mean machine spends the remainder of the flick running, loving and fighting "the man."
As visually gritty as its subject matter, Sweetback's miniscule budget might've stymied another director, but instead inspired Van Peebles to experiment with avant-garde angles, edgy edits and colored filters. As the mostly silent Sweetback drifts from one strange scenario to another on the streets of South Central Los Angeles, he flees towards Mexico dressed in his pimpish treads. At the end, as he escapes across the border, a caption on the screen reads, "a badassssss nigger is coming back to collect some dues." A breathtaking rollercoaster ride of a film, Sweetback was simultaneously raw and arty.
Initially opening in only Detroit and Atlanta, word on Sweetback began to spread in black newspapers, on the radio, in beauty shops and on building stoops. While some theaters, like the Apollo in Harlem, refused to show it upon its initial April '71 release, others couldn't wait. In Philadelphia, it played to sold-out shows for weeks at the now demolished Milgram Theater at 1620 Market Street. By the end of the year, Sweetback was one of the highest grossing films in the country.
A few years before, after screening Van Peebles' French made film The Story of a Three-Day Pass at the San Francisco Film Festival in 1968, it was Philly homeboy Bill Cosby who befriended him when he first came to Hollywood. "Cosby got me into [the Director's Guild of America]," he says. "He just told some guy, 'Get him in,' and I was in. Later, when I ran out of bread while making Sweetback, he loaned me $50,000."
Van Peebles also changed the game when it came to using soundtracks to market a movie. "Usually a record came long after the movie, but I knew the Black DJs would play my music, which made people aware of the movie," he says. Van Peebles collaborated on the Sweetback soundtrack with a pre-famous Earth, Wind and Fire. "They were starving in a little room on the edge of L.A.," he says. "I showed them what I wanted, and they did it. I would sing out my thoughts or hum it through, and that's how we'd write." Always on a shoestring, he paid the future superstars $500. The check, as Maurice White recalls in the 2003 biopic Baadasssss!, "bounced across the world."
While shooting Sweetback, Van Peebles led many to believe he was making a porn flick in order to dodge various Hollywood unions. After supposedly receiving an X-rating from the Motion Picture Association of America (MPAA), he turned the rating into a publicity and marketing opportunity. The phrase "Rated X by an all-white jury" was used in the film's posters and ads.
Although Sweetback was the cinematic Molotov cocktail that ignited the film movement now known as blaxploitation, not everyone was impressed. In the July '71 issue of Ebony magazine, Lerone Bennett Jr. wrote, in a scathing review titled "The Emancipation Orgasm: Sweetback Wonderland": "Despite its acclaim and despite isolated moments of promise … Sweetback is neither revolutionary or black." Much like gangsta rap years later, Bennett was appalled that Van Peebles celebrated the ghetto, romanticizing the basest elements of "the hood" over upwardly mobile aspirations.
"Melvin was like the NWA of his time," says local filmmaker Michael Dennis, founder of ReelBlack TV. "He also laid the groundwork for Black independent film that is still being used today by indie directors like Lee Daniels. And back then, it was a hundred times harder to make a film."
Although the Black Panthers, fronted by Huey Newton, endorsed Sweetback, not everyone celebrated the film with the same enthusiasm. "There was one group that decided how the revolution was going to be, and Sweetback wasn't it," Van Peebles says. Some people wrote letters of protest to local media, while others were more openly threatening. "When I walked down the street, I was always prepared to pull my gun," he says, recalling that in childhood he witnessed his father kill—"with one shot"—a massive rat that ran into his tailor shop. "I'm from Chicago. We don't play that."
As vintage jazz plays on the radio, Van Peebles sits in the breakfast nook. Behind him, there are art tomes on Reginald March and Edward Hopper on the shelf. On a table in the living room lays a well-worn copy of a 1960 comic strip he wrote in France, an adaption of his friend Chester Himes's noir debut For Love of Imabelle with cartoonist George Wolinski in Hari-Kiri magazine.
While living in Paris with a wife he would later divorce, Van Peebles also became cool with famed Life magazine photographer Gordon Parks after a chance encounter on the street. "He was my idol. We walked together and he bought me a coffee. He was telling me about his life and pictures, but what he really wanted was to break into Hollywood." Coincidentally, Parks' breakout Hollywood feature Shaft was released just three months after Sweetback.