In tonight's premiere episod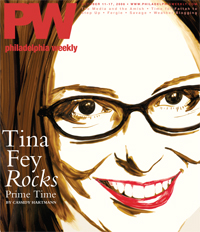 e of 30 Rock–NBC's other new series set behind the scenes of a late-night sketch comedy show–Alec Baldwin's slightly absurd newly promoted studio boss tells Tina Fey's head writer he wants to attract a male audience to the show by adding a famous black movie star (Tracy Morgan) to the cast.
"Isn't he, um, crazy?" Fey replies. The scene then cuts to a fake news clip of Morgan running down the 405 freeway in his underwear, waving a foam light saber and yelling, "I am a Jedi!" amid honking cars. The scene is knowingly reminiscent of a Martin Lawrence incident back in 1996 (though Morgan claims his character isn't based on Lawrence).
And so begins the central conflict of 30 Rock, a show created and co-written by Fey that follows her character as she struggles to maintain control of a comedy show increasingly dominated by Tracy Jordan, Morgan's exuberant personification of black stereotypes, and Jack Donaghy, Baldwin's quasi-clueless exec. Jane Krakowski plays Jenna Maroney, the star of The Girlie Show, and Keith Powell, Judah Friedlander, Rachel Dratch and Lonny Ross round out the show's quirky staffers.
Despite the familiar surroundings, 30 Rock is a notable departure from Fey's previous gig: the nine years she spent as writer, then head writer, then anchor of Weekend Update on Saturday Night Live. While the 36-year-old Upper Darby native ventured beyond sketch comedy in 2004 with the screenplay for her refreshing high school comedy Mean Girls–in which she also played a supporting role–Fey's foray into primetime television is a bold move.
Serving as the face and the creative force behind the most touted new comedy of a struggling major network is enough to give anyone first-time jitters. But add to that late-in-the-game network-prescribed rewrites and another NBC/Aaron Sorkin-scripted powerhouse called Studio 60 on the Sunset Strip–which, though an hour-long drama, has already provoked unfair comparisons.
Given all this, Fey's stress levels should be higher than American Idol's ratings (which, if all goes well in her Wednesday-night time slot, she'll have to contend with in January).
Despite all that's riding on the show, Tina Fey seems completely at ease as she eats lunch among 30 Rock's cast and crew on the set one recent Monday. She's dressed in a plain purple shirt and brown pants, her straightened brown hair still perfectly in place from the morning's shoot.
The thick-rimmed glasses that made her so recognizable on Weekend Update are nowhere in sight, and another feature–a thin white scar that runs down her left cheek–is barely visible under her makeup.
It's just after 1, and Fey has less than 30 minutes to eat between wardrobe changes. But when a birthday cake is brought out for one of the show's production assistants, she spiritedly sings along. And when crewmembers with earpieces dart up to ask her questions about the afternoon's shoot, she's never anything less than friendly (though from their demeanor it's clear she's in charge).
"You can't stay at Saturday Night Live forever," Fey says between bites of salad and fish. "It's a little like trying to stay in high school forever. You need to move on, and you need to let somebody else have their turn. There's a new generation coming up there, so it was an appropriate time to leave."
Fey brought with her SNL alums Morgan and Dratch, a close friend she met while performing with Chicago's Second City comedy troupe. Before Fey became Weekend Update anchor, she and Dratch wrote and starred in an off-Broadway comedy called Dratch and Fey, which was well received by critics.
SNL creator Lorne Michaels and producer Marci Klein signed on as two of 30 Rock's executive producers. And then there's Baldwin, a frequent SNL host and 30 Rock's biggest name.
"I didn't get him to do it. It was Lorne and Marci," says Fey, who admits she wrote the part of Jack Donaghy with Baldwin in mind. "He likes Lorne and Marci a lot, and he lives in New York."
Fey says doing a TV series appealed to her because of TV's fast-paced, more immediate schedule. "And it's really nice for writers," she adds. "Writers have a lot more input in TV than they do in movies, so I'm just trying to have a lifestyle where I could still do both [TV and films]."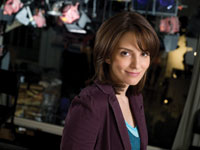 Despite this statement, Fey confesses since shooting began she's had much less time to spend in the writers' room. The production is now in the middle of shooting its first block of 13 episodes at the show's Long Island City studio. Fey shoots five days a week, and writes all seven. She routinely follows up 12-hour shooting days with evenings spent working on scripts, the writing of which remains her priority–after her daughter goes to bed.
"I definitely have no illusions–the writing is what I'm better at. I love performing with my friends, stuff I helped create. But I wouldn't really want a lifestyle where I had to go around and audition and try to get jobs. I don't think that would go so well for me," she laughs.
Fey laughs at herself often. On Weekend Update she became known for her self-deprecating humor–along with the signature glasses and razor-sharp wit. The combination of looks, smarts and humor quickly got her noticed. People magazine named her one of their 50 Most Beautiful People in 2003.