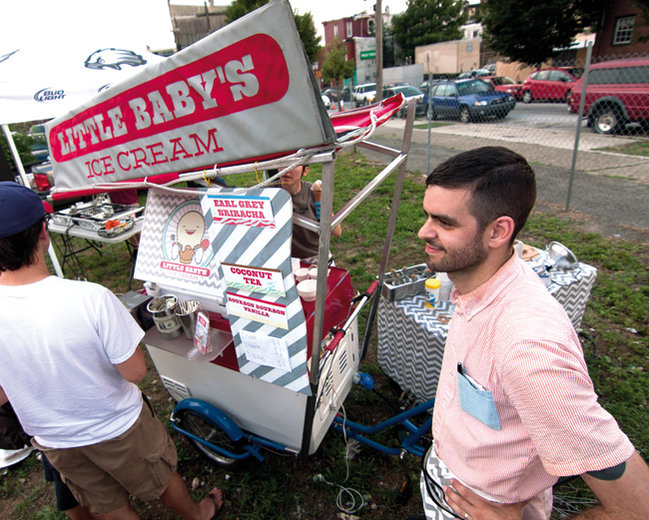 Pete Angevine, Jeffrey Ziga and Martin Brown, the three co-founders of Little Baby's Ice Cream, picked a hell of a day to unveil their new business. May 21, 2011: Judgment Day, according to an attention-grabbing Christian end-times cult, wherein the entire planet, Philadelphia not excluded, would be consumed by earthquakes, rivers of fire and various other unpleasantries.
But doomsday be damned, it was also the annual Trenton Avenue Arts Festival, featuring the ever-popular Kensington Kinetic Sculpture Derby. And Little Baby's Ice Cream was pedaling its own odd contraption through the streets to the revelry: a large, custom-made, blue-and-white tricycle covered in flashing lights, bearing a freezer box packed with tubs of bizarre ice cream flavors—Earl Grey Sriracha, Peanut Butter Maple Tarragon and Balsamic Banana among them—and blaring something like traditional music-box ice cream melodies, only reconfigured into trippy ambient soundscapes. Like Mister Softee meets Brian Eno.
Between the tricked-out trike (dubbed "Flavor Blaster One"), their ice cream-making equipment and some rented kitchen space, the trio had sunk seven months of planning and $14,000—most of their collective savings—into the venture, and they were mad nervous. Would their dessert experiment be a hit, or would it crash and burn?
As it turned out, the people went apeshit. Little Baby's sold out of all its flavors lickety split. The apocalypse never happened.
"We saved the world—" says Angevine.
"—with ice cream!" finishes Ziga.
Since then, Little Baby's has increased its fleet to four tricycles that appear regularly at Morgan's Pier and the Garden Variety weekend market in Northern Liberties, plus block parties, street festivals, outdoor concerts, private corporate luncheons, the Punk Rock Flea Market and other events. Last Friday, at the Philadelphia Mobile Food Association's pop-up food truck roundup in Brewerytown, Little Baby's boasted double the line of any other vendor, and when they ran out of ice cream, a man came up to Angevine and begged to lick the tubs clean. (Angevine politely refused.)
They've also established a popular kiosk inside Union Transfer, and they sell pints of their concoctions at such area stores as The Foodery, Green Aisle Grocery and Mariposa Food Co-op. They've got a staff of 14 part-timers. And on Friday, they'll throw open the doors of Little Baby's Ice Cream World Headquarters—their new shop at 2311 Frankford Ave. in East Kensington, which is attached to the forthcoming Pizza Brain pizzeria and museum.
In just a year, the upstart company has already become the most exciting development in ice cream in a city known for a couple of centuries as the "ice cream capital of the world."
Not bad for three guys with zero culinary or business experience before all of this.
Who Are These Guys?
Prior to birthing Little Baby's, the three founders were fixtures in the local music scene. Angevine, 28, played drums with the noisecore outfit Satanized and Philly/N.Y.C. dance-punks the Flesh. Ziga, 30, has drummed for power-punks Armalite and the post-hardcore band Gods and Queens. And Brown's a trumpeter lauded in avant-jazz circles who's also played with the Man Man offshoot ensemble Whales and Cops.
The idea for the company started off as a joke between Angevine and Ziga, who first met at a rock 'n' roll summer camp a decade ago. In 2009, says Ziga, the pair were throwing around ridiculous ideas, "like starting a band that does Christmas arrangements of Yes songs," when Ziga suggested they open an ice cream parlor. "I thought he was an insane person," laughs Angevine.
But the seed was planted. Angevine started making ice cream at home, and was soon inspired to try some crazy flavor combos in the summer of 2010 after a trip to the celebrated Humphry Slocombe ice cream parlor in San Francisco, where flavors like prosciutto, foie gras and "Secret Breakfast" (toasted cornflakes and bourbon) are on the menu. One of Angevine's own favorite early inventions: Zayda's Spicy Chinese Mustard ice cream.
"I came to recognize that ice cream is a blank canvas," he says, "and you can just let your imagination go wild."
Around the same time, Angevine discov-ered that Brown, another long-time friend, was also making ice cream at home, though he was perfecting more traditional flavors, like Rocky Road. In November of 2010, the three got together at Angevine's kitchen table and decided to start up Little Baby's as "a hobby, a fun thing to do on weekends," with taste buds pointed toward the experimental rather than the classic flavors. ("We are not going to make better chocolate ice cream than Häagen-Dazs," Angevine notes, "so what's the point?")
Brown enrolled in Penn State's world-renowned, week-long Ice Cream Short Course; Ben & Jerry's founders Ben Cohen and Jerry Greenfield are among its many notable graduates. In the hours between their regular jobs—Angevine did administrative work at the Philadelphia Mural Arts Program, Brown did similar work at the Pew Center for Arts & Heritage, and Ziga worked for concert promoter Sean Agnew's R5 Productions—the trio refined their ice cream-making skills and flavor development at a commissary on North Broad St., where they hand-crafted all of their product (production now occurs in the kitchen of their new Frankford Avenue shop). Following their successful debut at the Trenton Avenue Fest, they began treating the company like it was a band.
"That was the frame of reference we had," Ziga explains. "We were booking ourselves [at events], there's the gear we're bringing, you basically have to perform, and you hope there's enough people there to make it worthwhile."
Worthwhile it was. Weekend business was so profitable that the three quit their jobs at the end of last year (and have largely stopped playing music as well) to make Little Baby's their full-time endeavor. Though they all consider themselves hardwired for risk-taking, two of the three founders have endured near-death experiences that reinforced the idea of pursuing a promising opportunity: In 2007, Angevine underwent a liver transplant after acute liver failure put him in a coma for a week. And last November, Gods and Queens were touring Europe when their tour van crashed—Ziga shattered his collarbone and bruised some ribs, and he still can't believe none of them were killed. "Life is short," says Ziga, "so I'm just gonna make ice cream."
The Ice Cream, It Is Delicious
"It's still kinda funny I'm doing this considering how not-food-world I am," says Angevine. "None of us are."
That's fairly hard to believe when you taste Little Baby's ice cream. It's exceptionally rich and velvety, owing to the 16-percent butterfat content that allows the stuff to be marketed as "super-premium." The complex flavors are balanced perfectly, whether it's the delicate, citrusy bergamot getting a nice-but-not-too-potent slap of sriracha, or the way the slightly bitter, anise-like tarragon downshifts the sweetness of the maple syrup/peanut butter union.
"It would be irresponsible not to make something delicious," Ziga laughs.
Appropriately enough, Little Baby's makes what's known throughout the business as "Philadelphia-style ice cream," referring to the combination of milk, cream, sugar and flavorings. ("French-style" or "custard-style" involves egg yolks.) The company gets its dairy from Trickling Springs Creamery in Chambersburg, Pa.—which touts its "happy cows" and low-temperature pasteurization method for tastier product—and uses organic, locally sourced ingredients for flavoring. They also make several nondairy (vegan) flavors using coconut or almond milk as the base, and they're as rich and robust as their animal-fatted counterparts.
It's masterfully crafted stuff. But during their early trial-and-error stage last year, Angevine admits, there were a few misfires. Like, say, Champagne-and-Lucky-Charms ice cream.
"It was disgusting," he says.
"It was way funnier on paper," Ziga admits.
And then there was Duck Sauce Vanilla. "It tasted awesome, but the duck sauce has a weird consistency so it was kinda like eehhhhaaahhhhhh," says Ziga. "Something like that, you gotta deconstruct the duck sauce, which is basically preserved apricots and vinegar, so maybe we'll try that again someday."
Little Baby's has 21 flavors in the rotation now, from out-there concoctions like Hawaiian Pizza (which includes candied pancetta and pineapple), Vanilla Molasses Goldenberg's Original Dark Peanut Chews and Strawberry Pinkpeppercorn to the almost-normal Coco-nut Chai, Bourbon Bourbon Vanilla and Birch Beer Vanilla Bean.
Out on the streets, they've seen the same scenario play out thousands of times. "People look at some of the flavors and they're like, 'Ewww, that sounds nasty!' says Angevine. "And then they try it and they're like, 'Whoa, this is pretty good'—tellin' us like we didn't know."
Eat Your Heart Out, Andy Warhol
Making weirdly delectable (or, perhaps, delectably weird) ice cream is just part of the fun for Little Baby's—the endeavor's as much conceptual art project as dessert option. The tricycles are just the beginning, though it's worth noting that Angevine and Philly musician Jon Guez spent much time creating the "Music for Ice Cream" trike tunes by tweaking an old-fashioned music box from an old ice cream truck, then feeding it into a generative computer program to twist the melodies into ever-changing sonic shapes.
It's an example of the guiding principle behind everything Little Baby's does. "It's something that kind of appears to be very familiar and recognizable and maybe even nostalgic—like, 'I know this, I know what that sound means, it means ice cream'—yet it's just wrong somehow," Angevine explains.
Likewise, their new World Headquarters—designed with help from artist Jason Hsu of Space 1026—is intended to be a little disorienting. The garish colors, clashing patterns (zigzags are big here) and oblong shapes are inspired by two sources: the Memphis Group—a collective of Italian designers and architects active in the '80s whose aesthetic has been described as "a shotgun wedding between Bauhaus and Fisher-Price"—and Pee-wee's Playhouse.
And then there's the disturbing and hilarious Little Baby's promotional video on YouTube, in which an androgynous being—part human, part living ice cream—sits in a cone with a creepy smile while holding and ogling a cone in which a smaller version of itself sits smiling and ogling a smaller version of itself sitting in a cone, and so on ad infinitum in a recursive loop, while the deep voiceover implores, "If you want to lick something, lick us." (As seen on PW's front cover.)
"We love the absurd," Angevine says. Ziga explains that the trio is heavily influenced by the Situationist, Dada, détournement and culture-jamming art movements of the 20th century that engaged in pranks and spectacles and subverted common experiences as social or political statements, or simply to make life interesting. "I fully well admit that I have problems with the status quo," says Ziga, "so that's part of what I bring to any table I'm sitting at."
And so they're dreaming up more weird-ness. Guerilla projections around town. A Rube Goldberg-style change dispenser on the World HQ ceiling. ("A completely inefficient system that takes two minutes to give you your change, but how fun is that?") Even a vending machine that's actually a "crane game" where you put your dollar in and try to get an ice cream sandwich—"and maybe you won't get it!" Ziga says, cracking up.
"It disrupts the everyday," says Angevine, "and that's what we're after."
It's A Feeling
"It's a feeling"—that's the Little Baby's slogan. On one level, it refers to ice cream's universal appeal. "It's an emotional experience that just about everybody can relate to," Angevine says.
But on another level, it's about creating a new feeling in people, one they might normally be reluctant to open themselves up to, and that's what the weird flavors and visuals and sounds and stunts are all about. For Little Baby's, ice cream is not only the blank canvas to add any flavor you can dream up, it's also the delivery system for the philosophy that lots of great, exciting things exist in the world if you're willing to step outside the box.
"Ice cream's a comfortable vessel in that it's something you're familiar with, but really this is a front to give you a new way of looking at life," Angevine says. "Ice cream brings people together and makes them happy—there's no arguing that—but I think we found this cool way to do that and still slip in something that messes with people's expectations and gives them this new, weird, memorable experience."
"Obviously someone's not gonna be trans-formed after eating an ice cream cone from our shop—I don't think," says Ziga. "But maybe it'll nudge people in an interesting direction, where they'll be more open to trying things out of their comfort zone."
"The best way to explain the 'feeling' is it's this sensation of being confused and grateful at the same time," Angevine concludes. "It's just like my experience making and listening to music, where it's bizarre and you have no frame of reference and you're like, 'I don't know what's going on here, but I love it!!' That's the best feeling. I want that to happen in your mouth."
The new Little Baby's Ice Cream parlor opens Fri., Aug. 3, 5pm. 2311 Frankford Ave. littlebabysicecream.com