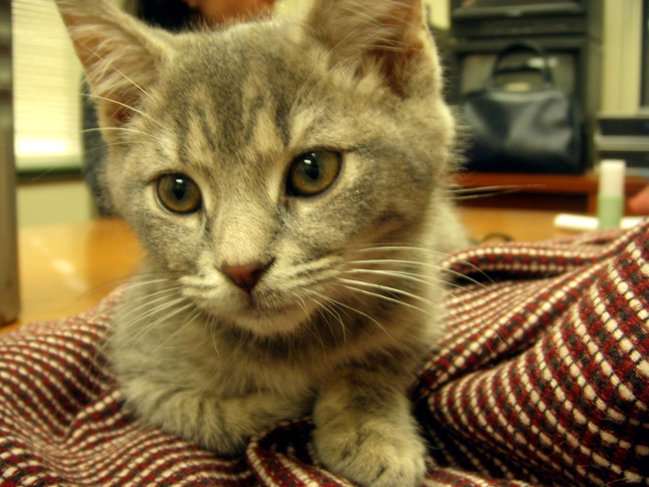 It's been a bad year for the Pennsylvania Society for the Prevention of Cruelty to Animals — but not as bad as for Philadelphia's homeless animals.
After fighting tooth and nail for Philadelphia's animal control contract, the PSPCA won a six-month contract that began January 1. Then, as controversy haunted the organization all over Pennsylvania, CEO Howard Nelson suddenly resigned and vanished into the ether, leaving the job in the hands of the part-time volunteer board. Then animals reportedly got so sick rescue partners began to refuse to accept more cats or dogs from the shelter.
PW reported on rescue organizations' allegations of sick and dying animals, ongoing vaccination delays — and questioned the real outcome for cats and dogs shipped from the shelter on Hunting Park Avenue in North Philadelphia to one a couple miles away on Erie Avenue: Were all of those animals actually adopted? Or were some euthanized, then not calculated into the final save rate?
After the story ran, Councilman Jack Kelly reamed out the Philadelphia Health Department, overseer of the contract, and called for public hearings to investigate mismanagement of the contract.
After writing a public letter denying the allegations, interim CEO Beth Ann White copped to vaccination delays just as extremely contagious virus feline panleukopenia ripped through the shelters. Eventually, the board admitted that some of the animals transferred from Hunting Park to Erie Avenue were indeed euthanized at Erie; officials promised re-calculate January and February live release and save rates to become "more accurate."
Meanwhile, "rescues" such Barry Watson began to emerge from behind the cloak of anonymity. Most of the rescue partners and organizations who spoke about the failing health of the animals and deteriorating shelter conditions had requested to remain anonymous, citing fear that PSPCA would vindictively ban them from the shelter. Watson said enough was enough, because almost all of the animals they were pulling from the shelter were dying.
Then came the "strep zoo," an infection that swept through the shelter, killing some dogs. The hearings called by Councilman Kelly for June 9 was postponed until September. PSPCA's contract with the city expires June 30. And the board finally hired a CEO: To the shock of many, after criticizing former contractor Philadelphia Animal Care and Control Association at nearly every opportunity, PSPCA's board hired Sue Cosby, PACCA's former chief operating officer.
Baptism by fire, shit storm, train wreck: These are the nice ways to describe the situation that Cosby is hurling herself into.
Earlier this week, Cosby talked with PW about her role at PSPCA, her vision for the city's animal control, and what a long, strange trip it's been.
Have you begun as CEO of PSPCA yet?
I'm putting two days a week in New Jersey just because I had to start my job at PSPCA quickly and wasn't able to give adequate notice, so I'm juggling to the two.
How long will that go on for?
Either until they hire my replacement or until the end of this month… I have to leave anyway, and by working two days as week it's about what it would have been if I had given them a couple weeks notice, so we're just spreading it out.
What's your history in Philadelphia animal control?
In Philadelphia, I've been in this area for several years. In 2004, I was watching the articles that Stu Bykofsky had done for PACCA at that time, and I had come to the conclusion at my previous job—I was an assistant to the director at a shelter and I wanted to make a move. I hadn't necessarily planned specifically to go into animal control, but I followed the articles with tremendous interest and the City Council hearings and when they did make an announcement that they were seeking an executive director, I applied. I ended up not getting the executive director job but I was hired as the chief operating officer. I started in June 2005.
What were your duties as the COO of PACCA back then?
The COO is basically responsible for being both knowledgeable as well as orchestrating all of the different facets of the operation. So in that facility, we had everything from the basics—everything from cleaning the bathrooms to cleaning the animals to just maintaining everything, all the way up to the field services, shelter medicine and clinic services. As COO you have to really have a very general knowledge about a lot to do with sheltering and you have to be able to be very bold in learning different things that you're not familiar with, because you have to coordinate and orchestrate all those different departments so they're working together.
So it was really liaising and logistics?
Yes, a lot of just really—some people call it like being the glue holding the different departments together that have competing ideas of how things should be done, or the conductor of the orchestra helping everything happen together.
OK. So when and why did you leave?
I submitted my resignation in 2007. I think I gave a little over two months notice to give PACCA a chance to hire someone to replace me, because I knew that that high-up a position, particularly in the summertime when it's the busiest time, I wanted to give them every opportunity to find a replacement.
I left because, at the time there was really an air of conflict—not to say it doesn't exist there now—but there was not a cooperative working environment and I saw that although we had made a lot of changes in the first two to almost two and a half years I was there, I saw myself start to feel as thought I was treading water, and I thought it would be really good if somebody else had the opportunity to come in and start to put up a good fight, a set of fresh eyes.
It was a combination between that and that the opportunity came up where the shelter that we worked at previously, the executive director had taken a job out of state, her husband had moved, and they had not yet found a replacement, so it was kind of a juxtaposition of both things.
What job are you leaving right now?
The Animal Welfare Association.
How would you describe the differences in your new role as CEO of PSPCA and your previous role as COO of PACCA?
The CEO's role is slightly different, because I see a CEO role, or the executive position, as doing a little bit less of the conducting and hands-on coordination and more of the outward vision, helping build the programs and operations to really stretch and reach for the vision of what the organization wants to be and do. Like at AWA, we have had since 1975 a low-cost spay and neuter clinic. Since I knew that one of the priorities, the vision for this organization was really maximizing the capacity of that clinic, and if I stayed here longer or the new person coming in, I really hope they would continue that by expanding the size of the clinic. So I see that role as a little different because you have to incorporate that outward vision whereas a COO is really concentrating on your operations, how it's running.
Now that you're stepping in, it's baptism by fire. It's been rocky. As everyone knows, PSPCA severed relationships with other animal welfare organizations, then there's the vaccination delays and data problems. What are the priorities for the organization right now?
I actually developed a plan for myself for the next year. The thing I did not include on the plan is having the strep zoo situation. For the last two weeks I've had my hands full dealing with that, and I'm very happy with the way the staff has really jumped up. We've done things and handled things in ways that I don't think were the way things were done before, so that's always challenging for staff. But they've really stepped up to the plate and were really working their butts off to try to accomplish it without seeing the deaths of a lot of animals.
It's definitely not perfect, because as you said, you're coming in sort of on the heels of this chaos, and it's an organization that has had now leadership change two times—three times if you want to count the transition on December 31—three times in six months, which is very difficult for staff. They're looking for leadership and they're looking for direction. So the first thing for me was to help provide some leadership and direction so we could solve the problem that happened with the strep zoo.
The next thing, and something that I've been working on in tandem with this, is the contract with the city. They've been exceptionally cooperative and open to different ideas that we have to make that happen. Going beyond that, I've already started restructuring basically the different departments, I'm taking a look at how things run, how things don't work, kind of a top-to-bottom analysis, and to do that I've really been counting on some outside advice and trying to bring in a few more people come in and assist me with that. Because I kind of have my hands a little full, but I still know that that's really critical to making any changes.
Who are the external people helping? Are you in contact with Nathan Winograd?
Actually I have worked with Nathan for many years. He is a close friend and a mentor. So he is definitely one of the people I reach out to for advice. And Barry Stupine, who is at the University of Pennsylvania, he is going to be coming on board with the PSCPA after he retires from U Penn in July. In the meantime, he's been a really valuable for me to turn to, particularly over the financial stuff regarding the organization and the contract. He's just been a huge help, a huge help. And we're bringing in two more people this week—I'm not at liberty to say who they are—but they're experts who will provide us with auditing of the financial operations as well as some of the departmental things that are going on, to try to provide me with a snapshot of what we can do to change things.
Are these going to be new paid positions, or are these people coming on in a board capacity?
No, these are just people who I know who I respect their business acumen who I've asked to come in and help.
So they're volunteering?
Some of them are volunteers, some people we've offered to pay them for an analysis. It's a combination.
Where are we at with the strep zoo situation? Is that completely resolved at this point?
The protocol that has been put into place for treatment by the veterinarians is in the process of being done, so the bacteria actually is killed very rapidly once you start penicillin. I've heard it's as rapidly as they're not contagious in 24 hours. But we're still taking every precaution by not mixing the dogs between the shelters; we're making sure we keep an eye on the animals that we know were exposed for the entire time of their treatment. So it's good in that we've been able to stop the illness and deaths from strep zoo, pretty much as soon as the treatment started. But we still have to monitor them. Because they're still in that environment, and they've been exposed, and it's a difficult situation in that building, it's just a high-stress environment. There's something that made it happen to begin with so we're being cautious without being overly alarmist.
Going back to the contract, the current contract expires June 30. You said you were working with the city to explore new and different ways to make a renewal happen. Can you speak to any of those ideas?
Actually I would like not to talk about specific things, because I haven't presented them officially to the city. I have been talking to city representatives casually at night, on weekends, so they're prepared with what we are going to offer and none of it seems to be a problem. The city has also come up with their own set of suggestions for how they could assist with cost. I think between the two of them, we're going to find a way to make this work. We'll be meeting with them this week to officially present that but I hesitate to say anything now because if it turns out we don't do that …
So that's June 30. Does that mean that we, meaning the public, should know what's going on by July 1, or is there a grace period of some kind?
I think Jeff [Moran, Director of Communications for the Health Department, who sat in on the call along with a PR representative] would know more than I particularly about the city contract process. I know that it has some things that it has to do but I think we can reach an agreement pretty rapidly on what's going to happen. If we had any issues, I believe already on the table was an extension of the current contract, so it's not like there's going to be no animal control as of July 1.
So you're saying PSPCA is definitely interested in renewing the contract?
Yes, absolutely.
OK. Because there was some talk from [PSPCA board president] Harrise Yaron that that might not be the case.
To address that specifically, part of my job and part of the skills that I come to the table with is that I have to be able to problem solve, and I have to be able to problem solve for the benefit of the organization and for the animals.
When I interviewed for this position, I realized that the city contract was part of it, so I'm well aware of all the situations that lead up to the PSCPA getting the city contract, and so I completely understand that dropping the contract is not in the best interest of the animals and I don't believe it's in the best interest of thePSPCA . If when we had our first meeting, if the city had said, 'We are not willing to work with you and we're not willing to budge,' I might be looking at this differently, but that's not at all what they said. It's been a very good process so far.
OK. Both in my interview with some of the PSPCA Board members and in Stu Bykofsky's articles in the Daily News, the figure $1 million additional dollars to renew was stated. I know you don't want to speak to specifics, but I need to ask if that is on track.
That was the original budget that had been on the table. It would have put the PSPCA in a hole for actually over a million dollars. My role is to solve problems. I don't know that anyone had given their full attention to trying to solve the problem. I think that recognizing that there is a deficit there is the first step, and then really doing an analysis to try to figure out what we can do to salvage this and to make it work, that's the second step. And I can't imagine that the board had anyone at that time who was really providing them guidance on how to do that. It's daunting even to me knowing operations like I do, so I can sort of put myself in their shoes not really knowing how this could get done. Even for me looking at it, I'm like, this is one of the toughest problems that I'm ever going to have in my life, and that's my job to do this. The board members are passionate about the organization, but they do have careers and lives that are not about running shelters, so I wouldn't expect them to be able to find those answers.
I think the broader question that readers would be interested in finding out is your thoughts and goals on no-kill.
I'm a very passionate advocate for no-kill. A lot of people who have worked in high-volume shelters maybe come to the conclusion that no-kill is impossible. My belief in no-kill communities was reinforced by working at PACCA as opposed to being run down. Ultimately, that is something that I think the city can achieve and that's my goal, that's my ultimate goal. Realistically I know it can't happen overnight, but it's probably the most important thing to me in my career and my life, to save the lives of animals wherever possible. That's how we operated 2005 to 2007; we really worked toward achieving that despite being thrown in a similar chaotic situation as now.
When you say you're going to be working toward making Philadelphia no-kill, some people quantify it and say that translates into about 90 percent for a live release date. What does no-kill mean to you?
It actually has less to do with percentages and more to do with counting our savable animals. I helped create the lifesaving matrix for the No-Kill Advocacy Center that defines savable versus not savable. I'm the person who put feral cats into the savable column, so if they're killed in a shelter, they are to be considered savable and you can't be no-kill until you're able to do a comprehensive TNR [trapping, neutering and returning] program in your community.
So that's really what it comes down to: savable versus not savable. And it's pretty specifically defined in that matrix. And the numbers are going to vary by your community, and by the year and by what you see in your shelter. It's not random, it's not something you can make up on the fly. We all might argue a little bit on, you know, when does a dog have an aggressive problem that is not manageable or savable, and there's always going to be someone who thinks every single dog is capable of being rehabilitated, but I've written about this before: The majority of your dogs are savable and the overwhelming majority of your cats are going to be savable, so that's kind of what it comes down to. The numbers that a lot of shelters have come up with for—and the reason the 90 percent number is thrown around—is that in the shelters that are open admission and no-kill, approximately 90 percent of the animals leave alive. The core definition is saving the savable animals.
To that end, PSPCA needs to improve and strengthen relationships with rescue partners and organizations. How do you see doing that in the climate that you walked into?
I don't see that as a major hurdle, because we had no relationships with rescues when I got there in 2005. As a matter of fact, a very good friend of mine who runs a rescue, sent me a photograph that she had taken that had a sign up at PACCA in 2004 that no one was allowed to call a rescue, and had her name posted on the wall! And we turned that around to develop a huge network of rescues so I don't see that it's going to be a big problem again, to do that. It just involves rebuilding relationships.
One of first phone calls I made was to Barry Watson. Barry was there in 2005 and Barry was able to see the changes that we made, and he told me, I mean you can talk to him, he told me that 2007 was the best year, and for me that was the year that we had achieved the greatest lifesaving while I was there, and he told me personally the disease rate had gone down, dramatically, since prior to our coming on board in 2005 and he was really happy to work with us. So I already put that call into him, he has my cell phone number and he can call me anytime. We haven't made all of the changes yet (laughs) because it's kind of crisis right now with getting everything situated, but those changes are going to come and they're going to come sooner rather than later.
Since we're talking about no-kill and the statistics—I think it's confusing for the public to go to the website and look at save rates and live release rates since the methodology has switched, so…
I'm not a big fan of publishing percentages and I have talked about this to the city. They have some disagreements–they probably would like to continue to see us publishing percentages, but I actually like to publish actual numbers. If people want to figure out their percentages, people can do that. Now the city might want to require us to publish something different—that hasn't been decided yet—but in my opinion, everyone can write their own definition to a certain extent of save rate and live release rate, but what really matters most is how many animals have come in the door, how many animals have died, and how many are left alive. And in that number that's left alive, are your adopters and rescue partners happy with what has happened in the transaction? Those are the numbers I care about.
I'm a big fan of raw data and you'll probably not necessarily hear me talking too much in percentages in the future and a little bit more with raw numbers.
There's been talk of a citizen board for quite some time. Do you anticipate that being a priority in the new contract?
They actually already created it prior to my getting there—
I heard that, yet it's impossible to find any information on it—
Well I went to a meeting of theirs, which wasn't their first meeting but it was my first meeting on the first day I was there, and I was completely exhausted so I don't know if I made any sense to them. But one of the things they did talk about was right now, they're working very closely with thePSPCA board of directors, which I thought was great for them—just to get started. But I told them I'd really like to see them move to be more of an independent community type of board. But I literally have not had any time to work on that right now.
But yes, I perceive them as being a little bit more community-based. I see them as being independent, as opposed to being a part of thePSPCA . And that will be kind of their ball to run once I help them with maybe changing their mission a little bit. Right now I think there are many concerned individuals who have been worried about things and how they were going who are on that board, and I really hope that as we're able to make changes that their concerns over the day-to-day stuff is gong to be able to drop back and, you know, they're not going to be the ones planning adoption events, that's up to thePSPCA to take the lead on that. And then the community board can talk about broader issues within the community.
If there is a problem, it would be the watchdog group that would see that, but I really see that some of these issues are going to be cleared up.