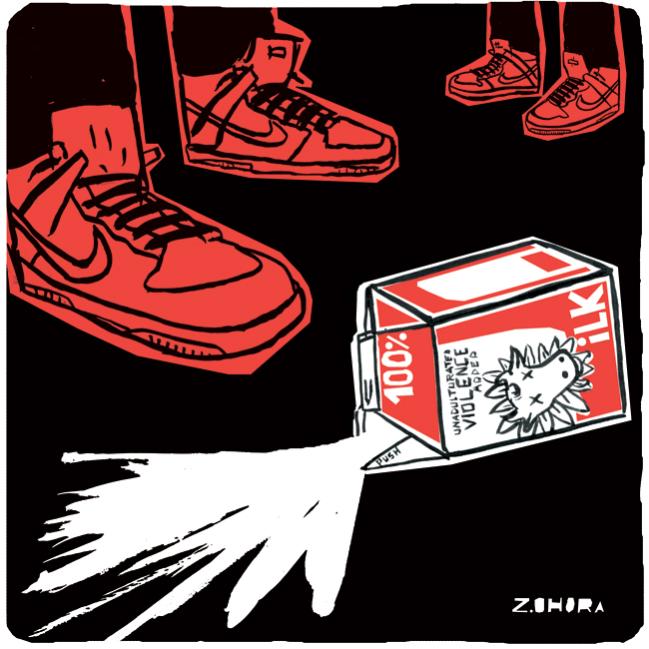 Wei Chen sits at the table, opens his backpack and unloads folders full of paperwork documenting alleged abuses against Asian immigrant students at South Philly High.
"Sometimes it's the same student in many fights," says Chen, pointing to a day planner that is full of Chinese writing, listing the troubles of each particular day.
"Some kids get picked on a lot."
Dozens of the alleged incidents are relatively minor—name-calling, verbal threats, petty robberies, random punches in the head while walking down stairwells, and general intimidation. But according to Chen, at least six times last school year those minor incidents escalated into massive rumbles where outnumbered Asian students were pummeled by packs of teens, sending several of the victims to hospitals. Like the day last October when a group of around 30 kids allegedly attacked five Chinese students after school in the Snyder Avenue subway station, one block from school. That incident started when a black student walked up to a Chinese kid in the cafeteria, touched his hair and allegedly threw a carton of milk at him. Rumors of threats filtered through the school on the day after the subway rumble, and the notion of continued violence froze Asian students.
"That day, all the Chinese students were very scared," says Chen, an 18-year old senior who formed the South Philadelphia High School Chinese-American Student Association in the days after the alleged subway attack. "Students avoided the lunch room. They were scared to walk home. They stayed in the ESOL (English for Speakers of Other Languages) department until their parents picked them up."
Many Asian students continued living in fear for the remainder of the school year, even after one of the alleged subway assailants was identified on SEPTA cameras and transferred to another school. In a cry for help, scared students signed petitions, wrote letters, held meetings, staged a walkout and pleaded with school administrators to do something about the attacks.
But the violence at South Philly High, listed among the state's "persistently dangerous schools" for the third consecutive year, continued.
The litany of abuses isn't limited to South Philly High. Male and female Asian students—especially those new to the country, who speak little or fractured English—have been targeted over the past few years, in schools from the Northeast to South Philly, in elementary and high schools. Students and activists say that Chinese, Vietnamese, Cambodian, Pakistani and other Asian youth have been singled out, assaulted in cafeterias, hallways, on city streets, school buses and everywhere in between.
Kids say the violence has often been dismissed by school safety officers as well as administrators. "This is a cultural problem," Wei Chen claims the former principal at South Philly told Asian students on the day after the subway rumble.
District officials acknowledge that some situations weren't handled well, leaving many students feeling abandoned.
"There's a lot of mistrust," says comprehensive high school regional superintendent Michael Silverman. The impact of the violence on such vulnerable populations can have a major impact on their lives, activists say.
"We've heard of students not going to school—as young as 8th and 9th graders," says Khin Mai Aung, a staff attorney with the Asian American Legal Defense and Education Fund (AALDEF).
"Some kids drop out. Others just become less involved and perform poorly. They can't learn when they don't feel safe."
Where administrators or the School District intervened, improvements in student relations improved and the violence decreased—the number of overall violence in the district decreased by 17 percent last school year. But the culture of violence against Asian immigrants has existed for so long at some public schools that students almost accept that random beat downs are a part of life.
During the weeks prior to the subway rumble, there were numerous confrontations at South Philly High, according to student incident reports.
Eight students emptied the pockets and school bag of a Chinese student in the bathroom on Sept. 9, five days into the school year. The next day, Asian students were bombarded with oranges in the cafeteria. Several other students were robbed that month, or beat up. One Chinese student was punched in the left eye while walking through a hallway on Oct. 6. Another student was jumped in a stairwell the following day. During the week before the subway rumble, a Vietnamese student and his friend were jumped by 10 students, on several consecutive days, while walking home from school.
"They don't even know you," says Chen, who barely spoke English when he emigrated from China to Philadelphia in January 2007. "They just hit because you're Asian."
By Oct. 8, two days after the subway rumble, the Asian students were fed up. Nearly 70 students signed a petition demanding the school take action. They presented the petition to teachers and the principal. Then the Asian students walked out of school.
"We didn't think that day would be safe," explains Chen. The students were marked absent. No new safety measures were added. One month later, Asian students were jumped in the ESOL classroom.