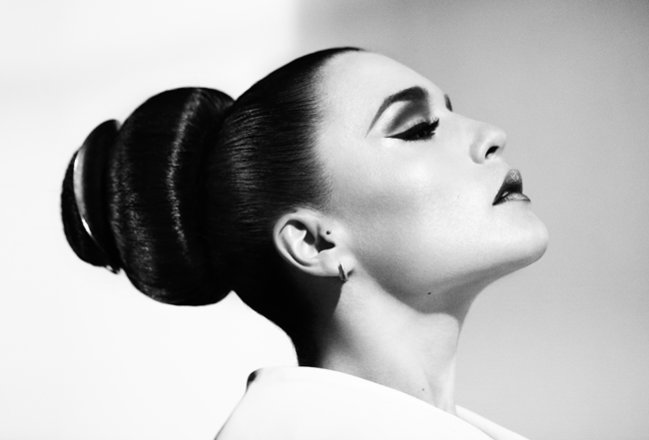 I like making lists like this one. They serve as an archival resource—a permanent snapshot of a fleeting cultural moment. Even when they're not definitive, then, they're useful.
You'll probably detect my stylistic biases here, naturally; I'm not that into noise, punk, contemporary jazz, metal, country or modern classical music. Those are just not my lanes—and I'm cool with admitting it—so someone who's really into those genres is gonna bug out if they feel like taking this list super seriously, which I don't recommend. But when I look at it, I see a lot of women, which makes me happy, not too much hip-hop, which makes me sad, and a few extra fresh faces, courtesy of Tove Lo, FKA twigs, Kindness, Jungle, Sam Smith and Alvvays. (It's also worth saying that if a few months at the end of 2013 could be considered fair game, then Beyonce and Sky Ferreira would've been in the top five.)
Even though I spent an unnatural amount of time trying to make this list right and tight, I will have missed a few. That's why there are 20 honorable mentions. Feel free to tweet us @phillyweekly with the stray orphans you think should've found a home here. Meanwhile: bookmark 'em, sample 'em, buy 'em, own 'em. Or, hell, take this paper to AKA, Best Buy, Repo Records or Long In The Tooth. Jessie Ware on vinyl is divinity. Oh, and fuck Iggy Azalea. Also, Azalea Banks is an idiot—even though I love her.
Happy New Year, and happy listening, y'all!
50. Taylor Swift, 1989
49. Sylvan Esso, Sylvan Esso
48. Schoolboy Q, Oxymoron
47. Real Estate, Atlas
46. Jungle, Jungle
45. Parquet Courts, Sunbathing Animal
44. Temples, Sun Structures
43. Royal Blood, Royal Blood
42. Sharon Van Etten, Are We There
41. Elbow, The Take Off and Landing of Everything
40. Jenny Lewis, The Voyager
39. Merchandise, After the End
38. Alvvays, Alvvays
37. Flying Lotus, You're Dead!
36. Paolo Nutini, Caustic Love
35. Big K.R.I.T., Cadillactica
34. Damon Albarn, Everyday Robots
33. Kate Tempest, Everybody Down
32. YG, My Krazy Life
31. Banks, Goddess
30. Jamie T, Carry On The Grudge
29. Hurray for the Riff Raff, Small Town Heroes
28. Freddie Gibbs & Madlib, Piñata
27. The War on Drugs, Lost in the Dream
26. Vacationer, Relief
25. Miguel, NWA.HollywoodDreams.Coffee
24. Perfume Genius, Too Bright
23. Sun Kil Moon, Benji
22. Beck, Morning Phase
21. FKA twigs, LP1
20. Neneh Cherry, Blank Project
19. Sia, 1000 Forms of Fear
18. Kindness, Otherness
17. Mac DeMarco, Salad Days
16. Tove Lo, Queen of the Clouds
15. Caribou, Our Love
14. Run the Jewels, RTJ2
13. Lana Del Rey, Ultraviolence
12. Lydia Loveless, Somewhere Else
11. Ed Sheeran, x
10. Little Dragon, Nabuma Rubberband
9. D'Angelo, Black Messiah
8. Sam Smith, In The Lonely Hour
7. Lykke Li, I Never Learn
6. Future Islands, Singles
5. Aphex Twin, Syro
4. St. Vincent, St. Vincent
3. Angel Olsen, Burn Your Fire For No Witness
2. Todd Terje, It's Album Time
1. Jessie Ware, Tough Love
Honorable mention: Stars, No One Is Lost; Perfect Pussy, Say Yes To Love; SOHN, Tremors First Aid Kit, Stay Gold; Wild Beasts, Present Tense; Tricky, Adrian Thaws; Hiss Golden Messenger, Lateness of Dancers; Ex Hex, Rips; Robert Plant, Lullaby and … The Ceaseless Roar; Hozier, Hozier; Jack White, Lazaretto; Avi Buffalo, At Best Cuckold; Swans, To Be Kind; East India Youth, Total Strife Forever; Sturgill Simpson, Metamodern Sounds in Country Music; The Bug, Angels & Devils; Ben Frost, AURORA; Cloud Nothings, Here and Nowhere Else; Thom Yorke, Tomorrow's Modern Boxes and Hospitality, Trouble.