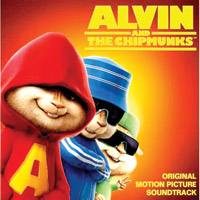 Alvin and the Chipmunks
Original Motion Picture Soundtrack (Razor and Tie)
Hearing imaginary chipmunks sing Daniel Powter's power ballad "Bad Day," complete with dramatic echoes, is creepy and quite possibly evil. It's also a lot like those Kidz Bop versions of Top 40 hits sung by a choir of children–absurd but possibly charming from the perspective of a toddler.
Like its cinematic counterpart, which casts the ubiquitous Jason Lee as the Chipmunks' minder/bandleader and David Cross as a corporate schmuck, this soundtrack gets some things right. Original 1958 versions of the snuggly hits "The Chipmunk Song (Christmas Don't Be Late)" and the scat-inspired "Witch Doctor" are included, but then so are heinous reworkings of each.
One take on their Christmas classic simply updates the instrumentation, whereas the "Deetown Rock Mix" inserts Lee's voice and simple mall-punk riffs into the familiar structure. It's not so bad, really, provided you were ever a teenager. A glossy pop-rap bastardization of "Witch Doctor," though, has a lobotomizing effect.
More embarrassing still is Alvin, Simon and Theodore's chunky duet with Jason Gleed on "Follow Me Now," which sounds like over-caffeinated Everclear. Ditto their pairing with Rebecca Jones for the faux-reggae "Come Get It." Elsewhere, in the same spirit as Disney's 1979 release (and used-bin filler ever since) Mickey Mouse Disco, the pint-sized mammals lend their hyper vocal stylings to the perennial party starter "Funkytown" and the slow-dance classic "Only You (and You Alone)," the latter with a brief rap interlude.
Those two are actually fine–silly but sort of cute. Not so with some of the film's original tunes. "Original" is a loose term, considering the big track here is the R&B; banger "Ain't No Party," as in "Ain't no party like a chipmunk party/ 'Cause a chipmunk party don't stop." (It's okay to shudder.) "Get Munk'd" is basically the same song, but with just a little more sexual subtext.
Of course kids will be kids. We can pray they'll listen to the Beatles instead of ringtone rap, but we shouldn't hold our breath. And as needling as the worst songs here are, the original "Witch Doctor" and "The Chipmunk Song" remind us why these varmints were ever a pop-culture phenomenon to begin with. And yes, that Alvin still pines for that hula hoop.