Trigger Warning: This article contains themes of loss of a loved one and LGBTIA+ and racial discrimination. 
One of the biggest lessons life seems to teach us is that all too often, life has other plans for us than the ones we make. I've always admired the vulnerability of telling a personal story in hopes that it can help others dealing with similar issues. Art connects us and is able to break open possibilities and provide hope through the lens of the storyteller.
Mel Orpen—a Queer Filmmaker/Writer/Director who was born and raised in Bucks County, PA, and currently resides in Los Angeles, CA—has done this thoughtfully and beautifully. After a personal tragedy led her back to Philly, she turned to activism and politics to try to help prevent what happened to her from happening to others. Love, loss, and personal injustices eventually led her to USC Film School, where she was able to take all of the lessons she learned and turn them into something bigger than just herself and her experiences.
Right before she headed to France for the American Pavilions' Emerging Filmmakers showcase at Cannes, I sat down to talk about how getting the phone call that no one wants to get led her to honor her fiancé's memory and learn to intersect all of her skills and passions to help others.
Sometimes what we think our path will be and what our path actually is differs vastly. It takes a great amount of courage, wisdom, and perseverance to grow through the pain, be gentle and kind to yourself during the process, and use what you learned to help others.
After college, I moved to Madison, WI for an internship. I was working for my favorite publishing company, Tor Books and St. Martin's Press, and all of sudden, I fell in love with a woman that I worked with. It took me a number of weeks to figure out what was happening because I had no idea that I was Queer or could have a same-gender attraction. It was like a slow lightning strike. I never dated her, but it taught me something about myself and it led me to meet my fiancé, Jenna, who worked at the same publishing company but in our NY office.
We fell in love and got engaged and it was the happiest I had ever been. We were thinking about the future. About a month after we had gotten engaged, she missed our weekly phone call. I got a call in the middle of the night from people who don't know me and are just dialing back the last number to see if they could find someone who knew her. They told me that Jenna was in a coma and had been taken to a hospital in Brooklyn. That started the series of events that dramatically changed my life.
I'd taken a new full-time job and told my employer I needed two weeks off to be with my fiancé in the hospital because that's what the Doctor told me. After the first week I called in and they told me not to come back to work. They fired me for being gay. I was very confused and it dawned on me and I was like "Well, I don't have time for you because the person who needs me is Jenna." Unfortunately, Jenna passed away because she was too seriously injured to survive.
After Jenna died, I was having horrible panic attacks and I was barely getting through the day. After struggling through a series of day jobs that included getting harassed by another manager for being gay, I went to live and work at a holistic health and education center in upstate NY that was more accepting and my whole life just got slower and calmer. I was in service to everyone every day. The staff was made up of this beautiful community of artists just making things without any pressure around our work and that was so healing.  I spent two years there, and I came back to Philly and got involved in politics and activism, which eventually led me to film and storytelling.
Jenna was an absolutely inspiring person. She had helped her family when her mother was dying. She helped raise her sister. She got herself out of abject poverty and addiction. She was not addicted, but both of her parents were. She got herself into a good High School and got herself a full ride to college before she dropped out to take care of her former partner when they had a mental health crisis. She was the youngest person to make editor at our book company. But her real dream was to go to fashion school. We constantly talked about how we were going to make it happen. She never got to go. And when she died, I reflected that I was allowing my creative life to be around the edges of my working life. If I didn't center myself on what I truly wanted to do, like Jenna, I might not get to do it. If I truly wanted to honor her memory, I needed to change my life. And what I learned through politics was that it was the stories that had a huge impact. I was like "I need to find a way to put storytelling for social justice at the center of my life."
Don't Let Go, a film you created during your first year of Film School at USC, is loosely based on that personal story. It has won many awards and was recently screened at the American Pavilion's Emerging Filmmakers Showcase in Cannes on May 24th. 
When I went to USC, I was ready to go all in. I was like "You know what, the people who make it invest in, bet on, and believe in themselves. Don't Let Go started off as my first-year film. I had a really important mentor, Jennifer Warren, who said, "The one thing no one else can ever own and that's different from everyone else is your personal story." Immediately the whole situation with Jenna jumped out and I was like "That's so personal. I don't know if I can share that." And then I sat with it and was like, "You know what? This could help people."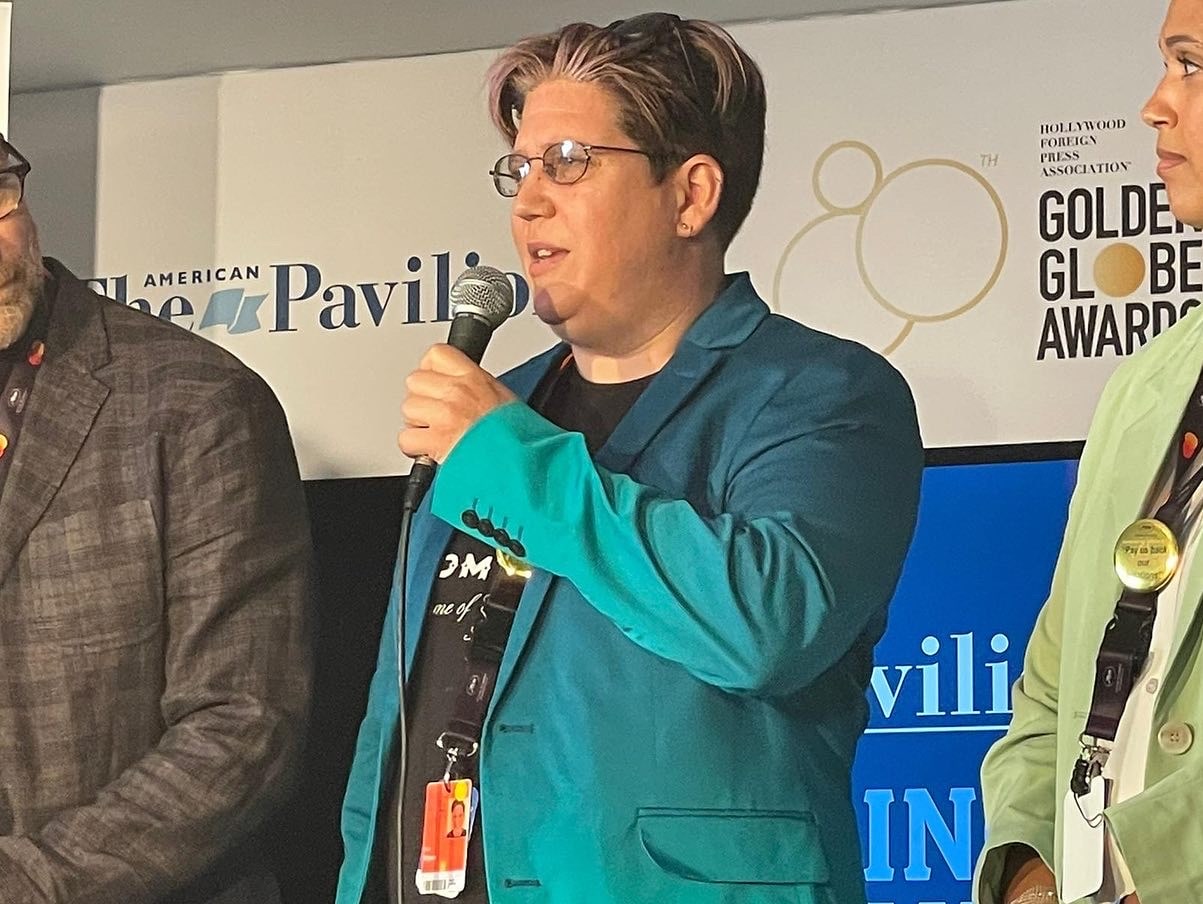 I had been inspired by the work of Ava DuVernay's personal storytelling in Middle of Nowhere and Dee Rees' beautiful film Pariah. Pariah was about Rees' experience as a Black, Queer woman who was masculine of center coming out to her family and not getting supported, and how she found a way to create her own sense of place and space and existence in the world. My goal with Don't Let Go was to make the best film I could possibly make and honor Jenna's memory, but also just honor our love. I thought, "Straight people get up every day and propose and they have cute moments of surprise and they get engaged and love each other. And straight people every day think they're going to tell their families and they're going to be accepted." But the difference here is Reggie's mother wasn't accepting.
In the hospital when Jenna was dying, her family decided that I wasn't going to be allowed to talk to the doctors or advocate for any of her wishes. I just felt really helpless. I'm the one who called her family and said "Let's take all of the things that we know about her history and her medical conditions—because it had to do with a chronic ailment she had—and work together as a team to make sure we focus on our love for Jenna and what's best for Jenna." But they wanted control and wouldn't let me be involved. So all I could do was visit.
In Don't Let Go, Sam has to find that place that I eventually found, where I was like "I don't want to argue and I like to get along with everyone, but I have to figure out how to be stronger, because if I'm not stronger, then the bullies win." I didn't want Reggie's mother to be a villain either, completely. I wanted her to have complexity, and I wanted her to be able to change.
I think of "Don't Let Go" as a love story even if it's sad. The kind of love that inspires us to change for the better.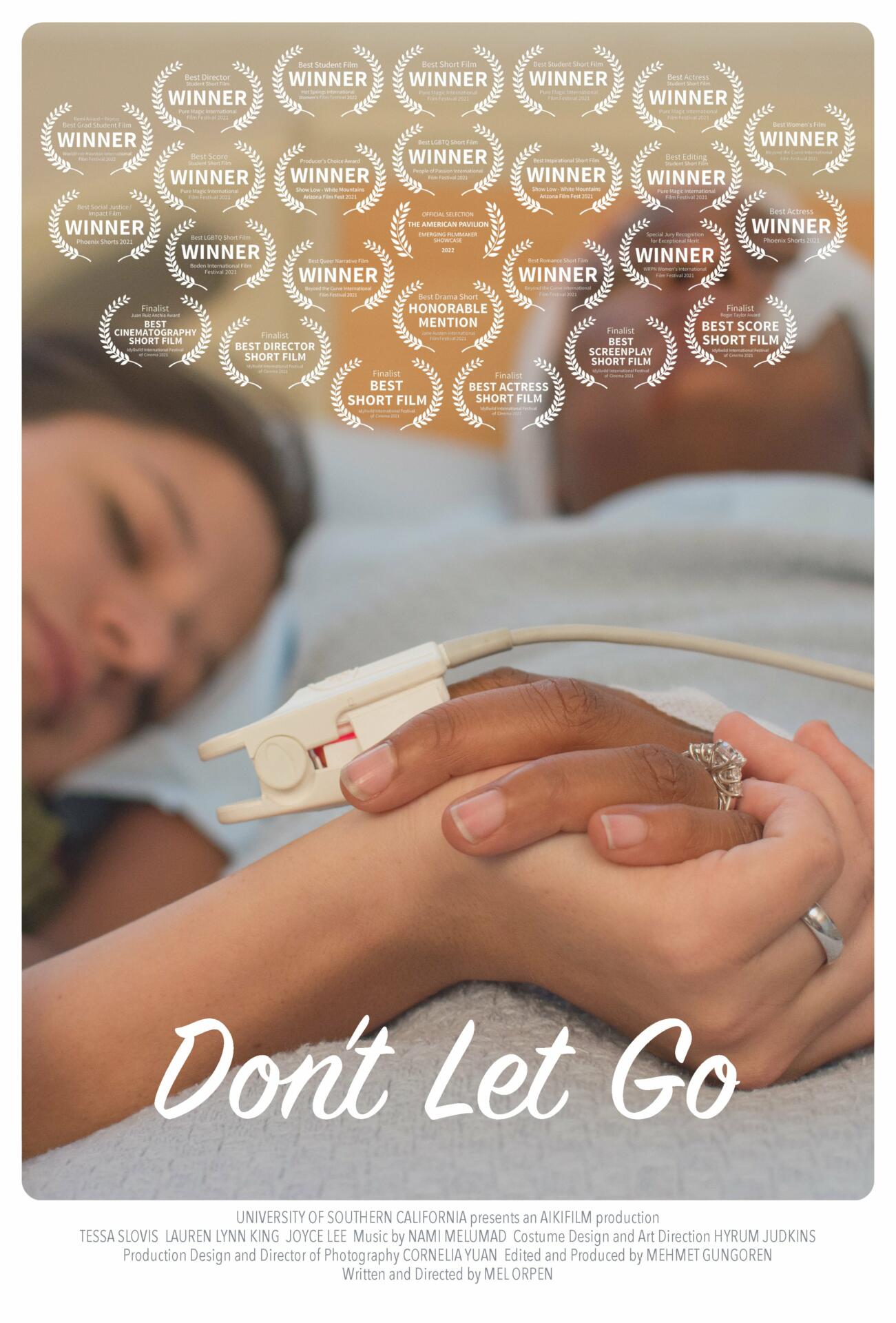 Your second short film, Retribution, explores themes that are also very personal. You're working your way up on the Philly film scene. You start to get hired on non-union and union film sets to the point of having jobs lined up for three years, and then you were hit by a stolen car and told you'd never be able to work in that field again. 
Right. And when I went to court, my sexual orientation was held against me. The judge said at the time that LGBTQ bias no longer existed. I watched as a jury of my peers believed an opposing attorney who lied throughout the entire case. At the same time, I was watching across the country as black and brown people were not getting justice in America. I am not a person of color but I had deep empathy for the experiences of other minority groups going to court. It was hard not to move into a place of disbelief and disillusionment and feeling like there was no path forward other than just bitterness and anger. I have compassion for that choice but I didn't want to fall prey to that. I wanted to see another opportunity.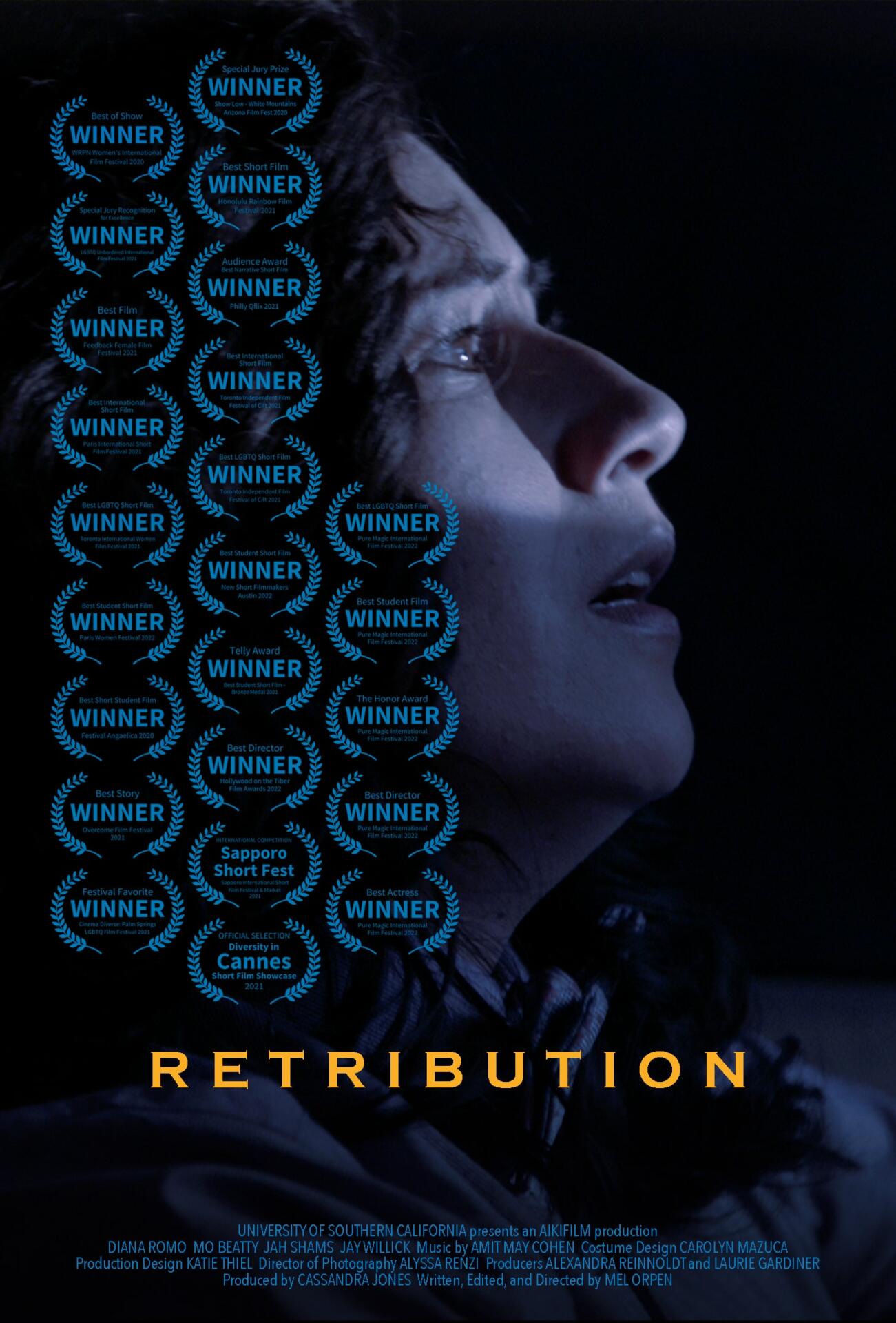 Not receiving justice is examined through many lenses in Retribution, which you shot as your thesis film to graduate from USC.
Retribution answers the question "What do you do when Justice fails?" What is the cost of the absence of justice in American society?" What is the outcome, and what is the harm? I wanted to make sure I was including our friends and family members of Color in the LGBTQIA+ community because I know that disproportionately we have community members of Color going before the court system and they're not experiencing the same justice. If you intersect both being part of the LGBTQIA+ community and being a person of Color, the outcomes are generally not what we want them to be.
I wanted to explore my story but reimagined it through the narrative lens of Nat—who is a Latinx, Queer, Army Airborne officer—who comes home from deployment to marry her fiancé. This is Nat's journey to hold the system accountable for what it has failed to do. She's the fantasy version of myself who is able to hold people accountable. The question of that film for me is "At what cost?"
Your films and the topics you're exploring are reaching so many hearts and audiences. Thank you for taking the hopelessness of inequality and injustice and creating things that can speak to so many. 
I want to connect with other people to help clean up our mess and make it better so that the next generation doesn't have to slip and fall in it. I'm a storyteller and I can make more of a difference as a storyteller than I can solely by being an activist and organizer. I can make the most difference if I take my understanding of both and put them together.
And with the Supreme Court stating its intention to review and likely overturn LGBTQ civil rights & other protections across the country after overturning Roe v. Wade, this seems even more important now than ever.
"Don't Let Go" will be screening on opening night (July 7th) at the Bravemaker Film Festival in Redwood City, CA (Bay Area) and available to stream in their online festival July 7-10. "Retribution" will be screening in the Brighton Rocks International Film Festival in the UK on July 22-24.  You can watch the trailer for Don't Let Go and Retribution. You can follow Mel for updates on both of the films on Instagram (@aikimuse) and on Twitter (@MelOrpen).