On a balmy early evening in April, University City's Dim Sum House – the now-five-year-old traditional Chinese menu salon operated by Philly's mother-and-son team of Jane Guo and Jackson Fu – transformed into something wild and sleek while still hewing to convention. That address' grand opening of XI West, a wedding, private event and catering venue came with an orthodox Chinese celebration of popping firecrackers and Lion Dances, outside, to go with its signature rice, noodle and seafood dishes such as Norwegian King Crab three ways for special family gatherings inside. The reason given for XI West's opening comes from the requests that Guo and Fu have fielded as to expanded wedding and banquet needs for Asian families in the region, with its name (XI is "west" in Chinese) taken from Guo's iteration of Eastern culture meeting Western culture.
That night's XI West opening, which coincided too with that day's news that a Dim Sum House by Jane G would open in Fishtown, signaled something else beyond traditional cuisine. How after two-plus years of the pandemic's anti-Asian sentiment, bigotry and xenophobia in the area – to say nothing of the looting of their Rittenhouse location, Jane G's, during Covid's first days – that Guo and Fu were overcoming the deepest of obstacles in order to expand. To allow the healing to begin. As XI West is the region's first brand-new Asian-owned catering and wedding venue to open in many years, so too is their expansion into Fishtown yet another step in getting past the emotional detritus of bigotry.
Philadelphia Weekly's A.D. Amorosi spoke with Fu about overcoming the xenophobia they experienced at their locations during the pandemic, and how they got their mojo back for further expansion and empire building.
PW/A.D. Amorosi: Let's talk about opening the West Philly Dim Sum House's upstairs' banquet space and why you wanted something as such in that area, something fresh and future-forward that touched still on tradition?
Jackson Fu: We signed the lease in 2018. We were constantly being approached to host parties of 100-150 guests but we did not have the physical space to do so, without closing down our restaurant for a buyout. When the ground floor remained vacant, we decided it would be a good opportunity to convert it into event space. After the initial idea, we dived deeper and realized that there was not much offerings on the market for a more modern/contemporary space for Chinese banquet style events. We came up with a design and full business plan to capture that market.
PW/A.D. Amorosi: What can you say about your family's vision of maintaining traditional Chinese event fare menu at XI, and your plan to market the space to this city's richly diverse Asian community?
Jackson Fu: We are active within the Asian community in Philadelphia. Having hosted parties and events from organizations such as PCDC (Philadelphia Chinatown Development Corp), Philadelphia Suns (nonprofit, lion dance and sports/extra-curricular activities for Chinatown community), SEAMACC, ASCEND, APABA and others. We hope to build on those relationships by offering a new modern space with the traditional Chinese banquet style. We also have hopes to advertise and market through the few Asian print publications in Philadelphia.
PW/A.D. Amorosi: How would you define what makes you and your family a different breed of restaurateur?
Jackson Fu: I grew up in the restaurant business. I was the kid that was dropped off at my parents' restaurant by the school bus, instead of going home. Most of my years in elementary and middle school was spent doing homework on a table at the back of the restaurant. After going through high school and graduating from Drexel, I worked a corporate job for a few years but felt like a part of me was still missing. I ended up rejoining the family business in 2008 and had since worked at many other restaurants between that time. I hope to bring my experience of respecting my Chinese culture but also adapting my Chinese-American childhood/upbringing into our restaurants and brands. "East meets west" is my personal duality. I wish to continue to explore the different ideas and possibilities of combining my Chinese and American experiences. I hope to instill aspects of management, training, and efficiency and apply it to the Chinese restaurant sub-culture.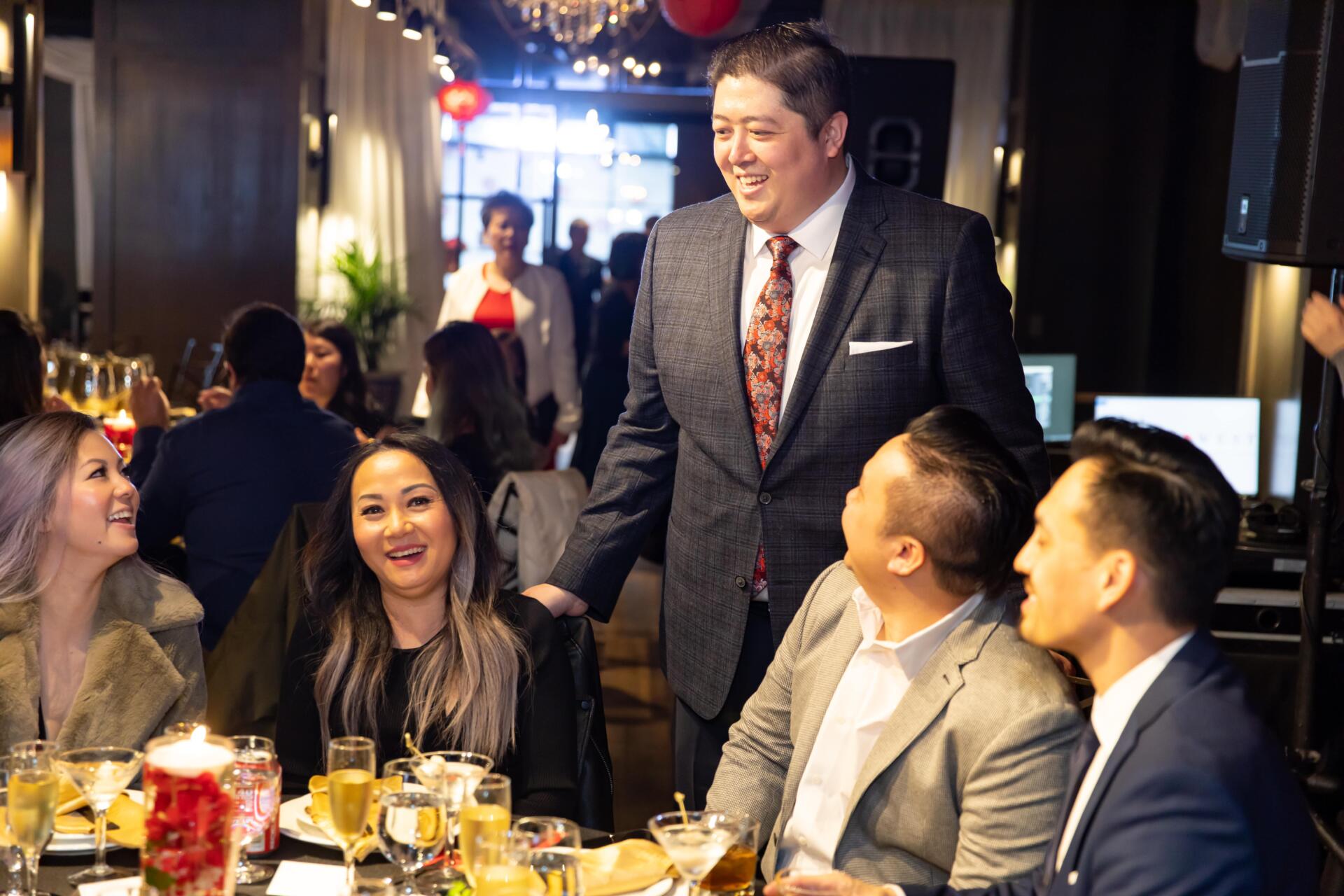 PW/A.D. Amorosi: How much of the new menu is dependent upon a mix of traditional and newer flavor profiles? What differing textures and regional tastes go into XI?
Jackson Fu: Cantonese cuisine is a huge part of Chinese banquets in America throughout the Chinese communities. From San Francisco to New York, the Cantonese (people from the Canton province, Hong Kong) were some of the first to immigrate to America. Almost all of my banquet experience growing up in America and going to weddings and different banquets have solely been Cantonese style banquets. We are no different at XI West but we hope to incorporate aspects of Western culture in our design and plating styles. We do play around with different dishes so it will be fun coming up with some of these ideas in the future.
PW/A.D. Amorosi: As well as being excited by XI, a new Dim Sum House in Kensington is equally exciting. There hasn't been so much activity in the Chinese culinary market in this city for some time.
Jackson Fu: We're super excited to add on a new location. I lived in the Northern Liberties neighborhood for many years now, and have found myself on Frankford Ave at different restaurants or bars over the recent years. I always felt like the growth in the different neighborhoods in the area (Fishtown, Kensington, Port Richmond, Northern Liberties) has lacked a Chinese restaurant option. We hope to be a staple in the area. Design will be similar to our University City location where we incorporate aspects of Asian / Chinese culture into our overall design. We hope to start serving the community by end of 2022 or early 2023.
PW/A.D. Amorosi: It's brave that the two of you are doing all this coming out of the racist horror of the pandemic and what that's meant to the Asian community. Had you experienced any form of bigotry, racism, xenophobia before the pandemic?
Jackson Fu: Not directly no. We have been fortunate in not experiencing any direct racism in that sense. I have close friends who have actually been victims of some of the anti-Asian hate that we've seen over the last two years and it really is scary. In terms of business expansion, we are just very fortunate to be able to expand during this time. We're fortunate in dealing with great landlords and having their support and faith in our business really helps. When Jane G's Rittenhouse opened in 2012, we actually signed the lease for that property in 2010, 2 years after the housing and marketing crash.
PW/A.D. Amorosi: What can you say to the looting of Jane G's in Rittenhouse? So many of us who dined there regularly felt awful and ashamed.
Jackson Fu: During the protests in 2020, our restaurant was broken into and looted. The damage was manageable and our insurance company helped us take care of any immediate losses.
PW/A.D. Amorosi: Jane has been here for some time. Jackson, you have lived here your entire life. Whether or not you have experienced xenophobia during the pandemic, can you speak to how it affected Phila's Asian community based on your life's experience?
Jackson Fu: During the rise of Anti-Asian hate crimes in last two years, there were periods of time our staff refused to take public transportation. We ended up paying for Uber rides to and from work for many of our staff members. Being Chinese-American, sometimes it's disappointing seeing the tension build between the United States and China. It's disappointing because the two countries are the two biggest economies in the world. Anytime time there is strife between the two countries now, being Chinese-American, you feel that you will be viewed differently or more hated just because of our appearance. It doesn't help when Covid gets termed the Chinese virus either. It makes us, as a community, a direct target. There are times where I've taken my family to a Phillies game or a Sixers game and witnessed glances during the national anthem, like, "Are they gonna stand like the rest of us," of course we stand and take off our hats, we're Americans.
PW/A.D. Amorosi: Both of you are proud Philadelphians and a famed and beloved part of our culinary and cultural fabric a fabric you helped design. Discuss please the sensation of being treated so shabbily?
Jackson Fu: Jane was born in Wenzhou, China. I was born in New York City, but we moved to Pottstown, PA in 1989. We have been Phillies/Eagles/Sixers fans since then. We love Philadelphia and we love being part of such a prideful and gritty city. We are honestly just grateful to be part of the community. in 2020 during the protests, we understand that owning a small business, sometimes you face issues beyond the economics and numbers. While we don't blame anyone, we just hope that the current rise in anti-Asian hate crimes will dissipate. It's a shame that Asians are targeted especially since COVID has brought on a lot of the misplaced blaming.
PW/A.D. Amorosi: How much of your empire building and expansion, currently has to do with personal confidence, braver faces and the determination to eschew all forms of bigotry and show off pride in what it means to be Asian-born and or/Asian American in Philadelphia?
Jackson Fu: Just this year we began offering benefits like health insurance. We hope to expand our benefits packages and grow with our staff, because they're our number one asset. We don't consider ourselves an empire. We are just very grateful to be in our position, but feel like there's still much more to accomplish.