The Philadelphia Folksong Society is thrilled to celebrate their 60th Annual Philadelphia Folk Festival, taking place August 18-22, 2022 on the Old Pool Farm in beautiful Upper Salford Township, PA. Headliners for this year's edition include Michael Franti & Spearhead, Arrested Development, The Punch Brothers, The War & Treaty and many more.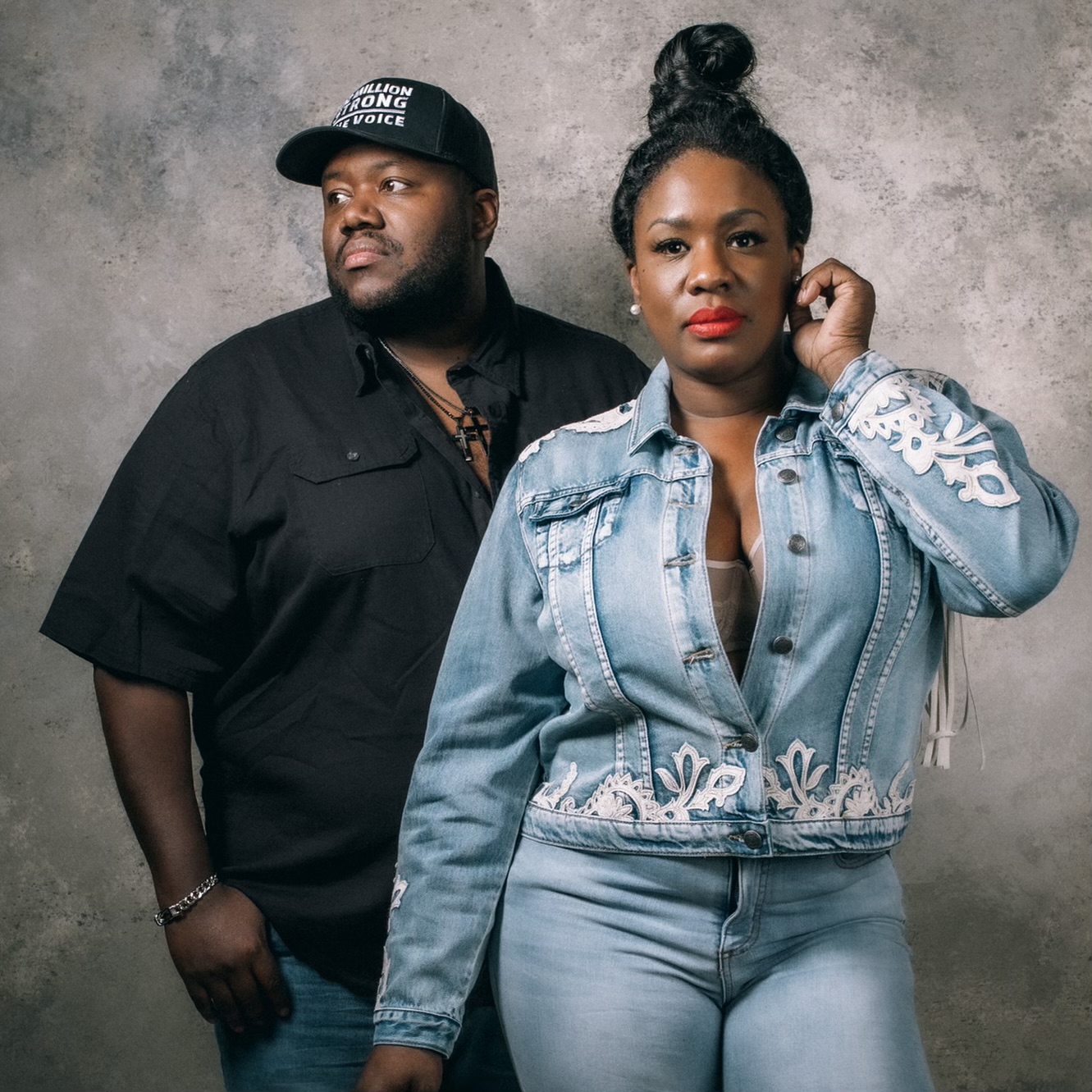 I spoke with executive director of the Philadelphia Folksong Society, Justin Nordell, about Philadelphia's history with folk music, the opportunity presented by the pandemic to secure the festival's legacy and Justin's family's love affair with the PFF.  
This is not the first I've heard out of the Philadelphia Folk Festival, but I did not realize that it's been going on since 1962.
Yep, we are the oldest continuously run outdoor music festival in North America. There are many other music festivals that predate us but none that have run every single year. Even Newport Folk Festival took some time off in the 60s and 70s. The Mariposa Festival, the oldest one in Canada, took some time off of here and there. So we are really, really proud of that fact. And it's something that we worked really hard through the pandemic to make sure that we were able to continue to say. So in 2020, we ran a digital festival with three digital stages and some of the programmings was presented live from Philadelphia Outdoors; socially distanced, and our events as well. So we're really thrilled that we're able to keep that designation.
Doing it digitally in 2020 must have been a huge achievement when you consider that was right when the world started to close down. 
We were ready to announce the first chunk of our lineup and WOW. Having to be put (things) on pause and March (2020)… Seriously, I had been preparing it for a little bit longer than some of my colleagues because my partner is an infectious disease doctor with the Temple University Health System at Temple Hospital. So, in February, I got the heads up that we were going to need to start taking this very seriously. So we get connected with some people at the Board of Health, and we're looking to see what we could do, to take precautions. 
Then, on March 11th, I got a phone call from a woman who asked, "Hey, do you give refunds?" I said, "Well, you know, we haven't given a refund since 1962, except for extenuating circumstances but we'll happily give you an exchange for another date." She's like, "Oh great because I am in the hospital. I got that Covid. Just feels like a bad cold but I'm not going to be able to make the concert this weekend." I'm like 'oh no, it's here.' That was when I knew we had to do something. 
We had a wonderful internationally, renowned fiddle player who was supposed to perform on Friday the 13th of March, that cursed day (the President of the United States declared a National Emergency concerning the Novel Coronavirus Disease Outbreak on Friday, March 13, 2020). So we canceled the in-person portion of the concert and just did our first digital concert live stream from our venue in the Roxborough section of Philadelphia. We have been touted in International music conferences as one of the first to go digital. So, we were able to be successful throughout the pandemic. We raised over a quarter of a million dollars directly for musicians who were out of work because of the pandemic and unable to tour. And we ran concerts all through the pandemic, including the digital festivals. 
That is amazing. The world shuts down, people are screaming, scrambling around for how to do such things as festivals and conferences and conventions. Events were being canceled left and right and you were able to still continue on and still be a benefit to other people. 
Well, the nice thing about the streaming is that, over the years, we have been pitched live streaming, and digital. And it was one of those things where, you know, 'oh, we skew a little older. I don't think our population would figure it out.' So it was really great for us to be able to showcase these artists who didn't need visas to come to our country. And so, we then knew that we wanted to do with the digital festival and it's back through the Rolodex. 
There was a company that had us doing live streaming before and so we reached out to them and they were actively working on the second Space Jam movie and they were like "yeah!" They connected us with the right people and they put together a digital festival website for us so that people could sit at home and click on one of the three stages and there would be live music on all three of the stages. Wow, that is one could switch back and forth between them even from the comfort of your couch. We had Rhiannon Giddens, she went live from Italy, we had Trixie Mattel, who is a drag queen folk singer, who went live in front of a green screen from Los Angeles; it was just really incredible to see what people were able to come up with and to do.
Speaking of 'skewing older', did livestreaming in 2020 help broaden your audience a little bit? 
Without question and we have the data to prove it. We had people from 86 countries, watch the digital festival in 2020. We had people from 64 countries that watch the digital festival in 2021 and we already have people from over 30 countries who are signed up to watch the digital festival this year, and we hope those numbers will just continue to increase. And those aren't just people who were fans of one particular artist or band. These are people that love music and are coming and supporting us. I mean, we're a membership-based nonprofit right here in Philadelphia and for the first time ever, we're mailing membership cards to Japan, where mailing cards to Colombia. What we do here is now accessible all over the world. 
What is Philadelphia's history with folk music exactly?
Philadelphia is has such a lush musical history even going back as far as when we were the nation's capital (1790-1800) and known as the place to come and play. That continues through the 17 and 1800's and then turn of the century, we were just one of the hotbeds of music and Jazz and be-bop. Of course, you can't talk about Philadelphia without talking its influence on pop music and pop-culture; so many artists came here to get that 'Philadelphia Sound'. David Bowie, Elton John. And then, of course, we've got Chubby Checker, Patti LaBelle, Boyz II Men;  all these people that came from the Philadelphia region. 
However, when it comes to singer-songwriters, of course, New York was the hotbed of Folk Music throughout the 60s and 70s. But Philadelphia was always kind of that 'sixth borough' when it came to music. It was always kind of that adjacent area where people could affordably live, and then be able to go up to New York, and still to be a part of it. So there were a large number of folk musicians and folk music lovers in the Philadelphia region that used to meet throughout the 1950s and 60s in a Rittenhouse area coffee shop known as the Gilded Cage. and they put on concerts there. They put on all sorts of songwriting workshops and classes and meetings and social justice meetings, working with civil rights activists to get music and the word out, and it was really just a hotbed of musical activity through the 50s and 60s. 
Some of these individuals decided that they wanted to band together and create an actual organization to help promote and preserve folk music. So they started The Philadelphia Folksong Society in 1957. And what was so paramount about this organization was that their goal wasn't just presenting music, wasn't just educating about music. It was about preserving music. Folk music is an umbrella term. It covers so many different subgenres. Hip-hop and rap, they are folk music. They are all about storytelling. Blues, bluegrass are all about the instrumentality. That is folk music at its core. Singer-songwriters are of course, the greatest examples that people use but other than electronic, EDM, or poppity pop-pop where there's usually not much story going on, those are the only things that I can't really talk about as folk music. Everything else really does fall under that umbrella term because folk music is about the marriage or the divorce of storytelling and musicality, either bringing storytelling and musicality together, or focusing on one or the other. 
And since the 1950s, the foremothers and forefathers of this organization have been recording that music. The 1962 Festival, which was held December 8th and 9th in Paoli (PA) on the Wilson estate – that entire Festival – was recorded. They have recorded audio every single Festival since 1962 and they've been recording video since the 70s. We have all of that preserved, in various states. Some of them are still on those God-awful reel-to-reels. (laughs)
We have a recording of Bob Dylan playing in a basement in the late 50s. We have some of John Denver and Jim Croce's last performances before they both sadly died in different plane crashes (1997 and 1973, respectively). 
Wow. John Denver. That's a name that's been lost to time a little bit, sad to say. 
Well, we have his original contract from the early 1970s. We paid him $200 to do two sets. We preserve all of that.Some people may call it 'hoarding', I call it 'history.' (Laughs) My partner calls it 'hoarding', too.
But again, we've recorded everything because folk music is all about the oral tradition of passing things down and making this history accessible. But we really struggled with that because we're a non-profit and we were busy maintaining the next phase of our existence. When I took over as executive director in 2015,  we were putting on the festival every year, working out of an office that was in West Mount Airy. It used to be a tax office that was left to us and you can't really present music in a tax office. You know, when I tell you that there was shelving that was built into the shower, that is the space that I inherited. So I said, in my interviews, we need to get into a space and a place where we can present music, where we can educate about music, where we can do all the things we want to do because we have this great musical community here in Philadelphia. So 2018, we opened the Philadelphia Folksong Society as a musical venue and the Philadelphia Folk School in the Roxborough section of Philly. So we now are reopened post-pandemic, and hosting concerts. And then we've been doing our musical classes digitally, and now, in person just to help support the future of folk, as well as promote the present. 
(Also) the pandemic gave us some wonderful volunteers, with some time on their hands, who have been digitizing a lot of these archives and we were able to make them accessible to our membership. We've curated digital concert archive series every month for members around a particular year of the festival or subgenre of music; just showcasing all of the incredible artists that have played through the history of society and the festival. 
Let me share this anecdote – when I first started, the archives were in a closet. They were in that shower (laughs)! I knew we had to do something about this. I contacted the (Philadelphia) Historical Society so that they could come out and do an assessment, to see if we could get some granting for preservation work as wellas get them in some temperature controlled storage (laughs). So they do their assessment and they say that out of all of the musical archives they have logged for teh city of Philadelphia, our collection alone increased their collection by 20%.
I was like 'What on earth does that mean?' They said (we) literally have in (our) possession twenty percent of the known and registered musical archives of the city of Philadelphia.
Wow, just sitting there in a shower.
Not anymore.
And so, associated with the digital Festival  – during the month of August — we are able to unlock the archive, and people are able to watch old concerts dating back to the 70s and listen to old concerts dating back to the 60s. Anyone who buys a digital ticket to this year's festival will not only get to watch thein-person festival digitally, they will also get to enjoy the archive for the entire month of August. With your ticket, you get an unending supply of phenomenal music from over the years. We're really really excited about that and that's why we have membership growing from all over the world. 
What is your personal history with folk music? 
My mother and father met at the Philadelphia Folk Festival. If it were not for the Philadelphia Folk Festival, I literally would not exist. 
I didn't know I was unlocking your secret origin. 
In fact, my mother met all four of her husbands at the Philadelphia Folk Festival, so single ladies, come on down. Happy hunting ground! (laughs) 
However, for me, the Philadelphia Folk Festival is something that I went to, for the first time, when I was four months old. It was the 25th Festival. And I still have the original program from the 25th Festival that my parents brought home. I have absolutely no memory of it, of course,  but, there were incredible acts that were world-renowned such as Janis Ian, David Bromberg,
The Roaches, Tom Paxton, Judy Collins. So, then I went again at a year and four months and I went again at 2 years and 4 months. Now, this will be my 37th Philadelphia Folk Festival because I will be going at 36th and four months. 
This is a festival that means the world to me because it was a part of my upbringing. It was a part of my journey to discovering who I was and being around this incredible musical community inspired me in so many ways. I have tried to play and write music. I'm fine, I'm not great (laughs) but what's wonderful is that I am able to be in a position where I can help other people become greater or showcase their great gifts, and that means more to me than anything in the world. Because again, if it wasn't for this Festival, I literally wouldn't be here. So, creating this community and ensuring that it's here, not just to celebrate its 60th, but for 60 more years to come is just incredibly important.
Okay, let's turn to 2022 Festival, which is no longer held in Paoli, right?
Correct. We moved in the 1970s to the old Pool Farm, which is located in Upper Salford Township, Pennsylvania and we are so excited to be back at our old home after the pandemic.  
People need to know this is on an actual farm with children's activities and actual camp sites going on. People make pilgrimages to the PFF. 
We have people that come to the festival every year from the depths of Northern Canada, from Germany, from Colombia, from all these different places; Tanzania, Africa. There's a couple that comes every year because this is just their 'happiest place on Earth.' This is where they're able to come and be with their community. And we've been working really hard to make sure that the Folk music is as broad as possible to make sure that people are able to see themselves and their stories represented on our stages, as well. Because again, folk music is all about storytelling. 
I appreciate that because the one thing that I've been able to take in with my (admitted) limited knowledge of folk music, outside of the singer-songwriter aspect of it and the more acoustic nature of the music, is the inclusivity of the genre to all voices.
Absolutely. And it is something that is accepting of all races, creeds, sexual orientations, and gender identities. Religions, etc. We are welcome to have anyone with any viewpoint up on our stages because it's important for us to share those stories. I mean, I'll just share another anecdote. 
I am an out gay man and I have no doubt in my mind that I was able to come to terms with sexuality as a result of just being in such an open and accepting environment every year. I mean, I came out at 16 – 20 years ago this year – and I came out after almost a couple of weeks after going to the Philadelphia Book Festival because I was there and just surrounded by people that I knew loved and accepted me for who I was. And I just felt like this was a time where I could start being open about who I was and it's one of those wonderful safe places and spaces that we have. And we have so many people again that come from all over the world and come from so many different backgrounds, the racial religious gender identity, and we just want to make sure that we have created this great community of musicians and music lovers. This great space in place for people to just be themselves is something we're incredibly proud of. 
So the Philadelphia Folk Festival is taking place Friday through Sunday, August 19th through the 21st, with a kickoff event on Thursday, August 18th. The lineup is immense. You've got everybody on here, from J and The Causeways to Davina and the Vagabonds. 
We are very, very proud of the diversity that we showcased in our lineup. And I've got to say, it's something that is very much a part of who we are in 2018. We were asked to take the key change pledge, which was a pledge that started in European music festivals to try to ensure that they represented 50/50 gender parity because so many music festivals are overrun with all-male applications. So when that crossed our desks, we were like 'That's something that we would love to do, but we also would like we've already booked everyone for this year. So we will make sure that we do it for 2019', but soon after, we took a look at our 2018 lineup and our lineup is already 50/50. So we sent them taht message and they said 'congratulations, you are the first United States festival to achieve it.'  We didn't even do it on purpose, it's just who we are. We book great music, we book artists that have something to say, we booked talented musicians and if those musicians happen to be female identified, non-binary, black, white, Muslim, Jewish. We want to make sure that stories from every different walk of life are going to be exemplified.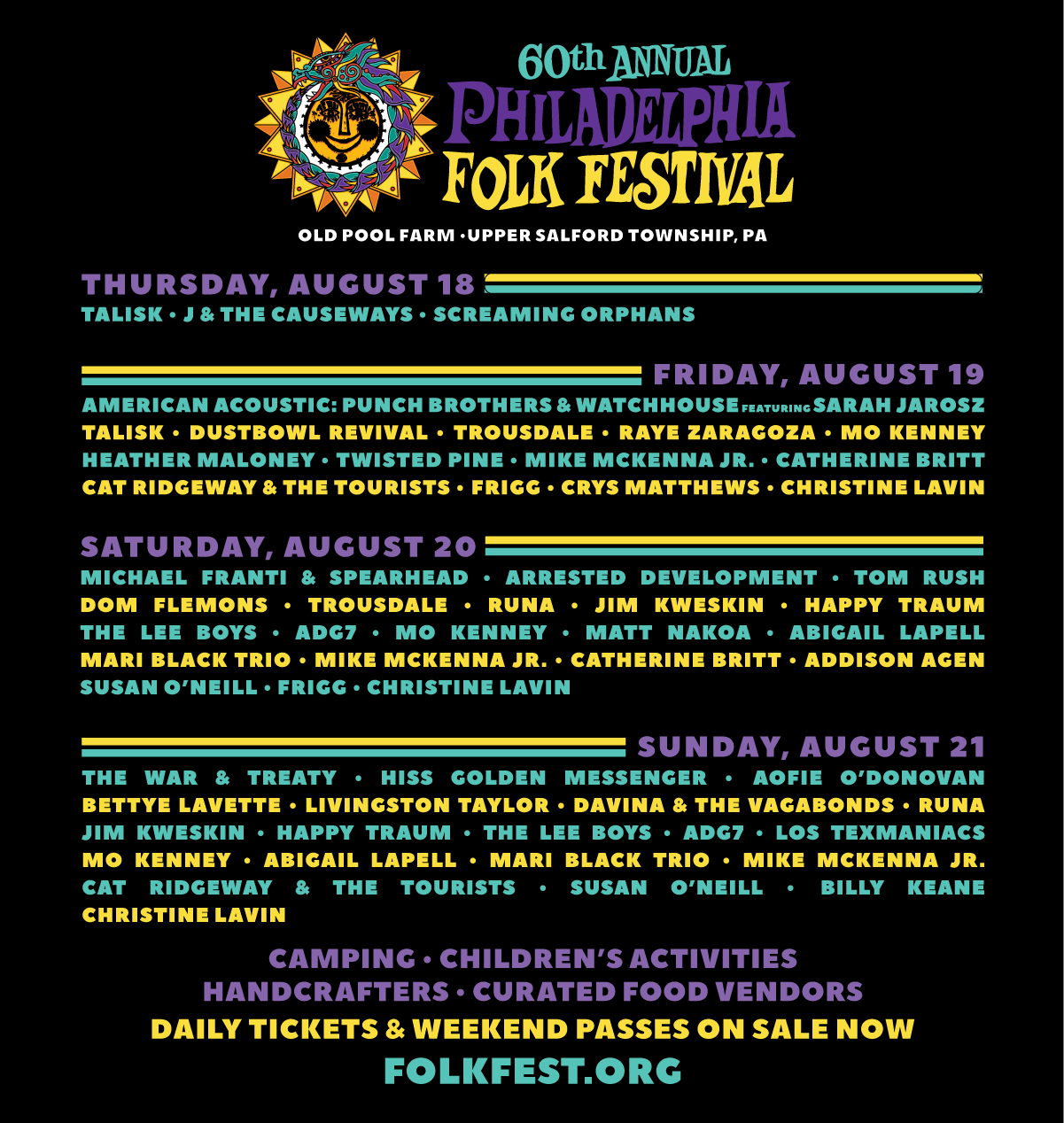 I see Arrested Development showing up with Michael Franti & Spearhead. (Laughs) I know that one; I know them!
I have been an Arrested Development (AD) fan, I gotta be honest, for years and years and years. It's one of those things where Michael Franti and AD were going out on tour and we said we would both of these acts. And in all honesty, AD was like 'we're not folk music.'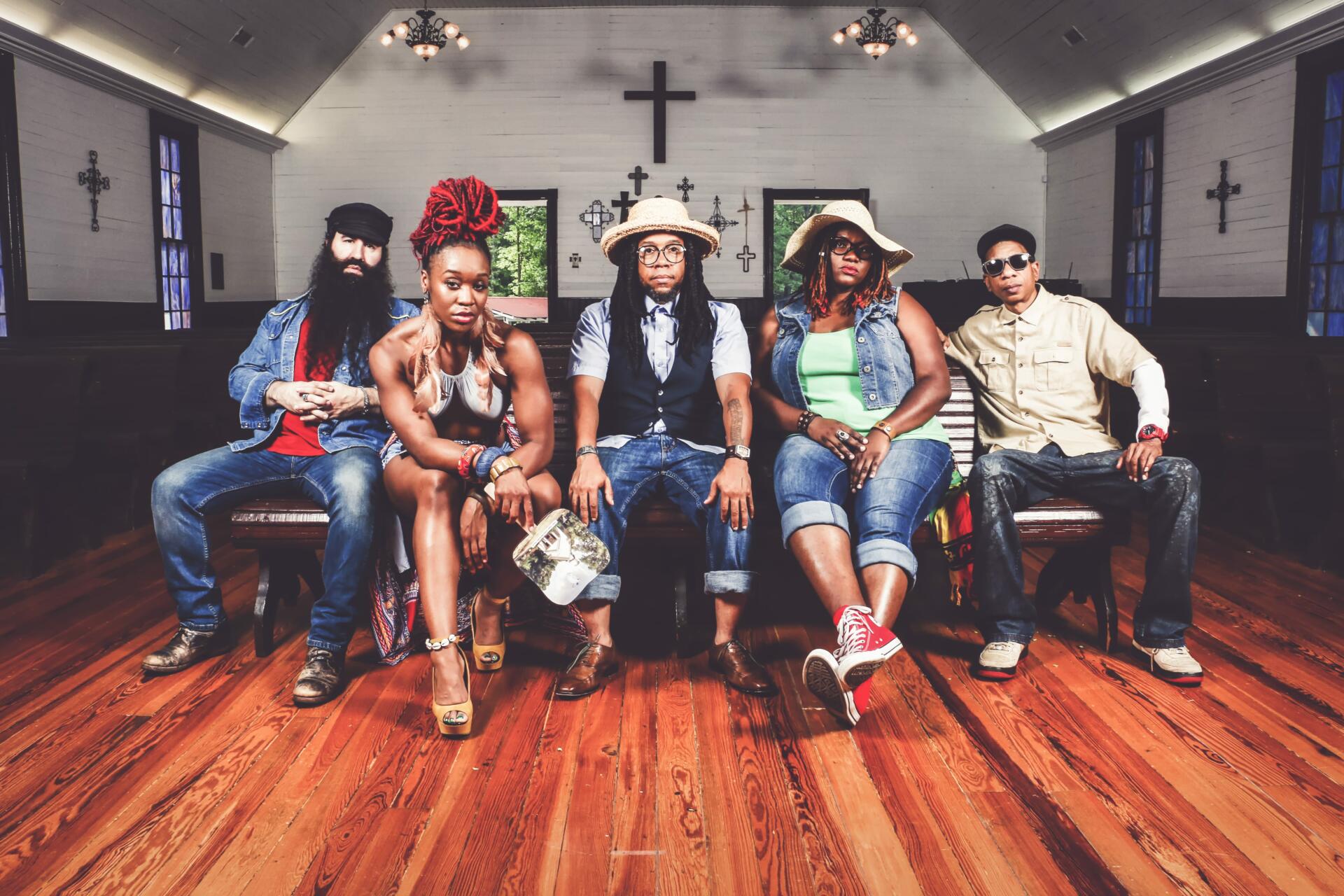 Really?
Well, it wasn't them actually; we rarely ever get to talk to the artist. Someone on their team was like, 'well they're not folk music'. And we were like 'what are you talking? Of course, we want them. We want them!' (laughs) So it was just really, really exciting to have just such amazing storytellers like Arrested Development be there. Of course, we're really excited about Punch Brothers with Chris Thile, host of the Prairie Home Companion on NPR. He was previously in a band called Nickel Creek that played the festival many times over the years. So, we're bringing somebody back home that hasn't been with us for a long time.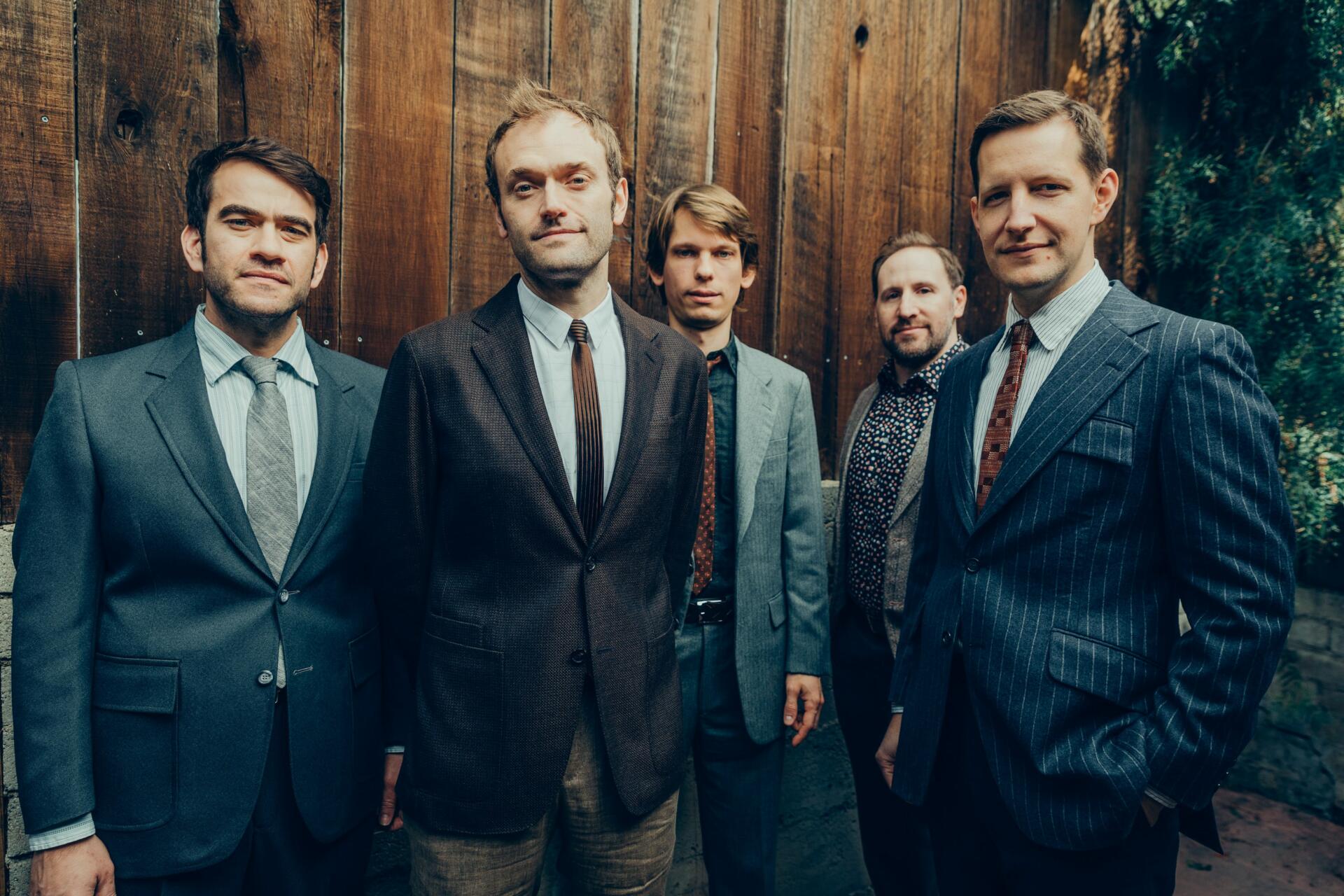 We've got legends that played the festival in the 60s and 70s, like Tom Rush, Jim Kweskin, and Happy Traum. We've got the legends that played in the 80s and 90s like Bettye LaVette and Livingston Taylor. And then we've got lots of phenomenal musicians at the top of their game and then we've got people that you've never heard of before that are going to absolutely blow your mind. And that's something that I really think is what's so special about this Festival because
we have the opportunity and frankly, the privilege to book unknown artists that have never played in Pennsylvania, in the Philadelphia region, in the United States sometimes and able to to show them off. 
We have Catherine Britt, who's coming from Australia. She's a phenomenal singer-songwriter,  won many, many major awards in her native Australia. She had a battle with breast cancer and  almost passed away. And she's now touring again after the pandemic. And she has just some really, really phenomenal stories to tell. We have a band called DG7 that is coming from South Korea. They do modern takes on classic South Korean folk songs and folk tales and they use instruments that you have never seen or heard of that I cannot pronounce and they do the most incredible things with them. They are absolutely off-the-wall Bonkers cuckoo bananas, crazy and people are just going to leave (the festival) talking about them and singing along in South Korean. We got so many wonderful surprises that are coming in from all over the world. And then we've got local artists that absolutely deserve to be on the world stage and up there with some of these world-renowned legends. I'll just give a shout-out to a local musician that hasn't been announced yet, but Emily Drinker will be playing at the Festival this year. She played our digital festival (last year) and she was able to submit footage from the digital festival and, now, she got an opening gig for Joan Jett. So that's the level of musicianship that we've got right here in Philadelphia that people haven't discovered yet and need to. 
Share a word about the host all three nights of the festival, singer-songwriter Christine Lavin.
So Christine had impossible shoes to fill. Christine stepped in when one of our founders, our emcee in 1962 and every year since, Gene Shay – an Philadelphia radio legend. He was a surrogate grandfather to me; I spoke with the man on the phone at least 2-3 times a month up until the pandemic and he passed away. Gene was just a living legend in that he was an artist advocate. He was an advocate for anyone and everyone that he enjoyed, or appreciated, or had on his show or put on his station. He was lovingly referred to as 'the Godfather of Folk.' 
So when we knew that Gene was no longer going to be able to be up on the stage in an emcee capacity, we tried to think about what direction do we want to go in. If we had the Godfather of folk, maybe it's time for us to start looking and thinking about the Godmother and Christine Lavin immediately popped into my mind because she is a lovely human being with one of the greatest wits I have ever encountered. Her ability to vamp, to say off-the-cuff things, her ability to be a wonderful hostess and emcee, while also being an artist advocate herself. I just felt strongly she would be the person that fill those impossible shoes. So we've been really, privileged and blessed to have Christine accept that honor to come back this year in 2022. 
So it's just going to be a great year. It's going to be great to be there in person and if people can't make it for any physical limitations, Geographic limitations, you know, we're still in a pandemic limitations, we get it. We want you to be able to join us digitally as well because everybody deserves the healing power of music.
I mean, in all honesty, this is one of the hidden Gems of Philadelphia and I say 'hidden' because if you know about it, you know about it; you've been before. But if you've never had the opportunity to attend the Philadelphia Folk Festival, or, that word 'folk' kind of has a certain connotation to it as the four-letter, 'F' word, I just want everyone to know that that 'folk' is all music. It's storytelling, it's musicality and it's everything in-between. And we really want to create an environment that anyone can come and have a great time and frankly, after the last two years, every single one of us fucking deserve it. 
Amen.