The Flyers' official mascot and the political left's unofficial champion, Gritty once again took center stage at the PushBack protest on Independence Mall.
Protesters held Gritty signs, dressed in Gritty costumes and chanted Gritty sayings at the pro-Trump We the People rally on Nov. 17.
"People just saw a tremendous amount of potential in Gritty. Gritty showed up and everybody went 'that is the leftist id,'" said Alison Macrina. "That represents our collective rage and love and spirit."
There is even a Fellow Worker Gritty Coalition, a group which also started the GoFundMe campaign for the Jewish protester who was attacked after being misidentified as a Proud Boy.
At the protest, Macrina added that Gritty counteracts the alt-right's Pepe the Frog, a cartoon depiction that was not present at the rally but has been associated with racism and Antisemitism.
"Gritty would eat Pepe today, Gritty would ruin Pepe," said Macrina. "Gritty is a swamp monster, Gritty eats fascists."
Here are the orange highlights of the day.
Gritty Hats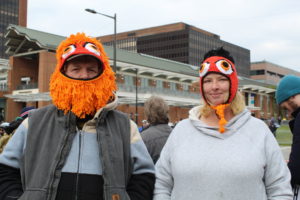 It was pretty cold out there — Gritty can be both functional and fashionable.
Gritty Signs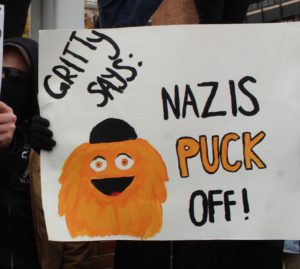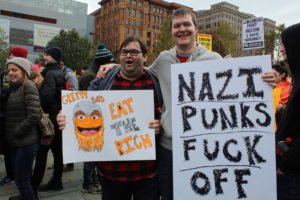 Gritty Costume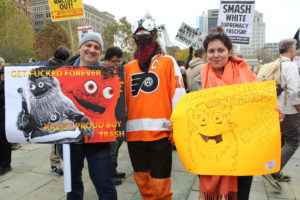 Patriotic Gritty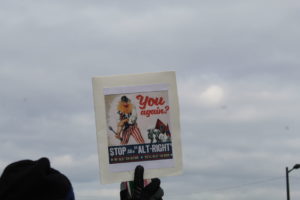 Other Social Media Icons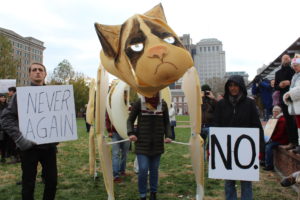 Before Gritty gets all the photo-ops, kudos to the protesters who made this large-scale Grumpy Cat and kept the craft stores in business another day.
TWITTER: @ANDREAJCANTOR