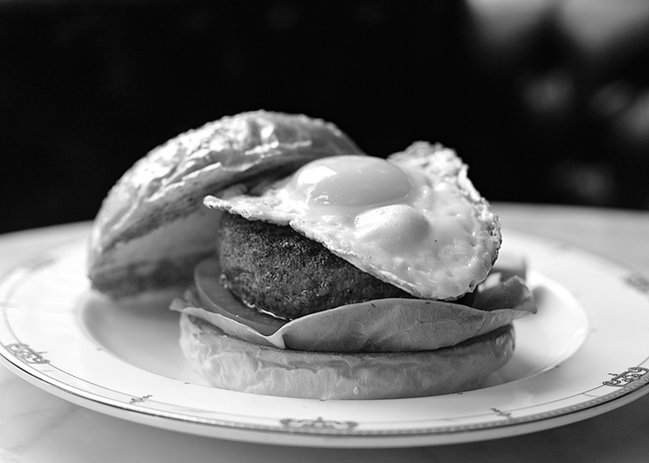 Read our Q&A with Village Whiskey proprietor – and newly minted Iron Chef – Jose Garces.
I could start with the wait—40 minutes on a cold, rainy Monday. Or with the recent coronation of Jose Garces as Food Network's Next Iron Chef , and how that will likely edge waits on cold, rainy Mondays over the 60-minute mark. I could start with the service, so cool and composed. Or with the arcane cocktails, which could be described the same way. When reviewing a member of the Garces Restaurant Group, there are a zillion ways to begin; but in the case of Village Whiskey, there's only one place to start, and that is with the burger.
It was rapture on a roll, starring a patty given a thicker-than-average sear, a textural victory that held all the luscious juices hostage until my first bite liberated them a trickle at a time. The droplets of fat glistened like dew, quickly absorbed by a fluffy house-baked sesame-seeded bun cradling intensely beefy beef cooked a blushing medium. It was perfect—and wasn't even the fancy foie gras-crowned Whiskey King. My burger was the $9 Village Burger, upgraded to $13 with a fried egg and cheddar, and if it isn't the best burger in Philly, it's at least my new favorite.
This comes as a surprise from Garces, emperor of empanadas, sorcerer of ceviche, ambassador of Arbequina. Village Whiskey is his first non-Latin restaurant, one that transports us only as far as Freeport, Maine, provenance of the Angus beef that chef de cuisine Dave Conn hand-dices, then grinds coarse for the awesome burgers. The beef is prepped in the torchon style, wrapped and sliced, making for a loose patty from which perfectly sized bites detached with minimal effort.
Contorted into the tall, skinny space adjacent to Tinto, whose kitchen Conn also runs, Village Whiskey brings to mind a row of luxuriously attired elevator shafts, with buttoned leather banquettes, marble tabletops and Olympian ceilings fitted with specially-made fans. The booths face the long, slinky bar, where bartenders in white Oxford shirts and black ties crack eggs and ginger-flavored bitters for some very good cocktails served in Champagne coupes frosty as a Russian heiress.
The spot is tiny, making Village Whiskey feel unlike any other Jose Garces restaurant. There are no karaoke lounges behind secret doors, no showstopping open kitchens, there's no room. What we have in Village Whiskey is all the understated glamour of an old Hollywood supper club condensed into 1,100 gimmick-free square feet.
Of course, some will say the concept is a gimmick in itself. And they'd be right, as Village Whiskey is an amalgamation of various trends currently besieging the food world: burgers, resurrected cocktails, fried chicken, duck-fat frying, etc. On the menu, just above an entire section devoted to pickles, ethereal gougères are billed as "cheese puffs," lest anyone think them too pretentious.
Fortunately, the puffs were so light they'd have floated away were they not anchored by a web of blistered Gruyere, and the various pickles were rendered with uncommon panache. Engorged sweet-and-sour cherry tomatoes burst on shards of Metropolitan sourdough crostini in one variation that cost only $4, while lemony artichokes flecked with black truffle were costlier at $10, but so savory you could see why Village Whiskey runs through 100 pounds of them per week.
Other winners included the succulent Berkshire pork sandwich in lively Jack Daniels-spiked barbecue sauce and the chocolate malt sundae covered in ropes of peanut butter sauce, one of three $6 desserts. As for the duck-fat fries, their watery Sly Fox cheese sauce made them unworthy of the Village Burger, and for $7, I could have had three-quarters of another of the elegantly old-fashioned cocktails mixed with the likes of pine and violet liqueurs, raw egg whites, honey syrups and fresh herbs.
At the table next to me, faux-hawked flannel-wearers sucked down citrusy De Rigeurs like shots of Jameson, while at another table of Rittenhouse relics, the Corpse Reviver #2 was the apt cocktail of choice. Of all Garces' restaurants, Village Whiskey has the broadest appeal. Burgers might be a theme more about following than setting trends, but when they're done this well, it's best to just shut up and eat. ■