The pandemic has flipped the script on aspects of our everyday life, including the workplace. Whether or not a business thrives in the new landscape could very well depend on how culturally competent, and actually inclusive in practice not just in theory they are. Here in Philly, a few people are working hard to advance industries forward into the 21st century, helping fill vacancies amid the Great Resignation and providing routes to life-sustaining careers for transgender workers – and their work is only possible thanks to the ongoing influence of figures past and present.
Really, it seems like a premonition now: 20 years before COVID rewrote the rules of everything, two presidents before Trump reset the bar on decency, a generation before TikTok ushered in the rebirth of mom jeans, Malcolm Gladwell wrote his bestselling book The Tipping Point, uncovering what—and who—makes revolutionary ideas to go, for lack of a better word, viral: a handful of passionate, well-connected people, if given the right time and place, spread stories, and ideas, that change the world.
Or, in today's bite sized parlance,  some people are "influencers."
A trailblazer before an influencer
On June 28, 1969, Marsha P. Johnson, a Black transgender woman and community leader, was one of those early catalysts. So the legend goes, Johnson threw the first brick during the Stonewall Uprising in New York, an act of resistance against police violence that started a movement to allow LGBTQ people to live, love, and work without fear. 
Historians, however, and even Johnson herself, dispute what actually happened that night. But as with all great myths, perhaps what fuels this story's staying power is an essential truth: no matter who we are in this country, we owe our freedoms to those who take risks to live openly as their authentic selves.
When Aeryanah Von Moi moved to Philly to live as her true self, another Black trans woman much in the mold of Marsha P. Johnson ignited Von Moi's social and professional awareness: the late Jaci Adams.
"Jaci Adams was the first trans woman I met who was an activist-activist," Von Moi reflects.
Raised in Chester by two generations of regal Black women who weren't afraid to speak truth to power, Von Moi felt an immediate kinship with Adams.
"I thought I had myself figured out. But once I became friends with Jaci, she introduced me to a whole new world of community work and prepared me for one of my first jobs in Philly."
A judicial career that started with prejudice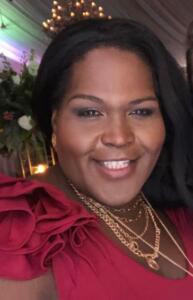 Today, Von Moi works for the Honorable Tiffany Palmer, an award-winning Family Court Judge and member of the LGBTQ community. It's a rewarding and often sensitive job that Von Moi treats with care.
"I aim to be someone people feel like they can trust and rely on. It's about sharing dignity and pride."
Von Moi's path to the judge's chamber, however, was strewn with prejudice.
"I once applied for a position at a bank, recommended by a friend," Von Moi discloses. "Despite never having committed a crime, I had to interview with five different people, even people I wouldn't be working for. It eventually came back to me that the bank told my friend, 'we will hire her, but do you want to put your name on this? This will be on you.' "
Philly's TransWork connects businesses with trans talent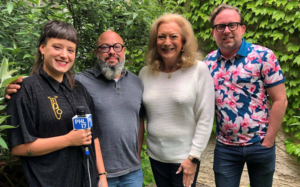 According to Jone Magagna and Marcus Iannozzi, founders and co-chairs of TransWork, a career opportunity program that connects Philly area businesses with underemployed trans talent, the experience Von Moi describes is all too common. It reflects a hiring system that wasn't really designed for people at all, much less people who happen to be trans. 
"Diverse workplaces outperform their competitors, and bringing in new ideas from creative communities of people can only help workplaces, especially during a recovery period."
"For a lot of people in the trans community," Magagna explains, "you walk into an interview room, and you've got a cisgender person to your right, and a cisgender person to your left. You go, 'holy shit, there's no way I'm gonna get this job.' " 
Let's say your resume survives the applicant tracking systems used by many HR departments and you make it through the demoralizing number of interviews to reference checks; as a trans person, Marcus Iannozzi explains, you may still find yourself subjected to a system that dishonors your identity.
"If you ask me at what point in the application cycle trans people are most discriminated against," Iannozzi adds, "I'd say the answer is at every point. Imagine calling a reference to explain that [an employer] will be reaching out, but they're going to use an old name. Or you get hired, but now your paperwork is in jeopardy, because your current name may not match all of your legal documentation."
Beyond the inhuman bureaucracy of hiring, deeper inequities have put stable careers out of reach for many trans people: racial bias, barriers against those who have been incarcerated, immigration status, and of special concern to Aeryanah Von Moi, lack of access to safe, affordable housing.
 "When people know where they're going to be putting their head at night without fear of being kicked out, Von Moi emphasizes, "that prepares you for the rest of the world."
The Great Resignation, anti-trans laws nationwide creating forward momentum toward inclusion now
After two years of pandemic whiplash, the Great Resignation has also given workers the upper hand, many of whom are raising a collective middle finger to oppressive workplace practices. 
Plus, right now, basic trans liberties are under attack across the country. At the same time, trans people have begun serving in visible policymaker positions, among them, Pennsylvania's own former Health Department head Dr. Rachel Levine as U.S. Assistant Secretary of Health, and Deja Lynn Alvarez, who hopes to be the first openly trans Latina elected to the Pennsylvania legislature in the seat left open by State Rep. Brian Sims (D-Philadelphia) as he runs for lieutenant governor.
"While we're seeing all this legislation attacking trans youth and athletes," Iannozzi explains "it's also raising awareness of our needs and how blatant the discrimination is. It's turning folks who are otherwise ambivalent into supporters. When we started TransWork, we had five employers interested. Now we have over 200."
"While we're seeing all this legislation attacking trans youth and athletes, it's also raising awareness of our needs and how blatant the discrimination is. When we started TransWork, we had five employers interested. Now, we have over 200."
For Zach Wilcha, President of the Independent Business Alliance, Philly's LGBTQ chamber of commerce which houses the TransWork program, the math right now for employers is simple. "Diverse workplaces outperform their competitors, and bringing in new ideas from creative communities of people can only help workplaces, especially during a recovery period." 
One of the perks of being associated with a chamber? A direct link to employers. TransWork turns that access into new jobs for the community. 
But if getting companies interested in the wealth of trans talent seems like the easy part, preparing employers and candidates for an affirming partnership is anything but. Zach and the small, all volunteer TransWork team devote much of their energy toward helping organizations measure up on trans-friendly policy and culture, through a series of soul-searching assessments and training. Candidates, meanwhile, can take their pick of a wide array of tools from job preparedness workshops and resume writing to tailored networking sessions.
Sometimes, though, a typical job just isn't the answer. As business owners, co-chairs Iannozzi and Magagna see entrepreneurship as a path for trans people to achieve self-sufficiency outside of the tangle of office politics. There, too, are barriers to overcome, including access to credit and a reticence among some officials to certify transgender business owners as minority suppliers. Fortunately, TransWork has linked up with other diverse-identity chambers of commerce in Philly to provide tools and advocacy for would-be business builders.
The confidence that comes with a career
If LinkedIn ever awards a badge for the ability to win over audiences, Von Moi will be the first in line. As a teen, she toured with People's Light and Theater Company, which won a Barrymore Award, Philly theater's highest honor, for a show about two friends transformed on their journey to becoming who they were always meant to be. If you had asked Von Moi then what she wanted to be when she grows up, she would have said, "I want to be President." 
While Von Moi's ambitions have grown less political, her message is still a powerful one worth spreading: "Black trans women are capable of doing absolutely anything. "
Editor's Note: A previous version of this story erroneously identified those pictured in the image provided by the Independence Business Alliance. Philadelphia Weekly regrets the error.