BKLYN Comedy Club Presents Happy Hour, Monday, November 28, 2022
I would not normally hit you with something vague such as this (though I would say that this weekly list should be peppered with the best open mic stand-up comedy stands on occasion). But, stand-up comedy starting at 6:00 PM with the best that Williamsburg has to offer – probably locals such as Richie Redding (TBS), Corinne Fisher (Guys We Fucked), Xazmin Garza (HBO Max), Edward Farrell (New York Comedy Festival), Michael Kerrigan (Troublemakers) and Napoleon Emill (HBO) – working out their next bits with drinks nicely priced for happy hour? This is a win-win, no matter how you slice it. A great way to start your comedy week, too.
BKLYN Comedy Club/Old Man Hustle, 308 Bedford Avenue, Williamsburg/Brooklyn, NY
Ron Taylor & Friends, Tuesday, November 29, 2022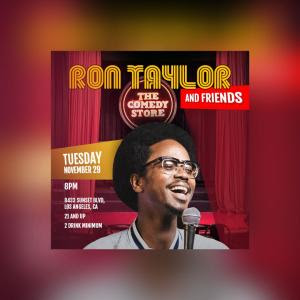 The most intimate of the late great Mitzi Shore's original Comedy Store's original Hollywood rooms welcomes Instagram favorite, Detroit-born Ron Taylor to its stage. I do not know who his friends are, so I can't vouch for his crowd, but Taylor's got Freeform/Amazon cred as the star of that streaming network's comedy series, None of the Above, and his jokes about school, Tinder and Jesus being Black are solidly silly.
The Belly Room at the Comedy Store Hollywood, 8433 Sunset Boulevard, Los Angeles, CA
The Other Side of Comedy with Matthew Silver, Wednesday, November 30, 2022
If you are a fan of YouTube and Instagram, you know well the legend of Matthew Silver, a stand-up comic and clown easily recognizable from his daily street performances in NYC's Union Square Park that often go viral with its "Words of Wisdom from An Unexpected Citizen" tag. Why see him the woolly wild man of Manhattan street comedy in a club, when you can probably catch his live act for free? I will start with the fact that I lived on St. Marks, and it is still one of my favorite places in America despite its gentrification. Plus, it an indoor venue probably forces Silver to edit his act or at least focus his legs akimbo and wiggly broad arm movements for the stage. Just saying.
St. Marks Comedy Club, 12 St. Marks Place, NY, NY
Chris Rock and Dave Chappelle, Thursday, December 1, 2022
Advocating airflight around and additional expenditures around the holiday is outrageously stupid, and I would not normally advocate as much. Yet, the tour starts for the Chris Rock and Dave Chappelle arena tour? Now that you should see – stand-up comedy's two very best, and most inventive practitioners, both at the top of their individual games. Plus, Rock is warmed up enough to make jokes about the Will Smith slap and Chappelle is still hot under the collar about being cancelled-not-cancelled-never-cancelled.
Viejas Arena, 5500 Canyon Crest Drive, San Diego, CA
Christopher Titus, Friday, December 2, 2022
Before the onslaught of streaming networks, stand-up comic and author Christopher Todd Titus was (is) a force, the caustic, sneering but homey star, writer, co-creator and focus of his eponymous FOX series Titus, its dire, wired dysfunctional family humor and its unrelenting dedication to alcohol-based trouble. Still, spit-take funny and angrily sarcastic, Titus has many a stand-up comedy live album to prove for his troubles, including Carrying Monsters (2020) and Zero Side Effects (2022). It is a better world when Christopher Titus is around, making smart ass jokes, for sure.
Helium Comedy Club, 2031 Sansom Street, Philadelphia PA
Gray West & LizaBanks Campagna, Saturday, December 3, 2022
SINNERS & SAINTS Saturdays at Cafe Saint-Ex takes place in a basement room in an aviation themed restaurant and bar. What could go wrong there? In DC? Regarding aviation? And combined with liquor? Lest you're thinking terrorism, what we know goes right is how two of the District of Columbia's hottest most sarcastic stand-up comedians join forces for what has, so far, during their lengthy residency at the Capital Laugh's café, been dynamite. Oooh, wait. No explosion metaphors.
Capital Laughs at Cafe Saint-Ex, 1847 14th St NW, Washington, DC
David Gborie, Sunday, December 4, 2022
It's a Sunday night in Portland. It is freezing cold, and more than likely raining. With that, David Gborie, a young is up-and-coming stand-up comedian from San Francisco with credits at Viceland, the NFL Network (he's written for the ESPY Awards too, wow) and podcasts such as All Fantasy Everything and Shinin' With Sam and Dave sounds like the perfect funny antidote to the chill. Plus, he has great stories about his mom listening to rap music that are hilarious.
Helium Comedy Club, 1510 SE 9th Avenue, Portland
,
OR