Philly's most passionate sports fans are nuts about a team that doesn't yet exist.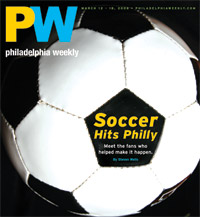 Staring eyes, shit-eating grins, blue-and-yellow Philadelphia scarves wrapped across their bouncing shoulders. They pogo up and down, yelling "Sons of Ben! Dee be de de!" while doing a crazy little two-step and trying not to spill their pints.
The chant–a mutation of the "Ma Nah Ma Nah" song popularized by the Muppets–is only about a week old.
These guys are Philly soccer fans, and they're kinda making it up as they go along.
Meet the Zolos–the crazy fans of Philadelphia's yet-to-be-named American soccer club. They're better known as the Sons of Ben (SOB). They've got a club crest, flags, a Latin motto, a customized bass drum, six different scarf designs, thongs, mousepads, aprons and mugs. Lord knows how many songs and chants, and–at last count–2,010 members. (Hence Zolos. Get it?)
They've also got bitter rivalries with Major League Soccer (MLS) teams D.C. United and New York Red Bulls. And the New England Revolution hate them too. As do fans of the Portland Timbers and Toronto. Already. Despite the fact that Philly doesn't actually have a team yet. How Philly is that?
As you've almost certainly heard, there's a $115 million soccer-specific stadium and an MLS franchise coming to Philly. To nearby depressed-to-hell Chester, actually. They start play in 2010. (Zolo. Get it?) And the reason we're getting a team?
"You can never underestimate the passion of the fans," says Ed Rendell at a press conference in Chester. "You can't measure it. Believe me, this group's excitement and desire had a lot to do with why we're here announcing this franchise."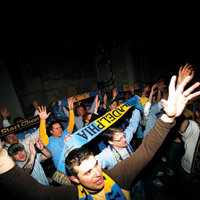 Big Ed goes on to compare the SOB to the Eagles' 700 level. Which is kind of flattering to Eagles fans.
In January of last year 30 or so soccer- mad Philadelphians gathered at the Dark Horse Pub on Headhouse Square to watch the U.S. play Mexico.
"We were huddled around a single TV," says Sons of Ben co-founder Bryan James.
Even this handful of fans represented real growth. Back in September 2006 there were just three Sons of Ben–Bryan James and his friends Dave Flagler and Andrew Dillon. Their idea: to create a fan base so vibrant, so intense and so committed it would actually help bring a Major League Soccer franchise to Philadelphia.