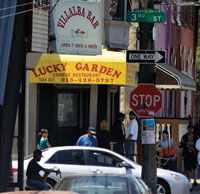 A couple weeks back, as activist CB Kimmins drove to a candlelight vigil on Clearfield Avenue, he took a wrong turn.
"I drove onto Indiana," he said, "where I saw an enormous number of drug dealers."
In some circles this wouldn't qualify as news. The Badlands, which include the lower reaches of Indiana Avenue, have long been some of the city's most notorious streets-a place where an addict can pick up crack or heroin with the ease of picking up fresh vegetables in the Italian Market.
Any respite offered by Operation Safe Streets, which chased drug dealers off the corners for about a year starting in 2003, is over. The area has returned to the kind of drug dealing Steve Lopez documented 12 years ago in his novel Third and Indiana.
Kimmins says he stopped at the corner of Fourth and Indiana, and seven or eight dealers swarmed his car, thinking he was there to buy drugs. He talked his way out, he says, and called city police, who ran a sweep of the area.
But just last week business seemed on the upswing again.
PW visited the area of Third and Indiana twice in the week after Kimmins' encounter, and found a neighborhood largely left to rot.
Trash litters the sidewalks, and a makeshift garbage dump has been made of an empty lot in the 400 block of Indiana Avenue. Tall grass does nothing to obscure stacks of tires, worn stuffed chairs and piles of bottles, bags and takeout containers.
In the surrounding neighborhood few want to talk, and no one wants to give their name. One young mother says all she wants to do is "get out the ghetto." An older relative says she's always afraid.
Nearby on Third Street, a man says he works for a living but remains afraid of the police. "I got a job," he says, "but if they see me with $100 in my pocket, what will they think?"
On a recent morning a police car cruised the street every five minutes or so. Young men ringed the corners along Third, Fourth and Fifth and Indiana, tossing their heads back with seeming impatience every time the cruiser rolled past.
By 11 a.m. the cruiser was still patrolling, and the young men had left. But just a few days later, at around 5 p.m., there were no police in sight, and the drug dealers were doing hand-to-hand transactions on Fourth and Indiana.
An older man with gray in his beard appeared to make an exchange with a young man in a hoodie. A pair of blonds made transactions 10 minutes apart. The second girl strolled north on Fourth Street till she came into view again on Indiana, stashing something in her right sock before walking back the same way.
"Things are back the way they used to be," says Greg Bucceroni, an activist like Kimmins.
Shortly after Kimmins' car had been swarmed, Bucceroni traveled to the area and told the dealers their aggressive sales tactics "weren't cool."
Kimmins says the dealers stood around in silence, waiting for him to finish his lecture, then said goodbye with a chorus of "fuck you."
Bucceroni's been patrolling these streets, off and on, for roughly 30 years. "You've got guys on the corners again," he concludes, "dealing outside."
A 32-year-old man was shot and killed at Sixth and Indiana in March. And there's a lot of talk in the streets about gang activity, some of it triggered by the recent conviction of King Homicide, the head of the Latin Kings. "There's talk that the Bloods gang is trying to recruit now because the Kings might be vulnerable," says Bucceroni.