The champion of Philadelphia's parks has a new leader.
The board of directors of Fairmount Park Conservancy announced the appointment of Maura McCarthy, Ph.D., as the new executive director beginning Nov. 1. For the past 13 years, McCarthy has been the executive director of Friends of the Wissahickon, harnessing more than 10,000 hours of volunteer engagement each year to support a National Recreation Trail and a 1,800-acre National Natural Landmark.
"We feel very fortunate to have found a leader who understands our vision and the strategic, collaborative work necessary to achieve it," said John Gattuso, FPC board president.
Gattuso pointed to the capital projects currently underway at Fairmount Park Conservancy, initiatives that McCarthy will oversee. First, the historic Centennial District in West Fairmount Park re-imagined as a dynamic destination in addition to ambitious plans for transforming South Philly's 350-acre FDR Park into a state-of-the-art environmental and recreational hub. 

There's also the Conservancy's partnership with Philadelphia Parks & Recreation on the citywide Park Stewardship Program as well as the ongoing engagement in the restoration of Fairmount Park's natural lands and preservation and activation of numerous historically significant architectural sites.

"I see this move to Fairmount Park Conservancy as the opportunity to continue the work I've been doing on a citywide scale," said McCarthy of her new position as executive director. "I am genuinely excited about being part of the Conservancy's mission to build equity through the maintenance, improvement, and activation of Philadelphia's amazing parks."
PW recently posed five questions to McCarthy, a Philly native, about her new role and what she sees ahead for Philadelphia parks.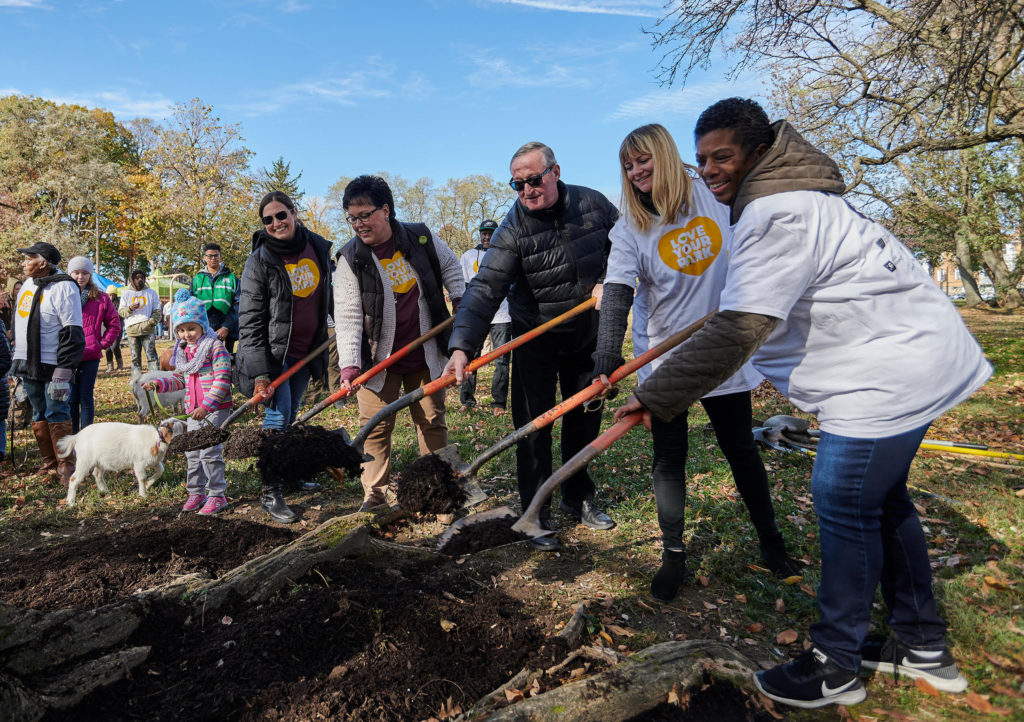 What's No. 1 on your to-do list?
My first priority is to get up to speed on the transformational projects that Fairmount Park Conservancy and Philadelphia Parks & Recreation are developing for Philadelphia's public lands.

You're the third FPC executive director in three years. How do you plan to stabilize the ship, and how important is it for the FPC to have a steady hand at the helm for the upcoming years?

Fortunately, Fairmount Park Conservancy has had strong Board and senior staff leadership that has allowed it to remain strong throughout this period of transition. Those combined strengths, along with the visionary leadership at Parks & Recreation, are what convinced me to join this team. During my time at Friends of the Wissahickon, I developed a great appreciation for seeing projects through from start to finish. I'm excited to work with this extraordinary group of people to realize a community-based, shared vision for the City's parks in the coming years.

How did your 13 years as executive director of Friends of Wissahickon prepare you for this role?
There are many ways that working with the Friends of the Wissahickon prepared me for the Conservancy, but probably the most important was familiarizing me with how nonprofits can best partner with City agencies. The role of the Conservancy is complex and its focus is far-reaching, but the partnership with Parks & Recreation is its bedrock. I think that understanding that, and how to build on that collaboration, is the most important lesson I can take from my time at FOW.

The FPC is involved in a myriad of projects, from the future of FDR Park to Boxers' Trail Signage to East Fairmount Park's Mander Playground. What should our readers know about the progress of these ventures?
Fairmount Park Conservancy has done an amazing job of connecting with the distinctive neighborhoods that make up Philadelphia and crafting visions for public space that serve the needs of the community. Each of the three ventures that you mention are still in process and will be for years to come. We have the new Master Plan for FDR Park and are turning toward design work on amenities, while the wetlands restoration work (that provides the raw materials to create those recreational spaces) will likely be ready to break ground in the next 24 months. We're waiting on final permits to move into construction with the Boxers Trail Signage Plan, and we are looking at funding possibilities and continued programming options with the community around East Park. Our projects have lifecycles that are years long, and that is why the stability of vision is so critical to our work.

Jump ahead five years. How has the FPC evolved? What does it look like? What do Philadelphia parks look like?
In five years, I would hope to see our work on FDR Park in full swing, with some public-facing aspects of it already completed. I hope that both the Conservancy's membership and citizen stewardship in Philadelphia's parks overall will have grown substantially. And I hope that Philadelphia's extraordinary parks and recreation facilities are serving more folks, and creating more opportunities for community engagement and support than ever before.