The 44 years of Atlantic City's legal-casino era has provided visitors with a plethora of excellent restaurants covering a wide variety of culinary outlets from steak houses and Asian outlets to burger joints, seafood vendors, Mexican and Italian rooms…you get the idea. But for reasons unknown, barbecue has never been much of a part of the gustatory conversation in AyCee's gambling dens.
Not that there haven't been such eateries through the years, but the few that were attempted never caught on the way so many other casino restaurants have. However, that may very well have changed with the recent opening of Wild Honey Smokehouse and Tavern at Tropicana Atlantic City.
Located on the second floor of The Quarter, the Trop's Havana-in-the 1950s-themed dining, retail and entertainment complex, Wild Honey occupies what was, for more than 15 years, the site of the Irish pub Ri-Ra. It isn't a restaurant that includes barbecue specialties in its offerings, but one that goes, if you'll pardon the expression, whole hog on the style of cooking that has its roots in such locales as St. Louis, Kansas City, Memphis, Texas and the American Southeast.
Wild Honey's owner, an entity called Royce AC LLC, did very little with the room, interior décor-wise. It still boasts the dark-wood, pub-like atmosphere of its predecessor. Instead, most of the effort and energy appears to have been invested in the kitchen, which provides much more than typical smoke-pit fare.
"The concept is classic barbecue, tried and true with the twist of fun. And that's really what we aim to do," offered Tom Recine, Royce AC's managing partner. "It's a little more creative than [typical barbecue spots]."
That is evident in the surprisingly large menu that begins with an array of "starters." These include Crispy Buffalo Cauliflower Bites (pieces of cauliflower breaded, fried and served with hot sauce), a sinful Candied Brown Sugar Spicy Bacon and the belly-filling Tater Tot Nacho Platter (with smoked meat, cheese sauce, cilantro, sour cream and barbecue sauce}.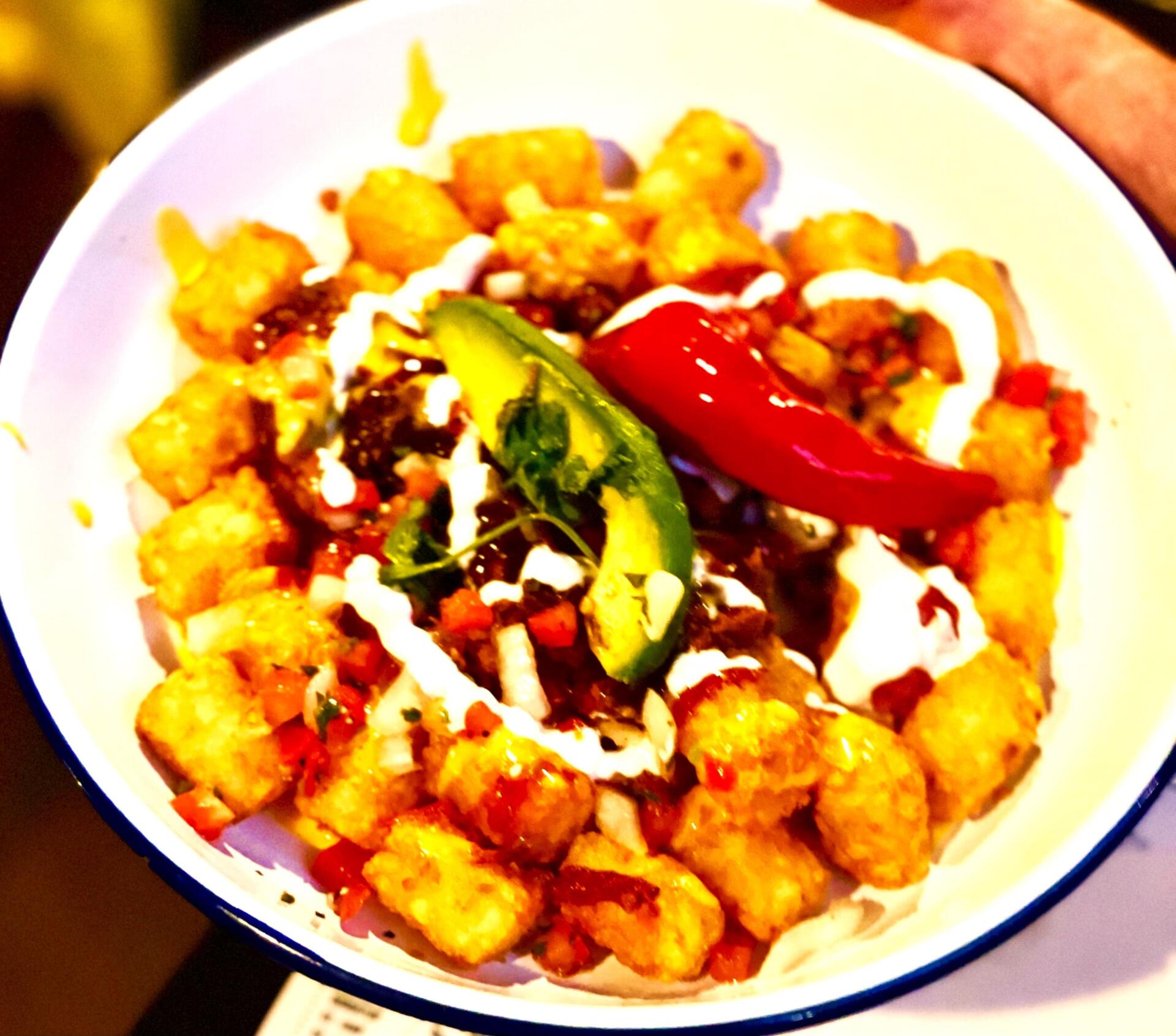 The bill of fare concludes with several dessert options including the concoction unabashedly dubbed the Big Ass Donut Sundae. It's made of bananas, vanilla ice cream, brown butter caramel sauce, toffee crumbles, peanuts and M&Ms, all of which are buried in whipped cream. It cost $45, but it can easily satiate four adults.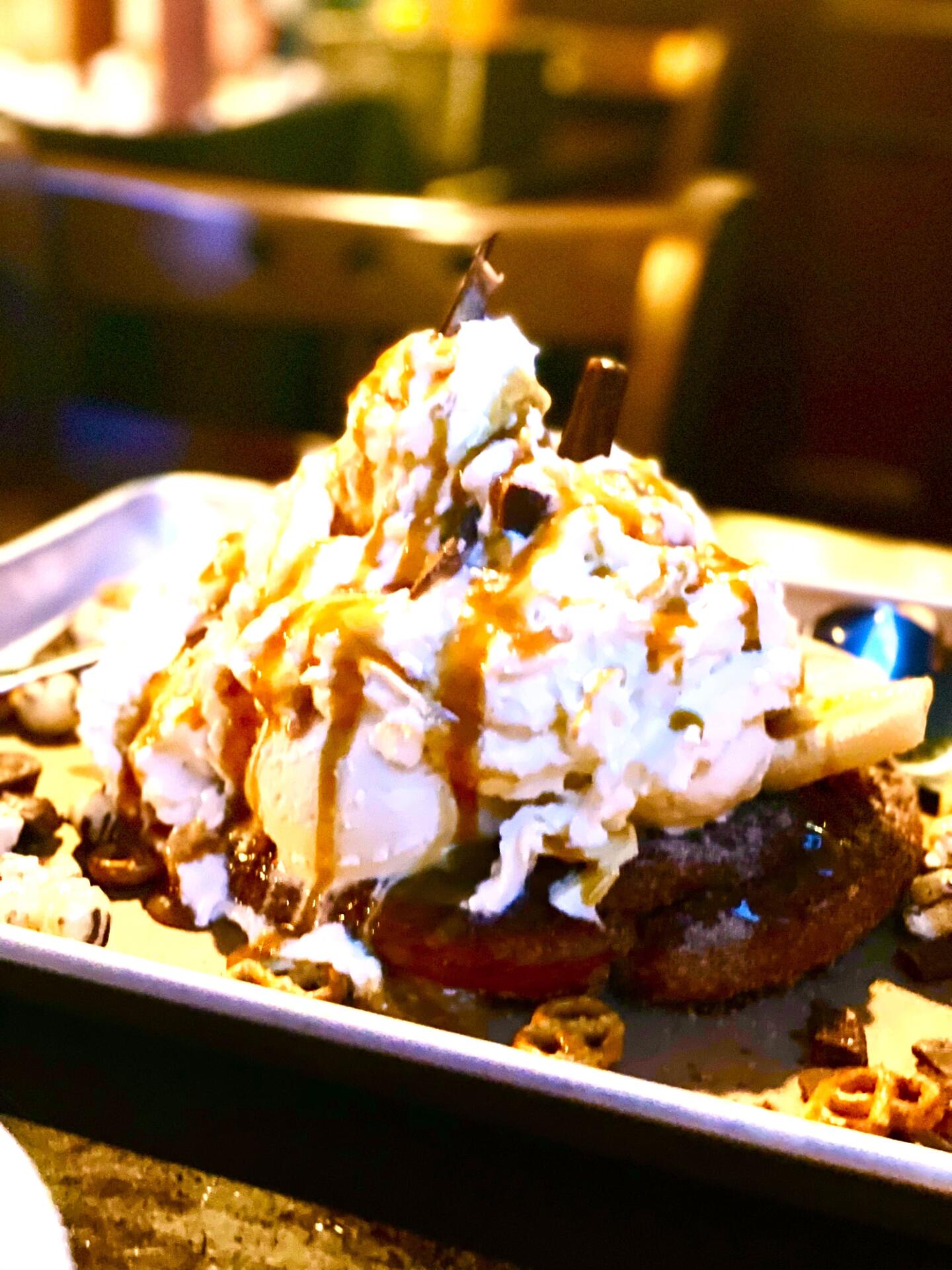 In between the two courses is the restaurant's raison d'etre: A variety of smoked meats and poultry prepared in smokehouse style and served with two sauces provided to every table, the mustard-based "Carolina Gold" and a traditional thick-and-sweet option.
Ribs come in two basic formats: St. Louis and Memphis. The former are spare ribs, the latter are dry-rubbed baby back. But also on the menu are less-common items, including the Giant Texas State Fair Turkey Leg and Big West Texas Beef Rib, which Recine, who identified it as a "must-have" item, compared to the "brontosaurus ribs" favored by Fred Flintstone because of its size.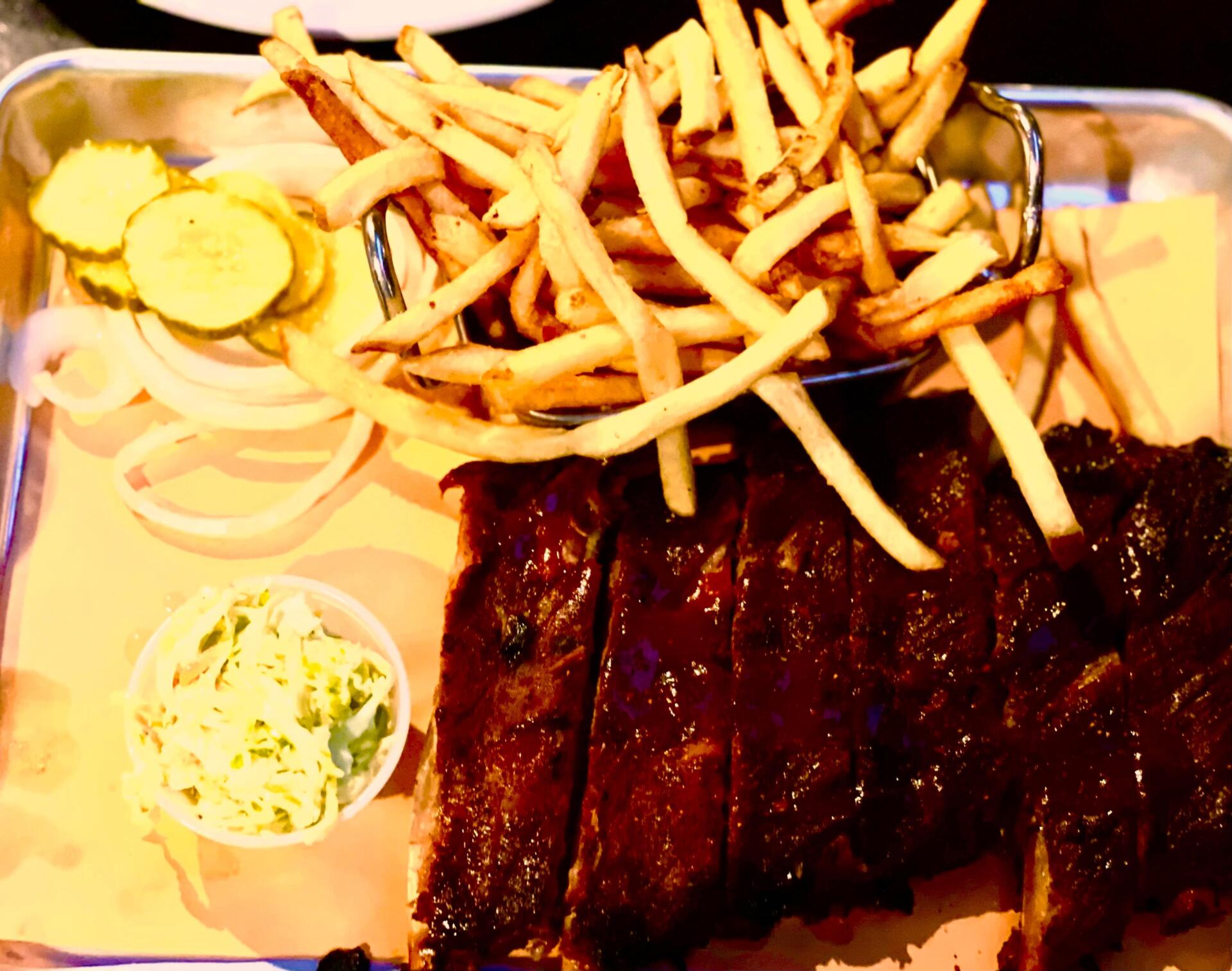 "It's really been a crowd-pleaser," he said. "It's delicious. It's different. You don't really see it that much on the east coast. You see it in Texas a lot, but you don't really see it here."
Wild Honey Smokehouse and Tavern also features a variety of specialty cocktails and whiskeys, which come in two-ounce servings. And live music will be presented throughout the summer.
Borgata bringing back Maniscalco 
Tickets are now on sale for the return of standup-comedy megastar Sebastian Maniscalco 10-show November run at Borgata Hotel Casino & Spa.
The Chicago-area native who has filled arenas from coast-to-coast will make with the jokes at the 2,500-seat Event Center for a total of 10 shows November 4-6 and 11-13. This will extend the comic's unprecedented run of Borgata shows, which numbers in the dozens. 
Fab Four fun at Hard Rock
As expected, Hard Rock Hotel Casino Atlantic City will be hosting a Beatles-based musical later this summer.
Let It Be: A Celebration of the Music of The Beatles surveys the world-changing quartet's career from its early days as the house band at Liverpool's Cavern Club and the monumental February, 1964 appearance on The Ed Sullivan Show, through the group's many stylistic changes and the band's 1970 breakup.
The production, which runs Aug. 19-28 debuted in London's West End in 2012, and subsequently made it to Broadway in the summer of 2013.
For tickets, click here.
Casinos celebrate The Fourth
It may seem almost sacrilegious for a casino to make a big deal about Independence Day. At the very least, it could be perceived as a crass exploitation of what is the seminal event—the issuance of the Declaration of Independence—of our nation's history.
But, according to a Daily Beast article, there may be no more appropriate setting for a July 4 celebration than a gaming hall: Apparently, the Founding Fathers were inveterate (if not degenerate) gamblers!
As such, it makes perfect sense for casinos to mark the occasion of America's 246th birthday. And two regional gambling dens are doing just that.
On July 3, Rivers Casino Philadelphia is staging a bash dubbed Party On the Pier. The festivities begin at 6 p.m. with a "let's get this party started" set by DJ Gary. At 7:30, the acclaimed Elton John tribute act, Elton Rohn, will perform a 90-minute set that will be followed by a fireworks display over the Delaware River. 
Throughout the evening, there will be family-friendly activities including face-painting and balloon artists, as well as food vendors.
Free parking is also part of the party package.
On July 4, Tropicana Atlantic City will stage a fireworks display at 10 p.m. And if you can't make it then, be advised the Trop will fill the sky with bombs bursting in air every Saturday night through Labor Day weekend.