On the same weekend that the kid-centric League of Super-Pets opened soft, B.J. Novak's smart, true-crime dramedy Vengeance barely hit the top ten, and the sci-fi focused Jordan Peele film Nope dropped 70% in its second week, Tom Cruise and Paramount's Top Gun: Maverick rounded out the top five film grossers with $8.2 million in its 10th weekend of release. Nabbing $650 million at the domestic box office with the promise that, soon, it will bypass Titanic ($659 million) and Jurassic World ($653 million) to win the title of the seventh-highest grossing movie in domestic box office history, Tom Cruise's Top Gun proves that you don't need to have a super power beyond a need for speed to break office records.
Or does it?
You wouldn't hear about these sob story, sort-of lackluster box office numbers if we were talking about any of three Spider Men who popped their head up for No Way Home. Or whatever upcoming DC film has a Batman in its front seat (Ben Affleck, Michael Keaton and Rob Pattinson will don the black rubber cape and cowl in the next 12 months), to say nothing of an upcoming, musical sequel to Bruce Wayne's rivalrous Joker. And if you happen to be a card-carrying member, veteran or newbie, of the MCU (the Marvel Cinematic Universe, to the three of you as yet initiated), your weight and cache would be as good as billion-dollar bullion.
Save for Tom Cruise making a Top Gun movie every thirty+ years and most Leonardo DiCaprio vehicles (two of only name-above-the-title Hollywood icons who have not played superheroes), it is getting harder to find, with fewer far between, any large-scale films, cinematographic epics and action (or not so much kinetic action, e.g. Martin Scorsese's The Irishman) adventure flicks without a Thor, a Wonder Woman, an Aquaman or an Avenger that actually makes real money. James Bond's No Time to Die did OK, worldwide, where a market for the British now-dead super-spy holds fast, but in the United States, 007 fell short the mark. Big budget, tech-heavy brain teasers such as Tenet and Matrix 4 not only confused viewers, it confounded their producers' accountants. And huge budget films about filthy Vikings such as The Northman? Don't even get me started on how much muck and money that film lost.
This theorem doesn't exactly bode well for the box office behind Christopher Nolen's mournful, upcoming Oppenheimer (unless you put a cape on the nuclear physicist who invented the atom bomb), James Cameron's multiple Avatar sequels (being blue only goes so far) or Scorsese's Killers of the Flower Moon neo-Western.
Into the station, for August 2022, comes Bullet Train – a sparkly, kinetic, new, anime-visualized, live action thriller based on a 1975 Japanese action thriller starring Ken Takakura and martial arts master Sonny Chiba, now directed by David Leitch (from Deadpool 2) and starring Brad Pitt – the third actor in the above-mentioned trio, to never play a superhero.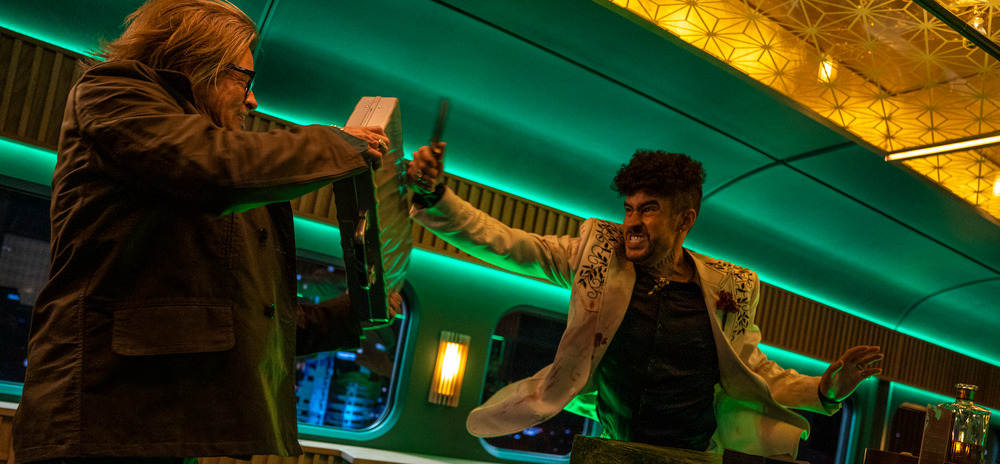 In a role that you would've thought better suited to Keanu Reeves with all of its Japanese-based color palette, anime references, Zen existentialism and contract player job skills, Pitt plays "Ladybug," a contract lifer tired of the hit work and the bad luck that's befouled him, but attempting to find Buddhist-like serenity with one last score. That sounds a little like what Pitt did in Oceans 11, 12 and 13, but so what – those casino buddy flicks were fun. And this time, Pitt is on Japan's famed Bullet Train in search of a cash-and-gold filled briefcase – as is every other bad guy on this speeding, runaway express.
Stop.
Action films about love, mystery and mayhem on trains or large-scale motor vehicles can be iffy in the 21st Century, as are big budget films about automobiles and boats.
Kenneth Branagh's mustachioed update on Agatha Christie's Murder on the Orient Express did well, as did Bong Joon-ho's Snowpiercer. But I bet that neither film made as much money, as say, Speed did in 1994 when a crazy ass, rushing bus (standing in for a runaway train) impressed viewers. James Mangold's Ford v Ferrari may have been nominated for many an Oscar, but I'll bet you all the Pennzoil in Pittsburgh that it didn't make half as much as 1990's Days of Thunder, another Tom Cruise vehicle (pun intended) and Quentin Tarantino's favorite big budget racing movie. (Please don't write me because I didn't include any of The Fast & the Furious movies in the financial success stories of car films. They're dumb films and they traveled to outer space in the nonsensical TF&TF Nine, therefore losing any and all cred as to how we address speed racers and anything Vin Diesel).
Back to Bullet Train.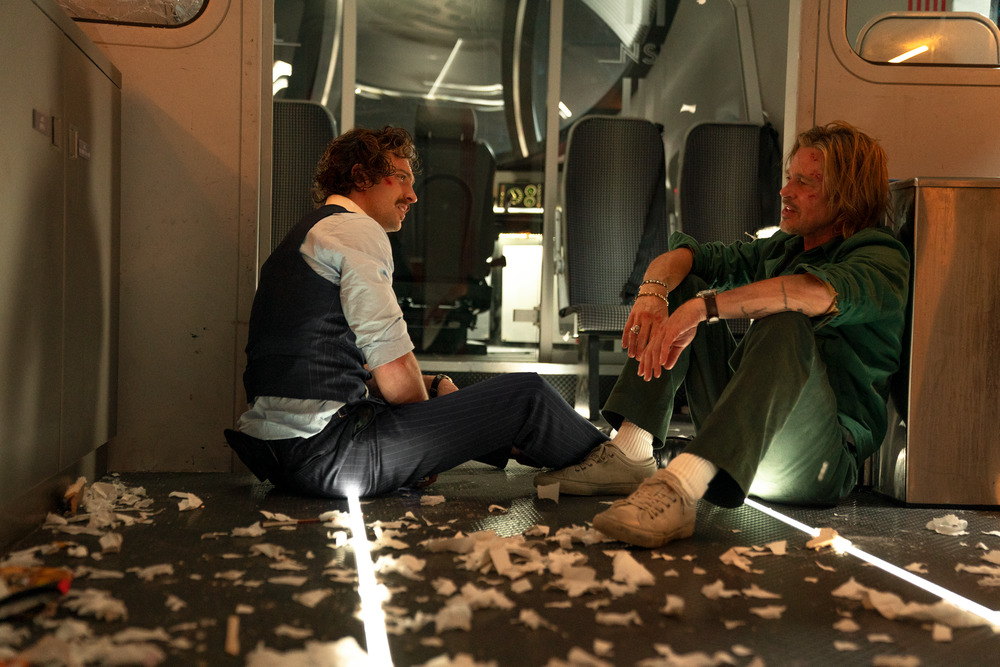 So, everyone in the film is heading to Kyoto – several hit men on a mission (Aaron Taylor-Johnson and Brian Tyree Henry as fellow contractors, "Tangerine" and "Lemon"), some characters looking to prove a relatively menacing point to their dad and brother (Joey King, "The Prince"), and several other bad-and-not-truly-bad people-but-dressed-that-way types (Bad Bunny's "The Wolf, Hiroyuki Sanada's "The Elder") out to get revenge for one deeply personal and/or bloody crime (or perceived role in a crime – this winds up as a humorous, important point near the film's finale) or another. Point is, it is a chase film where everyone has different things they are chasing, personally and professionally, but with one man at their locus: "The White Death" (a shaggy haired Michael Shannon), a brutal crime lord character with his own vengeance to enact.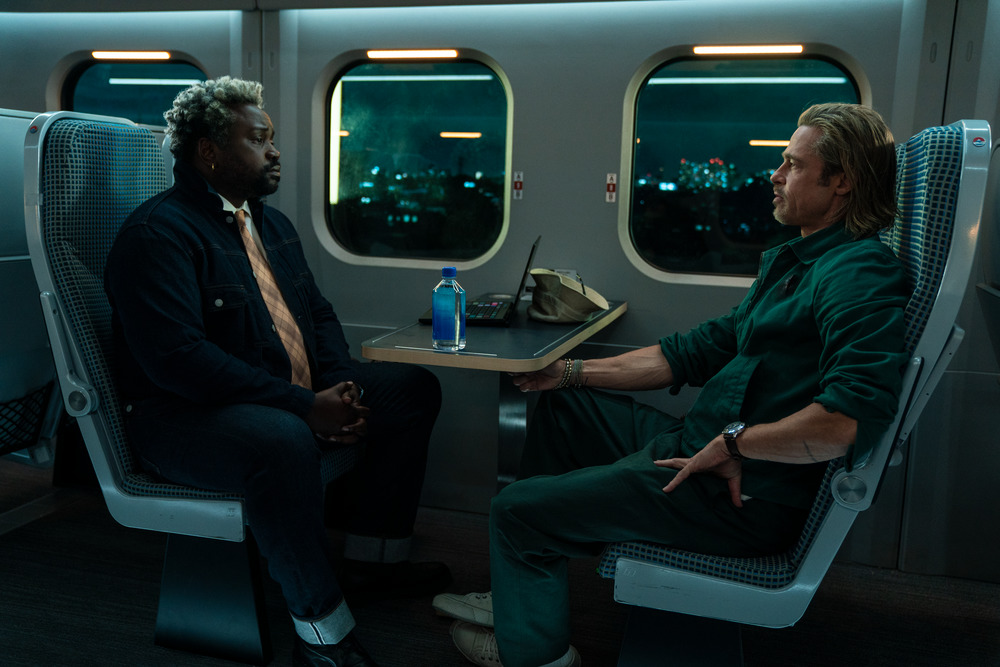 If you could imagine Guy Ritchie directing Kill Bill with the dance choreography of a Bob Fosse – lots of machismo conversation, un-merry manga and martial arts kicks filmed frenetically, but with the sense of timing only the finest, most muscular dance moves require, and lots of blood – you're halfway through to getting a feel for what the quick stepping Bullet Train looks like courtesy the man who brought you Deadpool (and yes, there's a reference to that film too).
Now, make it faster. Much faster. Make every train stop as rushed and panicky as its characters can handle. Make all of the characters (save for Pitt's phone handler, played by Sandra Bullock) repartee cocky, quick and comic, but not too on the nose – which sometimes works, but often doesn't work because writer Zak Olkewicz's screenplay, based upon the novel "Maria Beetle" by Kotaro Isaka could have used some tightening, even more of a point more often than not. For while most things come together and all issues get resolved by the film's second ending during the credits' sequence (don't leave the theater – you'll want to see the film's final, funny comeuppance), Bullet Train could have used a script that didn't rush by at 300 miles per hour.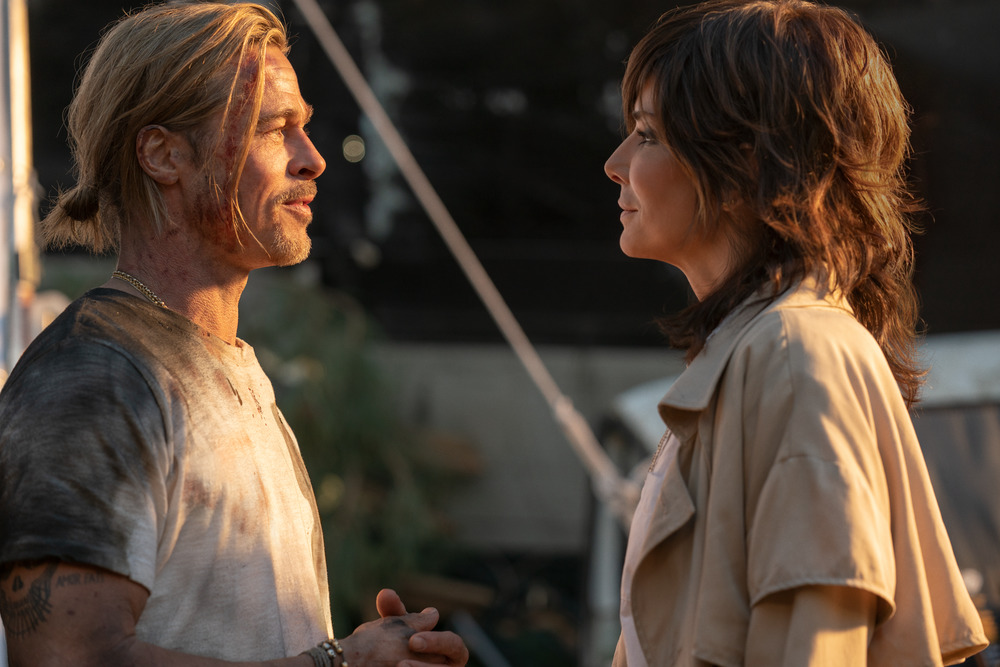 That said, as a summer, popcorn-y blockbuster that isn't filled with god-hammering Thors and other MCU types, Bullet Train looks and feels fast, original and should go a long way to proving that – like Top Gun: Maverick – we don't solely need people in capes or iron to get our action-adventure thrills satiated.