On 8th September 2022, Queen Elizabeth II passed away peacefully at Balmoral Castle in Buckingham Palace at the age of 96 leaving the country sad. The news has an immense reaction from her followers, friends, and family. The London Bridge has certainly fallen, keeping the mourners mourning for a Queen who reigned on the throne for 70 years.
You don't live to see a monarch reign for 70 decades, and you certainly don't live to see a Queen as magnificent as Queen Elizabeth II was. She took the throne soon after the death of her father, King George VI, and ascended to the throne in 1953. Her exceptional and exemplary services to the countries and nations will always be remembered for decades ahead.
As incredible as Queen Elizabeth II was, she has been very discreet about her life. There are so many things that are kept secret from the citizens because Royals have a code of conduct to follow. Today, you will be amazed to know 70 facts about Queen Elizabeth II that you haven't heard before. Some of them will make your jaw drop and some of them will amuse you!
70 Facts About Queen Elizabeth II Nobody Knew!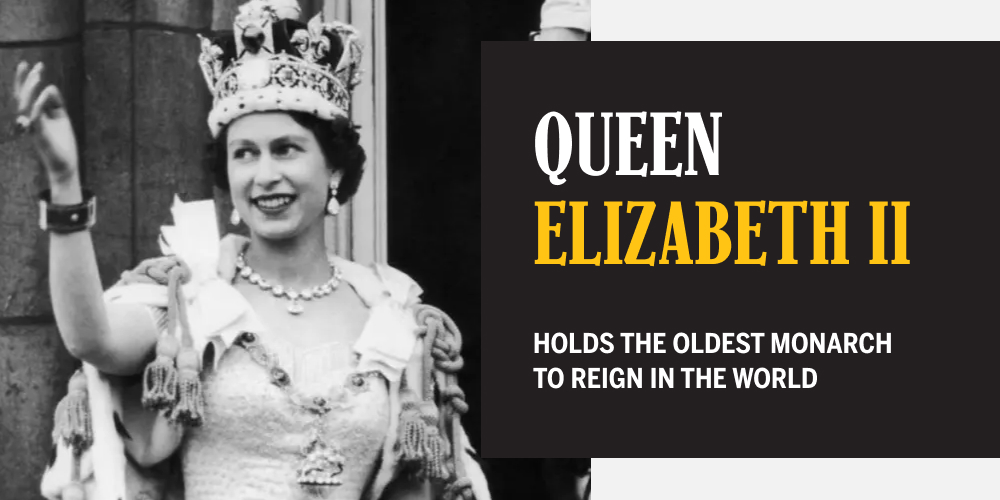 Queen Elizabeth II holds the record to be the oldest female monarch in the world. She has reigned her kingdom for 70 years which is the longest record in the history of monarchs.
The Queen took over the throne after the death of her father, King George VI, in 1952. She was quite young back then and took all the responsibility like she was meant to be. Ever since then, the Queen has been serving her country and people till she died at the age of 96 years at Balmoral Castle in Buckingham Palace on 8th September.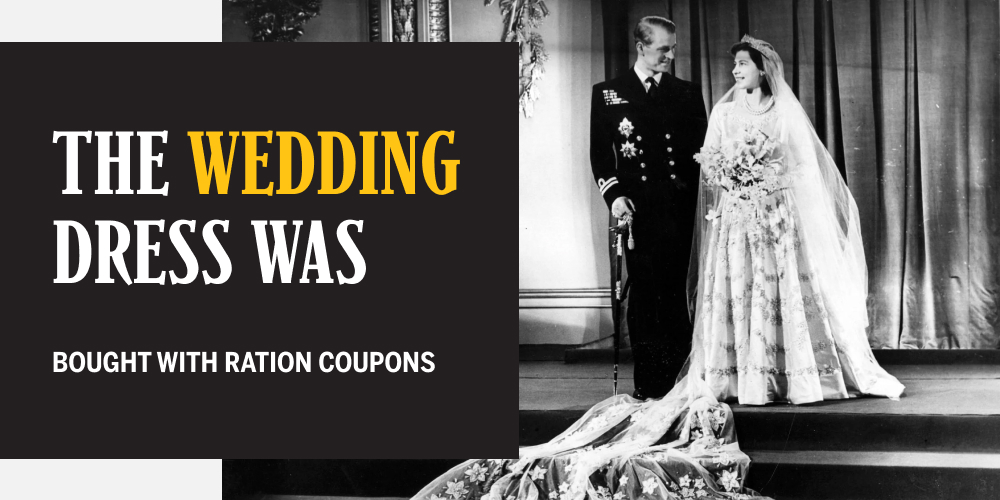 The Queen's wedding dress has been an all-time favourite. It is a classic vintage piece which has been talk of the town back when the Royal wedding happened. Not everyone knows the fact that the Queen bought her wedding dress with the ration coupon from World War 2. Shocking, right?
The Queen bought the material for her wedding gown with these ration coupons. Later on, the collected sum was returned because the Royals can't receive gifts from the public. The wedding gown actually turned out very graceful and the credit goes to Norman Hartnell for the incredible job.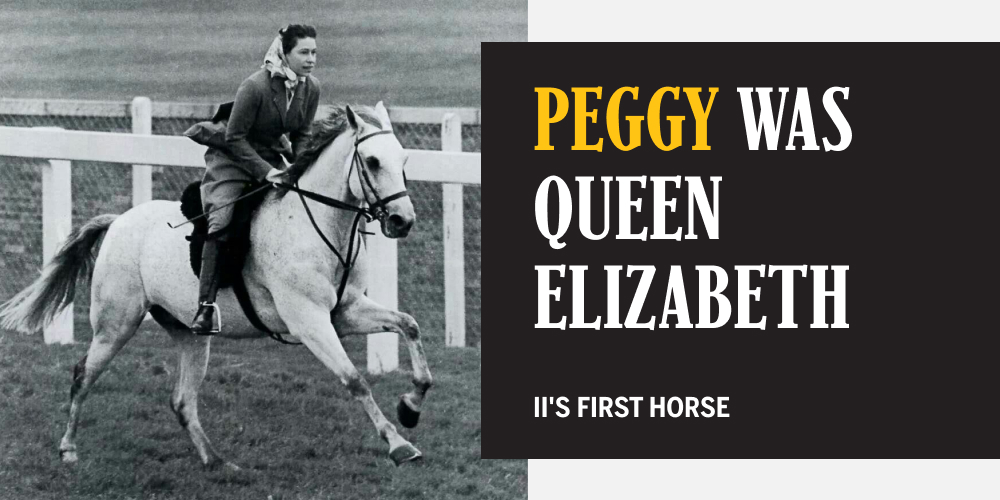 We have seen the Queen showing her love for horses over the years. She has also been seen enjoying horse riding when she was young. You will be amazed to know that the Queen's first horse was gifted to her by her grandfather King George V.
She named her horse "Peggy" and has seen loving it so much. She used to visit the stable a lot and showered all her love for the cute Shetland pony that was gifted to her with so much love.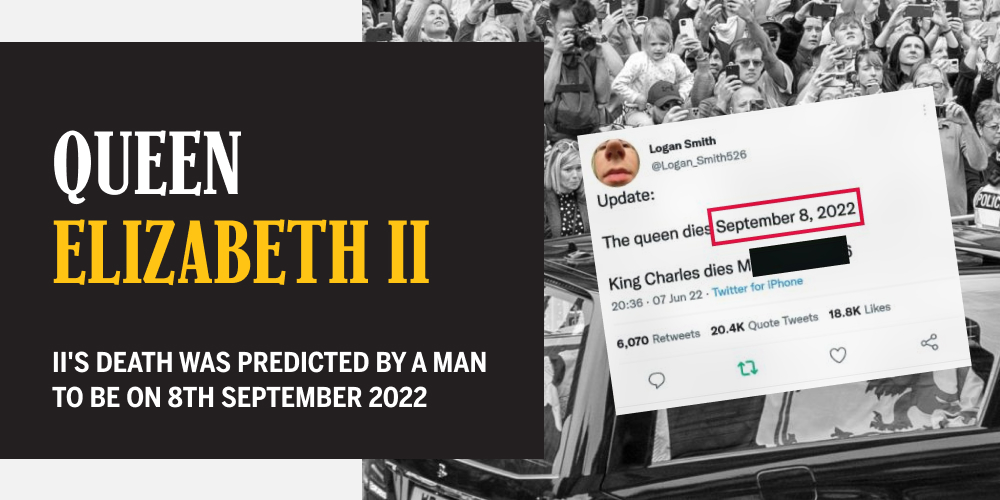 Yes, you read it right! A man named Logan Smith predicted the exact death date of Queen Elizabeth II to be on 8th September 2022 which turned out to be true when she died peacefully in Balmoral Castle.
The same man has also predicted the death of King Charles to be on 28th March 2026. The man has a Twitter account and you can check his tweets regarding prediction by knowing his username: @logan_smith526.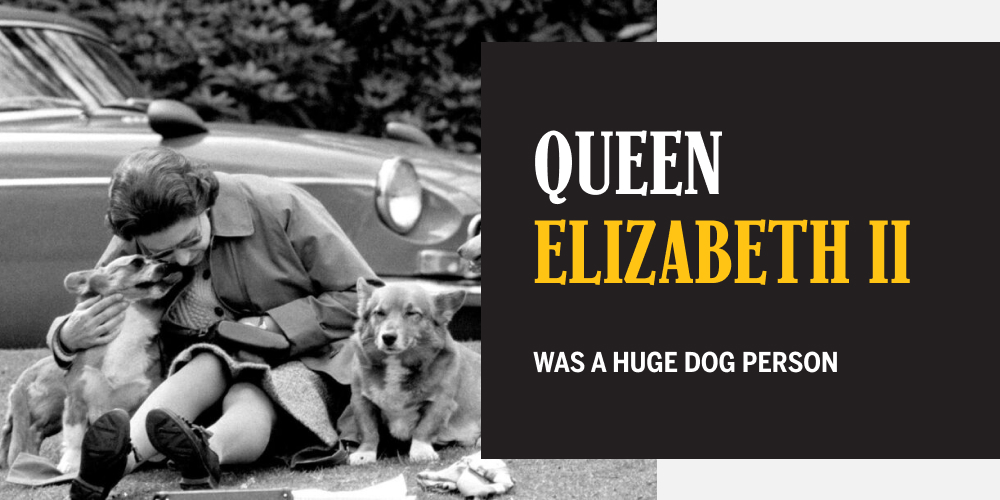 You might have wondered if the Queen was a cat or a dog person. Congrats to the dog lovers because the Queen has 30 corgis throughout her life. Her love for dogs grew when her father, King George VI, gifted her corgis on her 18th birthday. She loved it so much and named it "Susan". The Queen loved to spend time with her dog as it was such a lovely birthday gift.
It has also been reported that all other corgis that the Queen owned were from the same dog "Susan". The Queen also introduced a new breed of dog which was a cross of a corgi and dachshund and named the breed "dorgi".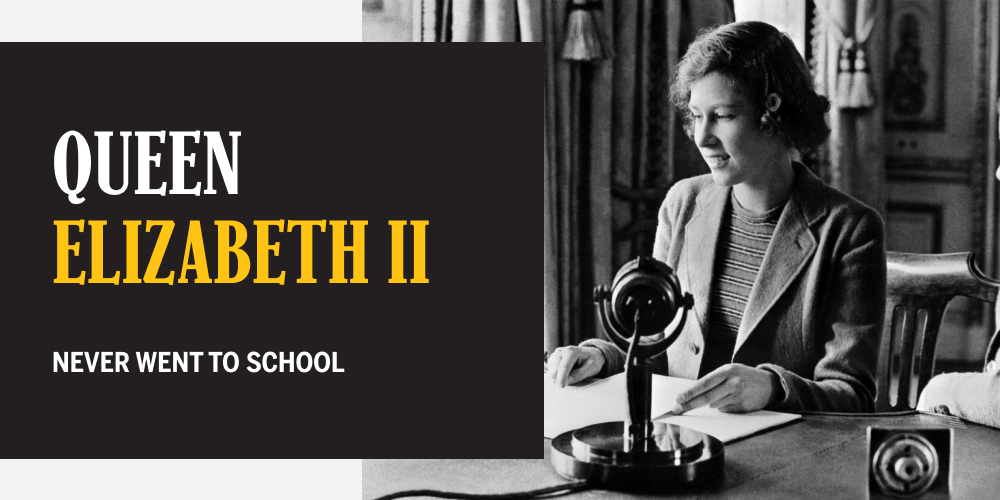 Yes, you read it right! The Queen never went to school and holds no school records but that doesn't mean she is uneducated!
The Royals who ought to be future monarchs are typically not sent to school. Instead, they are homeschooled by the best tutors in the world. The Queen has also been homeschooled and holds a degree in Constitutional History and Law.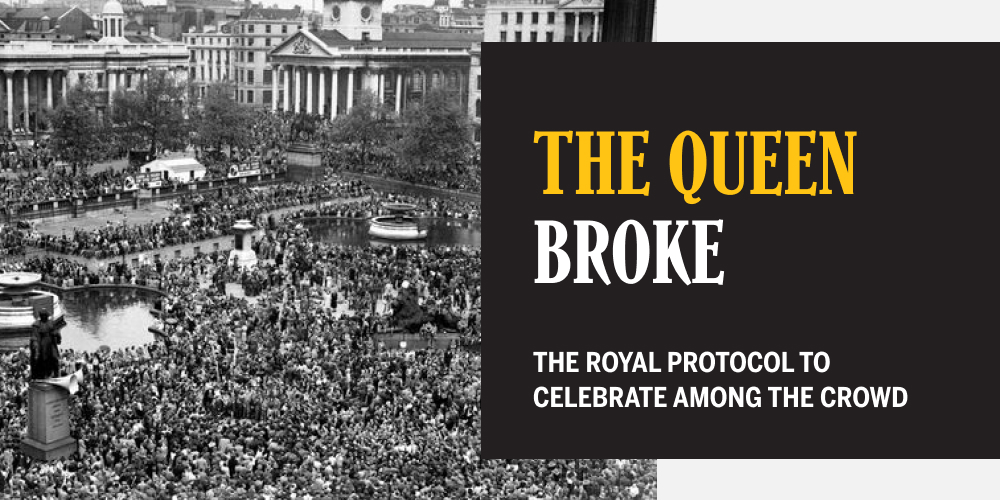 As much law abided by the Royals, the Queen and her sister Princess Margaret once mingled among the crowd breaking the Royal protocol to celebrate the end of World War II on 8th May 1945.
In the movie 'A Royal Night Out', the escape has been dramatised and portrayed as something more of a 'sneak out' but the truth is the contrary. Both of the sisters took this step after taking permission from their parents and she has marked this memory as one of the most memorable ones in one of her Instagram posts.
8 – Her tiara snapped on the Wedding day.
A bride's worst nightmare is to experience something bad related to her dress and accessory. When it comes to a Royal Bride, a Queen specifically, things can also go not so planned. At Queen Elizabeth II's wedding, her tiara snapped on the wedding day.
It sounds terrific but we're talking about Her Majesty here. Nothing can go unfixed when you're the Queen of a whole kingdom. A court jeweller immediately fixed the tiara and the Queen was able to wear it back before the official ceremony.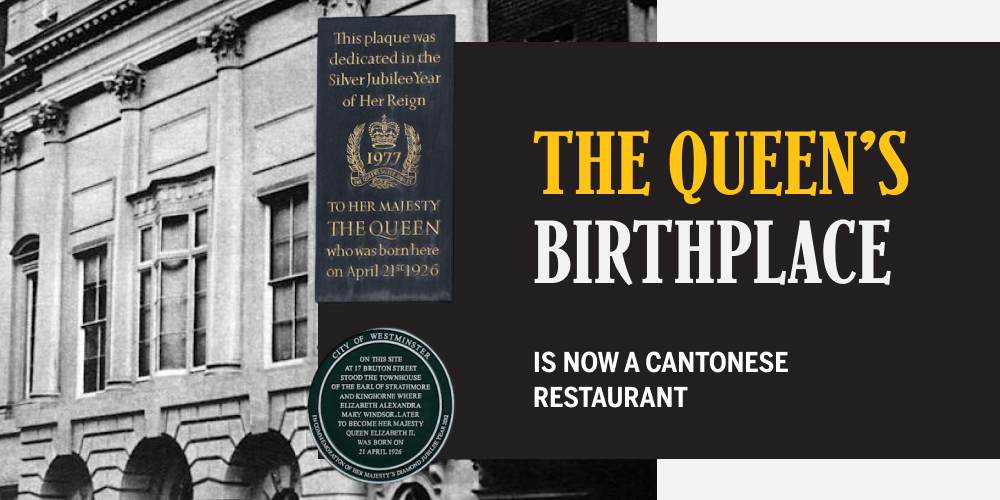 Queen Elizabeth II was born in her maternal grandparents' home on 17 Bruton Street at the London townhouse in Mayfair. Today the place is a world-famous Cantonese restaurant known as "Hakkasan". If you ever happen to visit the restaurant you might like this one due to its food and ambiance and of course the fact that the longest reigning monarch was born at this place.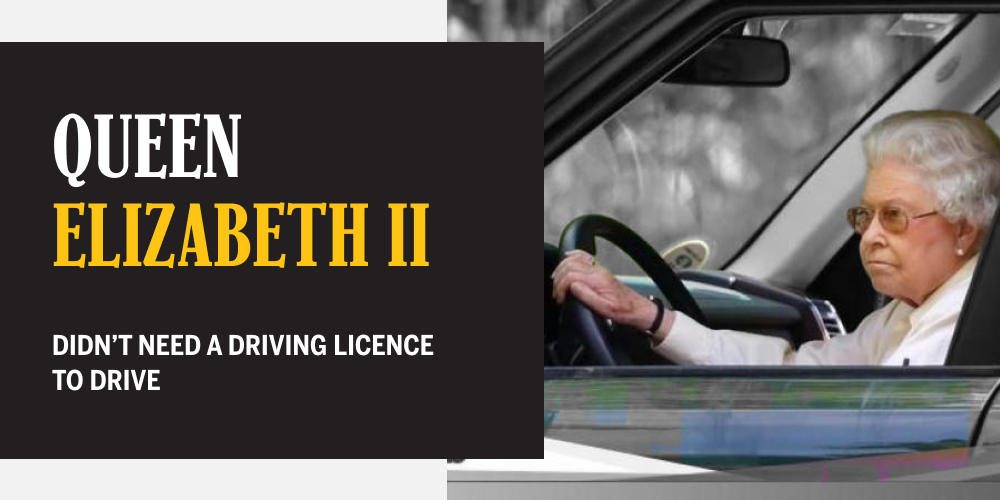 Her Majesty didn't own a driving licence nor did she need one to drive a vehicle. The reason is in the United Kingdom, all licences are issued under the Queen's name and that is why she didn't need one. She was also a good driver even before her demise. Recently, she drove Saudi Arabia's Prince Abdullah in a Land Rover giving him a tour of one of her estates. Quite fascinating!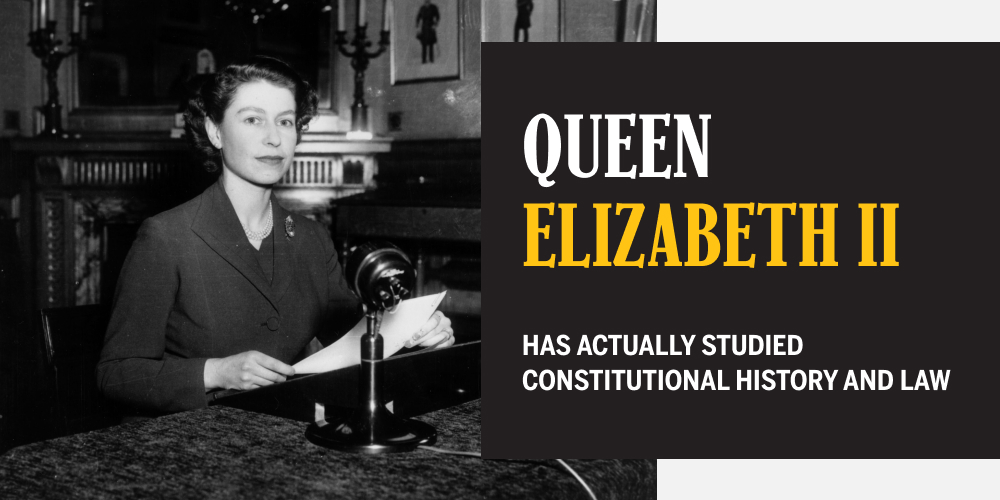 The Queen is well educated and holds a degree in Constitutional History and Law. She has been homeschooled and has also studied French, Music, and German at home.
Queen Elizabeth II studied French as a subject as well and she was very fluent in this language. Even though she has always seen addressing in English, her grip on French has been remarkable.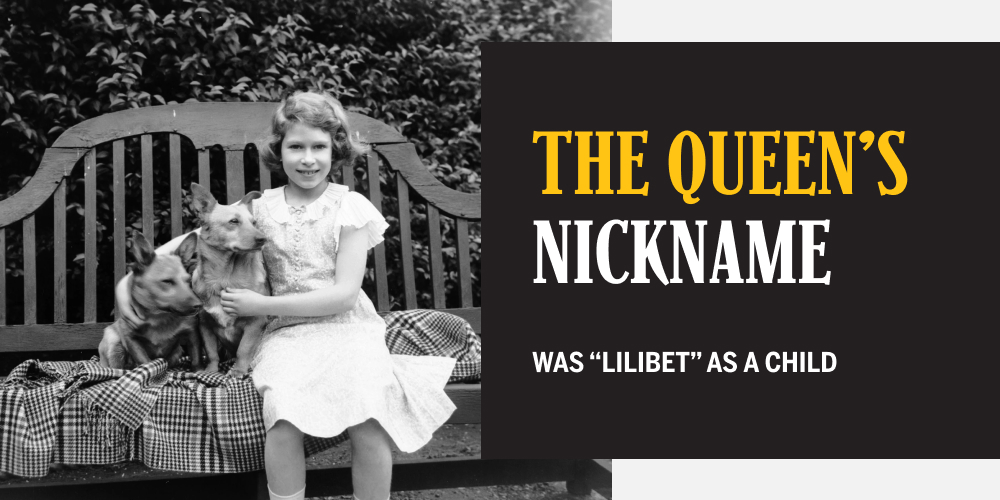 Queen Elizabeth II had a nickname given to her by her parents as "Lilibet". Deriving "Lili" from her nickname, Prince Harry and Meghan Markle named their daughter Lili Diana Mountbatten Windsor.
14 – Her Majesty was named after her mother.
Queen Elizabeth II was named after her mother, Queen Elizabeth. Her parents decided to name her after the Queen and it stuck along perfectly.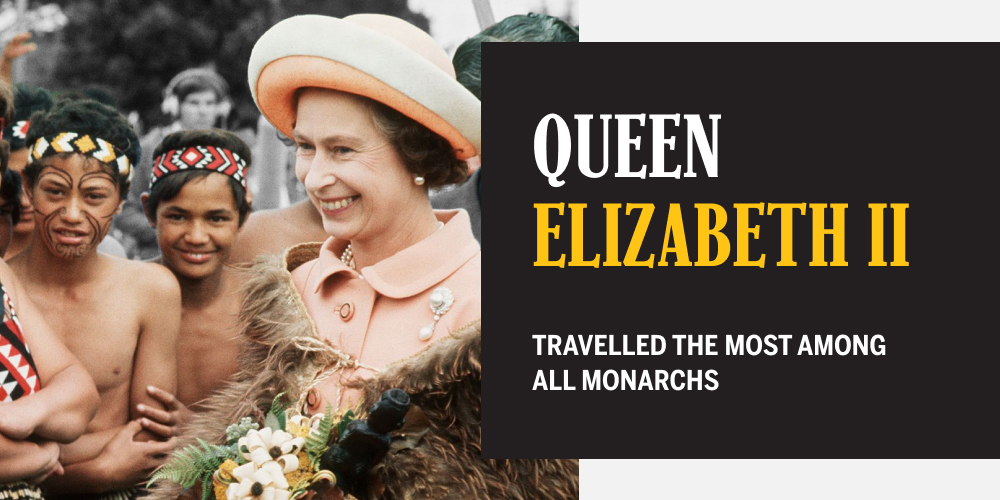 Queen Elizabeth II was a huge traveller. Among all the monarchs, she has been the one who has made the most visits abroad. She has visited 117 countries across the globe and made multiple visits abroad. During the Commonwealth, she took 150 tours during her reign.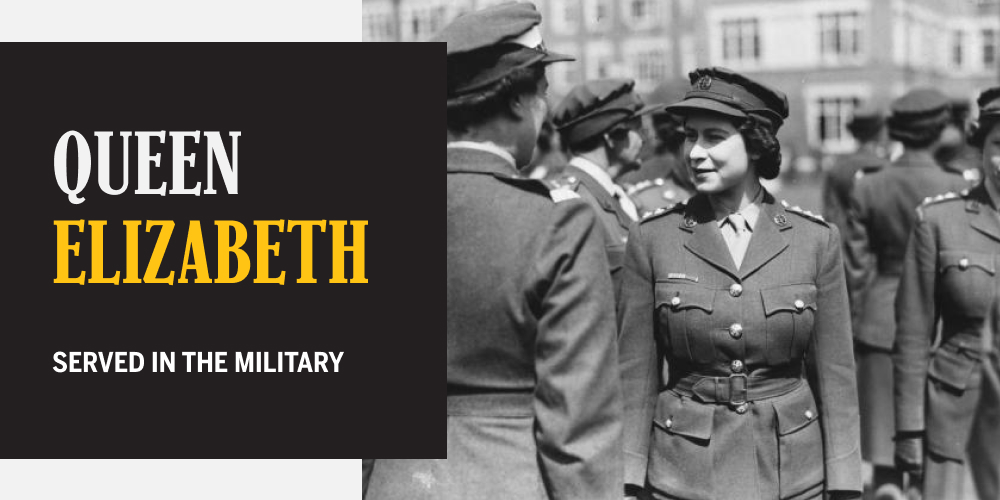 It's shocking to know that the Queen has also served in the military but it is a fact. She volunteered in Auxiliary Territorial Service (ATS) in 1945 and became the first female member of the Royal family to serve in the army. During her service, she volunteered to learn the art of maintaining a vehicle and driving army trucks.
Due to her services and volunteer work in the military, she was also promoted as a Junior Commander which is equivalent to a Captain post. Her achievements in the military are also mentioned in the National World War II Museum.
17 – The Queen had to carry out 21,000+ engagements.
Believe it or not but the Royal family is pretty huge. Queen Elizabeth II has to carry out 21,000 Royal and other engagements during her 70-year reign. What a life to experience so many couples promising each other to start a life together!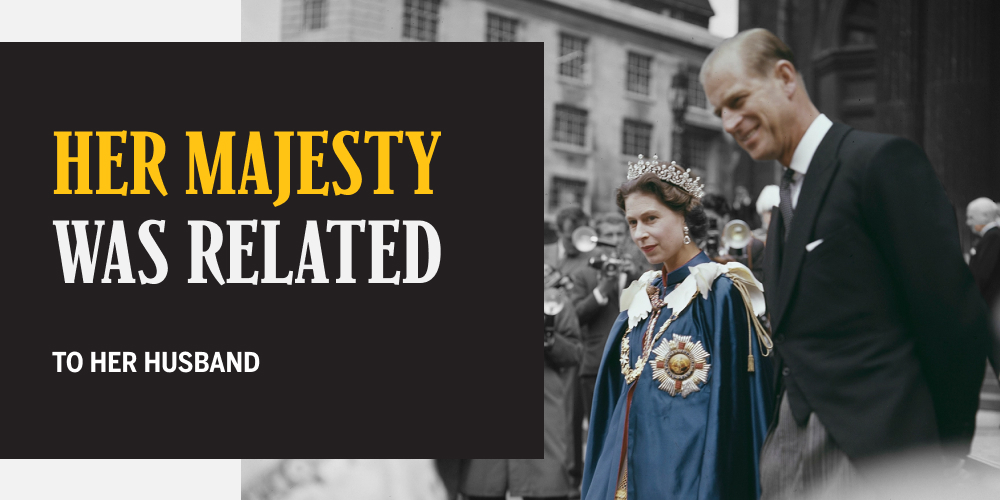 Queen Elizabeth II and Phillip are related to each other. They are third cousins and know each other very well. The link is generated between the Queen's paternal side and Phillip's maternal side.  
Her Majesty met Prince Phillips at the age of 8 for the first time in a Royal wedding of Princess Marina and Prince George in 1934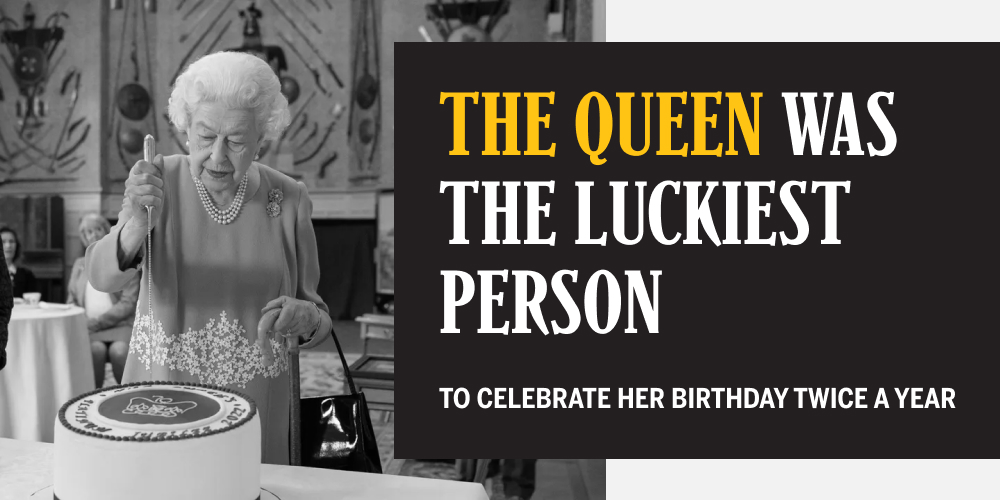 Queen Elizabeth II is one of those people who get to enjoy two birthdays a year. She was born on 21st April 1926 so this counts as Birthday # 1 but she also celebrates Birthday # 2 in June, which is her official birthday. Trooping the Color is marked due to the Queen's birthday in June.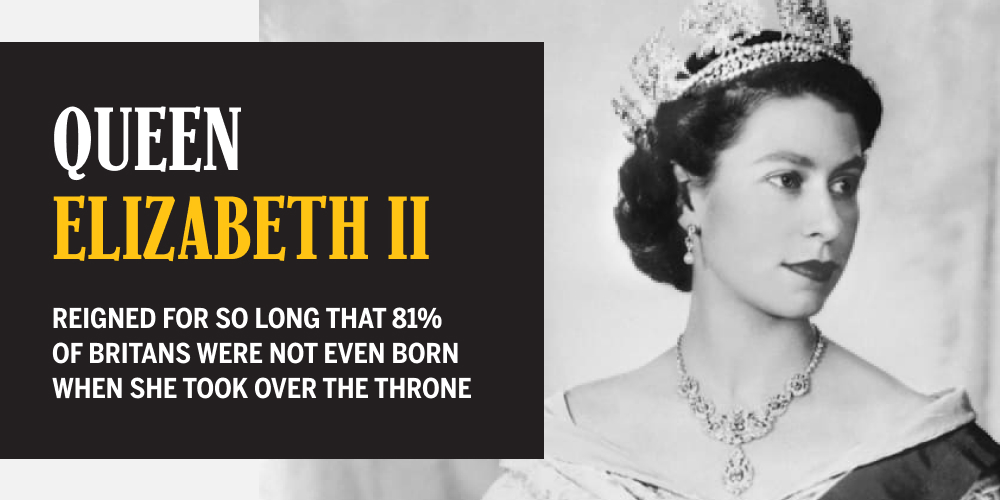 Queen Elizabeth II is the longest ruling monarch until 8th September 2022. She reigned for 70 years and took over the throne in 1952. According to a survey, four out of five people in Britain were not even born when the Queen ascended the throne. It means 81% of people in Britain are born after the Queen was on the throne. Shocking!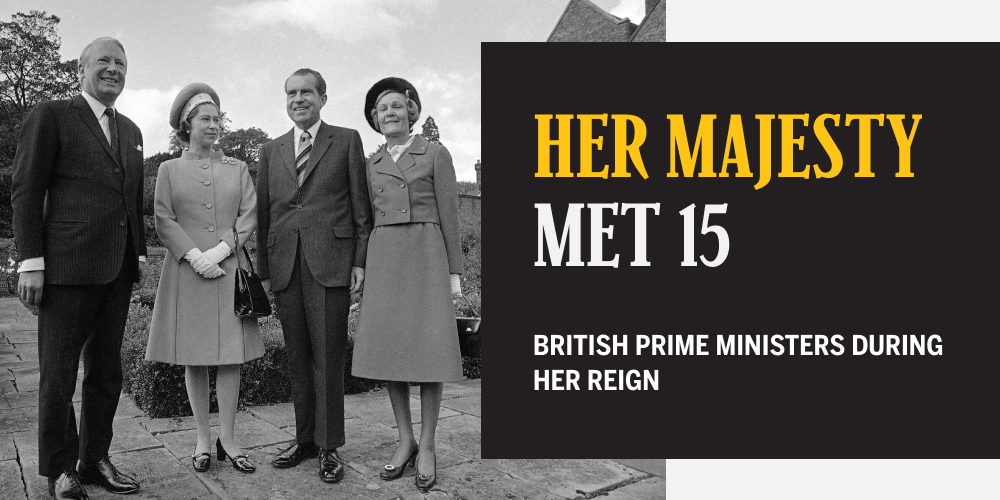 As a Queen, she must meet all Prime Ministers of the country. Queen Elizabeth II has ruled for so long that she has met 15 British Prime ministers in her reign. The recent one was Liz Truss who met the Queen two days before her sad demise.
22 – Her Majesty has seen 14 US Presidents during her reign.
Queen Elizabeth II met 14 different US Presidents throughout her 70-year reign. These were all official visits as per the protocols and remembered by everyone.
23 – Queen Elizabeth II owned all the swans in the UK.
All the unmarked swans that live in the UK are owned by the Queen. The Royal Family used to enjoy the swans as a delicacy back in the 12th Century. The Queen didn't eat the swans but she still owns them. There's an official Swan Marker who has the job of counting the swans in the country and taking care of their health.
24 – Her Majesty owns all sea creatures in UK waters.
According to the 1332 statute, all fishes have a title of "fishes Royals", the Queen owns Royal fishes living in the UK waters. These are mostly dolphins, whales, sturgeons, and porpoises.
25 – Queen Elizabeth II was not the richest person in the United Kingdom.
As much as it sounds unbelievable but the Queen certainly was not the richest person in the UK. She is no doubt a millionaire owning $500 million as per the Forbes 2019 report but the real purpose of a Queen is to not increase her wealth.
The Queen owns most of the assets and estate passed on to her through her ancestors as they were all English Monarchs but that certainly does not mean that she is the richest person in the UK. The Queen has done some shrewd investments but they still didn't add up to make her the richest person in the UK or even the world.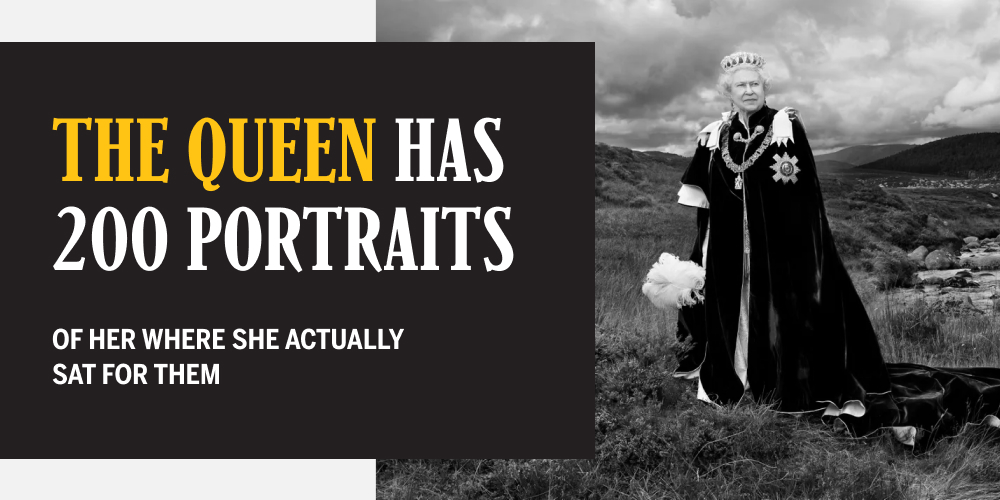 It's a fact that the Queen sat for 200 portraits of her and there are only 200 real portraits of her. These were all private sittings and covered by renowned artists. A lot of them later said that the Queen was very comfortable to work with. She sat naturally and very formally and sometimes even kept chatting to her equerry. Queen Elizabeth II has never commented on any of her portraits so it is still a mystery if she ever liked the results or not. Sadly, we can't know this anymore.
27 – The Queen's first radio broadcast happened at the age of 14.
On October 13, 1940, Queen Elizabeth II gave her first speech at the age of 14 to the children of the Commonwealth. The extract from her speech is:
"Thousands of you in this country have had to leave your homes and be separated from your fathers and mothers… My sister Margaret Rose and I feel so much for you as we know from experience what it means to be away from those we love most of all. To you, living in new surroundings, we send a message of true sympathy and at the same time we would like to thank the kind people who have welcomed you to their homes in the country."
Queen Elizabeth II was exceptional in her speeches at the Commonwealth. In another speech in 1947 at the age of 21, she said:
"I declare before you all that my whole life whether it be long or short shall be devoted to your service and the service of our great imperial family to which we all belong… But I shall not have the strength to carry out this resolution alone unless you join in with me, as I now invite you to do: I know that your support will be unfailingly given. God help me to make good my vow, and God bless all of you who are willing to share in it."
28 – The Queen has visited more than 100 countries.
Queen Elizabeth II is the most travelled monarch of all time. During her reign, she visited 117 countries which comprised 1,032,513 miles. She has always loved to travel and that is the reason that she was an active monarch and never missed an opportunity to be there where she was needed.
29 – The Queen's first live Christmas message was broadcasted in 1952.
On 6th February 1952, the Queen broadcasted her first Christmas message right from her study in Sandringham Norfolk, amazing her people and nations. It was a radio broadcast in which the Queen thanked the nation for accepting her as their Queen and paid tribute to her late father. Some of the extract from her speech is:
"Since my accession ten months ago, your loyalty and affection have been an immense support and encouragement. I want to take this Christmas Day, my first opportunity, to thank you with all my heart."
30 – Queen Elizabeth II had a private ATM.
Imagine having your ATM at your place. Well, Queen Elizabeth II had one at Buckingham Palace. The ATM is provided by Britain's famous and biggest bank called Coutts.
31 – Royal Monarchs don't pay taxes but the Queen used to pay them.
The Royals are spared from paying taxes but Queen Elizabeth II had been paying her taxes since 1993. This was solely her decision and she did this voluntarily for the sake of goodwill. It is a nice gesture from the Queen to do even if it was not her obligation.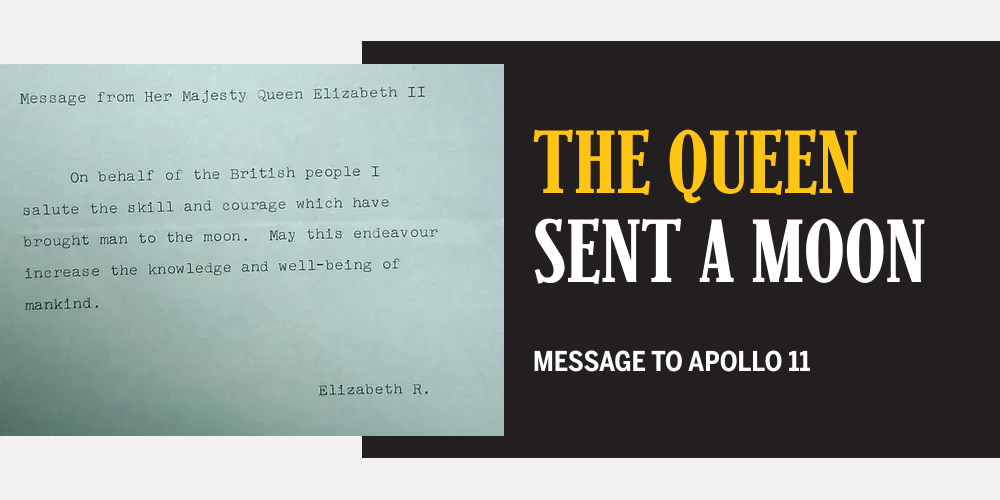 During the Apollo 11 mission in 1969 by NASA, an invitation was sent to world leaders to send a goodwill message to be taken to the moon. Queen Elizabeth II accepted the invitation and wrote a Moon message that was taken by Neil Armstrong and Buzz Aldrin in a small silicon disc. 
The Queen sent a very good message the extract of which is:
"On behalf of the British people I salute the skill and courage which have brought man to the moon…May this endeavour increase the knowledge and wellbeing of mankind."
33 – Approximately 100 TV shows and movies have portrayed The Queen on air.
We all have been obsessed with the Royals, especially the Queen. The public has always wondered what it is like to be a Queen, what you do, how life is, etc and that is why the film industry has been portraying the Queen in multiple films and TV shows. Queen Elizabeth II has been portrayed in more than 100 TV shows and films in her life.
The famous ones that you might have seen are:
The Crown (2016) Netflix Show

The Queen (2006) Movie

The Queen (2009) TV show

Elizabeth: The Unseen Queen (2022) Movie

Tricia's Wedding (1971) Movie

The Big Friendly Giant (1989) Animation

The Royal Night Out (2015) Movie

The Naked Gun: From the Files of Police Squad (1988) Movie

The Duke (1999) Movie

Her Majesty (2001) Movie

Ali G In IndaHouse (2002)

What A Girl Wants (2003) Movie

Churchill: The Hollywood Years (2004) Movie

Royal Faceoff: (2006) Movie

The King's Speech (2012) Movie

Minions (2015) Animation Movie

The Queen's Corgi (2019) Animation Movie

Spencer (2021) Movie
34 – The Sydney Opera House was opened by The Queen.
The famous Sydney Opera House was officially opened by the Queen on October 20, 1973. On Queen's orders, the construction work started in 1952 and was completed in 1973. The average cost of the Sydney Opera House was $102 million. To date, people love to visit it if they get a chance to visit Australia. The building is remarkably appealing.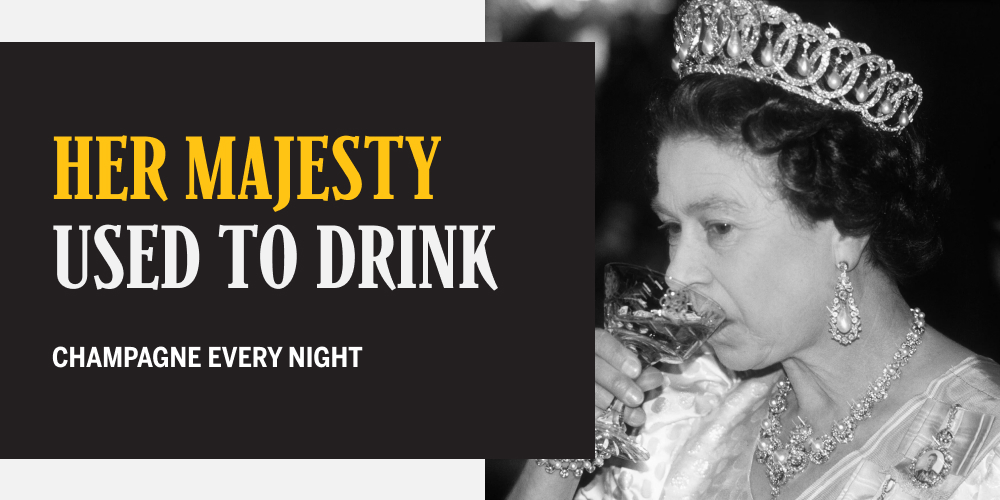 It is unbelievable to hear that the Queen loved alcohol but it is the truth. She has been a great lover of champagne and she loved to take a glass every night before bed ever since she became an adult. According to a report by The Independent, the Queen loved to take a gin and Dubonnet before lunch and a champagne glass before bed.
Her drinking habits had been restricted by the doctors when she hit 95 amidst her health issues. It has been reported that she was strictly advised not to take alcohol during her last few years. The doctors wanted to assure them that her health is good.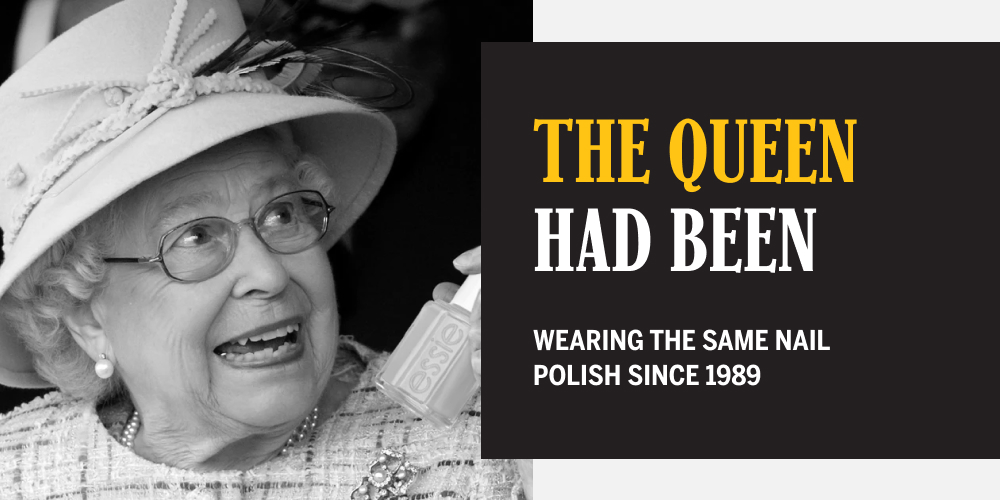 You are a Queen of a whole Kingdom and you still own one nail polish? This is too good to be true. The fact is her Majesty loved a shade called Essie's Classic Pale Pink. She liked the colour so much that she refused to apply any other shade. She has been wearing the same colour since 1989.
Surprisingly, the nail polish doesn't cost an arm and a leg; it is just $7 and affordable to anyone who wants to get influenced by the Queen's fashion.
37 – The Queen doesn't own a passport.
Since all passports in the UK are issued under the Queen's name, she certainly didn't need one to travel abroad. Hence, the Queen never owned a passport to travel across the globe.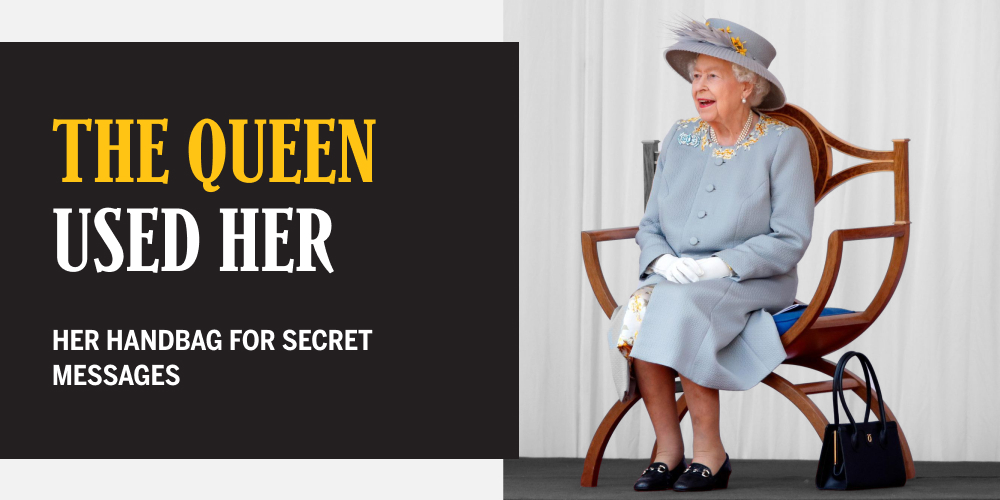 It sounds quite like spy things but that's how the Queen communicated with her staff during a meeting she didn't want to be anymore. According to the Telegraph's report in 2020, The Queen used to signal her staff to assist her from an uninteresting meeting by putting the bag in a certain position.
For example, If she was at dinner and she wanted to leave, she would place the bag on the table and her staff would immediately know to escort her out in the next five minutes. Super interesting!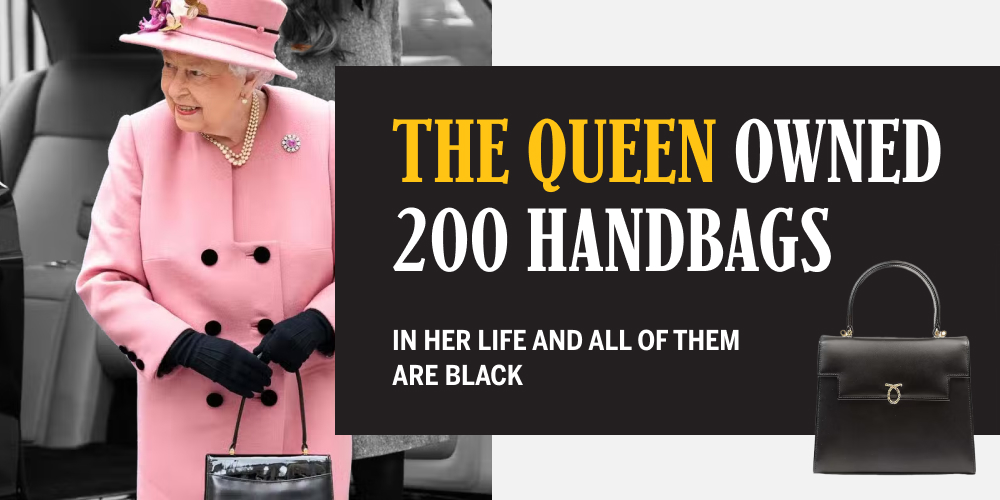 Queen Elizabeth II was a huge lover of handbags. You would have never seen her going out in public or anywhere without a handbag. She owned 200 handbags and all of them are of the same black colour. She has a Royal contract with a London-based leather manufacturer, Lauren, who has manufactured all of The Queen's handbags. Each bag costs approximately $2000 and has the same colour and leather material.
It has also been reported from various sources that The Queen used to have metal makeup cases gifted to her by Prince Phillips, a fountain pen, and any good luck charm in her purse. The bags also contain a small mirror inside them.
40 – The Queen owns 7000 paintings in the Royal Palace.
Queen Elizabeth II owns 7000 paintings, drawings, and prints that are placed across all of the castles and palaces she owns. Some of these paintings are her interests as she has been a huge art lover and others are likings and preferences of different queens, kings, and other monarchs of the Royal family from the last 500 years.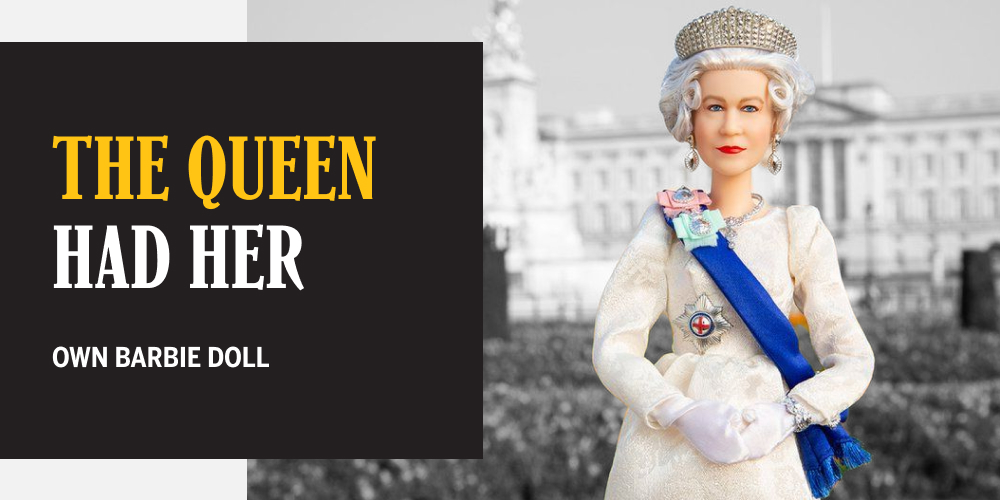 The famous manufacturer of Barbie dolls released a Queen Elizabeth II Barbie doll celebrating 70 years on the throne. It was a tribute to the Queen and was added to the Barbie Tribute Collection.
Lisa Mcknight said in an interview, "The Queen is the perfect addition to the Barbie Tribute Collection, intended to honour women whose contributions have had a great impact. We're proud to celebrate her historic milestone and encourage kids to learn more about her legacy,"
42 – The Queen didn't have a last name to use.
Queen Elizabeth II does not have the last name however she owns multiple titles if you want to address her. According to the Royal Website, if you want to choose a last name, you should be choosing an official title for the Queen that is:
'Elizabeth II, in full Elizabeth Alexandra Mary, officially Elizabeth II, by the Grace of God, of the United Kingdom of Great Britain and Northern Ireland and her other realms and territories Queen, Head of the Commonwealth, Defender of the Faith,' queen of the United Kingdom of Great Britain and Northern Ireland'
43 – The Queen can mimic the Concorde jet landing.
The closest friends, family members, journalists, and even Prince Harry have claimed in an interview that Queen Elizabeth II has a very good sense of humour. She has been often described as having a quick sense of humour and amusing his guests. According to the Queen's chaplain, Bishop Micheal Mann, the Queen used to mimic the sound of a Concorde jet landing and it was the funniest thing he had seen.
44 – The Queen can't be prosecuted!
As per UK's laws and regulations, the Queen can't be prosecuted whatsoever nor has she to come to court to present any proof of evidence. We think being a Queen comes with its perks and this one is ravishing!
45 – A bagpiper would play to wake up the Queen in the morning.
Imagine someone waking you up in the morning playing a bagpiper for 15 straight minutes. Well, being a queen and 'queening' is not easy as an official bagpiper would play for the Queen at 7:30 am to wake her up outside her window.
46 – The Queen was a godmother to 30 kids.
Queen Elizabeth II was a godmother to 30 children since 1952 but the names of all these kids have not been revealed by the Royal Palace to date. It has been reported that Diana's brother was also a godchild to the Queen.
47 – Her Majesty loved to race pigeons.
Not everyone knows this but one of the hobbies of the Queen was pigeon racing. She has been the patron of several pigeon racing associations and had 200 pigeons in her loft at Sandringham Estate. Pigeon racing was in Queen Elizabeth II blood as her great-grandfather and grandfather both loved this sport.
48 – The Queen owned a home at the age of 6.
At the age of 6, Queen Elizabeth II received her first fully functional Wendy's house in 1932. The beautiful home was gifted by the people of Wales. The house has all the necessary things a child would have dreamt of.
Wendy house was a favourite place for Queen Elizabeth and her sister Princess Margaret. They would play there for hours and enjoy the joy of their childhood. The house is still intact and standing on the grounds of the Royal Lodge of Windsor.
49 – The Queen sent 50,000 Christmas cards in her life.
During her entire 70 years reign, Queen Elizabeth II sent 50,000 Christmas cards to the Royals, the general public, senior citizens, and other important personnel. She would always sign her greeting cards with the initials "Elizabeth R.".
50 – Queen Elizabeth II owned some wild animals.
You will be amazed to know that the Queen had some exotic wild animals under her ownership. She was gifted the following animals which are kept in the London Zoo and you can visit them: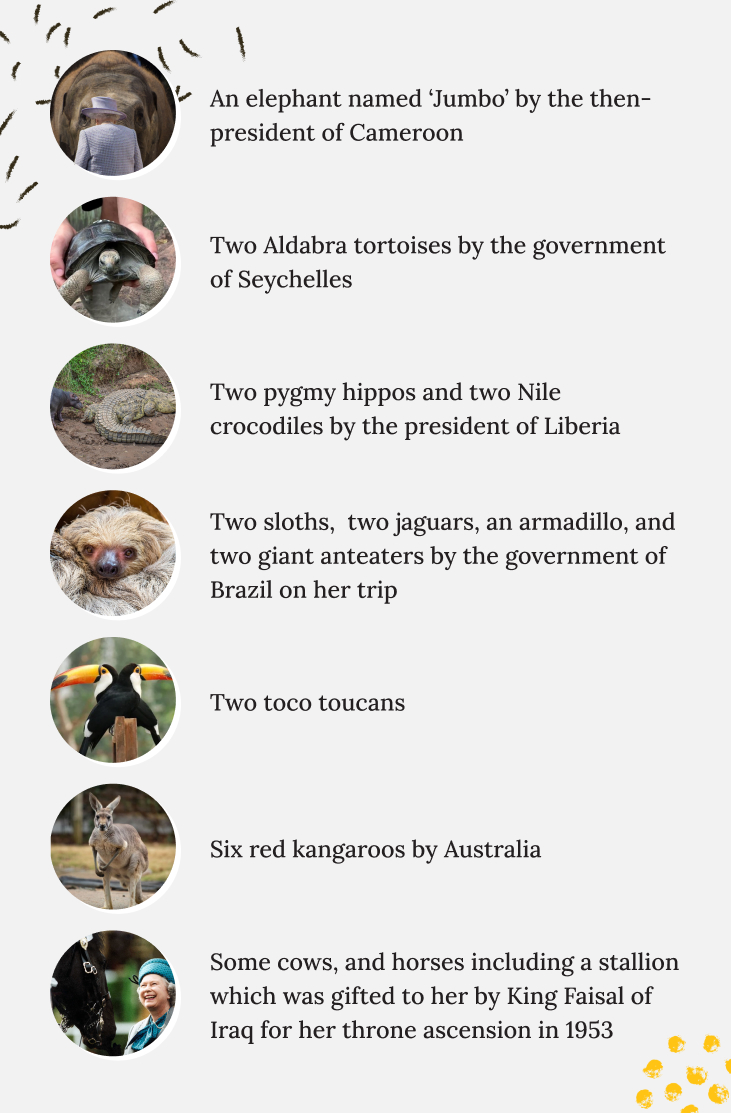 51 – Queen Elizabeth II hated garlic.
Not everyone knows this but Queen Elizabeth II hated garlic. The former Royal Chef of the Queen revealed in an interview that the Queen never liked food with too much taste of garlic or onions. The Royals normally avoid garlicky food as it makes the breath bad during dinner or a gathering.
52 – Queen Elizabeth II had some incredible nicknames.
Queen Elizabeth II had been nicknamed "Lilibet" because as a child, she was unable to pronounce Elizabeth. Her family called her Lilibet occasionally but there are some other nicknames associated with the Queen. Her husband, the Late Prince Phillips used to call him 'Cabbage'. Similarly, her great-grandchild, Prince George used to call her "Gan Gan" as a kid as he was unable to pronounce grandmother.
53 – The Queen always took a bath in 7 inches of water.
As much as it sounds absurd this is a fact. According to Queen's former personal assistant, Angella Kelly, the Queen would always take a bath after her breakfast cup of tea. For her, the temperature of the water is kept balanced by measuring with a wooden thermometer and the water level has to be exactly 7 inches. Not more than that, not less than that. It turns out that the Queen was a very specific person with specific likings.
54 – The Queen received a surprising gift from Hudson Bay.
The Hudson Bay Company gave the Queen two elk heads and two black beaver skins as a traditional rental payment. The gift deed was appreciated by her Majesty as the Royals had an old fur trade contract with Hudson Bay.
55 – Queen Elizabeth II is the 40th Monarch to take over the throne.
Queen Elizabeth II is the 40th Monarch to sit on the throne. The regime started with William the Conqueror who became the King of England in 1066. The throne was passed on to generation after generation and to the Queen when her father, King George V, died. Queen Elizabeth II is also the 6th Queen to be crowned in the Royal family.
56 – Queen Elizabeth II and Prince Phillips were the longest married couple in the Royal Family.
Queen Elizabeth II and Prince Phillips have been married for 73 years which makes them the longest married couple in the Royal Family. Sadly, Prince Phillips died in April 2021 leaving the Queen sad and alone.
Queen Elizabeth II has loved her husband and has always admired his active presence in her life. After the sad passing of Prince Phillips, the Queen said in the Christmas card the most heart-wrenching words after losing the love of her life:
"Although it's a time of great happiness and good cheer for many, Christmas can be hard for those who have lost loved ones. This year, especially, I understand why…"
57 – Queen Elizabeth II and Prince Phillips changed their descendant name.
The Royal couple decided to choose a different family name for their descendants in 1960. Earlier, the family name "Windsor" was being descended by the Queen's grandfather King George V but the couple decided to add "Mountbatten" before "Windsor" hence the "Mountbatten Windsor" continued to pass on to the descendants of the family.
58 – The Queen owns a big family of Mountbatten Windsors.
The Royal Couple, Queen Elizabeth II and Prince Phillips have a big family of Mountbatten Windsor's in which they have:
Four children:

Prince George, Princess Anne, Prince Edwards, and Prince Andrew

Eight grandchildren:

Prince Harry, Prince Williams, Peter Phillips, Princess Beatrice, Zara Tindall, Princess Eugenie, Viscount Severn, Lady Louise Windsor, and James.

12 great-grandchildren:

Savannah Phillips

, Isla Phillips,

Prince George

,

Princess Charlotte

,

Prince Louis

,

Archie Harrison Mountbatten-Windsor

, Lilibet "Lili" Diana Mountbatten Windsor, Mia Grace Tindall, Lena Elizabeth Tindall, Lucas Philip Tindall,  August Philip Hawke Brooksbank, and Sienna Elizabeth Mapelli Mozzi.
59 – Queen Elizabeth II owned more than 660 investitures in her tenure.
The Queen has owned 660 investitures in her 70-year regime. Investitures are ceremonies to acknowledge outstanding achievements, the act of bravery, service, and honour to the country. These are usually carried out twice a year.
60 – The Queen was the first monarch to travel in a public transit system in 1969.
Queen Elizabeth II was the first monarch to travel in a public transit system. She christened the Victorian Line (The London Underground) in 1969, breaking norms and becoming the first monarch to do so.
61 – 750 people a year received a holiday card from the Queen if they stayed at Sandringham Palace.
If you are one of those lucky persons who have spent their weekend at Sandringham Palace, you would have received a holiday card signed by the Queen. She has been doing that every year and approximately 750 people who stayed in the palace would get that holiday card.
62 – Queen Elizabeth II used to give puddings to her employees.
Every Christmas, Queen Elizabeth II would gift Tesco's best pudding to her 1500 employees. This would include all her employees no matter what post they are working on. It has been said that this is one of the gifts the Queen is excited to give and the employees enjoy it as well as a treat. Moreover, employees who have been working for quite a time also receive incredible vouchers from the Queen.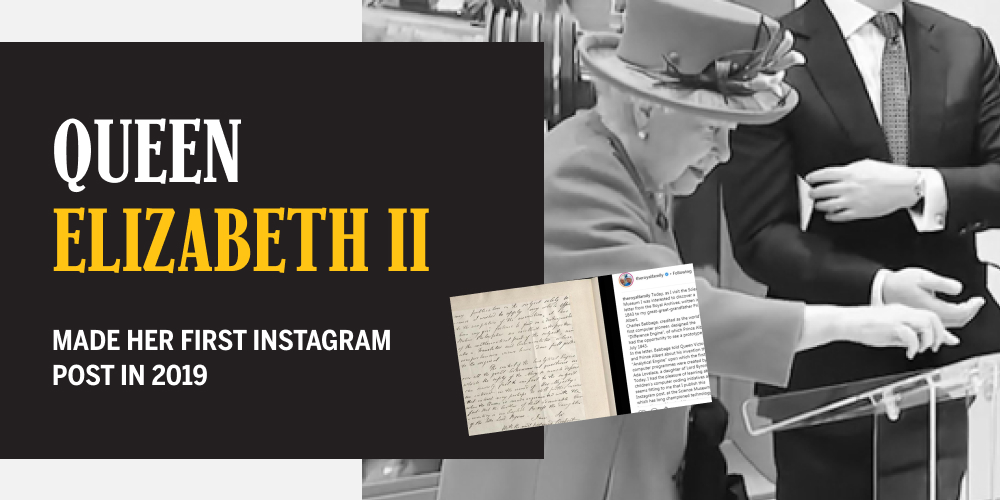 Being a Queen who has seen decades and changing technologies, keeping up with the fast paced internet was another challenge. Though the Queen has not managed her social media accounts she was open to new technologies and had an Instagram account and made her first post in 2019.
64 – The Letter "R" in 'Elizabeth R' has a secret meaning.
Queen Elizabeth II did not have the last name but she has multiple Royal titles. Whenever she wrote a letter or card for someone, she used to sign it as "Elizabeth R".
The 'R' holds a special meaning which is depicted to be 'Regina'. In Latin, Regina means the Queen. It has not been revealed by the officials why exactly the Queen used "Regina" in her letters and holiday cards but the closest guess has been the meaning 'Queen'.
65 – Queen Elizabeth II has sent 725,000  messages in her lifetime.
Talking about the figures and statistics, Her Majesty has sent 725,000 congratulatory messages to the general public. Among these 725,000, 182,000 were birthday greetings and 543,000 were wedding anniversary wishes for senior citizens.
66 – Queen Elizabeth II received 2500 wedding gifts at her wedding to Prince Phillips.
Everyone loves wedding gifts! Queen Elizabeth II when married to Prince Phillips in 1947 received 2500 gifts across the world. Some of the gifts were as simple as boxes of apples and pineapples (500 tins) and others were expensive leading up to an $83 million necklace.
Back in 1947, an extreme shortage of nylon was experienced so women across the country gathered together and gifted the Queen 131 pairs of nylon stockings.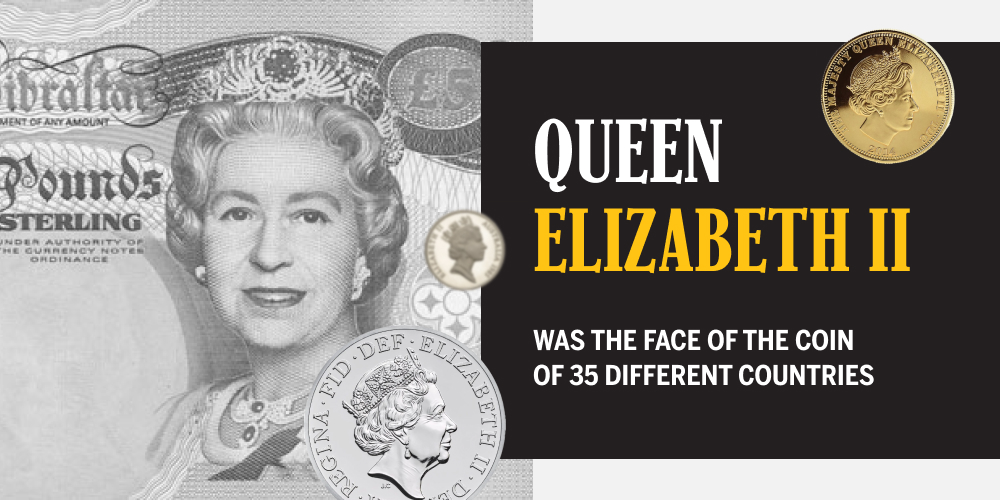 Queen Elizabeth II holds a Guinness record of being a monarch who has been the face of coins and notes of 35 different countries.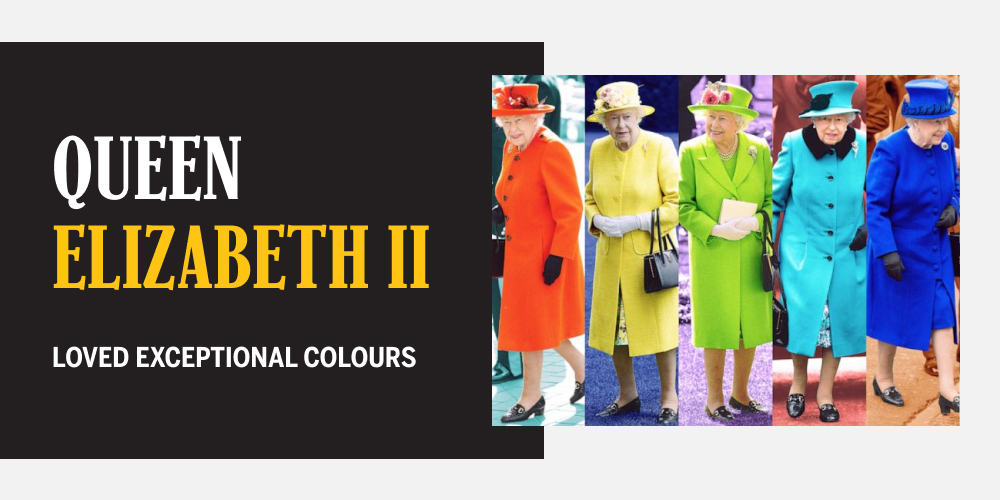 You might have seen the Queen wearing exceptional colours whenever she made a public appearance. She would be seen in bright or pastel colours that will make her stand out from the crowd in a public gathering. The reason for her exceptional colour choices is her height. She is quite short and it would have been very hard for the general public to spot her when she is out so she would wear bright pink, neon green, or yellow to make her visible even from a distance.
69 – Queen Elizabeth II was a chocolate lover.
Yes, you are not alone! Even the Queen loves chocolates as much as we all do. Her former chef McGeady revealed in an interview that the Queen preferred anything with chocolate after her meals so we will always make something with chocolate. Her favourite desserts were chocolate perfection pie and chocolate biscuit cake.
70 – Queen Elizabeth II has never given a press interview.
The Queen has always stayed away from any political issue and that is why she has avoided any press interviews. Press interviews are given to influence who you are, what you hold in power and how you can impress others. The Queen didn't need to do all of this because she is already in power, famous, and held a great influence. She certainly didn't have to stand in any elections or run a political campaign being a monarch so she didn't have any press around her to make her voice reach across the countries.